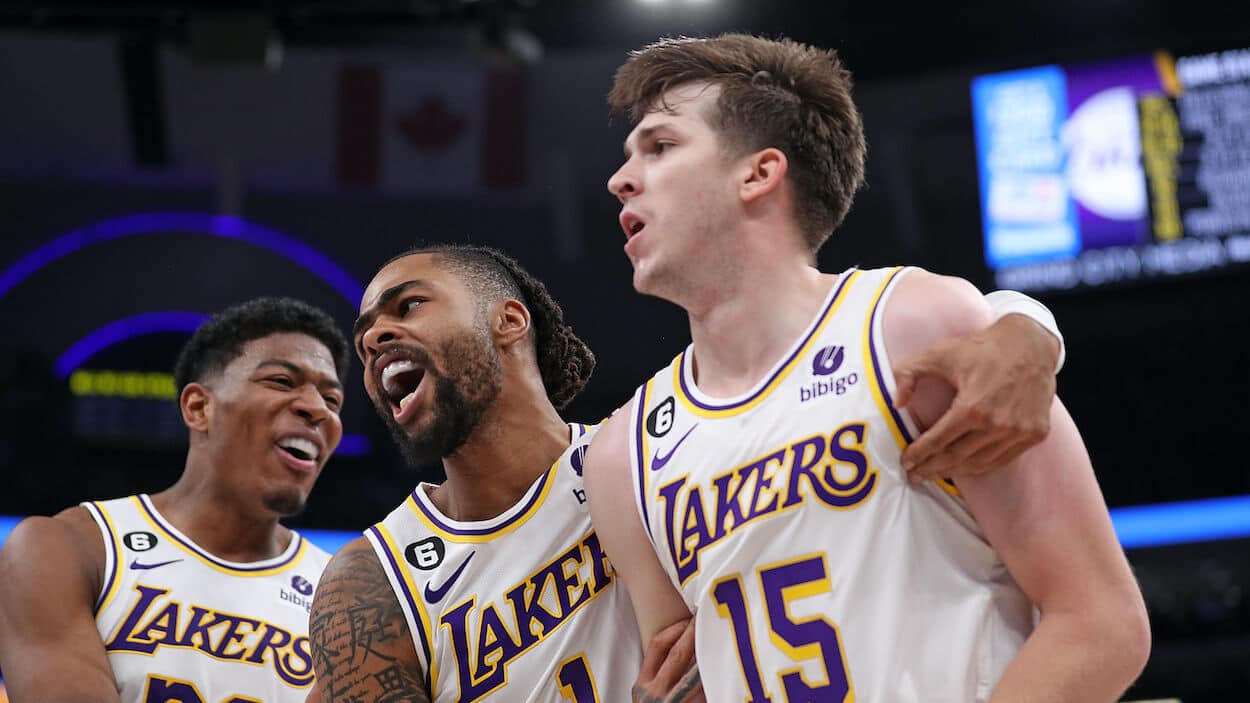 Austin Reaves Contract: Sharpshooter is X Factor vs. Grizzlies and Beyond
The Austin Reaves contract is up after this season, and the undrafted guard is proving the Lakers must re-sign him this offseason.
Los Angeles Lakers guard Austin Reaves dropped 23 points in Game 1 of the 2023 first-round NBA playoffs series against the Memphis Grizzlies. The Grizzlies simply had no answer for the second-year player, and he helped lead the Lakers to a huge win on the road. As an undrafted player who signed a two-way G League deal to start his career, there is no Austin Reaves contract for 2023-24 yet. However, the Lakers will have the option to keep him if they are willing to pay up if another team comes calling.
The Austin Reaves contract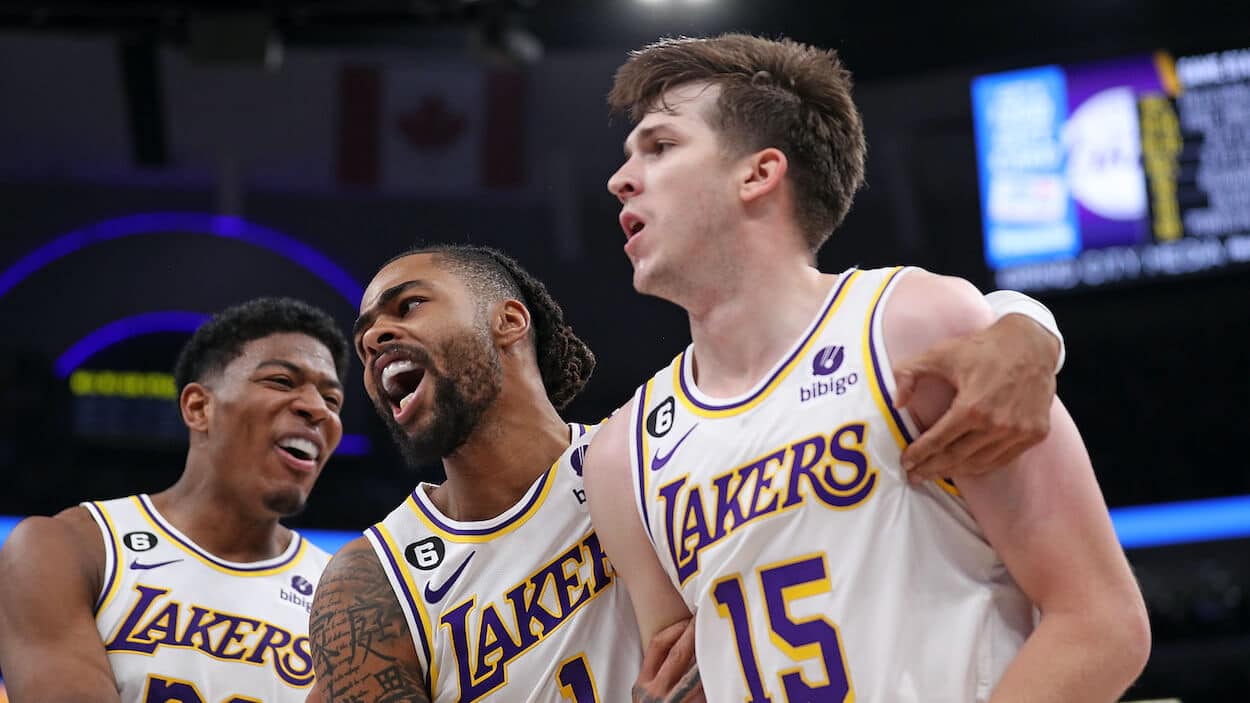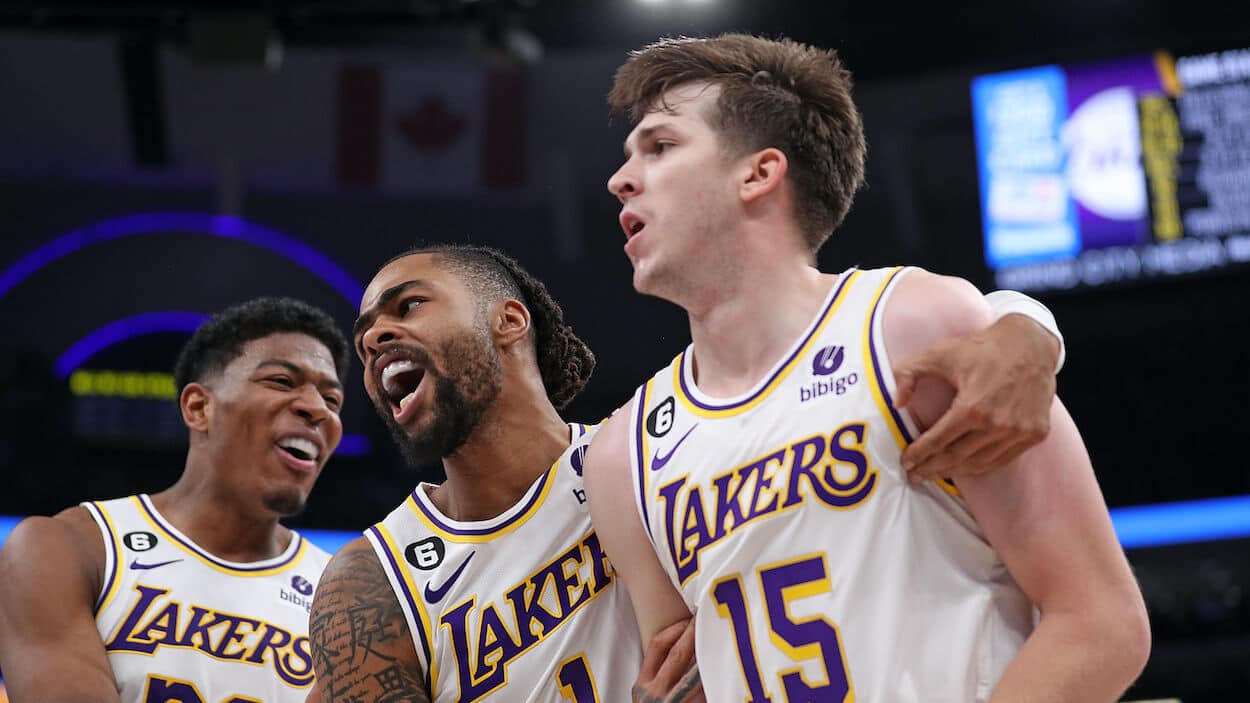 Austin Reave grew up in Arkansas and played his college ball at Wichita State before transferring to Oklahoma. He went undrafted in the 2021 NBA Draft, but the Lakers snatched him up with a two-way deal.
Less than two months after signing the two-way Austin Reaves contract, the Lakers offered him a bigger deal for two years and $2.49 million.
This pact, which paid Reaves $1,563,518 in 2022-23, is now up, but the Lakers starter averaging 28.8 minutes, 13.0 points, 3.4 assists, and shooting 39.8% from 3-point range, won't be an unrestricted free agent this offseason.
This offseason, Reaves will be a restricted free agent because he has less than three years of NBA experience under his belt.
As a restricted free agent, the Lakers will have to offer Reaves a $2,189,698 qualifying offer. If no other team gives Reaves an offer sheet, he can sign the QO and play for that in 2023-24, after which he'll become an unrestricted free agent.
However, any other team may give Reaves an offer sheet to try and sign him away from the Lakers. If they do, the Lakers have the right to match any offer and keep their player with a new Austin Reaves contract under the terms dictated in the offer sheet.
If the Lakers want to use Reaves' Early Bird Rights to re-sign him straight up, they could give him a max of four years, $50,765,568. Another team could offer him up to four years, $60,000,000, though, and the Lakers could match that Austin Reaves contract.
It won't be cheap, but the Lakers can absolutely bring Reaves back next season.
Reaves is crucial to the Lakers in the 2023 postseason and beyond 
On a team with LeBron James and Anthony Davis, Austin Reaves might be the most crucial player on the Lakers roster right now in the NBA playoffs.
In Game 1 of the Western Conference first-round vs. the Grizzlies, Reaves scored 23 points, the second most on the team, in a 128-112 win over the higher-seeded team.
Reaves did it all in this game, going 8-of-13 from the field, 3-of-5 from 3-point range, and 4-of-4 from the free throw line. He also added three rebounds, four assists, a steal, and a block. Along with Rui Hachimura, who had 29 points, Reaves helped lead the Lakers to a crucial win.
If the Lakers are going to make a run in this year's playoffs, Reaves will have to have more games like this.
And moving forward, with James aging and Davis' health always in question, having a 24-year-old building block who can shoot the ball is crucial. That's why a new Austin Reaves contract this offseason is critical.
With the team's picks mostly gone for the next few seasons, having an affordable player like Reaves around to give the Lakers points and minutes like he is in the playoffs right now can be the difference between early exits and a possible championship trophy.