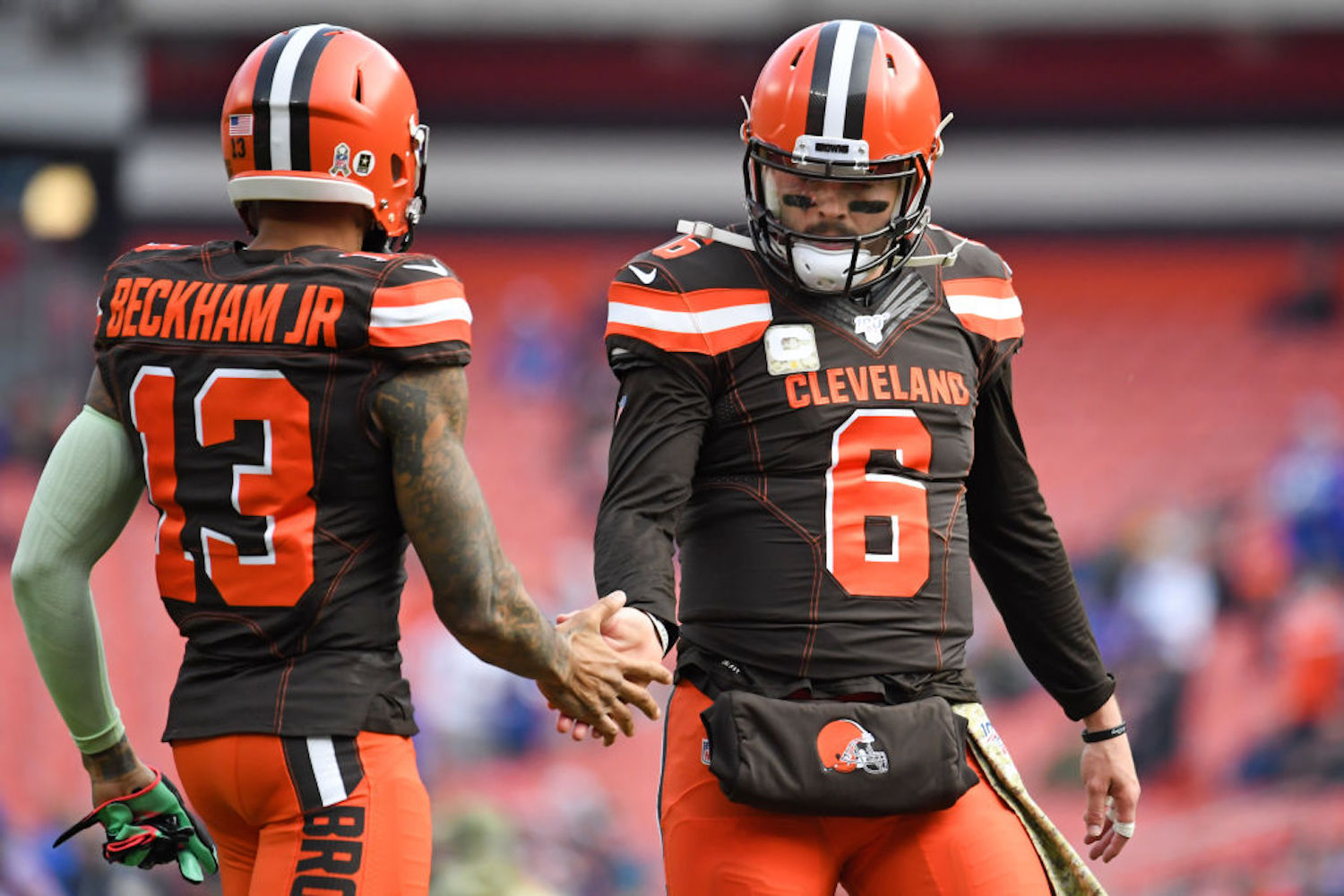 Baker Mayfield Sends Terrifying Message to the Rest of the NFL About Odell Beckham Jr.
The Baker Mayfield-Odell Beckham Jr. connection sputtered all last season, but Beckham is convinced the tides will turn in 2020.
The 2019 Cleveland Browns were supposed to be the darling of the 2019 NFL season. After decades of ineptitude, they finally put together an explosive offensive unit primed to flourish in today's NFL. Baker Mayfield. Odell Beckham Jr. Jarvis Landry. Nick Chubb. How could they not succeed?
Fast forward a few months later and Cleveland finished with a pedestrian 6-10 record. The offense even ranked in the bottom half of the league in most statistical categories, but Mayfield and Beckham believe this year will be much different.
Baker Mayfield and Odell Beckham Jr. didn't live up to expectations in year one
When Beckham was traded to the Browns prior to the 2019 season, Cleveland fans finally had something to be excited about. For years, the Browns lacked offensive weapons and a quarterback who could get them the ball. Now, they had both.
Unfortunately for those long-suffering fans, the Mayfield-Beckham connection didn't live up to the hype. The two just couldn't get on the same page all year, and there were even signs of frustration from both on the sidelines at times.
Beckham had the worst statistical season of his NFL career last year. With the exception of his shortened 2017 season, Beckham set career-lows in receptions (74), receiving yards (1,035), and receiving touchdowns (four) in 2019.
The chemistry between Beckham and his quarterback was just off. Well, the duo now believes they've fixed that all-important problem.
Mayfield said his chemistry with Beckham is already improved
For whatever reason, Mayfield and Beckham never clicked as a lethal connection in their first season together. But both players are still young, and this could be the year they put it all together.
At least Mayfield thinks so. The QB recently spoke about his newfound chemistry with Beckham to NFL Network.
It's sure as hell going to be a lot better than last year. We're just on the same page, things we talked about, there was a lot going on within the building last year. We're not going to get into that, but we're both in a better state. He's healthy, surgery was successful, thank God. He's feeling great. He's in a great state of mind.

Baker Mayfield
Mayfield and Beckham seem to finally be on the same page after a full season together.
Beckham also has high hopes for a bounce-back year for him and Mayfield
Mayfield seemed excited for the year ahead in regards to his connection with Beckham, and the star WR is on the same page. In a Zoom call with the media Tuesday, Beckham spoke about the growing chemistry between him and his QB.
Of course, I'm going to say [the chemistry] is going to be better than last year. It's kind of a day-by-day approach, and we'll see what happens when we get out on the field. As far as him, he looks great – mentally, physically. He has like a four-pack now. He's doing great. He's just in a good place. As a teammate and as a guy who has always been a fan of Baker and as a brother, it's great to see him in this place.

Odell Beckham Jr.
Maybe all the duo needed was another full offseason together to build confidence and chemistry. If that's the case, NFL defenses should be put on notice.
All stats courtesy of Pro Football Reference