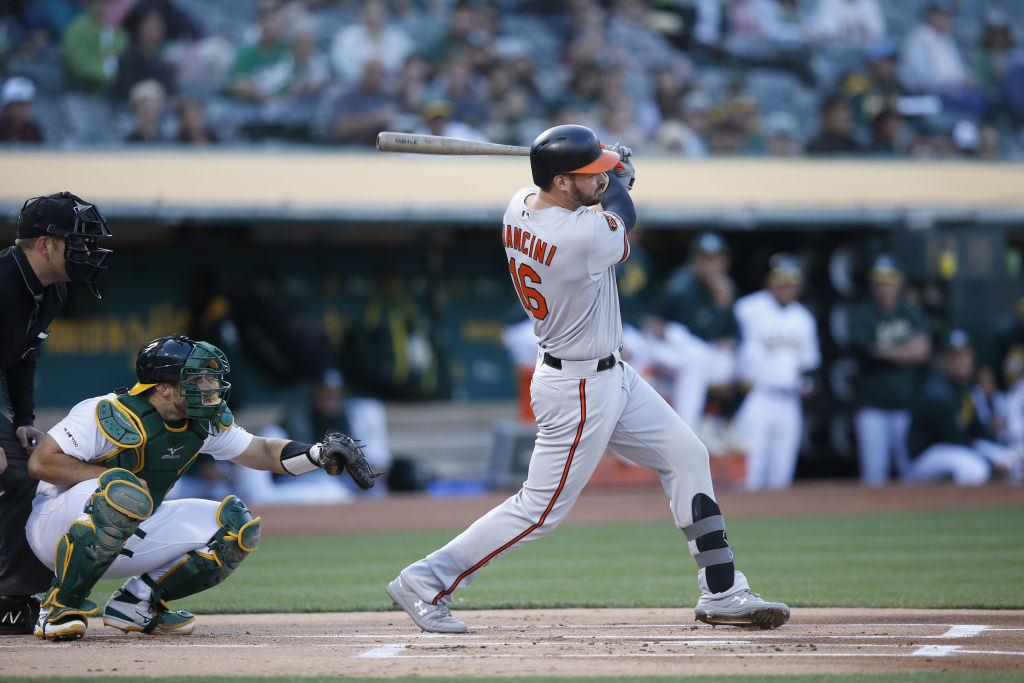 Baltimore Orioles Star Diagnosed With Stage 3 Cancer; Undergoing Chemotherapy
Baltimore Orioles star hitter Trey Mancini won't return when the MLB season gets underway as he battles stage 3 colon cancer.
With Major League Baseball on hiatus due to the COVID-19 crisis, Baltimore Orioles star Trey Mancini revealed in addition to the stress of dealing with the pandemic, he's been coping with a diagnosis of stage 3 colon cancer and has started chemotherapy that will keep him out of the 2020 baseball season whenever it returns.
Trey Mancini becomes top Orioles hitter
The Baltimore Orioles drafted Trey Mancini out of the University of Notre Dame in the 2013 draft. Mancini steadily made his way through the minor leagues for four seasons before making his MLB debut with Baltimore in 2017.
Mancini, who plays both outfield and first base, impressed during his rookie season with the Orioles. In 147 games, he blasted 24 home runs and finished with a solid .293 batting average, tying for team best with second baseman Jonathan Schoop. Mancini finished third in Rookie of the Year voting behind Aaron Judge and Andrew Benintendi.
During the 2018 campaign Mancini dealt with an injured knee. His averaged dropped but he still managed to hit 24 home runs. The 2019 season was his breakout year with the Orioles. He finished the season belting 35 home runs (11th in AL), 97 RBIs, and had a .291 average.
Following the 2019 season, the Orioles signed Mancini to a one-year contract worth $4.75 million. 
Trey Mancini diagnosed with stage 3 colon cancer
In a personal essay titled "I'm So Lucky" written for the Player's Tribune, Trey Mancini provided details on what led to the cancer diagnosis. He said something felt off during spring training when he was more tired than usual. He didn't give it much thought until a pair of tests revealed lower iron levels. Doctors thought it was celiac disease or a stomach ulcer, with a remote possibility it could be cancer. They ordered an endoscopy and colonoscopy to confirm.
Mancini has a history of cancer in his family. His father was diagnosed with stage 2 colon cancer in 2011, when he was 58 years old. Mancini was just 27 when he woke up from the procedure, his girlfriend by his side, and the doctor delivered the shocking news.
"He very calmly and matter-of-factly began to explain the results of the colonoscopy. He started by eliminating all the possible things it could have been. I was still woozy from the anesthesia, but before he even said the word cancer I was thinking to myself, There's no way that he's about to say what I think he's about to say. And then he said it: 'They had found a malignant tumor in my colon.' My dad's an ob-gyn. I'm familiar with the way doctors talk. I knew immediately that this was real."
Mancini begins chemotherapy treatments
On March 12, just six days after the diagnosis, doctors removed the tumor. Instead of facing new Yankees ace Gerrit Cole on opening day, which Mancini said he was looking forward to, he was preparing for his first chemotherapy, which happened on April 13. 
He wrote that dealing with cancer presents its own set of challenges, but doing so during the middle of the pandemic has made it more difficult. 
I'm getting chemo at a hospital in Baltimore, and I have to drive up there alone. Nobody is allowed to come in with me, and that's completely fine by me. I don't want anybody else being put at risk — people that are close to me and that I love, and other people in the hospital. You just never know. COVID-19 has spread so quickly. I'm definitely trying to follow all the protocols, not only because it's the right thing to do, but also because I don't want to expose myself to anything, especially before going into chemotherapy.

Trey Mancini
Mancini is scheduled to receive chemo treatments every two weeks for the next six months. He said even if baseball does return, chances are he won't be there. That said, he is looking forward to a time when he is cancer-free and baseball is back. He has a few ideas of what he wants to do and hinted that he plans to use his platform for spreading awareness about the importance of getting an annual physical.
While MLB ballparks might be empty, and the smell of hot dogs and sound of the crack of a bat might seem like a far-fetched dream in the future, for Trey Mancini, it's a dream he can't wait to turn into a reality, even if it's 2021.