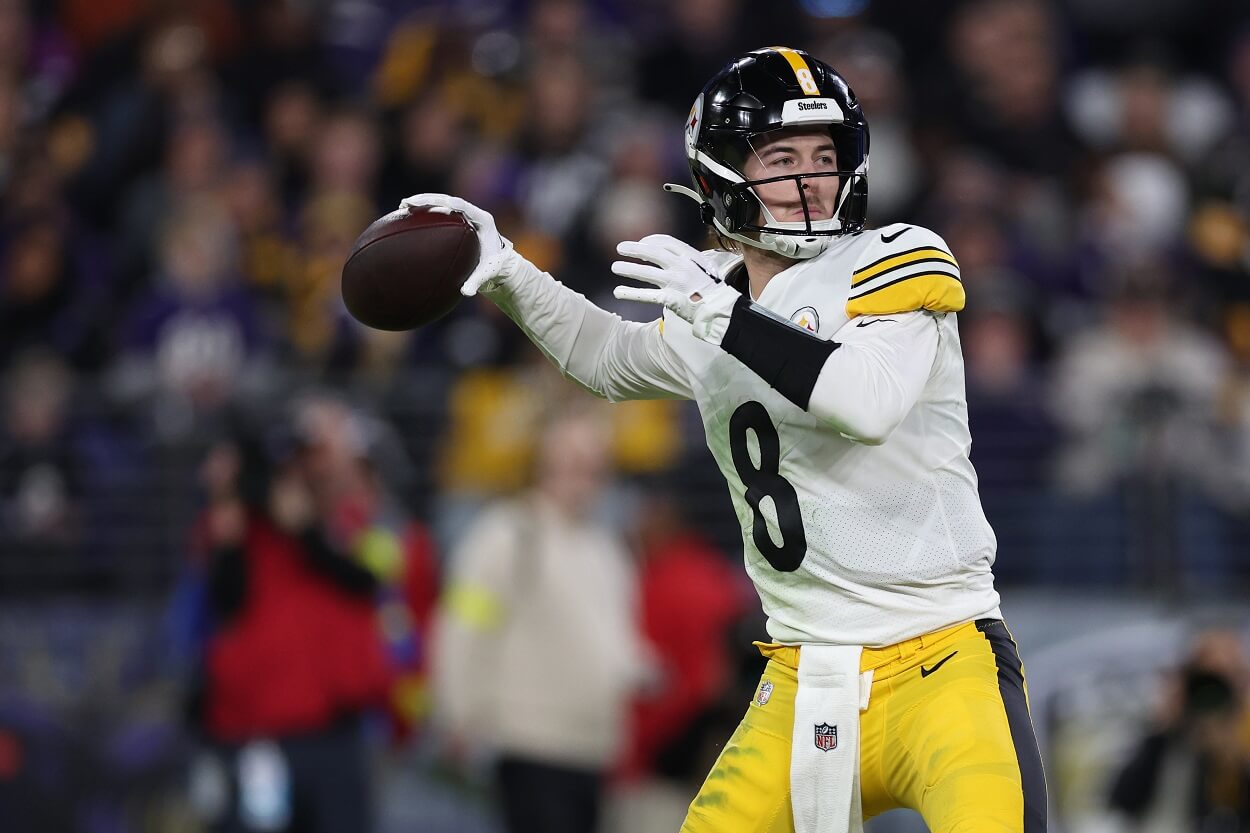 Ben Roethlisberger's Brutally Honest Admission to Kenny Pickett Should Give the Steelers Hope About the Future
Former Steelers QB Ben Roethlisberger and current Pittsburgh signal-caller Kenny Pickett had an interesting chat recently.
Being direct has its drawbacks. 
In some cases, though, brutal honesty can be incredibly beneficial for all parties. And although Ben Roethlisberger's blunt conversation with Kenny Pickett included a comment that might ruin most relationships, it's clear the future Pro Football Hall of Famer only has the best in mind for his successor. 
While Pickett can say he has the support of one of the most successful players in franchise history, the Pittsburgh Steelers can't say they have a true franchise quarterback — yet. However, if Big Ben's intuition proves correct, Mike Tomlin's team could find itself back in the hunt for the Lombardi Trophy sooner than later.
Ben Roethlisberger got brutally honest with his replacement
Talk about putting all your cards on the table. That's exactly what Ben Roethlisberger did during a recent episode of his "Footbahlin with Ben Roethlisberger" podcast that featured Pittsburgh's promising second-year signal-caller. 
"I'll be completely honest, I'll be super transparent here, and I'm gonna get blasted," Roethlisberger said. "I probably shouldn't say this, but who cares at this point? I wouldn't say that I wanted Kenny to necessarily fail, but when someone comes to replace you, I still feel like I had it, I hope he doesn't come ball out. Because then it's like, Ben who?"
The retired quarterback followed up with an even more poignant admission. 
"Early on, I didn't want you to succeed because you followed me up — I didn't want it to happen," Roethlisberger told Pickett. "I think that's probably the selfishness of me, and I feel bad for it."
Although he initially had a pessimistic outlook on the situation, the longtime Steelers star later became a fan of Pickett's. With Tomlin turning to the team's top draft pick early in the season, Pittsburgh caught fire down the stretch, winning six of its final seven games to finish with a 9-8 record. 
Pickett showed appreciation for Roethlisberger's support — and his direct approach. 
"He's honest," the 24-year-old said, per ESPN's Brooke Pryor. "He's out front about it, and he's a fan now, and he's pulling for us, and it was really cool to hear him say that. I think we're just going to continue to build on that relationship."
Big Ben's optimism isn't the only reason to be excited about Kenny Pickett's future
Learning that someone was openly rooting for you not to succeed can't be an easy pill to swallow. But if there's anything that an elite quarterback needs, it's thick skin. 
In Kenny Pickett's case, the fact that he was able to transform Roethlisberger's opinion so quickly speaks volumes about his upside and ability to inspire confidence in those around him. While nobody would say Pickett had a great rookie season based on his raw numbers, he deserves tremendous credit for going 7-5 as a starter without playing in a particularly well-designed offense.
Of course, the Steelers will need their young quarterback to take a massive leap forward in 2023 if they want to contend for a Super Bowl title. Coming off a campaign in which he threw just seven touchdowns compared to nine interceptions, Pickett certainly has a ton of pressure on his powerful right shoulder to drastically change that ratio. 
Luckily for the New Jersey native, he has the pieces around him to succeed in his second season as the leader of what could be a top-10 offense. If Allen Robinson can recapture some of the magic that made him one of the league's top receivers for a brief stretch, he'll be r reliable target who can complement the explosive tandem of George Pickens and Diontae Johnson. 
Meanwhile, having a healthy version of Najee Harris running behind an upgraded offensive line anchored by uber-talented rookie left tackle Broderick Jones should be a huge boost for Pickett.  
Between Big Ben's backing and having a rock-solid supporting cast that includes high-upside rookie tight end Darnell Washington, Pickett appears to be on the right path.
Don't sleep on the Steelers as a legitimate Super Bowl contender
Will Year Two of the Kenny Pickett era lead to a deep playoff run (or more) for a Steelers franchise that hasn't tasted championship success since 2008? 
Even though they might not be the favorite to win their own division, don't discount Tomlin's squad as a contender in a stacked AFC. After all, if Pittsburgh goes from being one of the least efficient offenses in the league to just an average unit, that could be enough to make things interesting. 
General manager Omar Khan utilized the 2023 NFL Draft to add talent to the defensive side of the ball by using second-round picks on nose tackle Keeanu Benton and cornerback Joey Porter Jr. Both rookies should earn playing time quickly, and it wouldn't be a surprise to see the latter cement a spot in the starting lineup by mid-season — if not sooner. 
Coming off a season in which they finished 10th in points allowed despite only having T.J. Watt available for 10 games, the Steelers could easily finish as a top-five unit in 2023. Having a full season of the 2021 Defensive Player of the Year's services will make life difficult for opposing quarterbacks. Plus, Pittsburgh's secondary is substantially stronger with Patrick Peterson and Keanu Neal in the fold. 
Given how strong their defense should be, the Steelers don't need Kenny Pickett to be elite to be a viable threat in the AFC. But with Patrick Mahomes, Josh Allen, Joe Burrow, Lamar Jackson, and Aaron Rodgers standing in the way, it would surely be helpful if the former University of Pittsburgh standout reaches his full potential at the pro level.