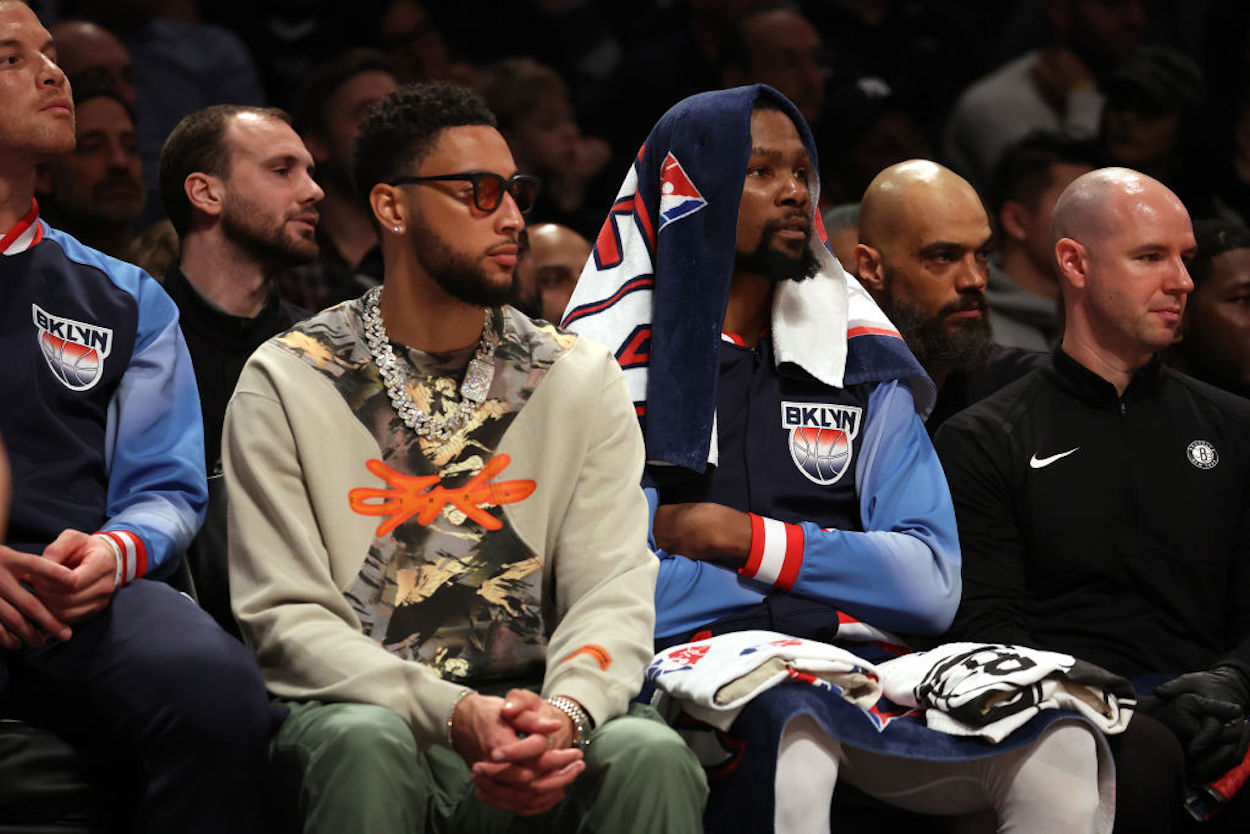 Ben Simmons Injury Update: The Guard's Timeline Sounds Like a Disaster for the Brooklyn Nets
While Ben Simmons is reportedly getting close to his return, the timeline could be a disaster for the Brooklyn Nets.
On paper, the Brooklyn Nets have a pretty solid roster. Kyrie Irving and Kevin Durant do most of the offensive work, and Seth Curry provides some outside shooting. Andre Drummond holds down the paint, while Nic Claxton has emerged as a solid defender. And then there's Ben Simmons.
While Simmons could be the missing piece of Brooklyn's lineup — he isn't the biggest offensive threat, but the big Australian can play elite defense and 'hide' Kyrie at that end of the floor — there's a catch. He came to New York in February but is still sidelined with a nagging back problem.
Brooklyn is hoping to get Simmons on the floor during the Boston Celtics series, but even that timeline sounds less-than-idea. Based on Shams Charania's latest report, the Nets seem to be staring down a disaster.
Ben Simmons is still ramping up to five-on-five scrimmages and physical contact
Ever since he arrived in Kings County, Ben Simmons has been tantalizingly close to the action but remains unable to join his teammates on the floor. With the 2022 NBA Playoffs now in full swing and rumors of his return swirling, little has changed.
"Right now, the goal is to ramp him up," Shams Charania explained on the April 18 episode of The Pat McAfee Show. "Right now, what he's going through is this week, I think what we're gonna see is, by the end of the week, the goal is for him, for Ben Simmons, I'm told, to get in some five-on-five. Right? And actually get bumped up, get some contact. He hasn't done that yet. He hasn't done that since June of 2021."
While that already doesn't sound too encouraging, Shams provided some further details about the Nets' timeline.
"The goal is [to] let him get some contact before the end of the week," Charania continued. "Game 3 is, I believe, Friday. And then Game 4 is Monday. Next Monday, a week from now. I'm told that is the point where we should start looking to see if Ben Simmons will play or not. The goal is for him to be back between Games 4 and 6."
For context, Game 4 will take place on Monday, April 25. Game 6, if the series lasts that long, is scheduled for Friday, April 29.
At this point, Simmons' injury is looking like a bigger and bigger problem for the Brooklyn Nets
Upon first glance, the fact that there's even a potential timeline for Ben Simmons' return seems like a positive. Upon closer inspection, though, it seems pretty unlikely that the guard will make a legitimate impact for the Brooklyn Nets.
If we parse each part of what Shams' reported, the issues become pretty apparent. Even if we set aside the fact that the big man hasn't appeared in a competitive game in almost a year, it's telling that he hasn't done five-on-five work or taken physical contact in practice.
Even if Simmons is able to play somewhere between Game 4 and Game 6, it's not like he'll be able to simply stroll onto the court and make an impact. In theory, the Australian's largest contribution would come on the defensive end. Do you really want to roll the dice on someone with a handful of full practices trying to stop Jayson Tatum with the season on the line?
The timeline also gives the Nets a relatively tight window to work within. As Charania himself mentioned, there are multiple moving parts at play. If Brooklyn drops Game 2, do they rush Simmons back in hopes that he makes a difference? Say they're down 3-1 after Game 4. At that point, is it better to play the long game and shut Simmons down rather than risking him in a potentially meaningless game?
While the timeframe does expand if the seven-seed can upset Boston, the fact that Simmons is still working his way up to physical contact should give those in New York pause. Say that the Nets move on to face the Milwaukee Bucks. Do you feel comfortable tasking someone with only two weeks of work with guarding Giannis Antetokounmpo?
At this point, it seems like the Nets will either have to keep the guard on the sidelines, or throw him into the deep end at less than 100%. Neither of those are great options, especially in the postseason.
That's all calculus the organization will have to work through. At this point, though, dreams of Ben Simmons providing postseason reinforcements seem to be turning into a nightmare.