Ben Simmons Reportedly Devising an Elaborate Scheme to Recoup $20 Million From the 76ers
There might be a $20 million reason why Ben Simmons is traveling to Philadelphia to take the heat this Thursday.
Ben Simmons was never going to suit up for the Brooklyn Nets before the dreaded night of March 10 came around. He can try to spin it any way he wants (not yet in basketball condition, mysterious setback in his recovery from a back injury), but this has always been the plan ever since the 25-year-old forced his way off the Philadelphia 76ers.
It's a smart plan, too. Simmons most likely did struggle with his mental health while taking heat from one of the most ruthless fan bases in sports for eight months, and having him suit up in an enemy uniform in front of 20,000 angry Philly fans so soon wouldn't help matters.
Many were surprised to hear Simmons will even be in attendance and on the bench when the Nets visit the Sixers on Thursday, but it's reportedly just an elaborate scheme to recoup his $20 million in fines.
Ben Simmons preparing for a chorus of boos in his return to Philadelphia
Simmons knows what's in store for him on March 10.
In his first trip back to the City of Brotherly Love since being traded to the Nets, there won't be much love at all inside the Wells Fargo Center on Thursday night. Philly fans have been waiting to unleash their fury on Simmons ever since last season's playoff collapse against the Atlanta Hawks, and the day has finally come.
Tickets for Thursday's game are selling for a minimum of $143 as of March 9, and that's just for standing room only. You'd have to shell out at least $300 for a seat in the lower bowl. Still, expect it to be a full house for Simmons' return.
A chorus of boos will likely serenade Simmons from the moment he walks through the tunnel, but he's prepared to sit on the bench and face the music.
"It's great," Nets head coach Steve Nash said, per ESPN. "He's on our team, he needs to be with his teammates and get the whole Philly thing out of the way a little bit. Maybe it never goes away, but the first time it's always nice to kind of deal with it and move on.
"I don't think he's naive [enough] to think he's not going to get some boos. I hope he enjoys it. It's a part of the game I miss."
But there's reportedly a $20 million reason why Simmons has agreed to attend the game.
Simmons reportedly using March 10 return to recoup $20 million in fines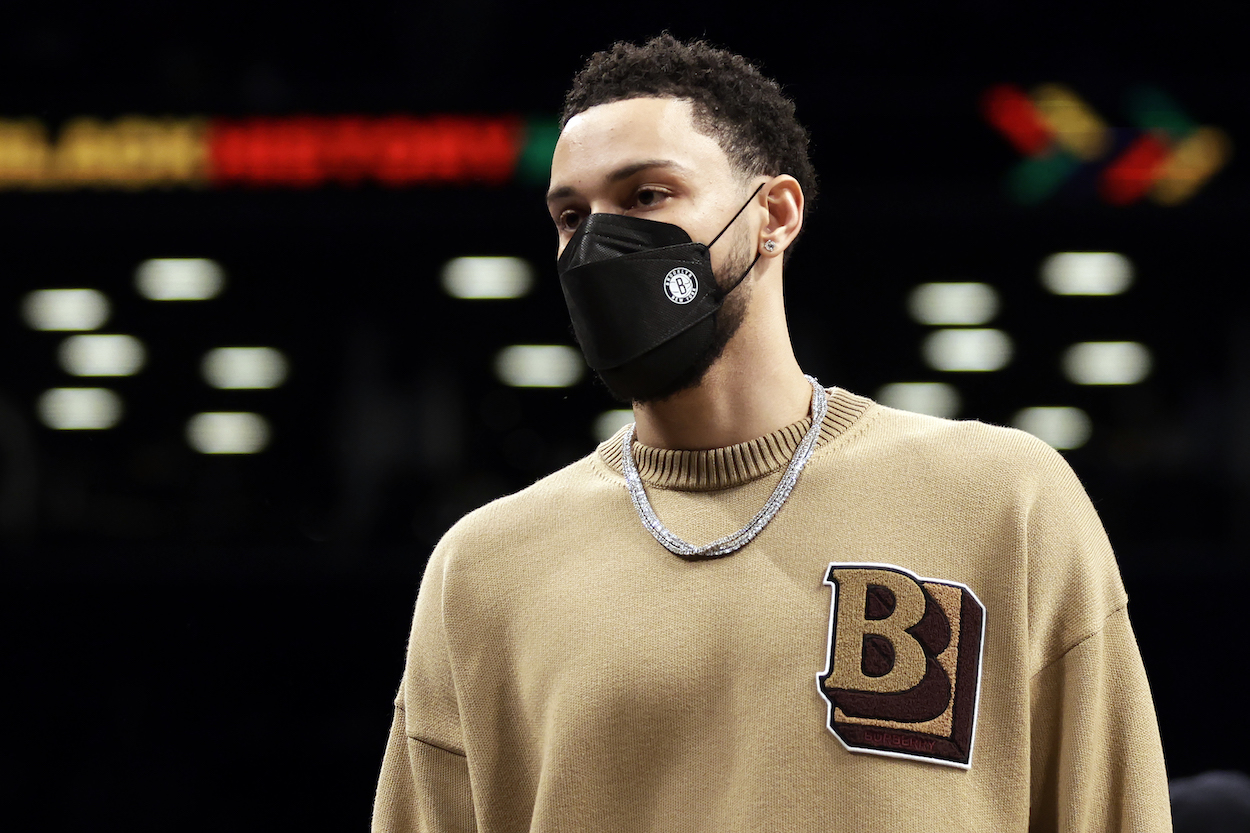 Because Simmons refused to honor his contract and suit up for the 76ers all season, he was fined close to $20 million by the team. Apparently, he's concocting a plan to get that money back.
According to a recent report from Kyle Neubeck of PhillyVoice, Simmons and Klutch Sports are planning to file a formal grievance against the Sixers following Thursday's game in an effort to recoup the $20 million he lost.
Put Simmons in the middle of that storm, the argument goes, and it's believed that will be Exhibit A in the case of why Simmons could not and did not fulfill his obligations for the Sixers prior to being traded, why he was unprepared to work for this franchise prior to being dealt. And the debate over Simmons' obligation to the franchise is what will ultimately take center stage, even if Simmons' side of the argument appears to be fighting an uphill battle in their quest to recoup his lost money.

Kyle Neubeck, PhillyVoice
The security detail for March 10 will be a "playoff-level crew," according to Neubeck, as Simmons is expected to be welcomed back with a harsh reception from the Philly faithful. It didn't make much sense why Simmons wanted to be subjected to that treatment while the wounds were still fresh, but now it's crystal clear.
76ers fans can kill Simmons with kindness
Philly fans will be foaming at the mouth to shower Simmons with boos and profanities on Thursday night, but they could hurt him more by giving him a warm reception.
Simmons and Klutch Sports want the fans to be as harsh as possible. The more merciless they are, the better argument Simmons will have in his mission to recoup $20 million in fines. If Philadelphia fans band together and celebrate Simmons' return like they do for other athletes, his scheme will be foiled.
Many fans have proposed this retaliatory plan on social media, but good luck getting 20,000 angry Philadelphians on the same page.
Like Sportscasting on Facebook. Follow us on Twitter @sportscasting19.