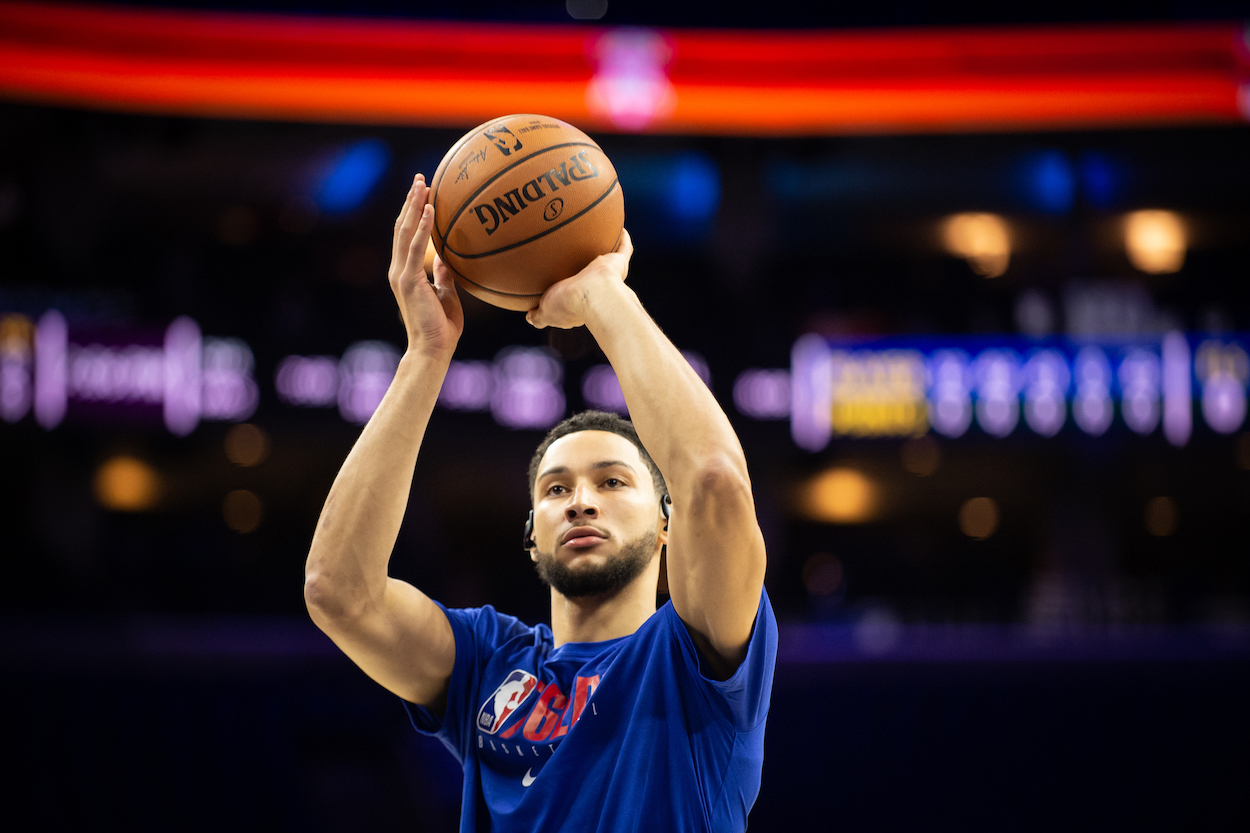 Ben Simmons Reportedly Considering an Unprecedented Change in Effort to Finally Fix His Broken Jump Shot
Ben Simmons reportedly thinking about switching from a lefty to a righty in effort to fix his broken jumper.
Ben Simmons is broken. There's no other way around it.
As if that wasn't clear before Sunday night, passing up a wide-open dunk late in Game 7 to feed a double-covered Matisse Thybulle under the hoop was the final nail in the coffin for Simmons and the Philadelphia 76ers. He can't shoot. We know this to be true. But his offensive issues go much deeper than that at this point. His confidence has sunk so low that he isn't even looking for a shot when he's directly underneath the rim with no defender in sight.
It's past time for Simmons to make a drastic change to his shooting stroke, even if that means switching hands completely.
Yeah, you read that right.
Ben Simmons hits rock bottom as a shooter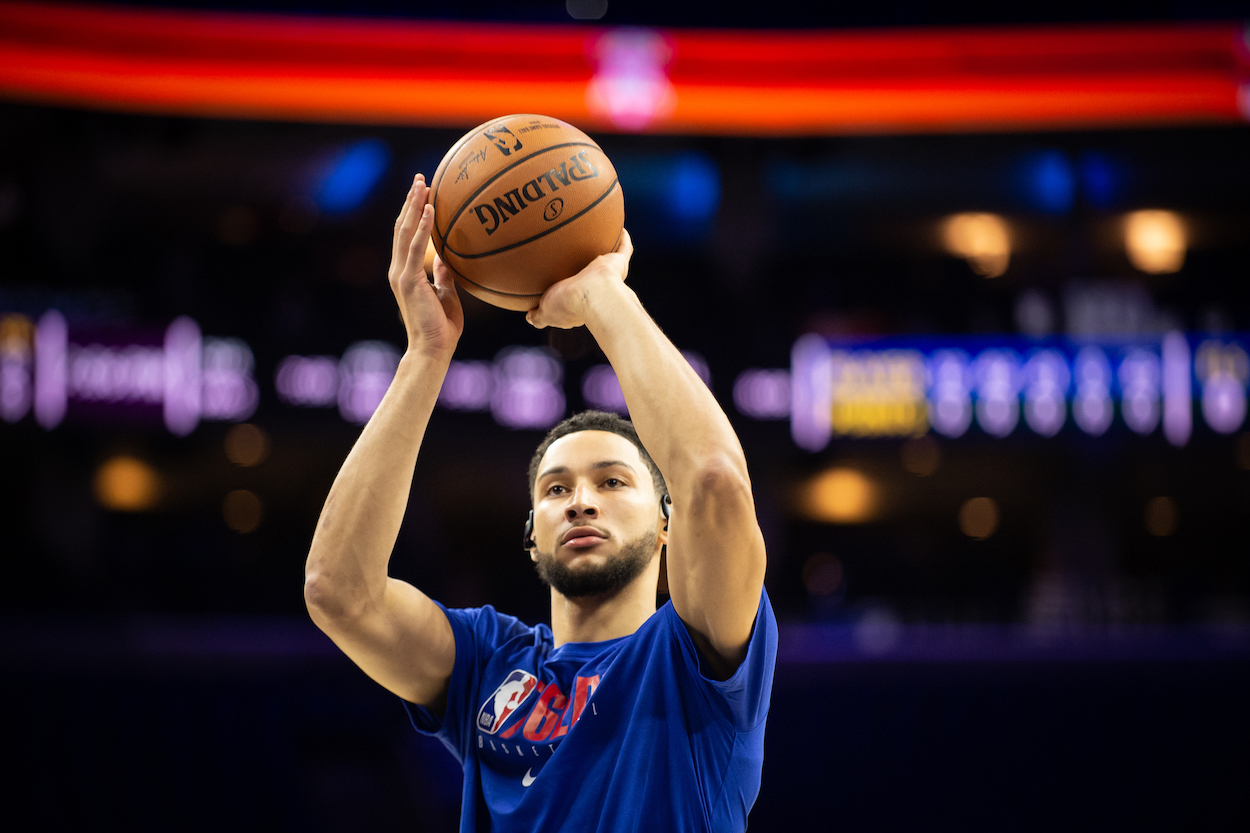 Simmons has never been a lights-out shooter by any means, but it's never been worse than what he showed in the 2021 NBA playoffs. He shot an abysmal 34.2% from the free-throw line in the postseason, which marked the worst percentage among qualifying players in NBA playoff history.
His struggles from the line clearly affected his play on the court, too, as he simply refused to shoot the ball down the stretch of games. During the Sixers' second-round series against the Atlanta Hawks, Simmons attempted just three combined field goals in the fourth quarter. He didn't attempt a single fourth-quarter shot over the last four games of the series.
Simmons does so many things at an elite level on the basketball court, but no team can win in the playoffs if their second star doesn't even look at the basket on offense. His confidence is shot, his shooting form is still as robotic and awkward as ever, and it hasn't improved at all over his four seasons in the NBA.
A desperate change is in order.
Simmons reportedly considering switching from a lefty to a righty
After yet another embarrassing shooting display in the playoffs, Simmons needs to finally get serious about fixing his most glaring flaw. He can become a Magic Johnson-like talent if he simply learns how to knock down a few mid-range jumpers when he's left open.
But his left hand clearly isn't cutting it. So, Simmons is reportedly considering switching to his non-dominant right hand over the offseason in what would be an unprecedented move.
Brian Windhorst of ESPN appeared on SportsCenter Monday and said a switch to his right hand isn't outside the realm of possibility for Simmons.
"One of the things that I have been told is on the table — hasn't been decided but is on the table — is examining whether he changes his dominant shooting hand from left to right," Windhorst said. "Now that is a radical thing to do. He is ambidextrous. He does do some things in his life right-handed. It isn't insane. There are some statistical measures out there that show he's not bad shooting with his right hand, but that's obviously a big change and would take some period of time to implement.
"Ben Simmons I believe is going to get serious about trying to address this in his months off coming up."
Switching his shooting hand isn't as crazy as you might think
Completely switching shooting hands in the middle of his NBA career might seem like an irresponsible decision for Simmons, but it's truly possible he's been a righty disguised as a lefty this entire time.
When Simmons was younger, his father forced him to practice shooting and dribbling with his left hand so he could become an ambidextrous threat on the court. He eventually became so used to shooting with his left hand that he stuck with it throughout high school and college.
"I think I was supposed to be right-handed," Simmons told Kevin Armstrong of the New York Daily News in 2016. "It's all natural now."
Even throughout his young NBA career, Simmons has been told by former teammates to switch back to his right hand. JJ Redick, who recently played on the Sixers for two seasons, said he's encouraged Simmons and DeAndre Jordan to becomes righties.
"I've seen them shoot right-handed. It's better form right-handed," Redick said on a recent episode of his The Old Man and the Three podcast. "They do everything else right-handed, I don't understand why you're shooting a basketball left-handed.
So, Simmons switching shooting hands wouldn't be as far-fetched as you might think. And hey, he can't get any worse. Why not give it a shot?