Ben Simmons Trade Destinations: Ranking the Brooklyn Nets and the 4 Best Landing Spots for the Disgruntled Philadelphia 76ers Star
It's now been five months since All-Star point guard Ben Simmons initially demanded a trade from the Philadelphia 76ers, and there's still no deal in sight.
The Sixers are seeking a superstar player in return for Simmons. The only problem? That offer simply doesn't exist in the market right now. Interested suitors know the 76ers don't have enough bargaining power in trade talks considering their disgruntled star has stated he doesn't plan on suiting up for them ever again.
But if Philly eventually gives up and agrees to trade Simmons for a more reasonable package, here are the four best landing spots for the 25-year-old if he wants to resurrect his image and his career.
4. Sacramento Kings
What do we know about Ben Simmons?
Well, for one, we know he loves to spend time in California. We know he doesn't like being told what to do on or off the court. And we also know he doesn't enjoy the pressure that comes along with playing in a big market.
Check, check, and check.
The Sacramento Kings have been the laughingstock of the NBA for 15 years. All Simmons would have to do is lead them to one winning season, and he would be praised like an actual king by Sacramento fans for the rest of his life. No, he wouldn't be able to compete for an NBA title, but Simmons might just need a break from all that pressure he faced in Philadelphia.
3. Los Angeles Clippers
Now we're talking.
The LA Clippers might be without Kawhi Leonard for the entire season, so they could use another All-Star in the lineup if they want to compete for the Western Conference crown. And when he does return, Leonard, along with Simmons and Paul George, would make up a nightmare of a defensive lineup for opposing offenses.
Simmons could fill the dunker spot in small-ball lineups, run the transition offense after turnovers, and play lockdown defense to give Leonard and George a much-needed break on that end of the floor.
Plus, he spends the majority of his offseason in Los Angeles anyway, so he'd be likely more than happy to move there full-time.
2. Golden State Warriors
For Simmons to be the best version of himself on the offensive end of the floor, he needs shooters surrounding him and a spaced-out floor to give him room to operate in the paint.
What team does that sound like?
By joining the Golden State Warriors, Simmons wouldn't be counted on to score as much as he is in Philly. He could drive and kick to a few of the greatest shooters in NBA history and only strengthen what has been the best defensive team in the NBA this year.
If we're talking strictly about fit, the Warriors might be the perfect landing spot for Simmons.
1. Brooklyn Nets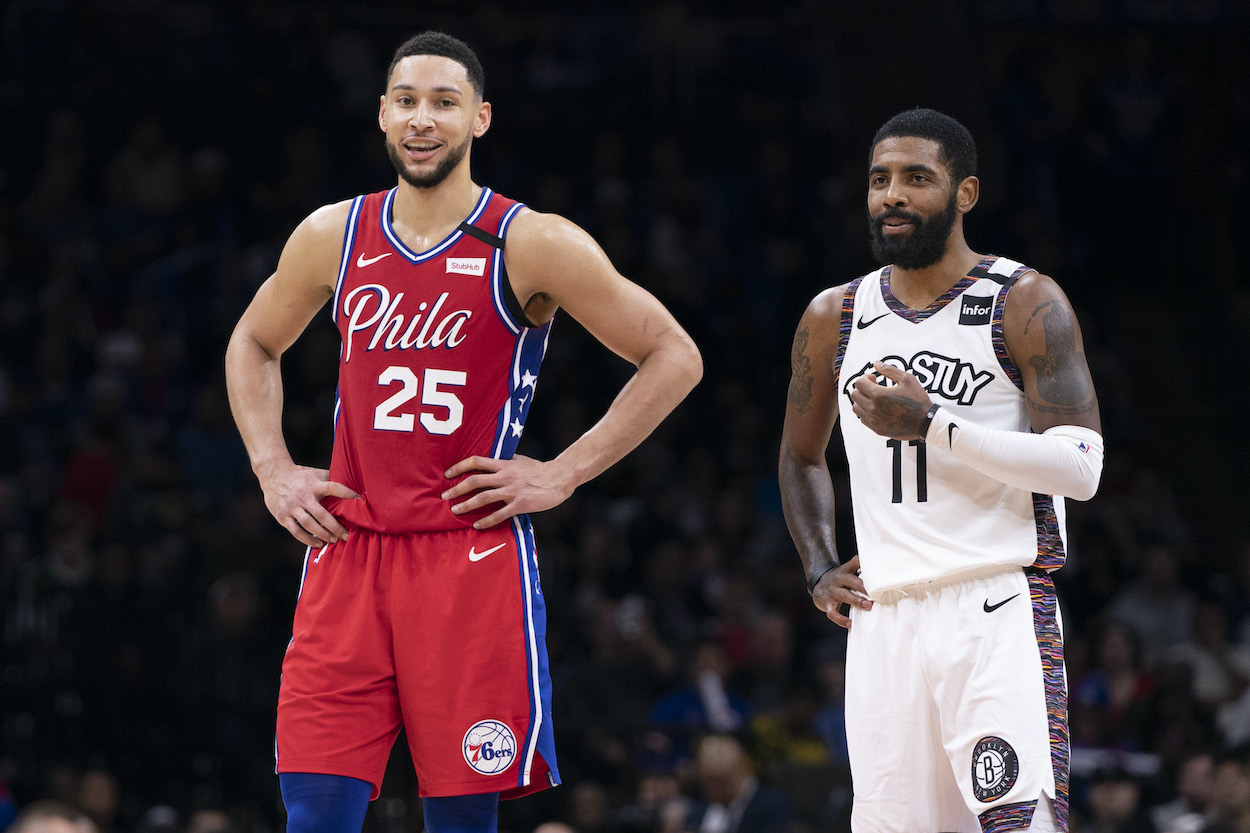 In an ideal world, Simmons would land with the Brooklyn Nets to play alongside Kevin Durant and James Harden. He wouldn't have to do much on the offensive end with those superstars running the show, and he would drastically improve Brooklyn's defense the second he steps on the floor.
Durant and Harden could continue to handle the ball and initiate the offense, while Simmons could hang out in the dunker spot and catch lobs from them all night. Brooklyn also isn't a huge market in the NBA, so Simmons wouldn't face as much scrutiny as he does in Philadelphia. And even if the team fails, Nets fans would blame Durant and Harden before Simmons.
Oh, and the Nets also have a point guard who isn't playing this year. A Simmons-for-Kyrie Irving swap really would be a win-win for both teams.
Like Sportscasting on Facebook. Follow us on Twitter @sportscasting19.