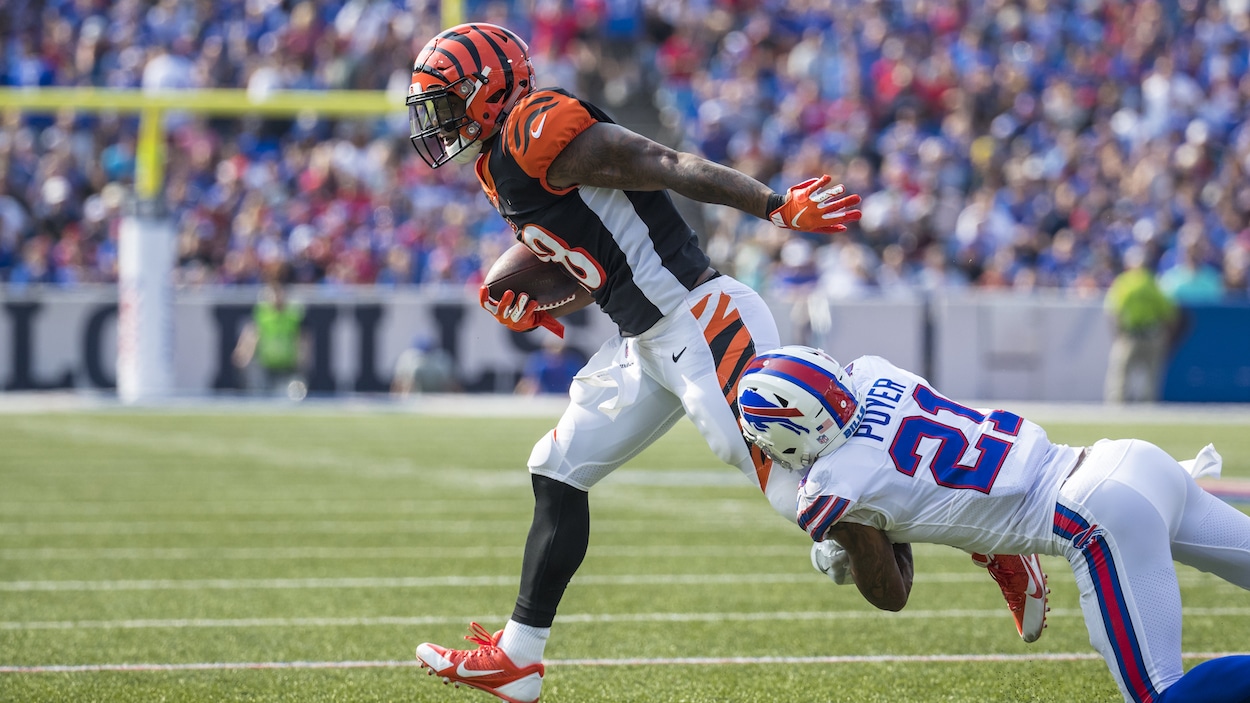 Joe Mixon Throws 'Shade' At Buffalo Ahead of Bengals-Bills Monday Night Clash
While Joe Burrow and Josh Allen play nice ahead of the Week 17 'Monday Night Football' Bengals-Bills game, RB Joe Mixon isn't doing the same.
The Monday Night Football clash between the Buffalo Bills and Cincinnati Bengals could be one of the games of the year in the NFL. The Bengals-Bill matchup features superstar quarterbacks Joe Burrow and Josh Allen going head-to-head for the first time in their pro careers. And more importantly than that, the winner of this game gets a serious bump in playoff seeding. However, while the two friendly QBs are praising each other to the media every chance they get, Bengals running back Joe Mixon isn't afraid to give Buffalo some bulletin board materials ahead of the Week 17 Bills-Bengals closer.
Joe Mixon isn't afraid of the Bills ahead of Week 17 'Monday Night Football' matchup
The Buffalo Bills are still the Super Bowl favorite, as they have been almost all season. However, it is the Cincinnati Bengals that are the defending AFC champs.
Most pundits are setting up this Bengals-Bills matchup as the 11-4 Bengals trying to upset the 12-3 Bills in Cincinnati. However, Bengals star running back Joe Mixon doesn't see it that way, and he's not afraid to say it.
Bills insider Dan Fetes of ABC 13 WHAM in Rochester, New York, reports that Mixon is one of the Bengals players who are "showering the Bills in, well, shade."
"What people need to understand is that we are the big dog in the AFC. That is just what it is," Mixon told reporters before the Monday Night Football battle. "If anything is gonna happen, it's gonna have to go through us."
And it wasn't just the Bills in general that Mixon took aim at. He also fired a shot at Bills star linebackers, Matt Milano and Tremaine Edmunds.
"They're a solid linebacker group. But I mean, they're not the Ravens. They're good, you know what I'm saying?" Mixon said, per USA Today. "They get paid, too. I'm not saying they're not good. But they're not the Ravens."
After these comments, we'll see if the Bengals-Bills matchup — specifically between the Bills defense and Mixon – has a little extra spice on Monday night.
Joe Burrow and Josh Allen are good buddies ahead of Bengals-Bills game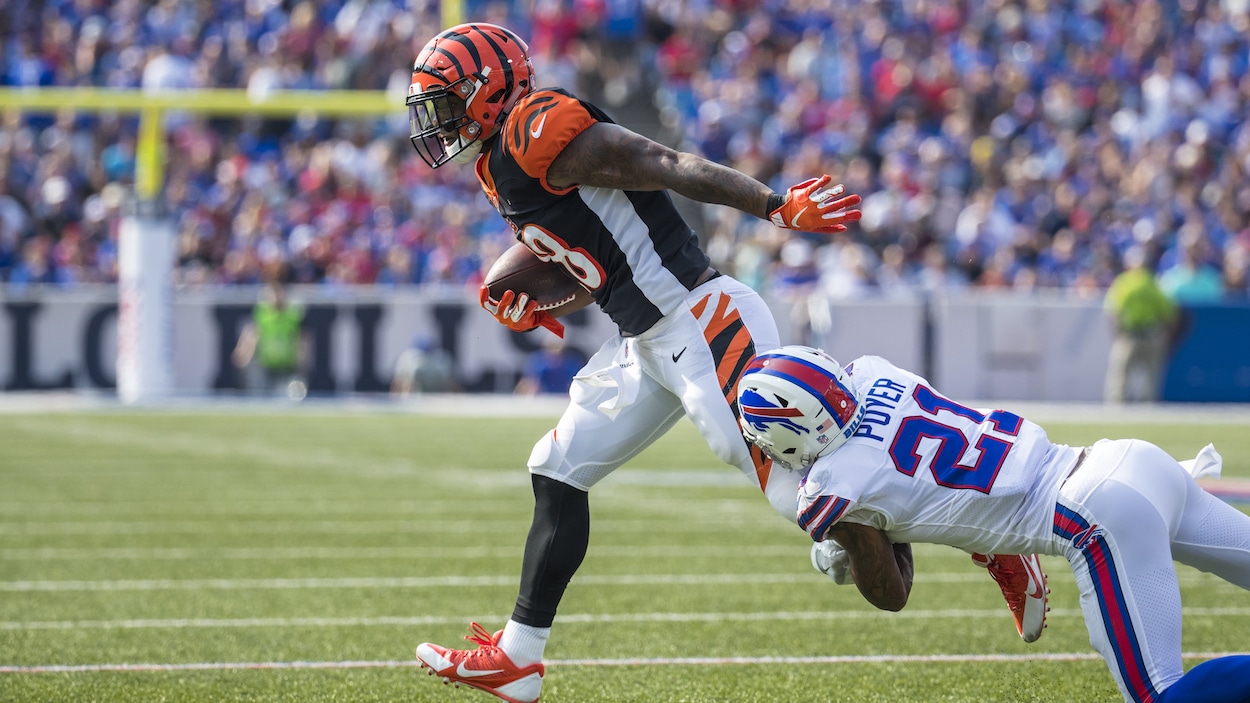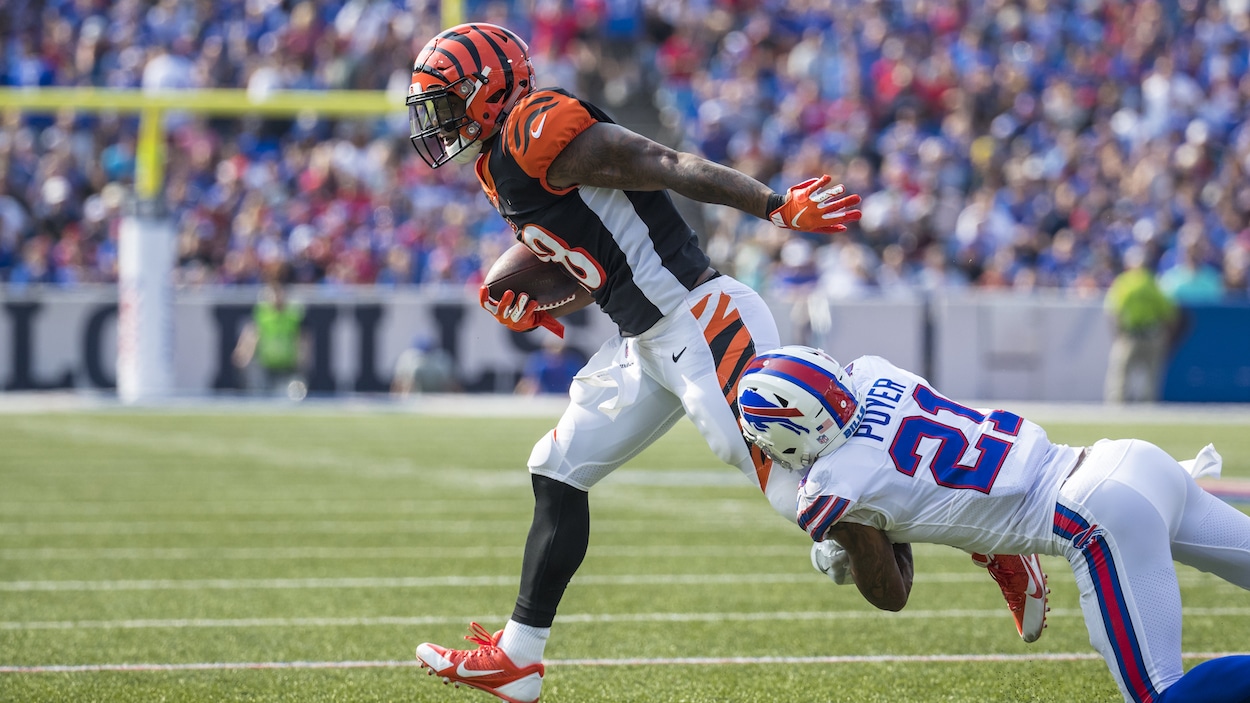 While Joe Mixon is happy to give the Bills bulletin board material, there is no such issue between Josh Allen and Joe Burrow.
In fact, according to NFL Network's Cameron Wolfe, "These two are friends. Burrow said this week, 'Look, we hang out a lot in the offseason. We share a quarterback coach, Jordan Palmer.'"
Burrow also said of Allen ahead of Bengals-Bills, "There's no secrets as to why [Allen] is so good. He's fun to watch, runs around, makes plays, makes throws nobody else can make. He's just an exciting player, a fun player that's going to be fun to go against."
For his part, Allen heaped praise on his opposite number as well.
"The dude's all ball. [Burrow] loves football. Honestly, he's a heck of a talent, a heck of a player. Got a lot of respect for him as a person, as a player. We've had some interactions over the last couple years. Some conversations. But I've got the utmost respect for him," Allen said.
And why shouldn't these two say great things about each other? They are quantifiably two of the best quarterbacks in the NFL right now. Burrow is second in passing yards (4,260) and passing touchdowns (34) and third in completions (389). Allen is third in passing touchdowns (32), sixth in passing yards (4,029), and eighth in completions (340).
The Joe Mixon comments ahead of Week 17's Bills-Bengals Monday Night Football, but this game will ultimately come down to the Burrow-Allen battle.