Joe Burrow vs. Josh Allen: Which Star QB Should NFL Teams Fear the Most?
The Buffalo Bills and the Cincinnati Bengals transformed from directionless franchises into perennial Super Bowl contenders by finally finding permanent answers at quarterback. 
By banking on Josh Allen's upside and believing that Joe Burrow wasn't just a one-year wonder, both AFC teams landed bonafide stars at the most important position in sports. While both signal-callers give defensive coordinators nightmares, it's fair to say they have stylistic differences that make them unique. 
But in a league predicated on making plays in the passing game, which superstar represents the more significant threat?
Let's take a closer look at what makes Allen and Burrow so special before determining who NFL teams should fear the most.
Joe Burrow: The ultimate competitor who stays poised under pressure
The college football community watched Joe Burrow become a household name by leading the LSU Tigers to a national championship. Although he hasn't won a Super Bowl title just yet, there's little doubt the No. 1 overall pick from the 2020 NFL Draft will hoist the Lombardi Trophy sooner than later. 
Much like Tom Brady, Burrow possesses excellent accuracy and anticipation, two qualities that helped the GOAT accumulate seven rings during his decorated career. And just like the quarterback to whom he drew many comparisons in the pre-draft process, Burrow's ability to read coverages, identify blitzes, and make throws under pressure put him in the upper echelon of players at his position. 
Coming off a season in which he led the NFL in completion percentage (70.4), the third-year quarterback has completed 69% of his attempts for 4,260 yards, 34 touchdowns, and 12 interceptions. And while nobody would put Burrow in Allen's class as a ball carrier, his underrated mobility has allowed him to total 247 rushing yards and five more scores. 
As the unquestioned leader of the league's sixth-ranked scoring offense, the quarterback some refer to as Joe Cool remains firmly in the mix for MVP honors–and deservedly so. With the Bengals poised to win the AFC North in back-to-back years for the first time since 1981-82, Burrow has brought a winning brand of football to a franchise that didn't give its fans much to cheer for from 2016-20. 
Still, there's room for improvement for the star signal-caller. Although the Bengals could undoubtedly use reinforcements along the offensive line, Burrow is partially to blame for absorbing 90 sacks in the last two seasons.
Plus, it's fair to say he doesn't rank anywhere near the top from an arm-strength standpoint, making him a slightly more limited passer than his talented peer who plays for the Bills.
Josh Allen: A one-of-a-kind athlete who keeps defenses guessing
Talk about a total transformation.
Thanks to improved weapons, better coaching, and his dedication to fulfilling the franchise quarterback role in Buffalo, Josh Allen has gone from a project to a masterpiece. At 6-foot-5, 237 pounds with 4.6 wheels, no NFL player presents such a physically imposing package to stop.
Plus, the 26-year-old has arguably the strongest arm in the league, which allows him to hit Stefon Diggs, Gabriel Davis, and the rest of his weapons from essentially any point on the field. 
A dual-threat star who still has untapped upside, Allen has thrown 32 touchdown passes, averaged nearly a full yard more per attempt than in 2021, and posted the second-highest QBR (70.5) in the NFL through 15 games. (Burrow ranks seventh with a solid mark of 61.3.)
Most importantly, Allen has put his team in a position to make up for last season's disappointing finish. The All-Pro candidate has helped Sean McDermott's squad rattle off six straight wins to cement its third consecutive AFC East title. If the Bills win out and Allen plays up to his capabilities, it wouldn't be a surprise if he edges out Patrick Mahomes for the NFL MVP Award. 
However, you can't always bank on Buffalo's biggest star to protect the football. While 13 interceptions on 536 attempts (2.4%) fall right in line with Allen's career average of 2.3%, he's gone from fumbling nine times in 2020 and eight in 2021 to 13 this season. When put under pressure, the big-armed passer can become his own worst enemy and be prone to forcing a throw or failing to protect the football.
Burrow vs. Allen: Which quarterback should teams fear the most?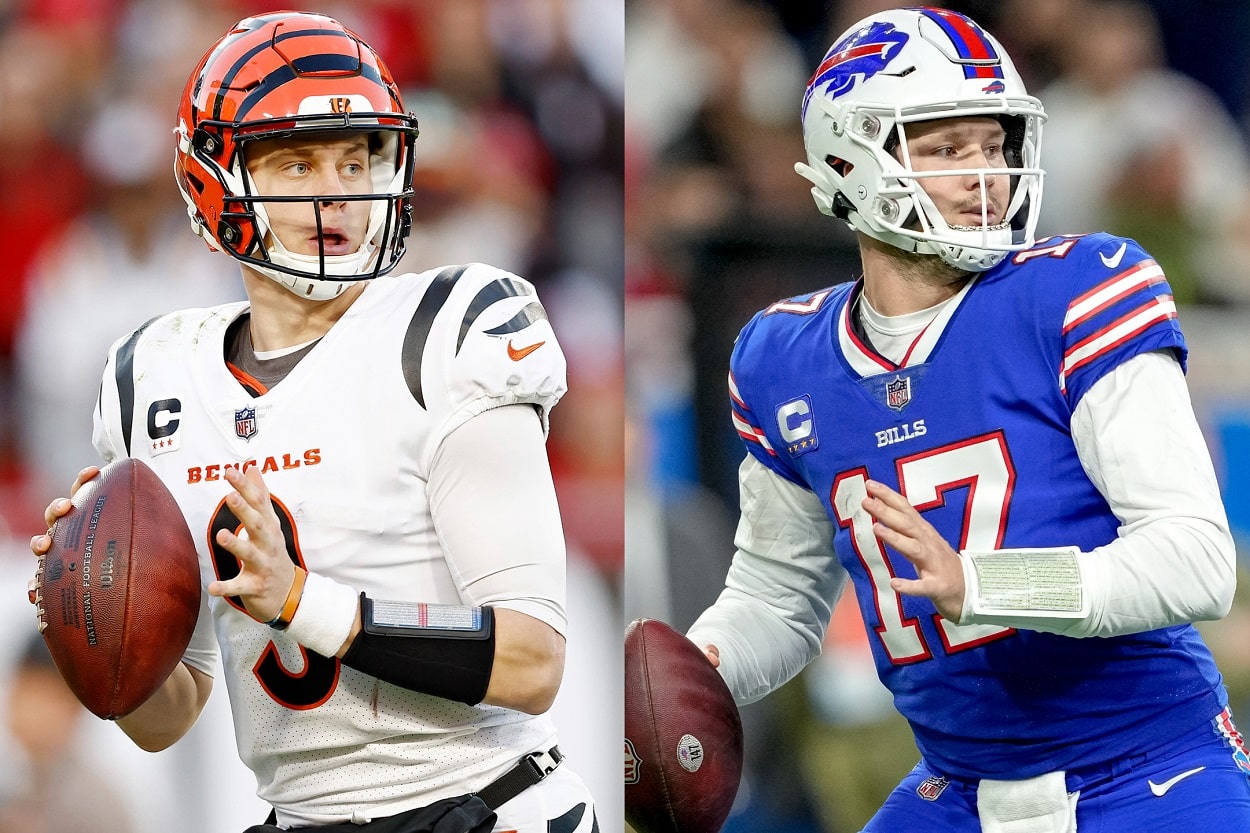 You can't go wrong with either of these quarterbacks, especially given the solid supporting casts and smart coaching staffs that surround them. In many ways, picking one over the other comes down to which flavor you prefer. 
Do you value precision, timing, and accuracy above everything? 
Joe Burrow's your guy. 
Do you want to base your offense around someone who can make a 70-yard throw or run? 
Josh Allen's the clear-cut choice. 
Ultimately, though, when it comes to opposing defenses, the mobility factor makes a major difference in how coordinators draw up a game plan. And because Allen has made significant strides as a passer, he isn't anything close to one-dimensional.
Rather, he presents a monumental challenge to linebackers, who must make run or pass reads in seconds and avoid getting victimized on RPOs or play-action calls. Meanwhile, safeties and cornerbacks who have to face Allen in the open field must figure out a way to take down a quarterback who's built like a defensive end. 
Burrow is by no means a bad athlete; he's just nowhere near Allen's level. He can be used on rollouts and even some designed quarterback runs, but he doesn't bring that same level of athleticism. His best traits are intangibles like toughness, leadership, and football IQ, which some would argue are more important than speed, size, and arm strength. 
But as much credit as Joe Burrow deserves for what he's done since becoming the No. 1 overall pick, Josh Allen is simply in a class of his own.
When he's firing on all cylinders, there isn't another player in the league who can inflict as much damage in different ways as the quarterback who watched Baker Mayfield and Sam Darnold get drafted before him four years ago. 
Let's just say Allen's had the last laugh.