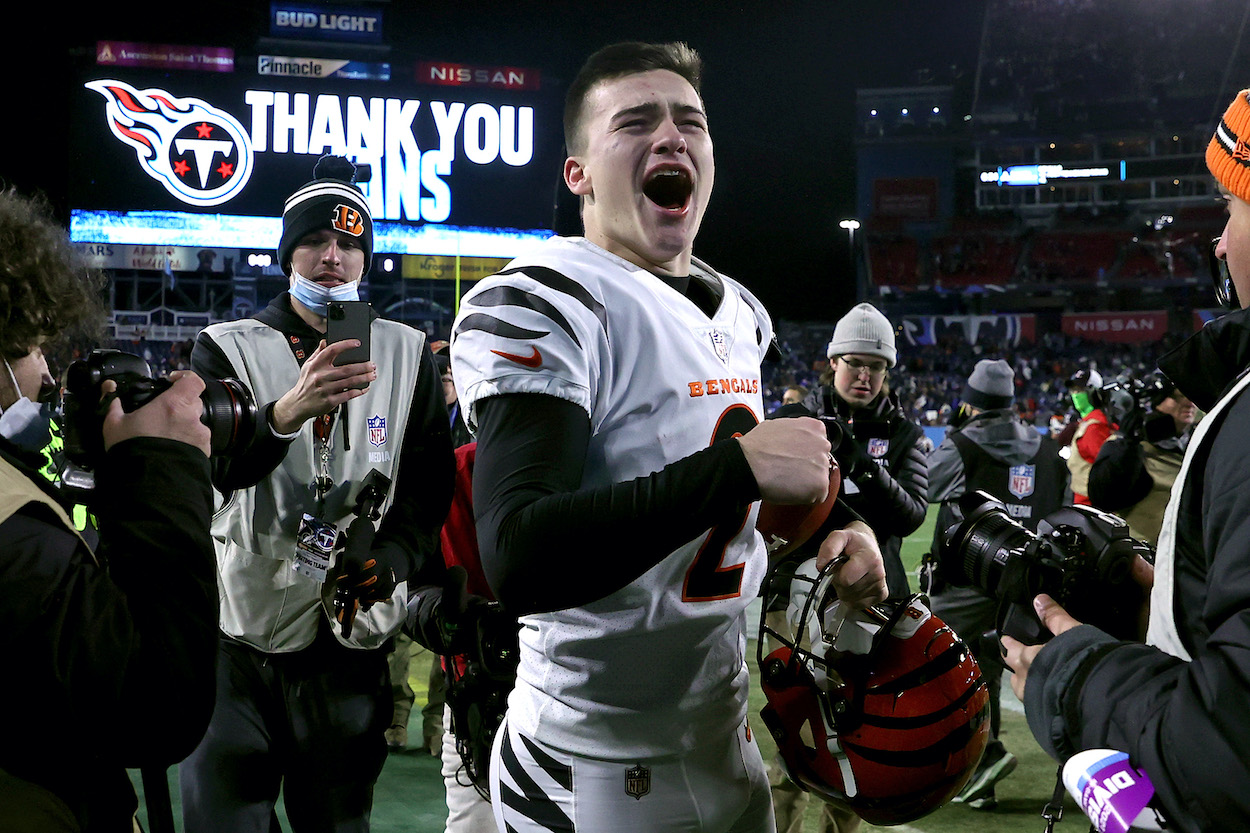 Bengals Hero Evan McPherson Stunned Joe Burrow With a Cocky One-Liner Before His Game-Winning Kick Against the Titans: 'That Guy Is Unbelievable'
Evan McPherson confidently predicted a make before drilling the game-winning kick to send the Bengals to the AFC Championship.
Joe Burrow and the Cincinnati Bengals' high-powered offense mustered just one touchdown in their AFC Divisional Round matchup against the Tennessee Titans, but rookie kicker Evan McPherson scored 13 points himself and sent his team to the AFC Championship with a game-winning 52-yard field goal as the clock expired.
But what was even more impressive than the kick itself was McPherson's cocky one-liner before even taking the field.
Evan McPherson plays hero to send the Bengals to the AFC Championship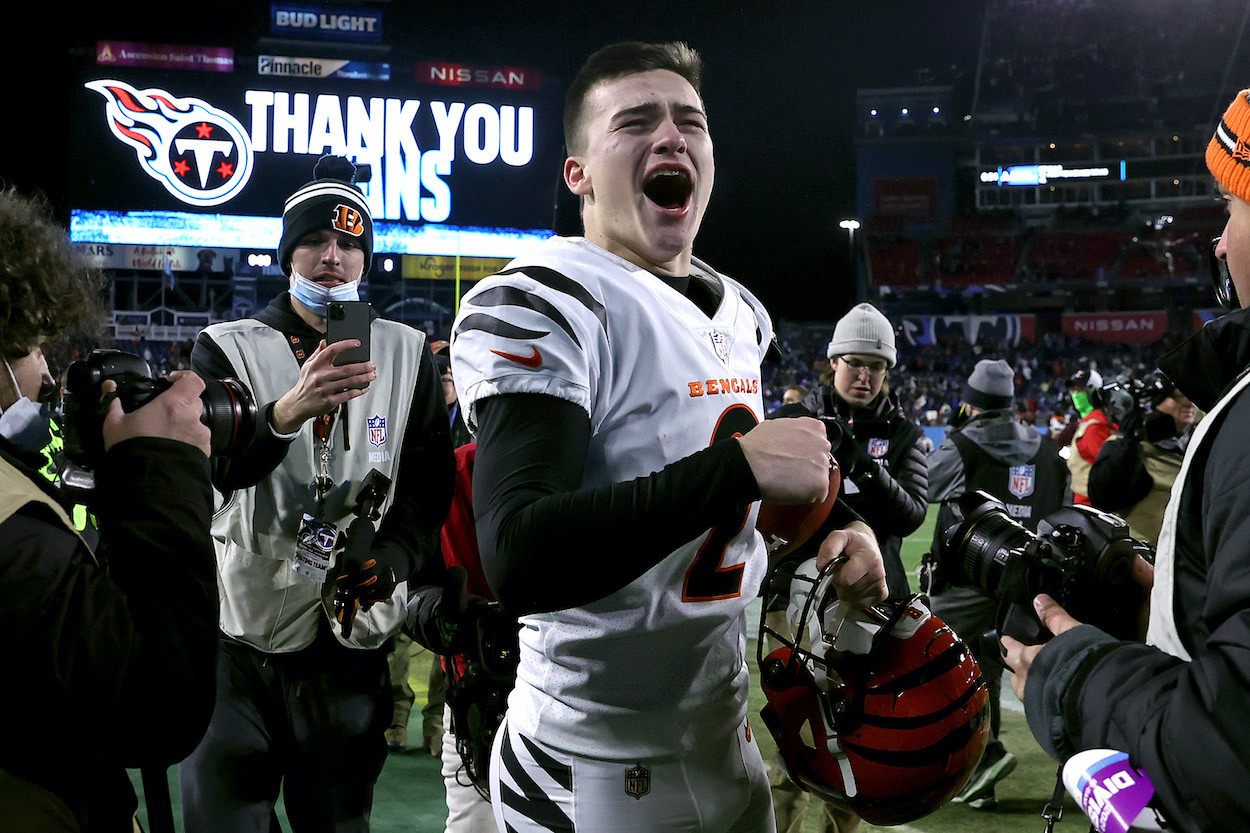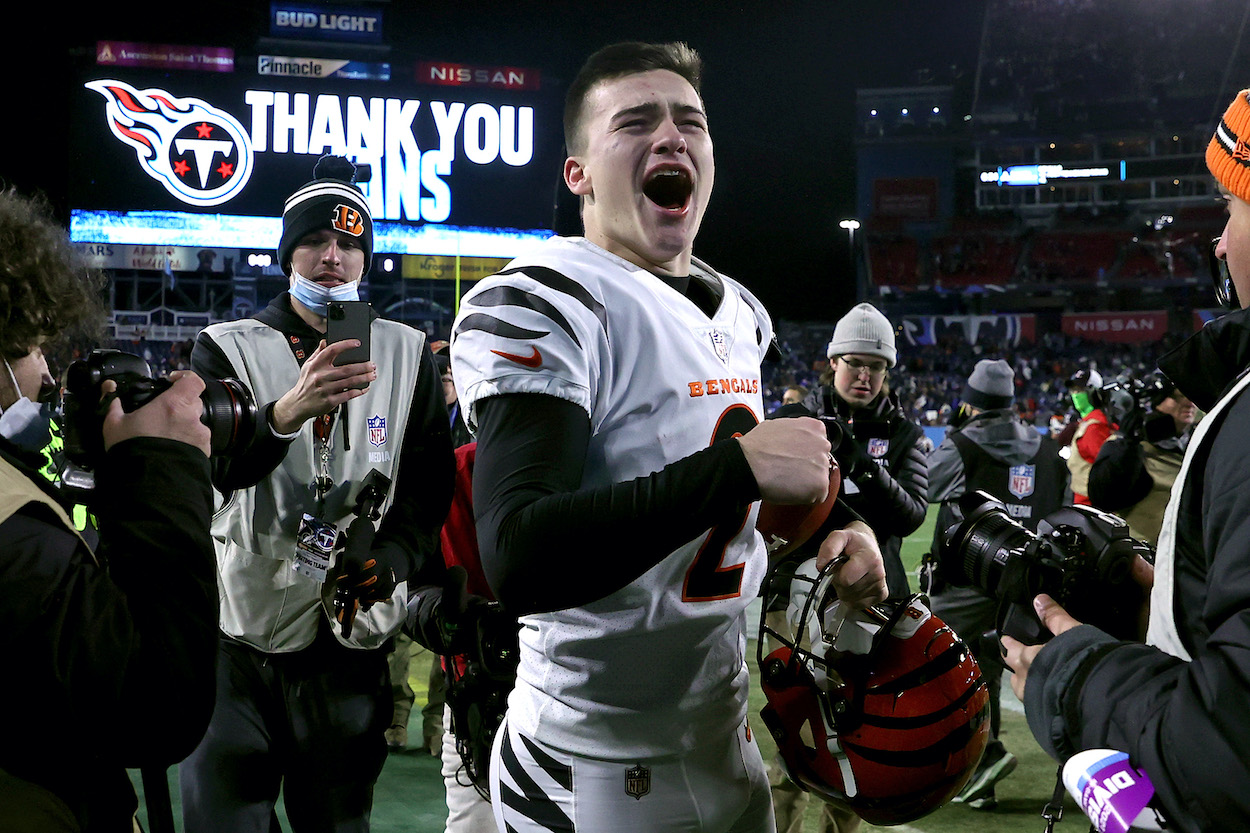 The Bengals have reached the AFC Championship Game for the first time since the 1988 season, and they have an unlikely hero to thank.
It wasn't their No. 1 overall pick and franchise player who made it possible. Sure, Burrow threw for 348 yards in the game and made a pinpoint throw to Ja'Marr Chase to set up a game-winning field goal on the final drive, but he also tossed an interception, took nine sacks, and didn't throw a single touchdown.
Cincinnati's high-scoring offense only managed one touchdown in the game courtesy of running back Joe Mixon. In the end, it was the Bengals' defense and special teams that carried them to a win.
The defense picked off Ryan Tannehill three times in the game and held Derrick Henry to just 62 rushing yards on 20 carries. McPherson, who was the real hero of the game, made all four of his field goal attempts and calmly drilled the game-winner from 52 yards out as time expired.
Incredibly, the 22-year-old knew his kick was good before he even stepped on the field.
"Unbelievable" McPherson stunned Joe Burrow with cocky one-liner before game-winning FG
It's extremely rare to find a rookie kicker who isn't fazed by any amount of pressure, but the Bengals found a hidden gem with McPherson in the fifth round of the 2021 NFL draft.
McPherson has missed just five field goals all season, and all of them came from at least 40 yards out. In the first road playoff game of his NFL career, the 22-year-old had no doubts that his game-winner was going right through the middle of the uprights.
"That guy is unbelievable. He was talking to Brandon [Allen] as he was going out to kick, and he gave a little warmup swing and he said, 'Ah, it looks like we're going to the AFC Championship,' right before he went out there and kicked it."

Joe Burrow
And he was right.
Burrow knew McPherson was special from Day 1
Kickers don't often get the respect they deserve in the NFL. But smart teams know elite kickers can make the difference between wins and losses, especially in the playoffs.
It's clear Cincinnati has a cold-blooded marksman on its roster for years to come, and his teammates knew he was special from the day he first stepped on the field in those iconic Bengals stripes.
"We knew exactly what we had as soon as he walked into the building in camp and we just saw how he carried himself," Burrow told reporters on Saturday. "You know exactly how a kicker is going to perform when obviously everyone at this level can kick through the uprights, but it's how you handle yourself in the locker room that shows us that you have the confidence to go out there and make a kick like this and perform the way he did in a game like this. We knew exactly what kind of guy we had in camp."
Thanks to their rookie kicker, the Bengals are AFC Championship bound for the first time in over three decades.
Like Sportscasting on Facebook. Follow us on Twitter @sportscasting19.