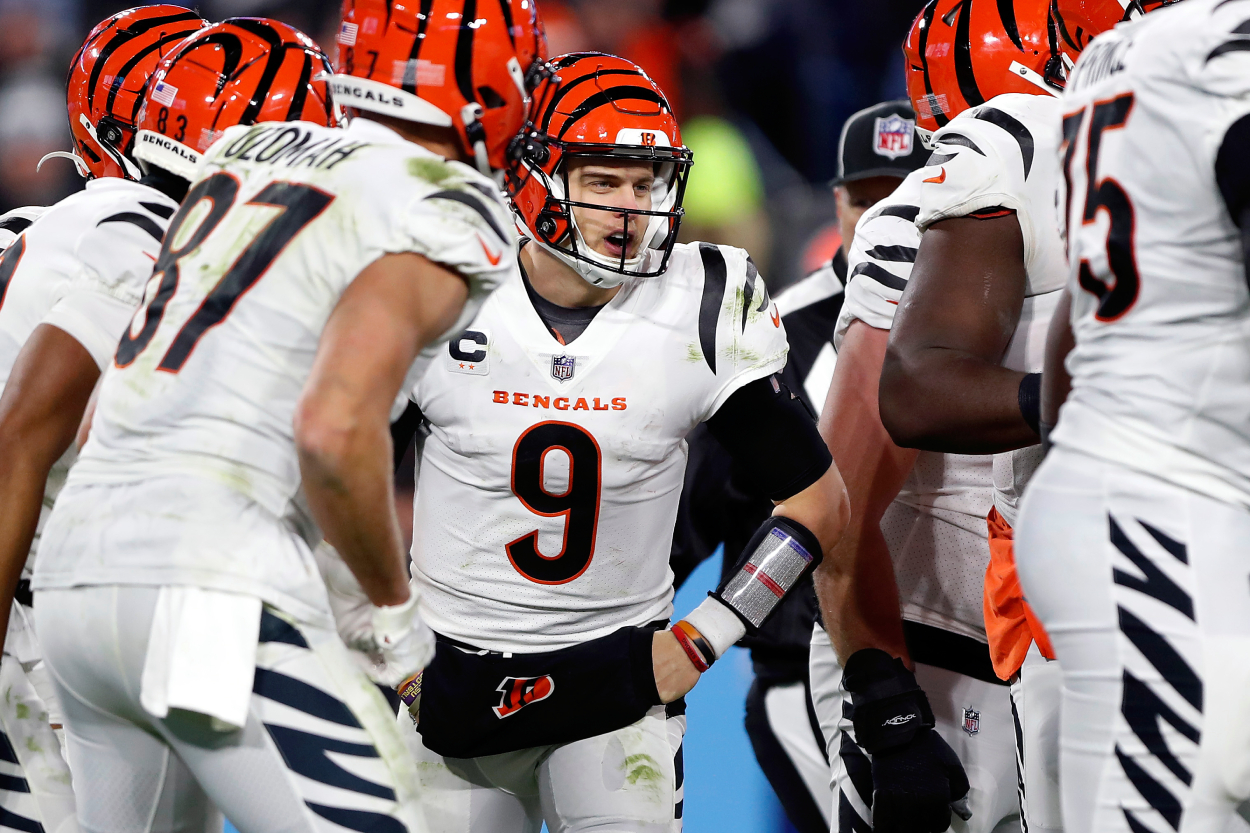 The Cincinnati Bengals Proved They Are Still Walking Down a Dangerous Path Despite Making AFC Championship Game
The Cincinnati Bengals made the AFC Championship Game with their win over the Titans, but they are still walking down a dangerous path with quarterback Joe Burrow.
If you had told Cincinnati Bengals fans in the offseason that they were going to make the AFC Championship Game this year, they would have looked at you as if you were from Mars and said that extraterrestrial life actually exists. Then they would have returned to eating their Skyline Chili.
But whether they believe it or not, the Bengals are in the AFC Championship Game for the first time since the 1988 season. Joe Burrow and company have taken the NFL by storm and completely turned the franchise around.
However, Cincinnati is still walking down a dangerous path and proved it in its AFC Divisional Round win over the Tennessee Titans.
The franchise needs to protect its most important employee.
The Titans sacked Joe Burrow nine times in the Bengals' divisional-round win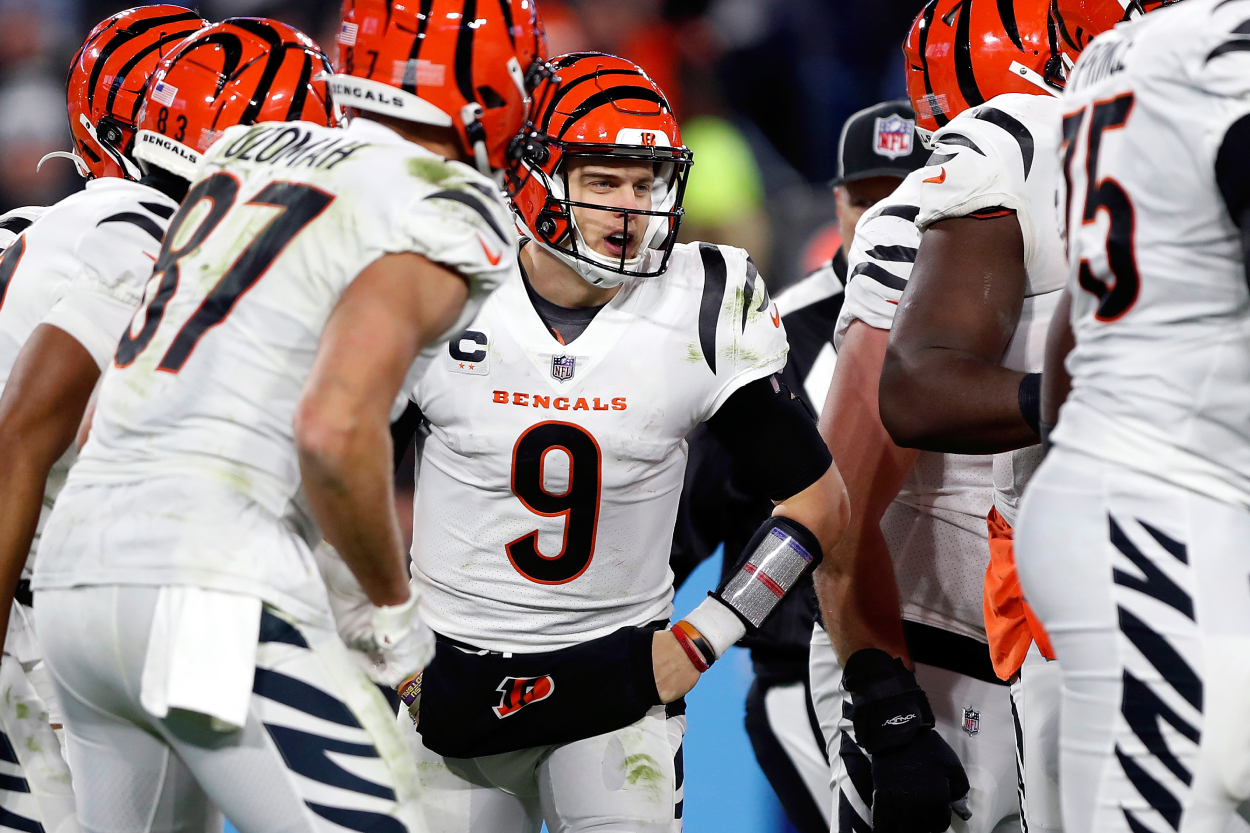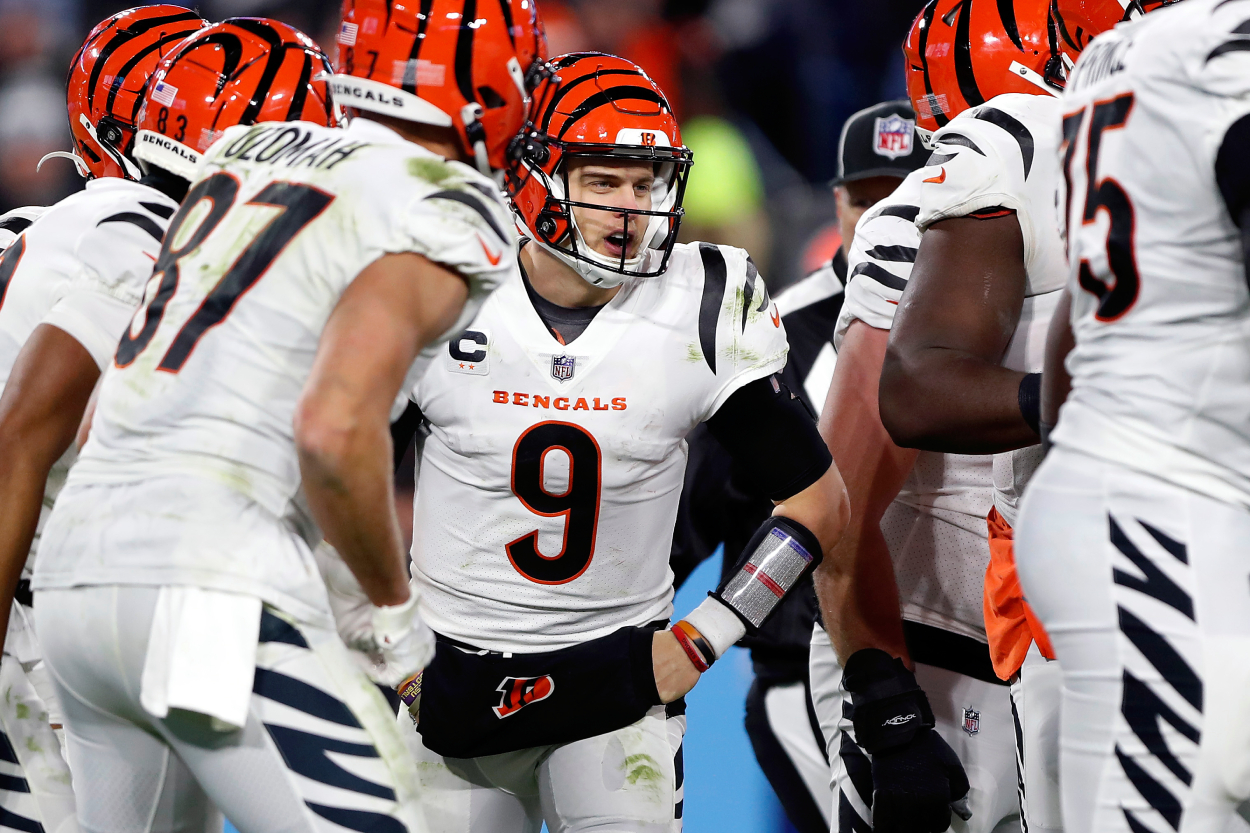 The Bengals knew they had their hands full in their first divisional round playoff game in over 30 years. 
They allowed Joe Burrow to get sacked more than any other quarterback this year, as he went down 51 times during the regular season. The No. 1 seeded Titans, on the other hand, were No. 6 in points allowed per game and in the top 10 in total sacks with 43.
And the lack of protection almost cost Cincy its season.
Burrow went down a whopping nine times against the Titans (tied for a playoff record) and twice during a fourth-quarter drive with the score tied 16-16. It resulted in a Bengals punt. But (luckily for the line) the defense forced Tennessee QB Ryan Tannehill into his third interception of the night and set Cincinnati up for a game-winning 52-yard field goal, which Evan McPherson made with ease. Cincy won 19-16 and sent the Titans into the offseason.
However, allowing your franchise quarterback go down nine times after seeing him suffer a season-ending injury last year due to the team's lack of protection is problematic enough. But it's especially troubling considering that the line allowed him to get sacked more than anyone in the regular season.
So, while they miraculously made the AFC Championship Game, the Bengals are still playing with fire.
The Bengals have failed to get protection for their star quarterback
The debate around Cincinnati during the 2021 offseason was whether the team should have drafted offensive lineman Penei Sewell with the No. 5 pick in the draft or wide receiver Ja'Marr Chase. Sewell would have given Burrow the protection he needed in his rookie season, especially after the team didn't draft a lineman until the sixth round in 2020. But Chase is a game-changer and had an unstoppable connection with Burrow at LSU.
As you likely know, Cincinnati chose Chase, and it proved to be the correct decision. He will likely win this year's Offensive Rookie of the Year Award and has even received Joe Montana/Jerry Rice comparisons with Burrow. But that lack of protection has still haunted the team.
The Bengals improved their offensive line from 2020, but they still have massive holes at center and right guard. Isaiah Prince has also struggled at right tackle while playing for the injured Riley Reiff. In reality, though, Burrow shouldn't have led the NFL in times sacked this year. Following his knee injury last season, Cincinnati should have gone above and beyond to protect him.
Yes, it improved the line, but it didn't improve it enough, which not only nearly cost the team its season but also has it going down a dangerous path.
Joe Burrow is going down a path similar to Andrew Luck's
Bengals fans have waited decades for their franchise quarterback, and he's finally here in Joe Burrow. But how long will they have him?
The Indianapolis Colts had a generational QB in Andrew Luck, but then-general manager Ryan Grigson failed to protect him year after year. It resulted in numerous injuries for the quarterback. But when he was healthy, he led the team to great success, which kept it from having good enough position in the draft to get him protection (who knows if Grigson would have actually drafted an offensive lineman anyway).
And due to all his injuries, Luck ended up retiring from the game at only 29 years old. The closest we've been to seeing him play football again was when he went to a random high school practice last year.
The Bengals had opportunities to select offensive linemen much earlier in the 2020 and 2021 drafts. It worked out for them this year with Ja'Marr Chase, but they now won't have a high enough draft pick to select a top-tier lineman in 2022.
So, have they missed their window to get their QB the protection he deserves? Maybe, but they can also improve that unit in free agency now that more great players will want to come to Cincy to play with Burrow.
No matter what the future holds, though, the Bengals are walking down a dangerous path by not getting Burrow enough protection in his first two seasons. If they want Joey Franchise to have a long and healthy career in Southern Ohio, they need to do whatever they can to get the best of the best in front of him next year and beyond.
If they don't, they could be in a situation similar to the Colts.
Stats courtesy of Pro Football Reference