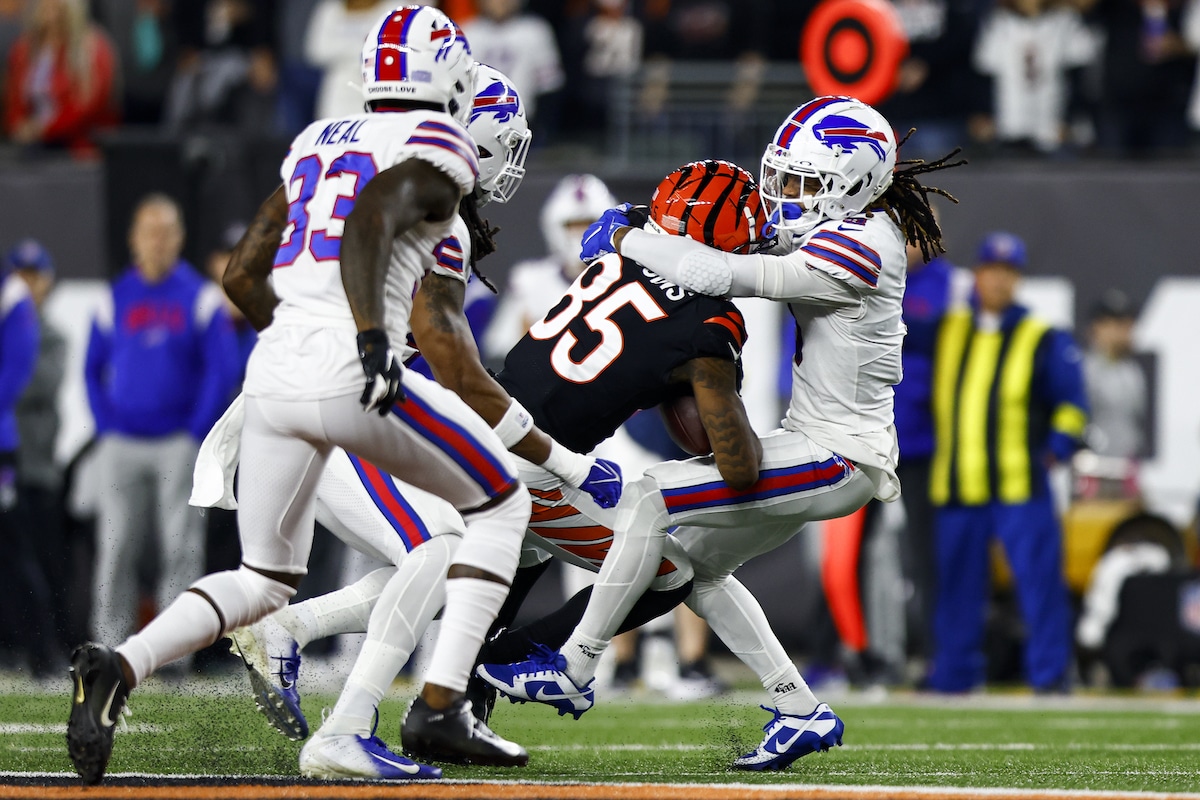 Bengals Receiver Tee Higgins Is Getting Death Threats After Life-Threatening Collison; Damar Hamlin's Family Says Stop
Some NFL fans and talking heads place blame for Bills safety Damar Hamlin's near-death injury on Bengals receiver Tee Higgins.
Watching an NFL game is supposed to be a way to relax and enjoy football. But sometimes, the on-field play doesn't allow you to do that. This happened in Week 17 when the Cincinnati Bengals hosted the Buffalo Bills in the most anticipated Monday Night Football game of the season.
The game was paused in the first quarter — and later canceled — after a collision that sent Bills safety Damar Hamlin to the hospital with concerns that he might not survive. Some are blaming Bengals wide receiver Tee Higgins, the other player involved in the play, for the situation. But Hamlin's family doesn't blame him.
The life-threatening collision between Tee Higgins-Damar Hamlin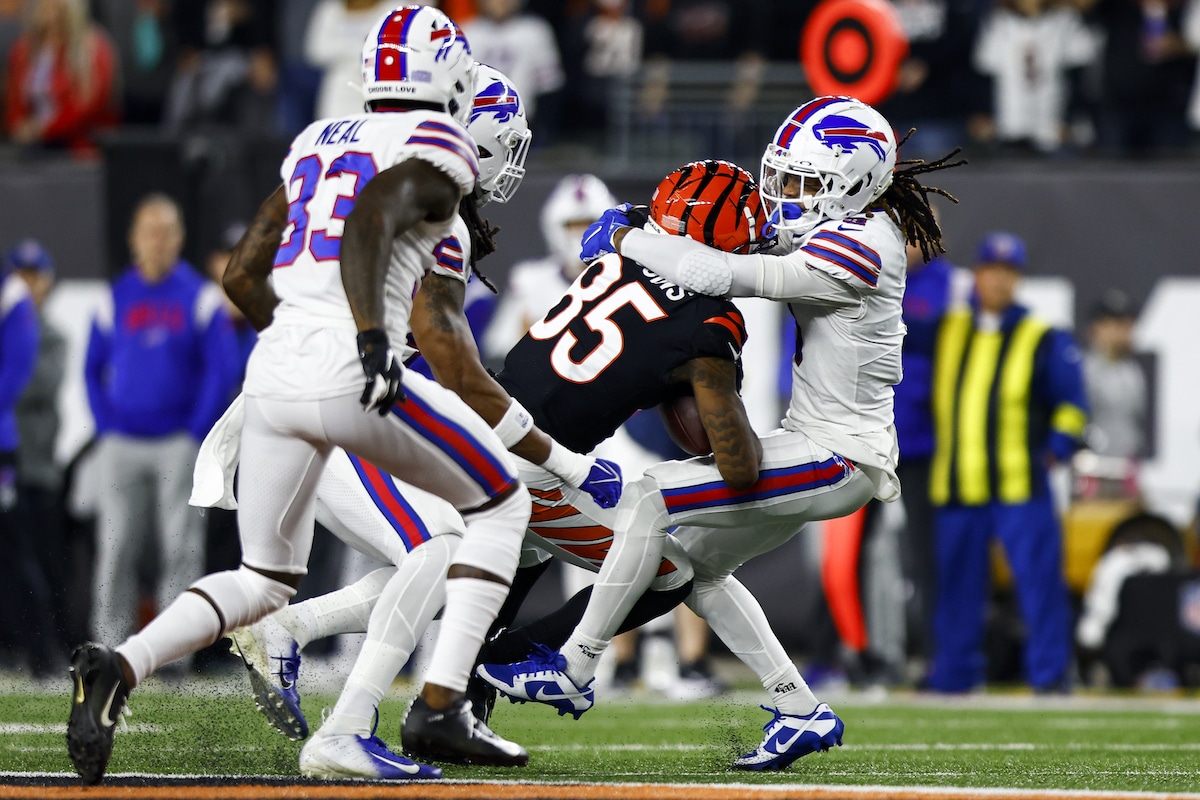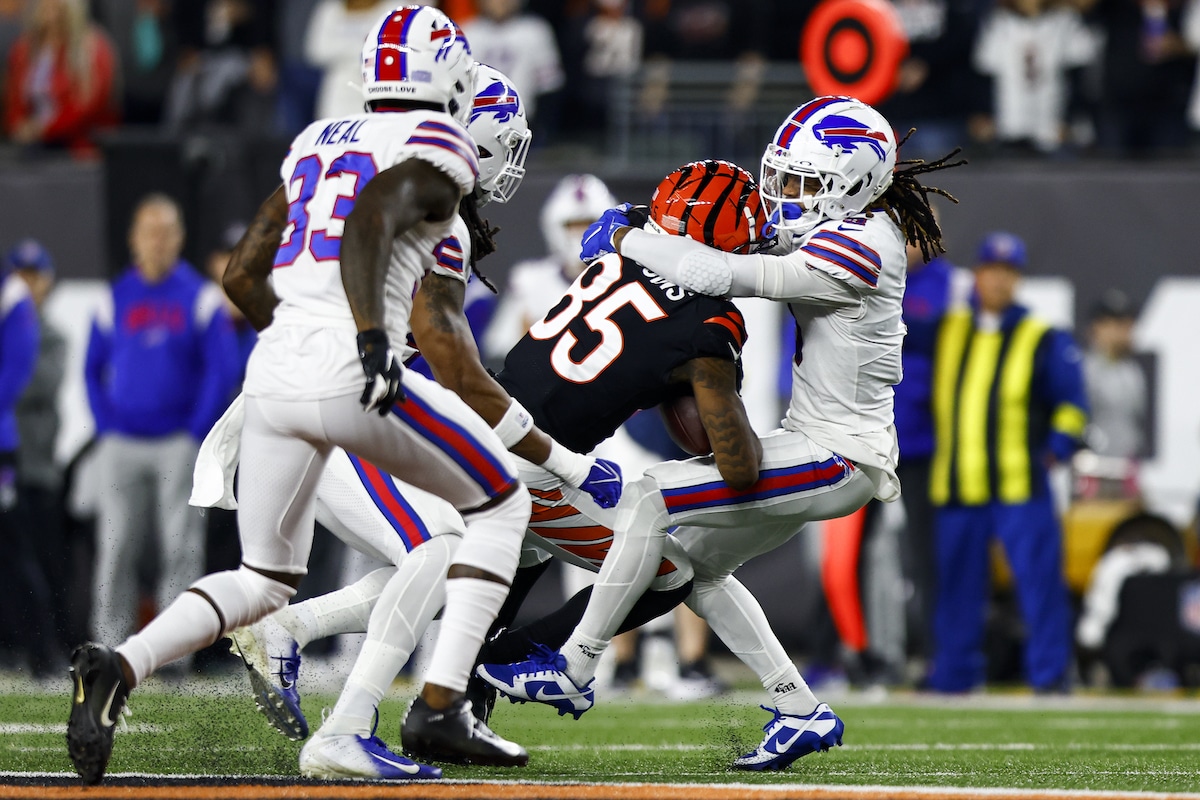 Hamlin went into cardiac arrest early in the game on January 2 after colliding with Higgins. The defender collapsed to the ground and was there for several minutes while he received CPR from medical personnel, with players from both teams surrounding him.
Hamlin was taken off the field in an ambulance and transported to nearby University of Cincinnati Medical Center, where he began his remarkable recovery.
ESPN tells us he was released from the facility in Cincinnati nearly a week after the game. He went to Buffalo General Medical Center and was discharged from that second facility a couple of days later to continue his recovery at home.
Higgins is blamed for the scary collision
Some fans and talking heads place blame for Hamlin's injury on Higgins. He has been receiving unhinged comments on social media, including some death threats.
While most people believe it was a freak accident that happened during a routine play, former linebacker and current ESPN analyst, Bart Scott, is not among them. For the Win reports that Scott believes Higgins "lowered his helmet" and launched his body to hit Hamlin in the chest with the crown of his helmet. If Higgins did that, it would be against NFL rules. 
But plenty of people are coming to Higgins' defense, including teammate Tyler Boyd, who tweeted, "it's actually disgraceful" for Scott to blame Higgins for what happened. Other players, such as the Cowboys' Micah Parsons, also blasted Scott for his comments about Higgins.
Bills' fans not only don't blame Higgins for the play, but they've been donating money to an ALS charity the receiver supports, according to the Buffalo News. Even Hamlin's family has asked people to stop blaming Higgins for what they acknowledge was a freak accident and not his fault.
Tee Higgins has faced hardship in the past
Being blamed for Hamlin's situation isn't the first time he has faced hardship in Higgins' life. The New York Post reported on a bad situation Higgins' mother found herself in when she was younger.
Camilla Stewart started using and dealing crack cocaine when she was 19, leading to a near-death experience when he was no older than 6. Stewart had broken up with his father by that point. Higgins' dad, who she refers to as "the drug dealer slash boyfriend slash the monster," shot her in the right side of her skull.
Stewart survived but needed 160 screws in her head. She was able to see him play in Super Bowl LVI.
The tragedy didn't end there for Higgins. It was reported early in the season by Bengals reporter Mike Petraglia that his father had died from the team's season opener.
The death led to Higgins taking time off from practice to deal with the situation. This led to an outpouring of support for the player on social media as opposed to the hateful messages he received during Week 17.