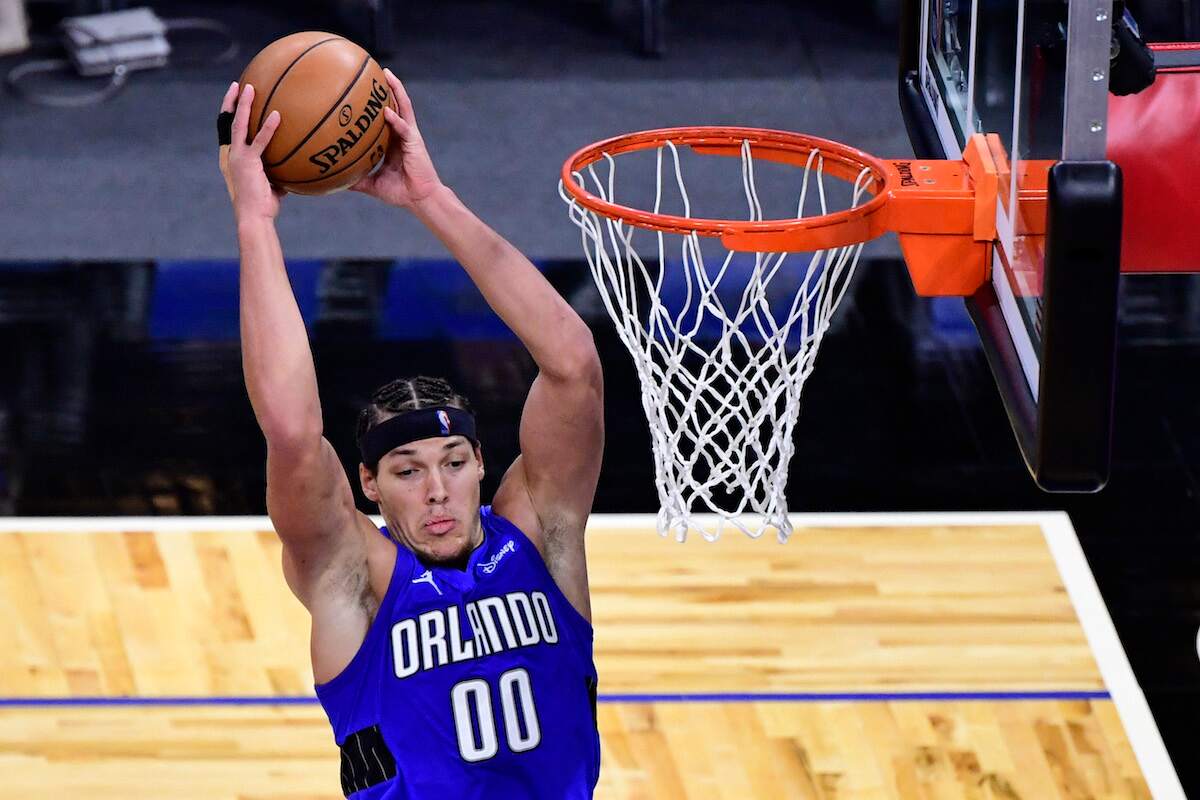 The Best Athletes to Ever Wear a Number 00 Jersey
No, the number 00 jersey is not the same as the number 0 jersey.
In the sports world, every jersey number has symbolism, meaning, and legacy — even the far less frequently used number 00 jersey.
Although not common — and certainly not the same as the number 0 jersey — various athletes have donned the unorthodox set of digits and left an indelible mark on their respective sports.
For our list of the 10 best athletes to ever wear a number 00 jersey, presented alphabetically by first name, we highlighted their professional careers only while donning the relevant number. These athletes were chosen based on their accolades, statistical accomplishments, and talent while wearing a number 00 jersey.
Aaron Gordon
Aaron Gordon is an electrifying NBA forward known for his athleticism and spectacular dunks. He is a multiple-time NBA Slam Dunk Contest participant who has finished as the runner-up twice. Gordon finally got over the hump and won an NBA championship with the Denver Nuggets in 2022-23, though the title came as he wore number 50 since he abandoned 00 after leaving the Orlando Magic.
Benoit Benjamin
Benoit Benjamin donned the double-zero while playing for the Los Angeles Clippers from 1986 to 1991. He continued to wear the jersey when he joined the Seattle SuperSonics and Los Angeles Lakers. The only times Benoit wasn't wearing the number 00 jersey came when he played with the Milwaukee Bucks in 1996 and the Toronto Raptors in 1997. The big man was known for his defensive prowess and shot-blocking ability, establishing himself as a stellar rim protector.
Jim Otto
Jim Otto wore the double zero from 1961 to 1974, playing exclusively for the then-Oakland Raiders. He was a pivotal part of the team's offensive line, earning three first-team All-Pro honors and 12 Pro Bowl selections. He joined the Pro Football Hall of Fame in Canton, Ohio, as part of the 1980 class.
Johnny Moore
Johnny Moore wore the number 00 jersey over a decade with the San Antonio Spurs and for one season with the New Jersey Nets. An accomplished point guard known for his passing skills and excellent court vision, he led the NBA in assists during the 1981-82 season while showcasing his ability to develop plays that contributed to his team's overall success.
Jordan Clarkson
A dynamic guard who now suits up for the Utah Jazz, Jordan Clarkson has gained fame for his versatility and scoring prowess. He was named the NBA Sixth Man of the Year in 2020-21. The 6-foot-4 sparkplug didn't wear the number 00 jersey until moving to Salt Lake City, but he's put together the best stretch of his career there, even topping out at 20.8 points per game in 2022-23.
Ken Burrough
Ken Burrough proudly wore the 00 jersey while playing with the New Orleans Saints in 1970 and for an extended period with the Houston Oilers. The wide receiver established himself as a reliable target for his quarterbacks, and his ability to come down with receptions in high-pressure situations resulted in Pro Bowl honors in 1975 and 1977.
Kevin Duckworth
Kevin Duckworth wore the 00 on his back from 1987 to 1993 while playing with the Portland Blazers, from 1994 to 1995 with the Washington Bullets, in 1996 for the Milwaukee Bucks, and in 1997 for the Los Angeles Clippers. The two-time All-Star averaged 11.8 points and 5.8 rebounds for his career, excelling as a steady all-around presence at center before dying at age 44 in 2008 of hypertrophic cardiomyopathy with congestive heart failure.
Robert Parish
A towering figure in NBA history, Robert Parish wore the number 00 jersey throughout his career, first donning it because he considered himself the worst player on his team. He went on to enjoy one of the most consistent tenures in the Association and was a four-time NBA champion and a nine-time NBA All-Star. Parish, always a physical force in the paint, was named to the NBA's 75th Anniversary Team and joined the Hall of Fame in 2003 without ever putting a different number on his uniform.
Spencer Hawes
Spencer Hawes wore the number 00 jersey from 2011 to 2017 while playing with the Philadelphia 76ers, Charlotte Hornets, and Milwaukee Bucks. His ability to impact a game and stretch the floor with his shooting made him an asset to his teams. Hawes never received any notable accolades and averaged double-digit points in just four different campaigns, but he always provided a scheme-altering, ahead-of-its-time presence at the 5.
Tony Delk
Though Tony Delk wore a different jersey number for the Boston Celtics and Dallas Mavericks, he was known for his scoring ability and earned the NBA's Most Improved Player honor for the 1997-98 season. Delk peaked in 2000-01 when he averaged 12.3 points, 3.2 rebounds, and 2.0 assists for the Phoenix Suns during a 51-win season.
Best athletes to wear a number 00 jersey: honorable mentions
We considered so many great athletes who've worn a number 00 jersey. The following didn't quite make it on our top-10 list, but they're worth mentioning due to their incredible talent and prolific careers. More will join them as new talents distinguish themselves.
Darrell Arthur
Jeffrey Leonard