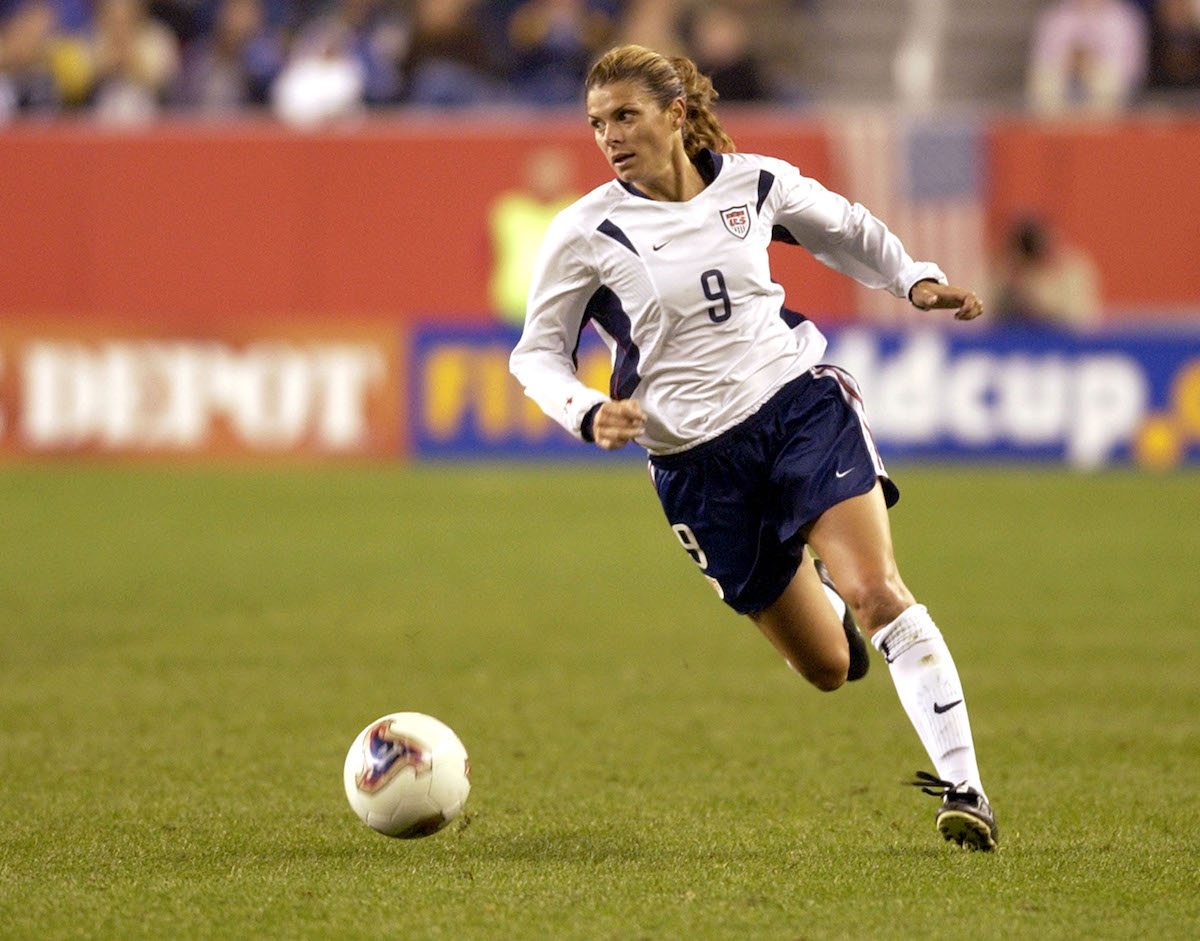 The Best Athletes to Ever Wear a Number 9 Jersey
The number 9 jersey certainly worked for these 10 dominant athletes.
Some athletes made the number 9 jersey look good. Others performed so well in that uniform that they created iconic images and sometimes even got their numbers retired by the team. From Drew Brees throwing passes with pinpoint accuracy to Gordie Howe racking up hockey accomplishments to Mia Hamm dominating the pitch on the international stage, this digit has seen no shortage of success.
For our list of the 10 best to ever wear a number 9 jersey, presented alphabetically by first name, we highlighted their professional careers only while donning the biggest single-digit number. These athletes were selected based on their accolades, statistical accomplishments, and talent while wearing a number 9 jersey.
Alfredo Di Stefano
Alfredo Di Stefano was one of the greatest footballers of all time, and he wore the number 9 jersey for much of his career, both while becoming arguably the best Real Madrid player ever and while suiting up internationally for Spain. He and his team won La Liga eight times, and he collected two Ballon d'Ors, among many other honors.
Bob Pettit
Bob Pettit, one of the NBA's original great bigs, wore the number 9 jersey for his entire 11-season career with the Milwaukee/St. Louis Hawks. He was an All-Star and All-NBA member every year, was one of the few players to dethrone Bill Russell's Boston Celtics (1958), and eventually earned a Hall of Fame induction after averaging 26.4 points and 16.2 rebounds per game.
Drew Brees
Drew Brees put on the relevant number throughout his time with the San Diego Chargers and continued to wear it with the New Orleans Saints. The five-time All-Pro and 13-time Pro Bowler led the Saints to a Super Bowl title and compiled some of the most prolific statistics in NFL history. Brees sits at No. 2 on the career leaderboards for passing yards and passing touchdowns, behind only Tom Brady in both instances.
Gerd Muller
A German soccer player who spent most of his pro career with Bayern Munich, Gerd Muller helped his team win its first Bundesliga title — and ended up winning it four times in total. The striker is still known as one of the greatest scorers the sport has seen, finishing plays in the box as well as anyone. Only eight other players have won the World Cup, the Champions League, and the Ballon d'Or.
Gordie Howe
No NHL player has spent more seasons on the ice than Gordie Howe, who played 26 years in the league (25 of which came with the Detroit Red Wings) before finishing out his professional career with six more campaigns in the WHA. With the exception of his first two seasons, Howe wore the number 9 jersey the entire time.
And that means that while wearing the single-digit number, he won four Stanley Cups and two WHA championships, made 21 All-Star teams, earned six Art Ross Trophies, and racked up six Hart Memorial Trophies en route to a spot in the Hall of Fame.
Lisa Leslie
Lisa Leslie is one of the most accomplished WNBA players ever, wearing number 9 throughout her entire career with the Los Angeles Sparks. The 6-foot-5 center averaged 17.3 points, 9.1 rebounds, and 2.4 assists while winning MVP three times, making eight All-Star squads, claiming two WNBA championships, and eventually making the Hall of Fame and receiving a jersey retirement from the Sparks. She also helped Team USA win four Olympic gold medals.
Marco van Basten
Marco van Basten wore the number 9 jersey sporadically for Ajax Amsterdam, but he put it on for the majority of his AC Milan career and while representing the Netherlands in international competition. Had he not suffered an ankle injury in 1993 that forced him to retire in his late 20s, the striker might have submitted even more prolific scoring numbers thanks to his all-around offensive excellence.
Mia Hamm
Mia Hamm is an icon in women's soccer, more well-known for her time with Team USA than for her pro career. While repping the Americans, she wore number 9 to win Olympic gold and the FIFA World Cup twice apiece. In July 2023, Sporting News ranked her as the second-best women's soccer player of all time.
Ronaldo
Another of the greatest players in soccer history, Ronaldo had an illustrious career around the world. The Brazilian won the FIFA World Cup while wearing the number 9 jersey in 2002, and he was named the FIFA World Player of the Year three times and the Ballon d'Or winner twice. The striker is a true sporting legend.
Ted Williams
Ted Williams played 19 seasons with the Boston Red Sox and put together one of the most decorated careers in MLB history. Not only did he bat .344 with an MLB-record .482 on-base percentage, but he also won MVP twice, submitted two Triple Crown seasons, made 19 All-Star teams, and won six batting titles, including during the 1941 season when he hit an astounding .406.
Best athletes to wear a number 9 jersey: honorable mentions
We considered so many great athletes who've worn a number 9 jersey. The following didn't quite make it on our top-10 list, but they're worth mentioning due to their incredible talent and prolific careers. More will join them as new talents distinguish themselves.
Alan Shearer
Andre Iguodala
Andy Bathgate
Birgit Prinz
Bobby Hull
Bobby Wanzer
Christine Sinclair
Clark Gillies
Dan Majerle
Enos Slaughter
Erling Haaland
Gabriel Batistuta
George Weah
Glenn Anderson
Graig Nettles
Joe Burrow
John Bucyk
John Olerud
Justin Tucker
Karim Benzema
Lanny McDonald
Luis Suarez
Matthew Stafford
Maurice Richard
Mike Modano
Minnie MInoso
Nikola Vucevic
Rajon Rondo
Randy Smith
Reggie Jackson
Richie Guerin
Robert Lewandowski
Serge Ibaka
Sonny Jurgensen
Steve McNair
Sun Wen
Tony Parker
Tony Romo
Zlatan Ibrahimovic
Stats courtesy of Basketball Reference, Pro Football Reference, Transfermarkt, Baseball Reference, and Hockey Reference