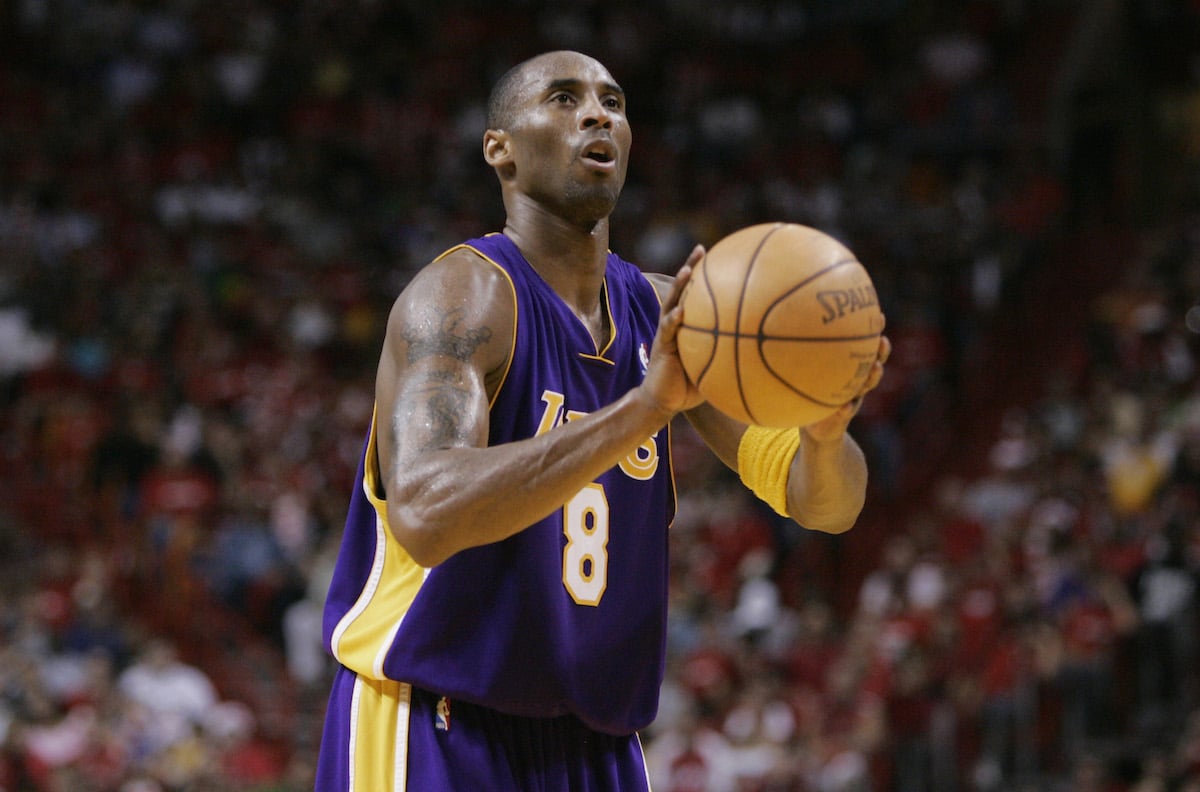 The Best Athletes to Ever Wear a Number 8 Jersey
The number 8 jersey has legends in a wide variety of sports.
When athletes finish their playing careers as legends, they tend to leave a little magic behind. Their old teams, the venues where special moments happened, and the particular ways they carried themselves all become special. Those who wore the number 8 jersey are no exception.
For our list of the 10 best athletes to ever wear a number 8 jersey, presented alphabetically by first name, we highlighted their professional careers only while donning the single-digit number. We chose these athletes based on their accolades, statistical accomplishments, and talent while wearing a number 8 jersey.
Alexander Ovechkin
Alexander Ovechkin represents the number eight jersey like few other NHL players ever have. He's the best goal scorer since Wayne Gretzky, and the Russian winger has a realistic shot at passing the Great One's all-time scoring record if he keeps playing into his 40s.
The fierce, exuberant 37-year-old was drafted first overall by the Washington Capitals in 2004, and the team hasn't let go of him since.
Andrés Iniesta
At 39, Andrés Iniesta has been representing the number eight longer than most active players. The veteran switched to his preferred number in 2006, coinciding with his rise toward becoming one of the greatest midfielders ever. Most famously, he scored the winning goal for the Spanish National Team in the final of the 2010 FIFA World Cup.
Today, he still wears the number eight jersey with Emirates in the UAE Pro League.
Cal Ripken Jr.
The number eight jersey was tied to a lot of success when the great Cal Ripken Jr. wore it.
The shortstop and third baseman spent his entire 21-year MLB career with the Baltimore Orioles and enjoyed an incredible 19 All-Star appearances. His great conditioning and low rate of injuries made the 1983 World Series champion a constant presence on the Orioles, logging a record 2,632 consecutive appearances.
Carl Yastrzemski
Sometimes, a jersey number means too much to let anyone else wear it. Boston Red Sox left fielder Carl Yastrzemski is one of the few to accomplish that feat.
He wore the number for his entire career, and the 18-time All-Star was the first Red Sox player to accumulate 400 home runs. And while players like Ted Williams and David Ortiz are ahead of him on the team's home run leaderboard, he remains the leader in many categories like RBI, singles, and doubles. In Boston, baseball fans and fellow players prefer no one else wear the Hall of Famer's number 8 jersey ever again, and it was retired in 1989.
Joe Morgan
Second baseman Joe Morgan started wearing the number eight jersey in the 1960s but grew into one of the definitive baseball players of the 1970s.
The Cincinnati Reds of that era — the "Big Red Machine" — were electric, in large part thanks to Morgan's home run-hitting ability and spectacular defense. The two-time world champion earned National League MVP honors in both 1975 and 1976.
Kobe Bryant
Few on this list are more famous, more widely respected, and more missed in their respective sports than Kobe Bryant. 
Alongside Shaquille O'Neal, he led the next great superteam after the Chicago Bulls wound down and Michael Jordan faded from the league. He was the face of the NBA for a generation of fans. The five-time NBA champion enjoyed 18 All-Star appearances across his 20-year career and remains an on-court role model for today's superstar players.
Bryant did switch to number 24 in 2007, but that transition only came after he'd made eight All-Star squads and won three titles.
Sócrates
Sócrates Brasileiro Sampaio de Souza Vieira de Oliveira was his given name, but this number eight jersey wearer was best known as Sócrates. He gained the name for his thoughtfulness — like the namesake philosopher — both on and off the pitch.
The Brazillian midfielder was one of the greatest international players of his era. He scored 22 goals across his two World Cup runs in 1982 and 1986. He's universally regarded as one of the best soccer players of all time.
Steve Young
Quarterback Steve Young may have the most interesting career on this list.
Best remembered as an explosive three-time Super Bowl champion, Young initially declined to enter the 1984 NFL Draft, where he surely would've been taken No. 1 overall and asked to sit behind Ken Anderson for the Cincinnati Bengals. Instead, he played in the ill-fated USFL for two seasons, wearing — you guessed it! — the number eight jersey.
The number went back to his BYU days, and he wore it throughout his legendary NFL tenure until he retired from the San Francisco 49ers in 1999. No one else wore the number after he left, and it was officially retired by the organization in 2008.
Teemu Selänne
Winger Teemu Selänne wore the number eight jersey for the majority of his 21-year NHL career, including with the Winnipeg Jets (1994-96), Anaheim Ducks (1995-2001, 2006-14), San Jose Sharks (2000-03), and Colorado Avalanche (2003-04).
He also represented the number with the Finnish National Team across five World Championships and six Olympic appearances. The three-time bronze medalist earned his final medal, a silver, in 2006. He scored 457 of his 684 career goals for Anaheim, and the team retired his jersey in 2015.
Yogi Berra
Yogi Berra was a great player with a legacy so broad that it is embedded within American English itself. Even if you don't know his name, you have undoubtedly quoted one of his unique witticisms — "It ain't over 'till it's over," for example.
The New York Yankees catcher was a paragon of so-silly-it's-actually-genius wisdom. But even without it, he'd still be remembered fondly to this day. The 18-time All-Star and 10-time World Series champion was one of the great catchers of his day, playing in a sport that always takes time to remember the greats of the past.
Honorable mentions
We considered so many great athletes who've worn a number 8 jersey. The following didn't quite make it on our top-10 list, but they're worth mentioning due to their incredible talent and prolific careers. More will join them as new talents distinguish themselves.
Antoine Walker
Bill Dickey
Cam Neely
Deron Williams
Drew Doughty
Eddie Johnson
Frank Lampard
Gary Carter
Gary Gaetti
Gennaro Gattuso
Igor Larionov
Kirk Cousins
Lamar Jackson
Larry Murphy
Larry Wilson
Liz Campage
Mark Brunell
Mark Recchi
Marques Johnson
Matt Hasselbeck
Ray Guy
Ryan Braun
Steve Smith
Steven Gerrard
Toni Kroos
Troy Aikman
Walt Bellamy
Willie Stargell
Zach LaVine
Stats courtesy of Sports Reference, Basketball Reference, Pro Football Reference, Baseball Reference, and Hockey Reference.