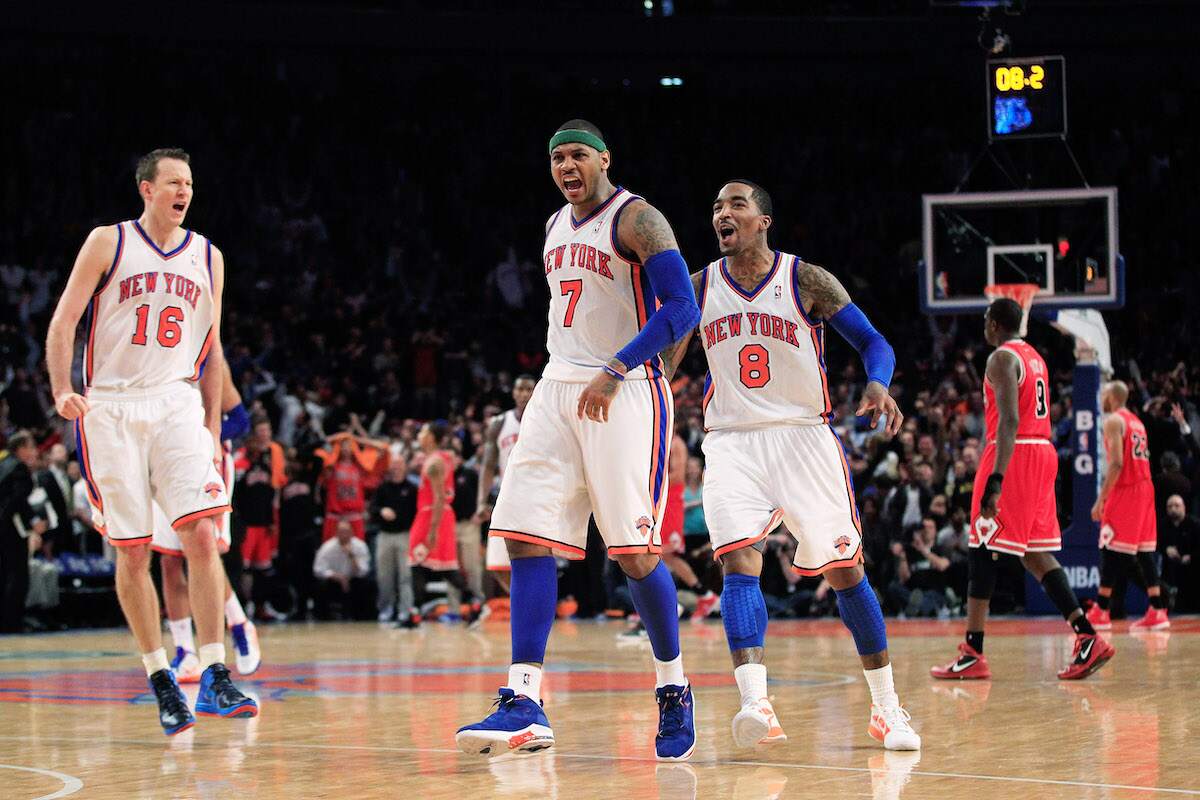 The Best Athletes to Ever Wear a Number 7 Jersey
Perhaps the best athletes to wear a number 7 jersey are so talented because the number is considered lucky in many cultures. We think there's more to it than that.
Many professional athletes, regardless of the sport, are superstitious about the numbers they wear while representing their teams. Some players have sported a number since the early days of college. Others have grown into it when drafted into a league or traded to a franchise.
Regardless of how their number came to be, the best athletes to wear a number 7 jersey have inspired thousands of jersey sales while contributing to their legacies. Perhaps number 7-wearers are so talented because the number is considered lucky in many cultures worldwide. However, we think there's more to it than that.
For our list of the 10 best athletes to ever wear a number 7 jersey, presented alphabetically by first name, we highlighted their professional careers only while donning the iconic number. We chose these athletes based on their accolades, statistical accomplishments, and talent while wearing a number 7 jersey.
Carmelo Anthony
Despite bouncing around to six teams during his NBA career, Carmelo Anthony held onto his number 7 jersey for roughly half of his 19 seasons in the league. He began wearing it with the New York Knicks in 2011 and carried it over to the Oklahoma City Thunder, Houston Rockets, and most recently, the Los Angeles Lakers before announcing his retirement on May 22, 2023.
Selected by the NBA to join the 75th Anniversary Team, the six-time All-NBA and 10-time All-Star selection played in 569 games wearing the number 7 jersey, scoring an average of 16.9 points, 5.6 rebounds, and 1.5 assists. During his time with the Knicks, Anthony became the 2013 NBA scoring champion.
Although his number 15 jersey was retired by Syracuse, Anthony's number 7 jersey has not been retired by any of his NBA teams.
Chris Chelios
Listed among the NHL's Top 100 Players, Chris Chelios wore the number 7 jersey for the Chicago Blackhawks from 1990–99. One of the longest-tenured players in the NHL, the ice hockey defenseman scored 92 goals in 664 games for the Blackhawks.
Chelios was named Chicago's team captain for the 1995–96 season, won three James Norris Memorial trophies — two while wearing jersey number 7 (1993 and 1996) — and played in the 1996 World Cup of Hockey, where the Americans ceremoniously defeated Canada. Chelios won the Stanley Cup three times but never during his nine years with the Blackhawks.
Cristiano Ronaldo
As the only European player to ever score 100 international goals, Cristiano Ronaldo is considered the greatest player in soccer history. He has always worn the iconic number 7 jersey, except for his first season with Real Madrid (2009–10) when Ronaldo wore number 9 and his first jersey number ever, number 28, when he first played for Sporting Lisbon in Portugal. He also briefly wore numbers 11 and 17.
However, Ronaldo has worn a number 7 jersey for most of his two-decade-plus career. The three-time UEFA Men's Player of the Year is also a three-time Best FIFA Men's Player, two-time Premier League Player of the Season, and seven-time domestic league champion.
Known for elaborate step-overs, the legendary player is a five-time Champions League Champion and all-time top scorer. Ronaldo has won the Ballon d'Or five times, all while wearing jersey number 7.
Garrincha
Best known as Garrincha, which translates in Portuguese to "little bird," Manuel Francisco dos Santos was one of the best football dribblers of all time.
While wearing the number 7 jersey, he played an essential role in Brazil winning the title at the 1962 FIFA World Cup. Garrincha also became the first player to win the Golden Ball, Golden Boot, and the World Cup in that same tournament. The right winger also won the 1958 World Cup with Brazil. Garrincha retired in 1973 to spend more time with his family. The star soccer player had just become a grandpa for the first time.
George Best
The Northern Irishman was one of the greatest soccer players of the 1960s. Spending most of his career at Manchester United, George Best won two league Super Cups, an FA Cup, European Champions Club Cup, and two league titles.
Known as one of the most iconic Red Devils players to wear the number 7 jersey, Best scored 137 goals with three assists in 353 appearances, winning the Ballon d'Or in 1968 for his achievements. During his time with Manchester United, he cycled between jersey numbers 7, 8, 9, 10, and 11.
Best retired in 1983 with the Brisbane Lions, 20 years after his career began with Manchester United in 1963.
John Elway
Legendary NFL quarterback John Elway wore the number 7 jersey throughout his entire 16-year career with the Denver Broncos. The two-time Super Bowl champion is the 1999 Super Bowl MVP and a nine-time Pro Bowl winner. Now part of the 1990s All-Decade Team, Elway threw for 51,475 yards in 234 games with a 56.9% completion rate during his NFL career.
In 1999, the Denver Broncos retired Elway's number 7 jersey and inducted him into the team's Ring of Fame. 
Mickey Mantle
Perhaps the most memorable sports figure to wear the number 7 was American baseball icon Mickey Mantle, who played for the New York Yankees from 1951–68. In the first season of his 18-year MLB career, the center fielder wore number 6. Then, Mantle transitioned to jersey number 7 for the next 17 seasons.
The three-time AL MVP was a 20-time All-Star, won seven World Series titles, and held four AL Homerun titles, earning a reputation as the best power hitter of all time. The New York Yankees retired Mantle's number 7 jersey in 1969.
Paul Coffey
NHL great Paul Coffey started his illustrious career wearing the number 7 jersey for the Edmonton Oilers from 1981–87. In his seven years with the team, he played in 532 games, scoring 209 goals and earning 669 points.
When Coffey was traded to the Pittsburgh Penguins in 1987, he doubled down and started wearing the number 77, which stayed with him for the remainder of his 21-year ice hockey career until the 2000–01 season, when he donned number 74 with the Boston Bruins.
Coffey won the Stanley Cup four times; three of them while wearing jersey number 7 for Edmonton. The defenceman entered the Hockey Hall of Fame in 2004. The Edmonton Oilers retired his number 7 jersey in 2005.
Phil Esposito
In 1987, the Boston Bruins retired the number 7 jersey legendary ice hockey player Phil Esposito wore. During his 19-year NHL career, Esposito won two Stanley Cups for Boston. After leading the league in goals for six consecutive years from 1969–75 and winning five Art Ross trophies, he also entered the NHL Hall of Fame.
The burly forward wore the number 7 jersey playing for the Chicago Blackhawks from 1963–67 and again for the Boston Bruins from 1967–76. Esposito played in 860 games wearing lucky number 7, scoring 533 goals, 653 assists, and 1,186 points.
Tina Thompson
The WNBA Hall of Fame player wore the number 7 jersey from 1997–2008 for the Houston Comets and again with the Seattle Storm from 2012–13. A nine-time All-Star, Tina Thompson played in 395 games, averaging 14 points, while wearing jersey number 7.
The forward helped lead the Comets to four WNBA Championships in a row (1997–2000). Thompson also won gold medals at the 2004 and 2008 Olympics. Although USC retired her No. 14 jersey, Thompson's number 7 jersey has not been retired by any of her former teams.
Honorable mentions
We considered so many great athletes who've worn a number 7 jersey. The following didn't quite make it on our top-10 list, but they're worth mentioning due to their incredible talent and prolific careers. More will join them as new talents distinguish themselves.
Ben Roethlisberger
Bob Waterfield
Boomer Esiason
Craig Biggio
David Beckham
Eric Cantona
Frank Boucher
Howie Morenz
Ivan Rodriguez
Jaylen Brown
Joe Mauer
Joe Theismann
Kenny Lofton
Kevin Johnson
Kevin Keegan
Luis Figo
Mel Hein
Michael Vick
Nels Stewart
Pete Maravich
Raul Gonzalez
Ray Bourque
Reggie Smith
Robert Pires
Terrell Brandon
Tiny Archibald
Toni Kukoc
Stats courtesy of Sports Reference, Basketball Reference, Pro Football Reference, Baseball Reference, and Hockey Reference.