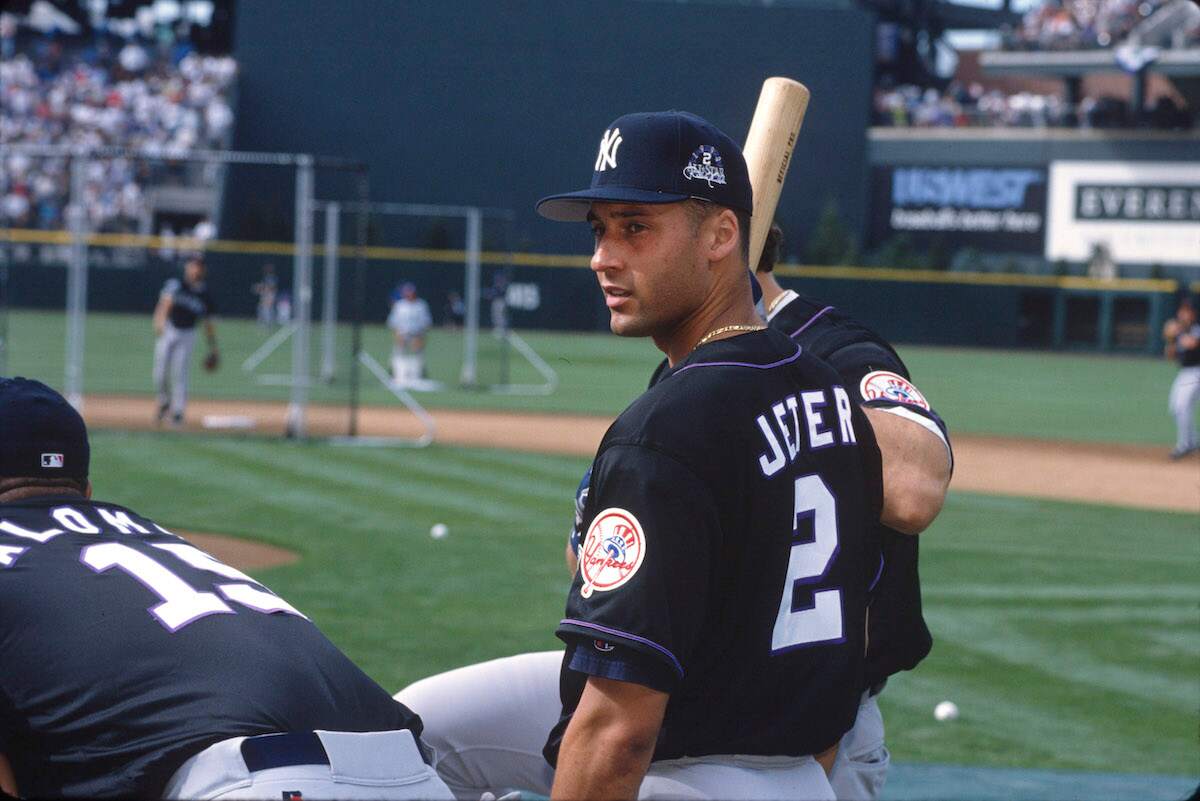 The Best Athletes to Ever Wear a Number 2 Jersey
In the case of number 2, many great players in different sports have donned this simple yet beloved jersey number.
Certain jersey numbers take on mythological meanings due to the legendary athletes who wore them. In the case of the number 2 jersey, many great players in different sports have donned this simple yet beloved number (even if some have also switched to different digits).
For our list of the 10 best athletes to ever wear a number 2 jersey, presented alphabetically by first name, we highlighted their professional careers only while donning the iconic number. These athletes were chosen based on their accolades, statistical accomplishments, and talent while wearing a number 2 jersey.
Alex English
Alex English is arguably the most underrated NBA player of his generation.
The small forward struggled for playing time in his first few years as a pro with the Milwaukee Bucks and Indiana Pacers but became a scoring machine after a trade to the Denver Nuggets. English scored more points than any other player in the 1980s, averaging at least 28 points in four different seasons during the decade. Denver also made the playoffs nine consecutive times in his 10-year stint.
English never made it to the NBA Finals, but his opponents understood how great he was at scoring. The Nuggets put his number 2 jersey in the rafters in 1992. 
Brian Leetch
Brian Leetch wasted no time showing the NHL he was capable of incredible feats on the ice.
As a rookie for the New York Rangers, he set a still-standing record for the most goals from a first-year defenseman with 23. Three years later, he became one of six NHL defensemen to score more than 100 points in one season, posting 102.
Leetch also holds Rangers records for the most goals (247) and points (981) by a defenseman, as well as the most total assists (734). He was the first American-born player to win the Conn Smythe Trophy as playoff MVP in 1994 and was a two-time Norris Trophy winner (1992, 1997) as the league's best defenseman. 
Cafu
Cafu was the quintessentially Brazilian fullback.
Despite technically being a defender, he was best known for his skill and devastating runs down the right flank. He won league titles in his homeland and Italy, where he played for Roma and AC Milan. As a member of the Brazilian national team, Cafu holds the record for most appearances (142) and is the only player to appear in three World Cup finals (both total and consecutively), winning in 1994 and 2002. 
Derek Jeter
When you ask people to name the greatest New York Yankees of all time, you won't have to wait long before you hear about Derek Jeter.
The Captain spent his entire 19-year career in the famed pinstripes, winning five championships while becoming the franchise leader in hits (3,465), games played (2,747), doubles (544), stolen bases (358), times on base (4,716), plate appearances (12,602) and at-bats (11,195). He also won five Gold Glove Awards and five Silver Slugger Awards and was a 14-time All-Star. 
All that came while wearing the number 2 jersey, but he almost ended up wearing different digits, thanks to an equipment manager.
Doug Harvey
Doug Harvey is considered one of the NHL's best-ever defensemen. His ability to contribute to offense from his position was revolutionary for his time and helped him win the Norris Trophy seven times, tied for the second-most in NHL history.
The bulk of Harvey's career was spent with the Montreal Canadiens, who retired his number 2 sweater in honor of his 12 years of service, but he also played for the New York Rangers, Detroit Red Wings, and St. Louis Blues. Harvey, a 13-time All-Star and six-time Stanley Cup winner, was inducted into the Hockey Hall of Fame in 1973. 
Prior to his professional hockey career, he also played Canadian football and baseball. 
Eddie Shore
Three of the teams Eddie Shore played for no longer exist — the Regina Capitals, Edmonton Eskimos, and New York Americans — but his 13-year career as a member of the Boston Bruins is enough to get him on this list. Shore was one of the NHL's original stars, joining the league nine years after it began in 1926.
Much of his legend is based on a level of toughness that bordered on disturbing. According to Bleacher Report, Shore nearly killed Toronto Maple Leafs star Ace Bailey with a hit from behind and used a mirror to watch a doctor sew his ear back on after it was nearly ripped off in a practice fight.
But his physical style also contributed to the Bruins winning their first two championships. His number 2 jersey was the second retired by the franchise. 
Kawhi Leonard
To paraphrase former Supreme Court Justice Potter Stewart during the Jacobellis v. Ohio case, you usually know an NBA superstar when you see one. Their rare blend of elite athleticism and skill is impossible to miss and typically picked up by scouts well before a player makes it to the league. In most cases, they're picked before the 15th pick of their draft. 
Kawhi Leonard is an exception.
The mid-draft selection from San Diego State began his career as a valuable role player for the San Antonio Spurs before surpassing his Hall of Fame teammates and becoming the 2014 Finals MVP for his ability to go at LeBron James on both ends of the floor. 
But his signature achievement came after he departed San Antonio, as he led the Toronto Raptors to their first championship in 2019, earning his second Finals MVP to put alongside his two All-NBA first-team appearances and two Defensive Player of the Year awards. Injuries have curtailed Leonard's career since he left Toronto for the Los Angeles Clippers, but his greatness is still apparent when he is fit to play.
Kyrie Irving
For all the controversies Kyrie Irving has sparked, ranging from flat-earth preachings to the locker room dysfunction seemingly tied to him in several different locations, there's little doubt the point guard is an all-world talent.
Few players in NBA history have had better handles or scoring instincts, which has allowed Irving to do everything from dazzling defenders with the ball on a string to knocking down championship-clinching triples. He hasn't won a title apart from LeBron James and has struggled with injuries, preventing him from making more than three All-NBA appearances, two of which came while he wore number 11, but his talent level is beyond reproach.
Matt Ryan
Matty Ice wore a number 2 jersey throughout his entire NFL career. The Atlanta Falcons drafted him in 2008 to be the face of the franchise after the Michael Vick scandal, and the Boston College alum more than lived up to the billing. Ryan holds the following Falcons records: passing yards, passing touchdowns, passing attempts, completions, passer rating, and wins.
But as special as his career was, 2016 was his unquestioned peak.
Ryan won the MVP award that year after throwing 38 touchdowns and nearly 5,000 yards while leading the team to a Super Bowl appearance he probably doesn't like thinking about too much. Ryan left Atlanta after 14 years once a trade sent him to the Indianapolis Colts, where he had the worst year of his career. The quarterback isn't officially retired but signed a deal with CBS to be an analyst. 
Moses Malone
You can argue that Moses Malone is the most underrated player in NBA history. His name rarely comes up in discussions about the game's great big men, but the Chairman of the Boards deserves such acclaim.
Malone's nickname is indicative of his signature skill. He holds the NBA record for most offensive rebounds (7,382) by over 2,500 and ranks third in total rebounds (17,834). But Malone did more than crash the glass.
He was a three-time MVP and four-time All-NBA first-team member who led the Philadelphia 76ers to their most recent championship in 1983. Charles Barkley also credits Malone with saving his career by helping him get into better shape.
Malone was inducted into the Basketball Hall of Fame in 2001.
Best athletes to wear a number 2 jersey: honorable mentions
We considered so many great athletes who've worn a number 2 jersey. The following didn't quite make it on our top-10 list, but they're worth mentioning due to their incredible talent and prolific careers. More will join them as new talents distinguish themselves.
Charlie Gehringer
Dani Alves
David Akers
Duncan Keith
Gary Neville
Jason Kidd
Larry Johnson
Mitch Richmond
Stats courtesy of Basketball Reference, Pro Football Reference, Transfermarkt, Baseball Reference, and Hockey Reference