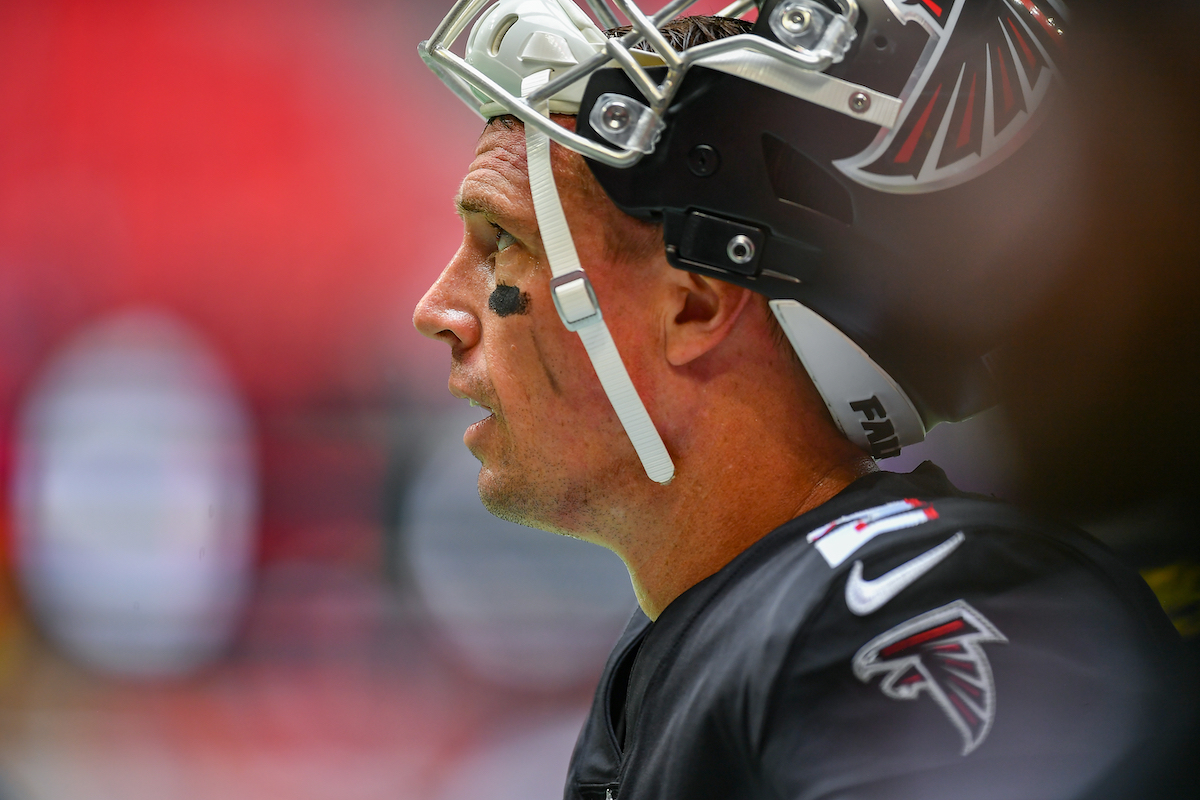 Matt Ryan Leaves Atlanta Falcons as Unquestionable Best QB in Franchise History
Sorry, Michael Vick. Matt Ryan is rather easily the best quarterback in the history of the Atlanta Falcons. It's just not even close.
The Matt Ryan era is officially over for the Atlanta Falcons.
The signal-caller joined the Peach State organization with the No. 3 overall pick of the 2008 NFL Draft and hasn't looked back since, racking up plenty of impressive statistics, becoming the franchise's only MVP winner during the 2016 season, and taking the team to within sniffing distance of a Super Bowl title before it infamously blew a 28-3 lead (which wasn't even his fault).
Now he heads to the Indianapolis Colts to pursue postseason glory on a more competitive roster during the later stages of his career. In doing so, he's leaving behind an indelible resume that positions him as, rather unquestionably, the best quarterback in the long, not-so-storied history of the Falcons.
Matt Ryan owns a number of franchise records
With Matt Ryan officially headed to the Indianapolis Colts in exchange for a third-round pick, as reported by ESPN's Adam Schefter, Chris Mortensen, and Dianna Russini, he won't have any more chances to add to his record-setting tallies while wearing an Atlanta Falcons uniform.
Fortunately for his legacy, which may one day feature a gold jacket, he won't need to.
Atlanta has boasted an NFL club since the 1966 season, back when Randy Johnson — no, not the baseball version — was taking snaps under center and either handing off to Junior Coffey and Ernie Wheelwright or tossing passes to Alex Hawkins, Vern Burke, and Bill Martin. If you don't remember any of those names, fear not. You're not exactly expected to recall the most prominent players of a 3-11 bottom-feeder that operated nearly six decades ago.
Eighty-one players have thrown at least one pass for the Falcons, but none of them have come anywhere close to matching Ryan's statistical supremacy.
Though these numbers are admittedly buoyed by the era in which he played, the four-time Pro Bowler has more career passing yards (59,735) than the combined efforts of the next three on the list: Steve Bartkowski (23,470), Chris Miller (14,066), and Chris Chandler (13,268). The same is true of his touchdown passes (367), which outpace the cumulative scores of the same three (328).
He has 33 of the 98 fourth-quarter comebacks in franchise history, and no one else has more than Bartkowski's 18. Ditto for game-winning drives; he has 42 of 125 and outpaces No. 2 Bartkowski by 22. Ryan alone is the quarterback of record for 31.9% of the victories in franchise history despite playing in just 25.7% of the possible games, and his 120 wins leave Bartkowski (55), Michael Vick (38), and Chandler (34) in the dust.
Sensing a theme?
No Atlanta quarterback comes close to the value he added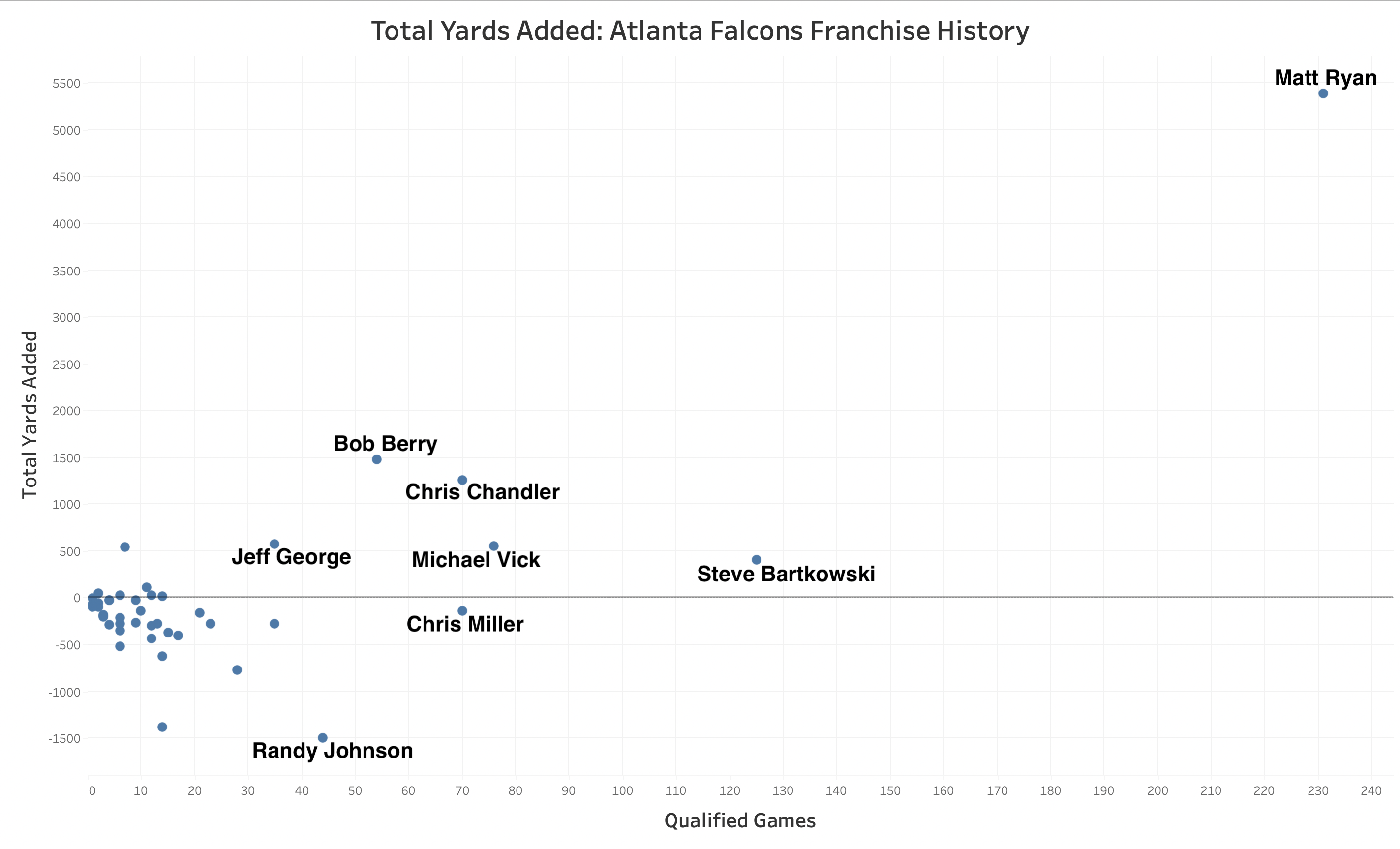 Per data provided by QB Math, Ryan looks even better when we turn to more advanced metrics.
Total yards added (TYA) looks at a quarterback's passing success, rushing success, fumble avoidance, and sack avoidance, then compares the results to the league average during the year in question to see how many more yards a signal-caller produced than a league-average figure would've with the same number of attempts.
Because of those inherent era adjustments, Ryan no longer receives the same type of assist due to the pass-happy period in which he played, though he still received more chances to air it out.
And when it comes to the franchise leaders in TYA, no one is even remotely close:
Matt Ryan: 5,390.05
Bob Berry: 1,472.58
Chris Chandler: 1,257.01
Jeff George: 571.8
Michael Vick: 552.03
Wade Wilson: 542.89
Steve Bartkowski: 403.66
Matt Schaub: 114.28
Bob Holly: 45.2
Chris Redman: 30.6
In fact, Ryan alone produced 5,390.05 TYA. The rest of the quarterbacks in franchise history (looking only at games in which a player registered at least five attempts) are at -4,930.15. Yes, they're that far in the negatives since the Falcons have historically struggled to find high-quality options outside of a few exceptions.
Marcus Mariota, joining Atlanta in the wake of Ryan's departure, per the team's official site, probably isn't going to change that after spending most of his NFL career as a backup.
The Falcons might end up selecting their quarterback of the future in the upcoming draft or tanking into the Bryce Young sweepstakes in 2023. Either way, Ryan is going to see a lot of time pass before anyone comes close to threatening his unquestioned status as the best player at his position in franchise history.
All stats, unless otherwise indicated, courtesy of Pro Football Reference and QB Math.