Why Did Jalen Hurts Change His Jersey From No. 2 to No. 1 With the Eagles?
If Jalen Hurts continues down the career path he's carved out for himself in recent years, he could easily see his No. 1 jersey retired by the Philadelphia Eagles at some point down the line. And that No. 1 jersey, whether in white, green, or the alternative black, is certainly a popular one, as it's become one of the top-selling NFL jerseys on the market.
Hurts has become so synonymous with the number that it's often easy to forget that he wore No. 2 as a rookie before making the switch.
Why did Jalen Hurts change his jersey number from number 2 to number 1?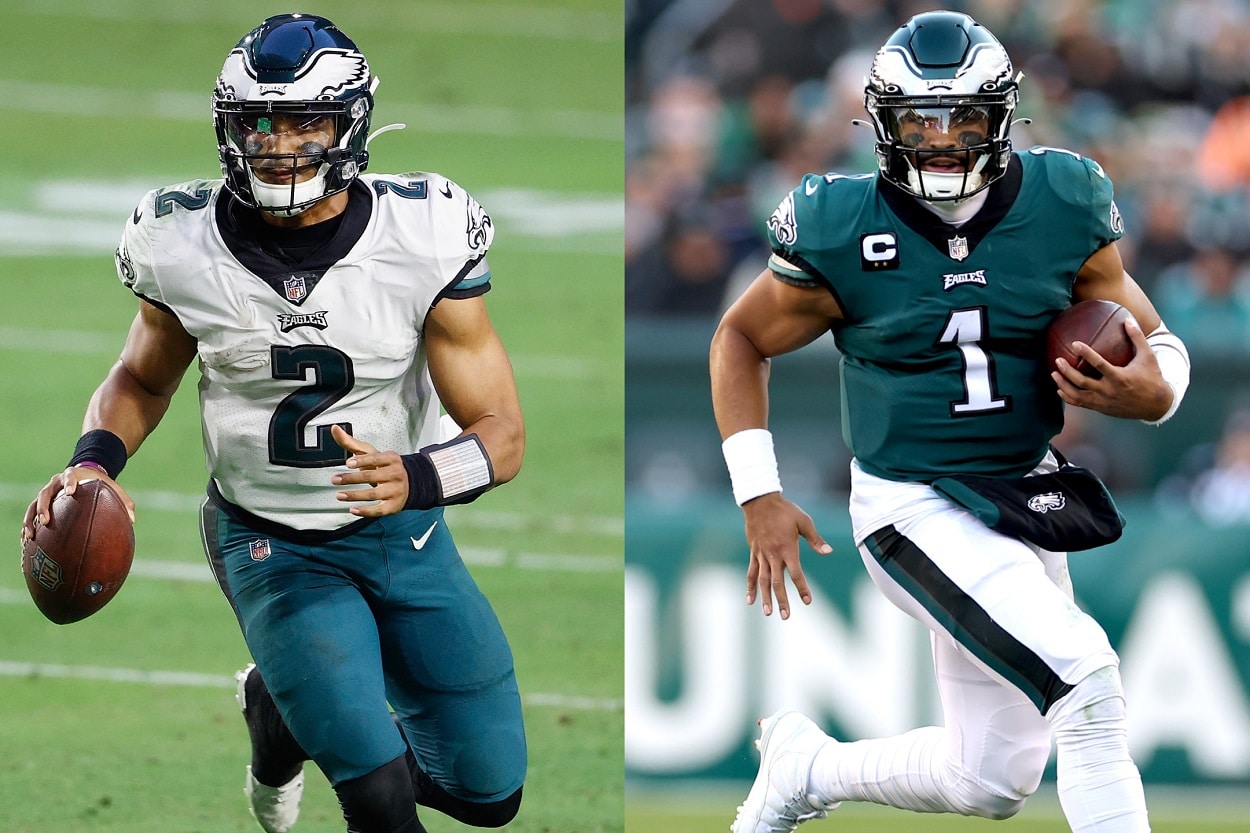 The funny thing about the switch is that it wasn't the first time Jalen Hurts changed his jersey from No. 2 to No. 1.
The Texas native wore No. 2 during his three-year run at the University of Alabama, as that's the number he wore in high school. But he switched to No. 1 when he transferred to Oklahoma for his senior season because CeeDee Lamb, who took over a famous jersey number in the pros with the Dallas Cowboys, wore No. 2 for the Sooners.
As for his professional career, Hurts wanted to wear No. 1 after the Eagles selected him in the second round (53rd overall) of the 2020 NFL Draft. But at that time, the number belonged to punter Cameron Johnston.
So Hurts went back to No. 2 for his rookie season, a campaign in which he appeared in 15 games, starting four of them, and completed 52% of his passes for 1,061 yards with six touchdowns and four interceptions, adding 354 yards and three scores on the ground.
But when Johnston signed with the Houston Texans in free agency ahead of the 2021 season, Hurts, who was set to become the Eagles' full-time starter after Carson Wentz was traded to Indianapolis (and wore No. 2), jumped at the chance to get the No. 1 jersey he wanted all along.
With the switch, Jalen Hurts became the first non-kicker in Philadelphia Eagles history to wear No. 1, and it's gone pretty well thus far. And, again, he may end up being the last Eagle ever to wear it.