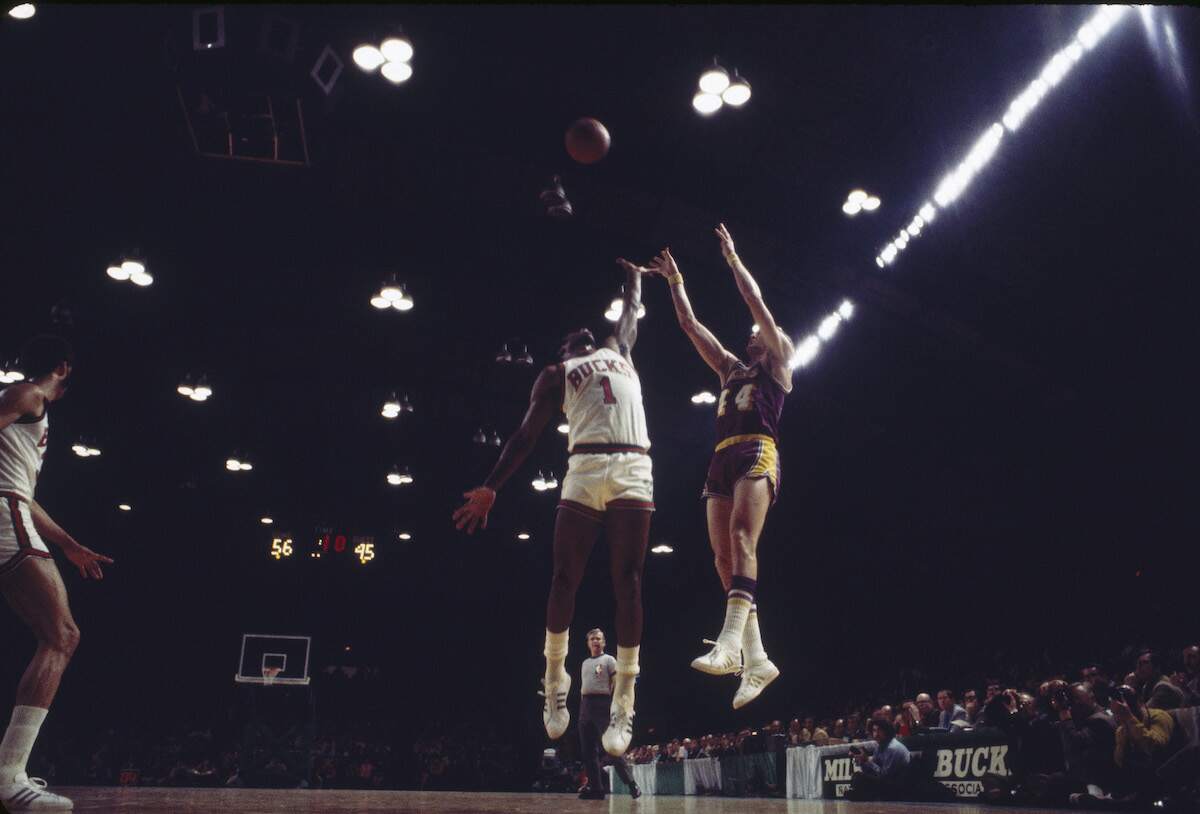 The Best Athletes to Ever Wear a Number 1 Jersey
If a pro athlete wants to come off as the best of the best, you can't do much better than a number 1 jersey.
Athletes who want to make a statement will choose a striking uniform number if given the chance. Many go for historic numbers — Michael Jordan and LeBron James' number 23, for example. However, if you want to come off as the best of the best, you can't do much better than number 1.
For our list of the 10 best athletes to ever wear a number 1 jersey, presented alphabetically by first name, we highlighted their professional careers only while donning the iconic number. These athletes were chosen based on their accolades, statistical accomplishments, and talent while wearing a number 1 jersey.
Derrick Rose
Derrick Rose was once surrounded by hype. Fans saw him as the future of basketball when the Chicago Bulls chose the 20-year-old with the first overall pick in the 2008 NBA Draft. A litany of injuries slowly picked away at the excitement surrounding the former Memphis Tigers star's explosive early years, which included becoming the youngest NBA MVP in league history.
But Rose, now in his thirties, persevered and has found a role as a steady hand off the bench. The point guard wore a number 1 jersey during his time with the Bulls (2008–16) and Cavaliers (2017–18).
From 2021–23, his unexpectedly strong performances helped the New York Knicks look more like contenders than they perhaps were. However, he wore number 4 with the team. These days, Rose, now donning number 23, is the veteran presence a young Memphis Grizzlies team sorely needs.
Gianluigi Buffon
Gianluigi Buffon is an immensely accomplished, longstanding goalkeeper who started playing international soccer in 1993. He tallied 176 appearances with the Italian national team, making him the most-capped goalkeeper ever. That UEFA Best Player in Europe award? He was the only goalkeeper in history to receive that particular nod.
Buffon wore a number 1 jersey for most of his career, including with AC Parma (1997–2001), Juventus FC (2001-18), Paris Saint-Germain (2018–19), and Parma Calcio 1913 (2021–23). The Italian veteran played his last game for Parma in 2023.
He'll always be remembered for his iconic block of Zinedine Zidane's attempted game-winning header in the 2006 World Cup.
Gordon Banks
Gianluigi Buffon had a lot to live up to when he put on his number 1 jersey because that number carried the legacy of Gordon Banks. Widely regarded as one of the greatest goalkeepers of all time, according to the National Football Museum, the English football icon set the standard for the difficult position and wore a number 1 jersey the whole time.
Banks is most famous for his miraculous save against Brazil in the 1970 World Cup quarterfinals. While England ultimately went down to the fearsome Pelé-led squad, Banks did his best to hold on. Pelé put down a power header that looked like a sure thing, but Banks made an incredible dive to deflect the attempt.
Jacques Plante
Canadian Jacques Plante represented the number 1 jersey so well he was invited back to play pro hockey after retiring. He had three stints on six NFL teams between 1947–75. Plante wore a number 1 jersey during his time with three of them: the Montreal Canadiens (1952–63), New York Rangers (1963–65), and Toronto Maple Leafs (1970–73).
The Hall of Fame goaltender is also known for being the first to wear and help test the protective masks that protect goalies in the NHL today.
Lev Yashin
Lev Yashin, another all-time great soccer goalkeeper, made sure even those in other sports would respect jersey number 1.
Known as the Black Panther and the Black Spider, the 1956 Olympic Gold medalist was one of the great athletes of the former USSR from the 1950s through the '70s. Yashin wore number 1 for his entire soccer career, which began in 1955, except his final year with the Soviet Union (1969–70).
Yashin remains the only goalkeeper to win the famed Ballon d'Or in recognition of his unflappable poise in perhaps the most high-pressure position in sports. Oh, and he was a multisport athlete, helping the Dynamo Moscow hockey squad win the highly competitive Soviet Cup.
Oscar Robertson
Oscar Robertson is best known for his four seasons as the superstar point guard of the Bucks, representing Milwaukee from 1970-74. Robertson only won a single championship (1971), but he averaged 16.3 points, 7.5 assists, and 4.9 rebounds in 288 games while making three All-Star rosters for the team. He'll be the last Bucks player to wear a number 1 jersey, too. The franchise retired it in his honor on October 18, 1974.
Ozzie Smith
Shortstop Ozzie Smith wore a number 1 jersey throughout his 19-year career, which spanned from 1978–96 for the San Diego Padres and St. Louis Cardinals. The 15-time All-Star only hit 28 homers, but he racked up 2,460 hits and 580 stolen bases.
With the shift now banned in the major leagues, we might see more value placed on players who find those holes in the defense like Smith. In 1996, the Cardinals retired his number 1 jersey, so he'll hold a special place in St. Louis history forever.
Terry Sawchuk
Terry Sawchuk was one of the greatest goalies in NHL history. The Hall of Famer played for five teams from 1949–70, racking up 447 wins and 103 shutouts. He wore a number 1 jersey for his first two stints with the Detroit Red Wings (1950–55, 1957–64) and his two seasons with the Boston Bruins (1955–57) in between.
Sawchuk was the best goalie in the league when he died in 1970 at the age of 40. To this day, the four-time Stanley Cup champion has won the eighth-most games in NHL history with 445 victories. In 1994, the Detroit Red Wings retired Sawchuk's number 1 jersey.
Tracy McGrady
Tracy McGrady's 15-year run, from 1997 to 2013, is perhaps the definitive journeyman career in NBA history. For just one of those NBA seasons, he wore number 3. Otherwise, McGrady wore a number 1 jersey all the way.
Across seven teams, McGrady averaged 19.6 points, 5.6 rebounds, and 4.4 assists per game. The 2003–04 NBA Scoring Champion was voted into the NBA All-Star Game seven times while wearing a number 1 jersey. Teams that wanted a sure hand to take them deep into the playoffs often sought out 1997's Mr. Basketball USA. McGrady has a lengthy career to show for it.
Warren Moon
Quarterback Warren Moon skillfully transitioned from an accomplished CFL player to an NFL superstar. The 1990 Offensive Player of the Year chose jersey number 1 because he wanted to ensure everybody knew he was a leader upon whom his teammates could rely.
This proved true even though Moon went undrafted in 1978. He didn't bat an eye and led the Edmonton Eskimos to five championship wins before embarking on his 17-year NFL career. There, Moon proved his worth as one of the greatest undrafted NFL players of all time. In 2006, the Tennessee Titans retired his number 1 jersey.
Best athletes to wear a number 1 jersey: honorable mentions
We considered so many great athletes who've worn a number 1 jersey. The following didn't quite make it on our top-10 list, but they're worth mentioning due to their incredible talent and prolific careers. More will join them as new talents distinguish themselves.
Cam Newton
Chauncey Billups
Chris Bosh
Crystal Langhorne
Devin Booker
Gary Anderson
Jason Elam
Johnny Bower
Lou Whitaker
Manuel Neuer
Pee Wee Reese
Penny Hardaway
Stats courtesy of Basketball Reference, Pro Football Reference, Transfermarkt, Baseball Reference, and Hockey Reference