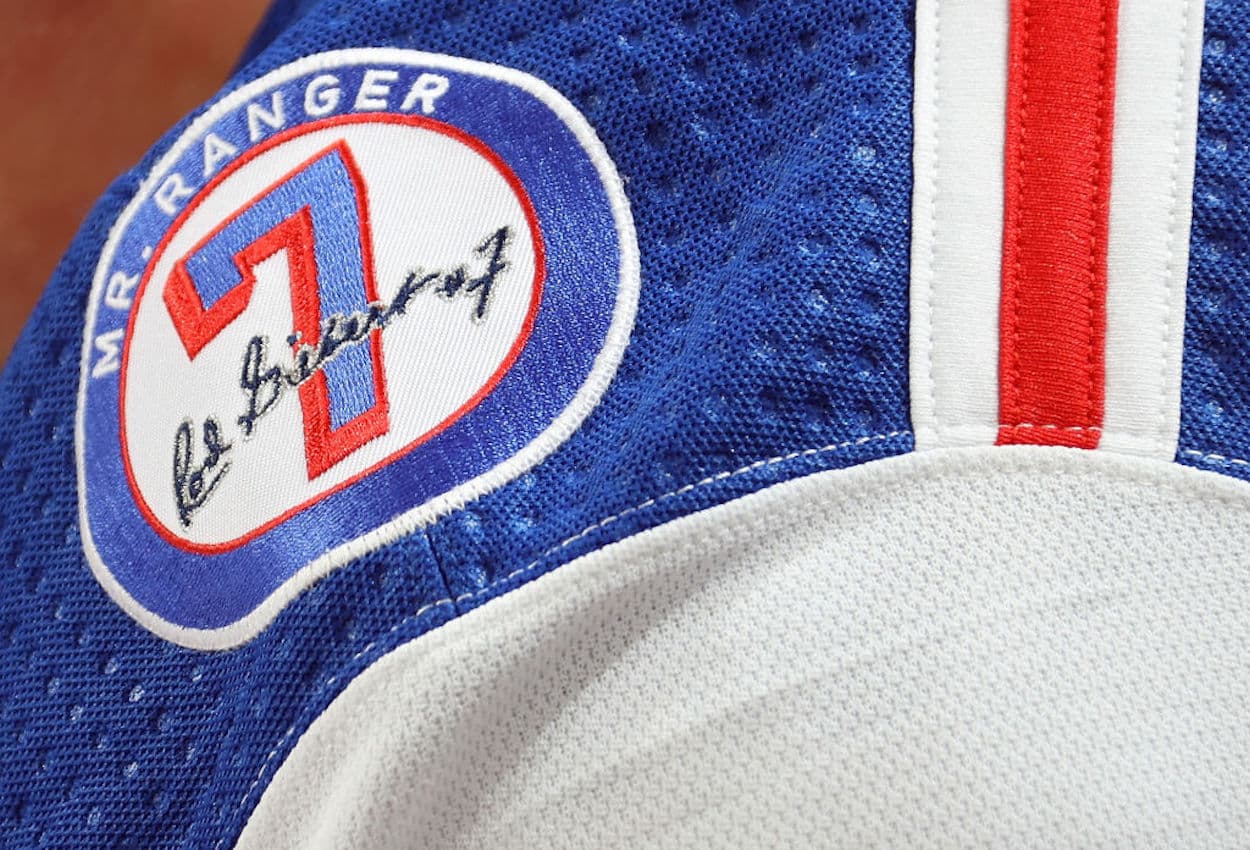 Why Do the New York Rangers Have a '7' Patch on Their Jerseys?
While the classic New York Rangers jersey remains largely unchanged, learn the story behind the team's current shoulder patch.
While hockey sweaters might not transcend NHL fans the same way a football or basketball jersey might, the New York Rangers sport an iconic look. There's something both classy and instantly identifiable about the solid blue top boasting little more than a diagonal "Rangers." During the 2022 NHL Playoffs, however, you may have noticed another addition to the uniform.
Every Rangers player has a patch bearing the number seven stitched on their left shoulder of his jersey. While it might not be immediately apparent on TV, that's in memory of one of the franchise's late legends: Rod Gilbert.
The Rangers have a memorial patch honoring the late Rod Gilbert
If you're only going by Stanley Cups, the New York Rangers haven't had the greatest franchise history, especially for an Original Six team. That doesn't mean there haven't been some iconic players taking the ice on Broadway, though. Consider, for example, Rod Gilbert.
The forward was born in Quebec but first came to Manhattan ahead of the 1960 NHL season. While it took him some time to find his legs, his scoring touch eventually translated to the pros. He found a home skating alongside Vic Hadfield and Jean Ratelle on the GAG Line (goal-a-game). Gilbert proved to be a prolific playmaker, recording 1,021 points (406 goals and 615 assists) in 1,065 Rangers games.
Although the right-winger never won a Stanley Cup, that didn't diminish his legacy. His number 7 was the first jersey retired by the Rangers franchise when it rose to Madison Square Garden rafters in 1979. He also earned a place in the Hockey Hall of Fame a few years later.
Beyond this ice, though, Gilbert made an even larger impact. "From his retirement in November 1977 until almost his death, Gilbert worked tirelessly for charities in his adopted home of New York, raising funds for and awareness of myriad causes," Dave Stubbs explained in an NHL.com post after the forward's memorial service. "Almost impossibly, he was even more popular off the ice than he was on it."
Gilbert died on August 19, 2021. When the NHL season began, the Rangers took the ice with a memorial patch on their shoulders bearing the number seven, Gilbert's signature, and his nickname, "Mr. Ranger."
The Blueshirts are putting together a playoff run that would make Gilbert proud
As mentioned above, Gilbert never won a Stanley Cup during his time in the Big Apple. While they still have a ways to go, this year's Rangers squad is certainly doing his legacy proud with a run toward the title.
Thus far, the Blueshirts have advanced past the Pittsburgh Penguins and Carolina Hurricanes to reach the Eastern Conference Finals. While you could contend there was some luck involved — both opponents were without their first-choice goaltenders — New York does have a significant ace up their metaphorical sleeve. Igor Shesterkin played like a legitimate MVP candidate during the regular season and, barring a few weak goals, has continued to shine during the playoffs. As the classic hockey cliche says, having a hot goaltender can be all it takes to win a championship.
With that being said, though, the road will get tougher. Beyond raw experience — they've won back-to-back titles — the Tampa Bay Lightning also have an elite goaltender in Andrei Vasilevskiy. Out-dueling him four times in seven contests will be a challenge for anyone. Beyond them lurk either the Oilers or the Avalanche, who may lack Tampa's top-tier goaltending but have offensive talent to spare.
One of the joys of playoff hockey, however, is the potential for an upset. NHL fans know all about the ghosts of the old Montreal Forum; maybe Rod Gilbert can produce a favor for his old team at Madison Square Garden.
Like Sportscasting on Facebook. Follow us on Twitter @sportscasting19 and subscribe to our YouTube channel.