The 'Best Decision' of Patrick Reed's Life Was Messaging His Date's Sister on Facebook
Patrick Reed has been married to his wife, Justine, for nearly nine years now, but the PGA Tour star never would've pursued her in the first place if he received a simple text from a college date over a decade ago.
While he was still a student at the University of Georgia, Reed took Justine's sister out for a date. He proceeded to text her later that night to make sure she got home safely, but she never replied. Reed still wanted to make sure she was OK, so he messaged Justine on Facebook to confirm she made it back home. Unfortunately for the nine-time winner on Tour, she confirmed her sister was fine, but that there would be no second date. A few years later, Reed tied the knot with Justine, making that simple Facebook message the "best decision" of his entire life.
Patrick Reed credits his PGA Tour career to his wife, Justine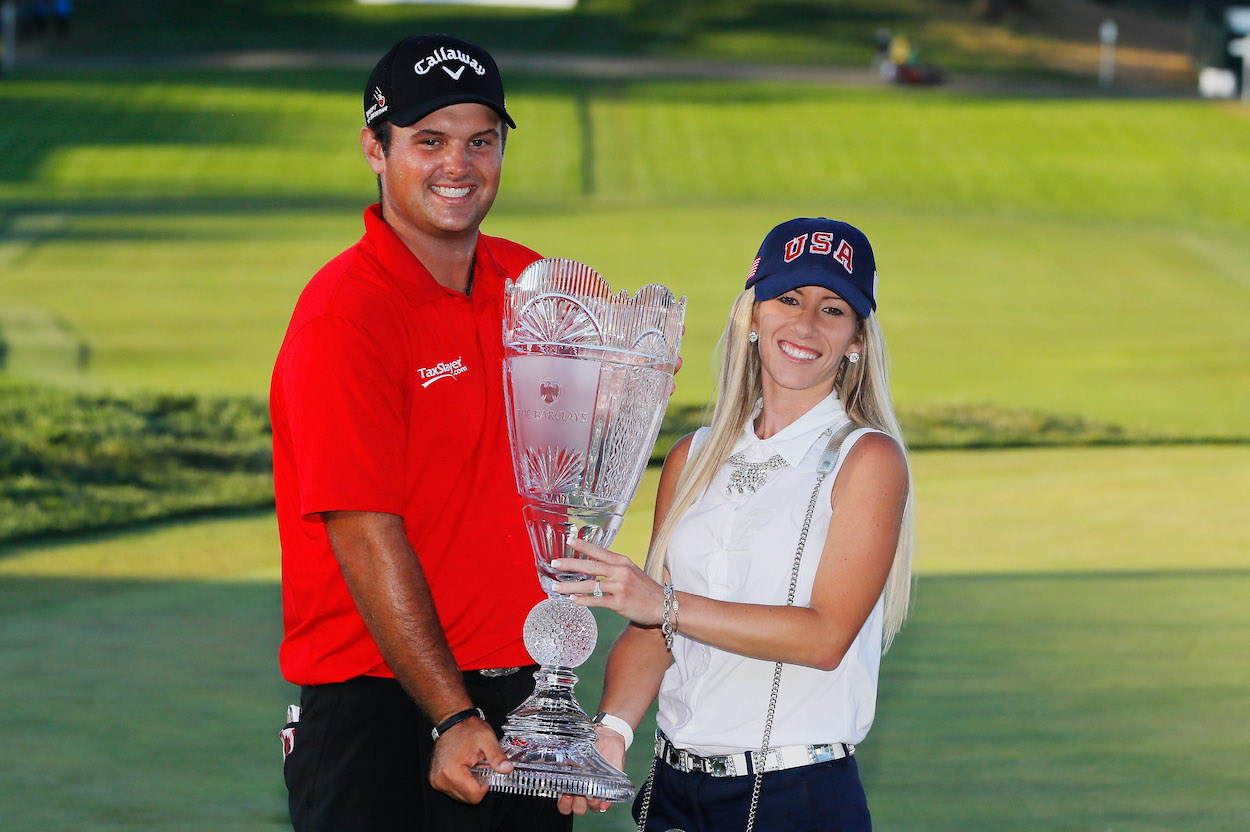 Reed is one of the biggest stars on the PGA Tour today, but it wasn't easy for him to get to this point. Back in 2012, before Reed even earned his PGA Tour card, his then-fiancée drove him around the country to various Monday qualifiers as he chased his professional golf dreams. She even caddied for him the entire way.
Patrick spoke about those early days and how much Justine supported him in a recent Q&A with Max Adler of Golf Digest.
"They were rough," Reed admitted. "We were road warriors, driving Justine's Lexus IS 250 sedan, chasing Monday qualifiers around the country just like they did in the old days. I had extra clubs and clothes. She had a full bag of makeup, full bag of hair products, 50 pairs of shoes . . . pretty hilarious just trying to tilt down the seat to catch some sleep as she's driving through the night so that I could make a tee time.
"With her caddieing, we went six for eight in PGA Tour Mondays that year. For her to put her dreams aside to support me, I'll never forget that. Someday I hope to be half the person she is."
Patrick and Justine have been married for nearly nine years
Patrick and Justine had big plans for his golf career while they were traveling the country competing in Monday qualifiers, but they had even bigger plans for their personal life together. In December of 2012, the couple got married.
The marriage didn't change their professional relationship right away, though. Justine stayed on Patrick's bag for his first two years as a full-time PGA Tour player, and she was even by his side for his first career win at the 2013 Wyndham Championship.
Patrick eventually traded Justine out for her brother, Kessler Karain, when she got pregnant for the first time in 2014. His brother-in-law has been his caddie ever since.
The "best decision" of Reed's life was messaging his date's sister on Facebook
Justine has been Patrick's biggest supporter and No. 1 fan for the entirety of his professional golf career, but they never would've started dating in the first place if Patrick wasn't ghosted by her sister in college.
Patrick recently told the funny story to Golf Digest.
"I was a freshman at the University of Georgia, and her younger sister, Kris, was at LSU. Kris came to visit, and we went on one date, and I texted her to confirm she'd made it back home safe. No response," Reed said. "So I reached out to Justine on Facebook, who confirmed her sister was back and got frank with me about why it was probably not going to work out. So I start talking with Justine, who I discovered is this incredibly driven person who was pursuing dual degrees while working to become a nurse. We kept talking as a couple of years went by; then we started dating.
"Best decision of my life."
You think Kris might regret never texting him back?