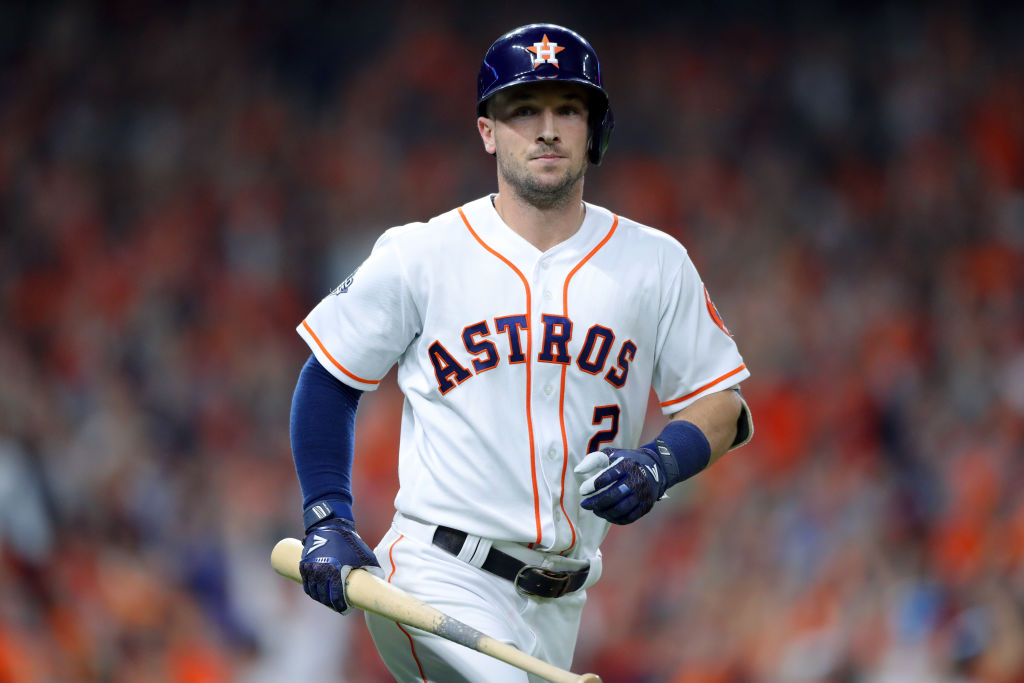 Bettors Can Profit From the Astros' Pain
Sportsbooks are accepting bets on how many times pitchers pluck Houston Astros batters this season. The over/under is pretty high.
Commissioner Rob Manfred is touring spring training camps this week to warn managers that he won't tolerate pitchers intentionally throwing at Houston Astros batters as retribution for the cheating scandal that has dominated Major League Baseball this offseason.
A betting man might be inclined to believe not everyone will get the message.
That's meant literally, because there are now odds being set on how many times Astros batters are hit by pitches in the 2020 season.
You can bet on just about anything in sports these days
Pro football is like Disney World for bettors because of the multitude of options for putting down money in order to make money. Besides the obvious, wagering propositions on Super Bowl LIV this month included rushing, passing, and receiving yards for individual players such as Patrick Mahomes; the outcome of the coin toss; and the duration of the national anthem.
With the baseball season on the horizon in the aftermath of an MLB investigation that determined the Astros had been violating rules in the way they stole signs, sportsbooks are taking action on how many times Houston batters are hit by pitches over the course of 162 regular-season games.
The William Hill sportsbook has set the over/under at 83.5 instances. Their staff arrived at that figure by looking at how many Astros were hit from 2017-19 as well as pinpointing the league high last summer. William Hill has also set the odds of the Astros getting hit more than 150 times this season at 200-1.
Not to be outdone, the Sportsbetting.ag website is taking action on which player will be hit most often and sets the over/under for Alex Bregman getting plunked at 10.5. Fans can also bet on the number of times Astros players will charge the mound in 2020, with the over/under set at a modest 1.5.
Hitting batters is part of the game, intentionally or otherwise
Batters get hit by pitches whether the pitcher had malice on his mind or not. It's largely a function of how close batters stand in relation to the plate and what their pain threshold is rather that a pitcher taking out his frustration because the previous batter took him deep.
The New York Mets led the major leagues last season with 95 batters being hit.
Anthony Rizzo of the Chicago Cubs has led the majors in the category three of the past five seasons, including 30 times in 2015. Among active players, Shin-Soo Choo has been drilled 150 times and Rizzo is close behind at 145.
Don Baylor led the American League in that category eight times in his career, and Ron Hunt of the Montreal Expos led the National League seven straight seasons beginning in 1968 – including a mind-boggling 50 times in 1971.
The master of malice among pitchers around the time Hunt was playing was Dock Ellis of the Pittsburgh Pirates. Ellis opened a 1974 game against the Cincinnati Reds by hitting Pete Rose, Joe Morgan, and Dan Driessen. He then forced in a run by walking Tony Perez on four pitches while trying to hit him.
What can MLB do to crack down on revenge-seekers?
Commissioner Rob Manfred recognizes he has a problem on his hands, which is why he is making the rounds in Florida and Arizona to warn managers about throwing at hitters.
Only nine teams have been hit by pitches more than 83 times in the past five seasons and the 2019 Houston Astros were right at the MLB average of 66, so both Manfred and the MLB community as a whole should know pretty quickly to what degree opposing pitchers are going after Houston hitters.
The usual penalty for hurlers obviously throwing at batters, sometimes done in response to a teammate having been hit in the preceding inning, is a suspension costing a starter one turn in the rotation or a reliever two to three games.
Manfred said recently that he had already been planning to ramp up punishment for intentionally throwing at batters before the Astros became a presumed target, so it seems logical that he'll make an example out of the first few pitchers he has to discipline this spring by taking extra games onto the suspensions and increasing fines.