Bill Belichick's $50 Million Mistake Should Give His Boss Major Cause for Concern
Just because billionaires can lose millions and not blink an eye doesn't mean they should tolerate their money being foolishly squandered. Unfortunately for New England Patriots owner Robert Kraft, his highest-paid employee's expensive blunder leaves his beloved team with a sizable chunk of dead money and a huge hole at a key position. 
As a smart businessman who understands what it takes to enjoy sustained success in the pro football world, Kraft simply can't ignore the sheer amount of money, time, and resources Bill Belichick wasted by betting big on Jonnu Smith.
And if the well-respected owner already had doubts about Belichick's ability to construct a championship-caliber roster that doesn't include Tom Brady, the opening day of free agency should have given him even more reason to worry about the Patriots' path moving forward.
Trading Jonnu Smith brought a swift end to a disappointing era
Instead of becoming a key weapon for a talent-starved Patriots offense, Jonnu Smith will go down as arguably the worst free-agent signing of Bill Belichick's career. Expected to be a key playmaker for Mac Jones, the former Tennessee Titan didn't come close to delivering on his four-year, $50 million deal in either of his first two seasons in New England. 
Between his lackluster production (55 catches for 539 yards and one touchdown) and expensive contract, Smith had two major factors working against a return to Foxborough. And on Monday, the Patriots admitted defeat by trading the veteran tight end to the Atlanta Falcons for a measly seventh-round pick. 
In a move that essentially amounted to a straight salary dump (and a massive black mark on Belichick's general manager resume), New England sold as low as possible on a player who provided pennies-on-the-dollar production. Although trading Smith freed up $4.4 million in cap space for 2023, it will cost the Patriots financial flexibility in the future, as the deal will result in $12.8 million in dead-money charges. 
On one hand, sending Smith and his bloated salary to the NFC South showed Belichick at least had the self-awareness to realize he couldn't keep the experiment going. At the same time, though, he shouldn't get credit for cutting ties with one of the most high-profile acquisitions of his career. 
Can Robert Kraft truly trust Bill Belichick to do what's best anymore?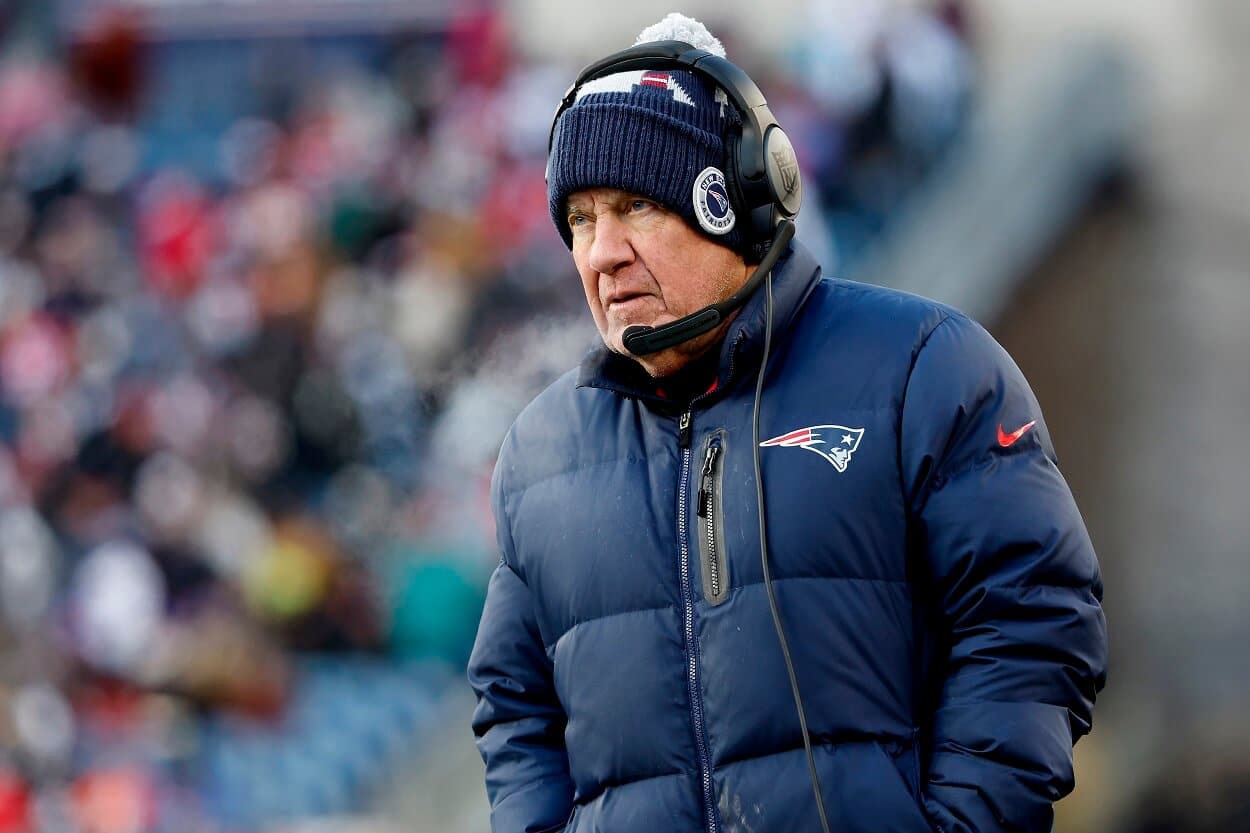 Signing Smith to a $50 million contract and failing to find a way to put his skills to good use is just the latest example of Belichick struggling to identify and utilize skill players effectively. 
How many more misses can he afford before his boss steps in? 
Guaranteeing Smith $31.5 million and getting 55 catches back was a gross misuse of Kraft's funds. So was using a first-round pick on N'Keal Harry in 2019, who made $8.4 million across three injury-marred seasons before Belichick dealt him to Chicago for a 2024 seventh-round pick. 
Oh, let's not forget about another member of the Patriots' record-setting spending spree from 2021 who's been a complete disaster: Nelson Agholor. Rather than serving as a reliable deep-ball threat, the drop-prone receiver totaled just 68 catches for 835 yards and five touchdowns — all while playing on a two-year, $22 million contract. 
Plus, even though it's premature to call Tyquan Thornton a bust, he certainly showed he has a long way to go to develop into a consistent target in the passing game. After totaling just 22 catches for 247 yards and two touchdowns, the 2022 second-round pick needs to take a substantial leap if he wants to avoid being the latest addition to Belichick's collection of draft misfires. 
With Smith headlining a growing list of personnel blunders, Belichick's cache continues to take a hit. Kraft may have all the respect in the world for what his longtime coach has accomplished, but he should also have all options on the table when it comes to Belichick's future in Foxborough. 
If the Patriots fail to rebuild their offense and set their third-year quarterback up for success, how can Kraft run things back in 2024? Letting Jakobi Meyers walk for a palatable price already seems like a mistake by Belichick, and trading away an underperforming but talented player for a Day 3 pick definitely didn't do anything to quiet the narrative that the architect of the most successful dynasty in NFL history can no longer do his job. 
Oh, the irony.