After Trading for Jalen Ramsey, It's Time for the Dolphins to Ditch Tua Tagovailoa for Tom Brady
Make no mistake about it: The Miami Dolphins want to win now. 
After all, a team doesn't part ways with five draft picks and commit $72 million guaranteed on a single player just to make a marginal jump in the standings. And it certainly doesn't deal another first-rounder and hand out another nine-figure extension unless it believes it can compete for a Super Bowl title immediately. 
While Jalen Ramsey didn't cost quite as much as Tyreek Hill or Bradley Chubb in terms of draft capital, the fact the Dolphins agreed to guarantee $36.9 million of his contract over the next two years shows the organization is all-in on 2023. Miami only had to surrender a third-round pick and backup tight end Hunter Long to acquire the All-Pro cornerback from a Los Angeles Rams franchise that looks bound for a multi-year rebuild — a small price to pay for someone with such strong credentials. 
Although landing Ramsey represents a massive step in the right direction for a team that boasts plenty of talent on both sides of the ball, that shouldn't stop Dolphins general manager Chris Grier from pulling off another blockbuster move.  
With a roster that includes established veterans like Hill, Xavien Howard, and Terron Armstead and rising stars like Christian Wilkins, Jaelan Phillips, and Jevon Holland, Miami has the pieces to contend with in the AFC. However, the uncertainty surrounding Tua Tagovailoa's ability to stay healthy makes it difficult to put the Dolphins on the same level as the Kansas City Chiefs, Buffalo Bills, or Cincinnati Bengals. 
Rather than betting on the talented but injury-prone quarterback to suddenly become durable, the franchise should move on from Tagovailoa and officially go for broke in 2023 by getting Tom Brady to suit up for a 23rd season. 
Of course, the 45-year-old announced his retirement beachside on the first day of February, bringing an abrupt end to the idea of him taking his talents to a new team for a final run at ring No. 8. But between his short-lived retirement in 2022 and persistent rumors about a potential comeback, it's impossible to completely rule out Brady playing football again. 
For a Dolphins franchise that spent two decades suffering defeat after defeat at the hands of the GOAT, convincing him to don an orange and teal uniform would be the ultimate victory. Not only would it give the team a better chance to win, but it would also represent a massive proverbial slap in the face to the arch-rival New England Patriots. 
Would ditching Tua for TB12 necessarily make the Dolphins better in 2025 or beyond? 
By any objective measure, trading away a 25-year-old quarterback coming off a Pro Bowl-caliber campaign is a huge gamble. Replacing that player with someone who's nearly half a century old is a short-term upgrade that would leave the team without a long-term answer at the most important position on the field.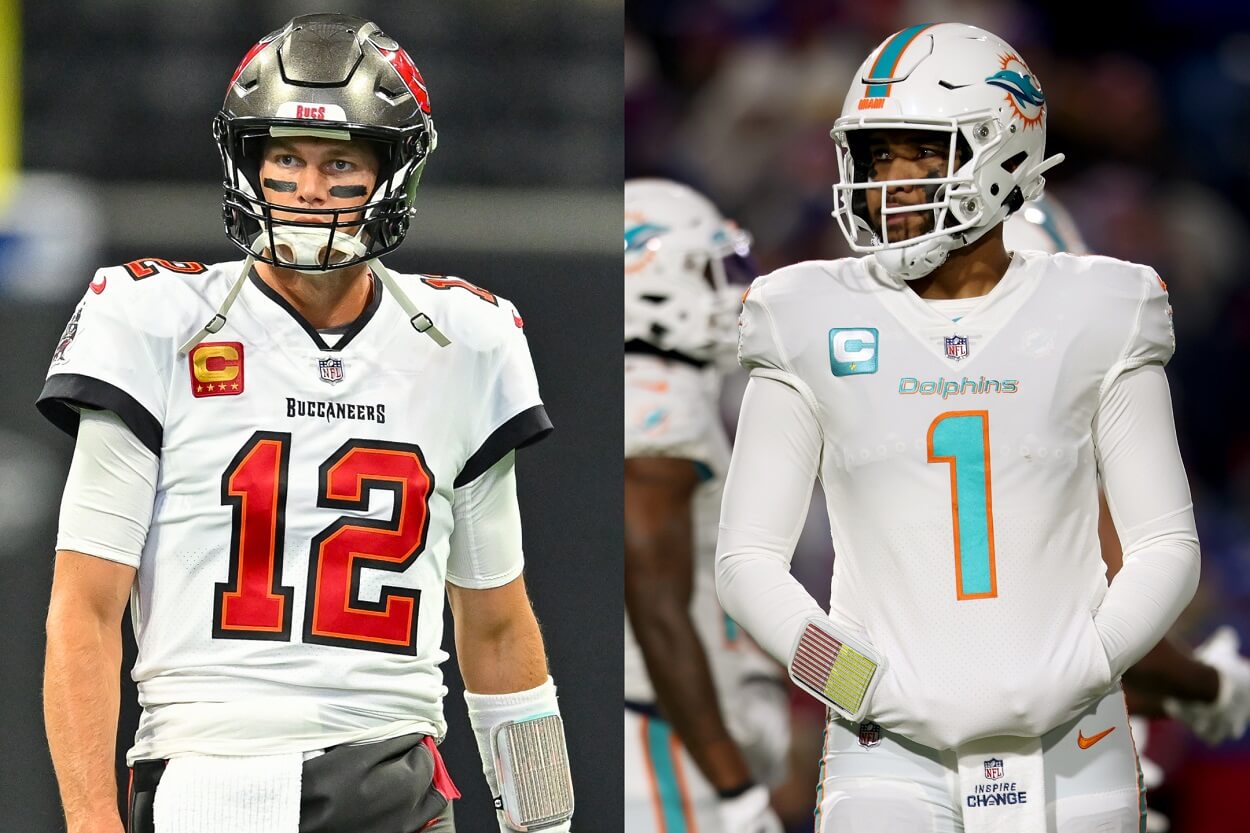 Still, that shouldn't preclude the Dolphins from working the phones to find a taker for Tua. Despite his durability concerns, he's shown enough growth to be viewed as a top-12(ish) starter. Accurate, mobile, and intelligent, the southpaw signal-caller could excel in another environment in which he has solid protection and a cast of pass-catching options. 
Even if Miami can't fetch a premium price for Tua, getting a single first-round pick would be a win if it results in Brady taking over as the team's new leader. 
Can you imagine an offense coordinated by Mike McDaniel that has the greatest quarterback of all time peppering passes to the speedy duo of Hill and Jaylen Waddle? Combine that with an aggressive defense that now features the NFL's best cornerback tandem in Ramsey and Howard, and you have all the elements of a Lombardi-worthy squad. 
Brady's steady leadership and demanding standards would be ideal for a Dolphins team that doesn't have a ton of players with significant postseason experience. Essentially, he could replicate what he did in Tampa in Miami by turning a talented but inconsistent team into a well-oiled machine that performs at its best in critical moments. 
As for Tua? 
Some faction of Dolphins fans would be heartbroken to see him traded rather than extended. But for a championship-starved franchise built to win now, forging ahead with the battle-tested Tom Brady would be the better option than counting on an undersized quarterback who could be one concussion away from never playing again.