Rams Got Weak Return Because Teams Were 'Scared' of New Jalen Ramsey Contract
In 2019, the Jacksonville Jaguars traded cornerback Jalen Ramsey to the Los Angeles Rams. In return for the now six-time Pro Bowl and three-time All-Pro player, the Jaguars got two first-round and one fourth-round pick. Three offseasons later, the Rams got a third-round pick and a tight end with one career catch for eight yards from the Miami Dolphins. How did this Jalen Ramsey trade fall so short of the last one? Because teams were "scared" of what the next Jalen Ramsey contract would mean for their team.
The Jalen Ramsey contract
What happened between 2019 and 2023 in regard to Jalen Ramsey trades?
Well, the biggest things are that the Jalen Ramsey contract got larger, and the cornerback got older. In 2019, he was traded just days before his 25th birthday. In 2023, he'll turn 29 around Week 6 or 7 (October 24) of the season.
Heading into the 2023 offseason, Ramsey had a $25.2 million cap hit with $19.6 million in dead cap. So, trading the CB saved the Rams $5.6 million on next year's cap.
As for the Dolphins, they inherited a $17 million base salary for 2023. After that, the Jalen Ramsey contract has a $14.5 million base salary and a $4 million roster bonus in 2024 for an $18.5 million cap hit. In 2025, it's a $15.5 million base, $4 million roster bonus, and $19.5 million cap hit.
Neither of those next two years are guaranteed, though, so Ramsey is going to be looking for a mega-extension for the next several seasons. The fact that the CB will be 29 and did experience some slippage this year.
And according to NFL insider Albert Breer, that is why the Rams got next to nothing in the Jalen Ramsey trade.
Teams 'scared' of a Ramsey extension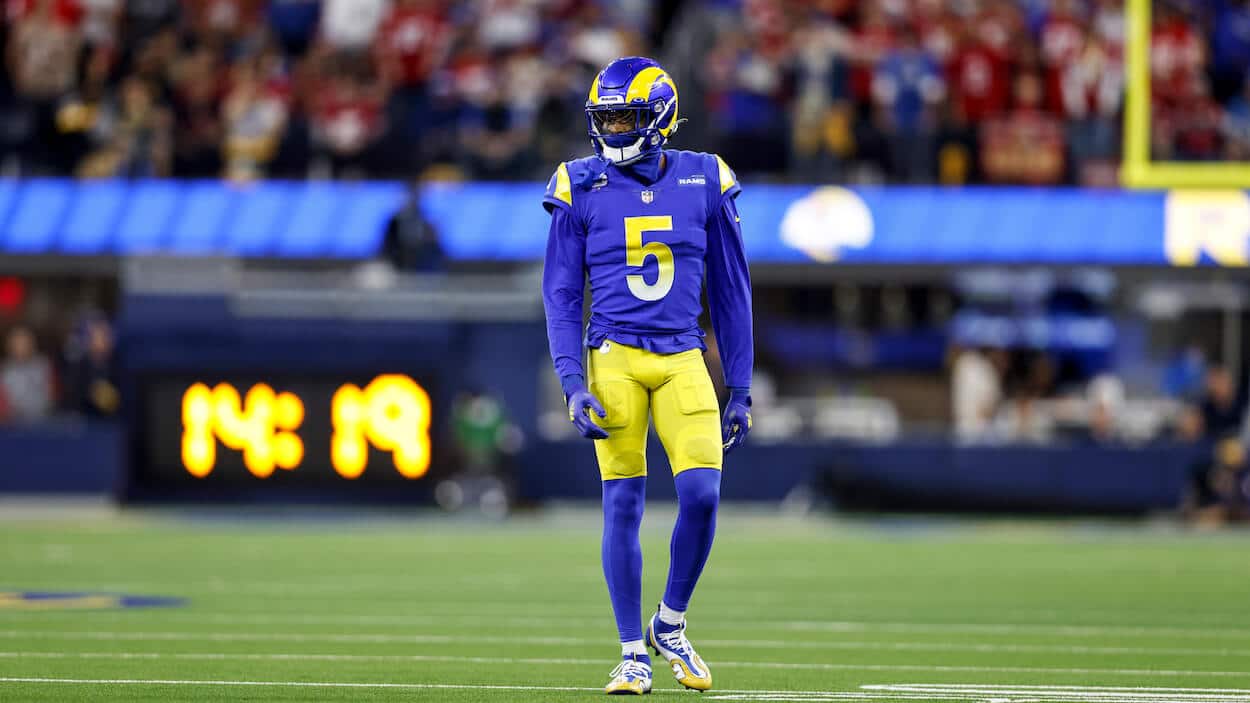 When the cornerback wanted a Jalen Ramsey trade out of Jacksonville, he made his intentions incredibly clear. At what would become the end of his Rams tenure, Ramsey again wasn't subtle about his expectations of a trade.
In both cases, the CB got out of his current situation, but last time he was one of the best defensive players in the league.
This time around, he is the third-highest-paid CB in the league (in annual average value behind Jaire Alexander and Denzel Ward). And that's part of the reason the Rams only got back a third-round pick and tight end Hunter Long. The TE was a third-round pick in 2021 for the Dolphins and had one catch for eight yards in seven games during his rookie season. In 2022, he suited up for seven games and didn't have a target or a catch.
How could the Rams accept so little in a Jalen Ramsey trade? An NFL insider explained.
In a tweet following the trade, Albert Breer from MMQB and NBC Sports noted that the "Return for LA [was] limited by teams scared off on contract asks of a 29-year-old CB." Also, Ramsey wanted to go to Miami, so "Had it not been a team Ramsey was excited by, [money bag emoji] ask might've been bigger."
It's not quite the player empowerment era in the NFL like the NBA, but this shows how in pro football these days, players who wield power can end up where they want without a big to-do.