Tom Brady Retiring Only Reinforces How Far Away Patrick Mahomes Truly is From GOAT Status
You can call Patrick Mahomes the most talented quarterback to step foot on a football field. 
You can also call him the most valuable player (for the second time in his career) in a league full of worthy candidates. 
What you can't and shouldn't call the Kansas City Chiefs star, though, is the GOAT.
As much credit as Mahomes deserves for harnessing his prolific physical gifts and turning his team into a perennial title contender, he simply doesn't belong in that conversation. 
With Tom Brady finally ending a 23-year career that included 251 regular-season wins, seven Super Bowl titles, and countless individual records, there shouldn't be any doubt about the pecking order of all-time NFL greats. In fact, Brady's retirement only reinforces just how big of a mountain Mahomes must climb before he can truly stand toe-to-toe with the GOAT.
Tom Brady's retirement shows just how ridiculously successful he was compared to other quarterbacks
Tom Brady called it quits on playing football for the second offseason in a row. This time, though, it seems like the 45-year-old will turn the page to the next chapter of his life and eventually transition to a broadcasting career. 
While there's always an outside chance that Brady succumbs to the competitive itch to secure ring No. 8, he certainly doesn't need to pad his stats or add a few more playoff victories to his resume to convince anyone he's the greatest player of all time. 
From entering the league as an overlooked sixth-round pick to turning the Patriots into a dynasty by winning three Super Bowl titles in a four-year span to throwing 50 touchdowns and leading his team to a 16-0 record in 2007, Brady cemented his place as a future Pro Football Hall of Famer within the first decade of his NFL career. 
Despite a decade-long championship drought, he put together another brilliant run that included plenty of passes to fellow Patriots icon Rob Gronkowski. And when Belichick looked ready to hand the keys to Jimmy Garoppolo, Brady responded by winning three more titles between 2014-18, essentially forcing his boss to abandon the idea of building around a younger, cheaper quarterback. 
Of course, Belichick's decision to show his most accomplished player the door backfired badly for everyone but Brady. Already viewed as the GOAT, he distanced himself from everyone else by promptly leading the Tampa Bay Buccaneers to a Super Bowl victory in his first season with the notoriously underperforming franchise. 
Although Brady's 2022 season represented a step back from his lofty standards, he certainly didn't retire due to a performance drop-off. If circumstances were different off the field, it's fair to wonder how much longer defensive coordinators would have to figure out how to slow down the most cerebral signal-caller of all time. 
Let's not forget Brady led the league in passing yards (5,316) and touchdowns (43) in 2021 at the age of 44. And with nearly 90,000 passing yards and 649 touchdowns during the regular season and 13,400 passing yards and 88 touchdowns in 48 playoff games, it's unbelievable to think 198 players got selected before Brady in the 2000 NFL Draft.
Patrick Mahomes needs another decade of production to threaten for the GOAT title
Is Patrick Mahomes more talented than Tom Brady? 
You won't find any argument here.
From a physical standpoint, there's zero doubt the 2022 NFL MVP possesses every tool a coach could ask for. And when you combine Mahomes' powerful right arm with his underrated athleticism and sharp mind, there's zero doubt he's the most difficult player to stop. 
However, just because he's a two-time MVP and one-time Super Bowl champion by age 27 doesn't mean he deserves to be mentioned in the same breath as Brady. 
Sure, he's on pace to potentially bypass his peer in the record books. But it also helps that Mahomes plays in an era where quarterbacks are protected by league rules and able to put up big passing numbers on a regular basis. 
And yes, Mahomes has taken over as king of the AFC by leading the Chiefs to five straight conference championship appearances. But it's also fair to note that he's had homefield advantage throughout his entire career and has only gone 1-1 in the Super Bowl. 
By the end of Brady's fifth season as a full-time starter, he had secured three rings, three Pro Bowl berths, and a top-three finish in MVP voting. 
Of course, football is a team sport, and it's not Mahomes' fault the Chiefs couldn't keep him out of harm's way against Brady's Buccaneers in Super Bowl 55. But the reality remains that at the same point in his career, the former Patriots star had enough championship hardware to be able to retire and already be regarded as an all-time great. 
Mahomes is clearly in a different class, even compared to fellow stars like Josh Allen, Joe Burrow, and Justin Herbert. But at the end of the day, he's six rings behind Brady, and he isn't close to breaking any of TB12's regular-season records simply because he's only played about a quarter of the number of games.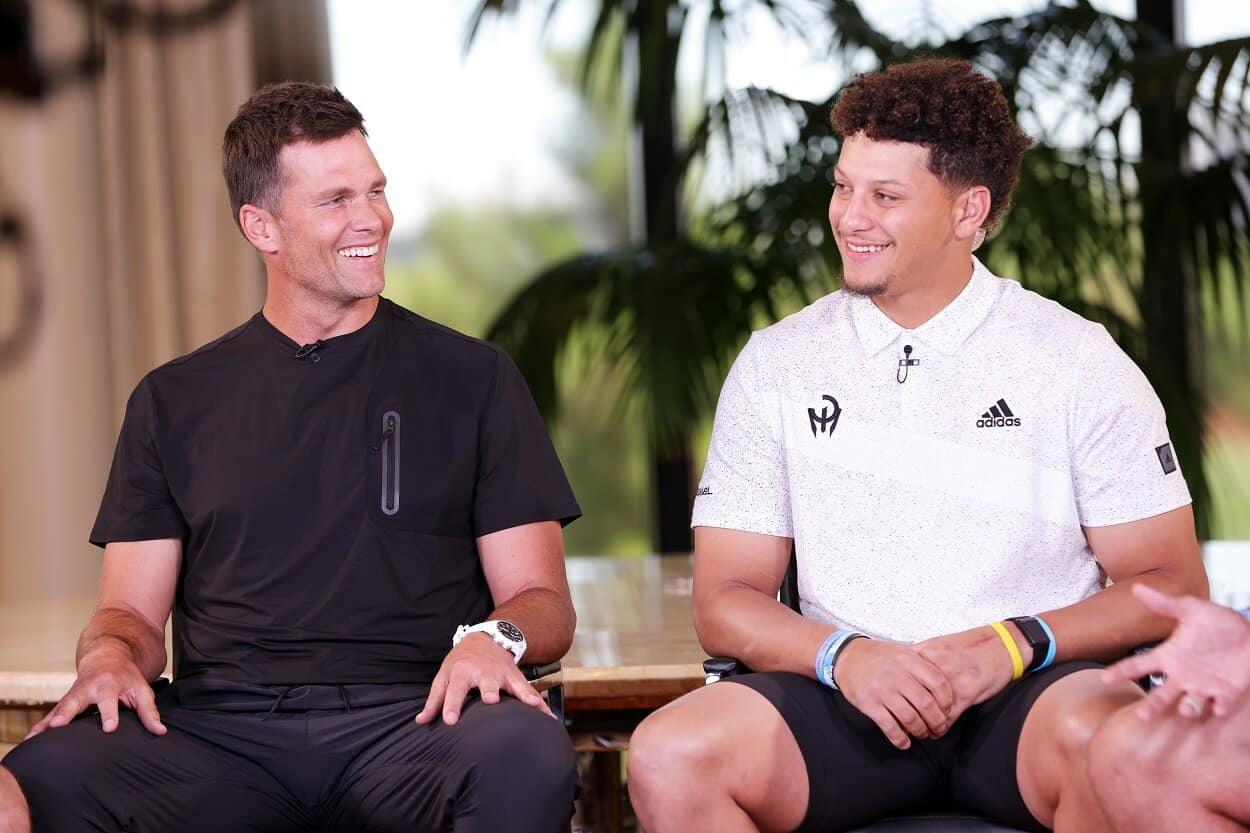 So, even though Mahomes' flashy style and gaudy statistics stand out, he still has to stick around for at least another decade and produce at that level to become a real threat to overtake Brady. And until he can call himself a three- or four-time Super Bowl winner, it'll be impossible to put him over someone who has enough rings to cover all but three of his fingers. 
And if the Philadelphia Eagles keep the Chiefs in check in Super Bowl 57, Patrick Mahomes will have to wait even longer to receive his second.