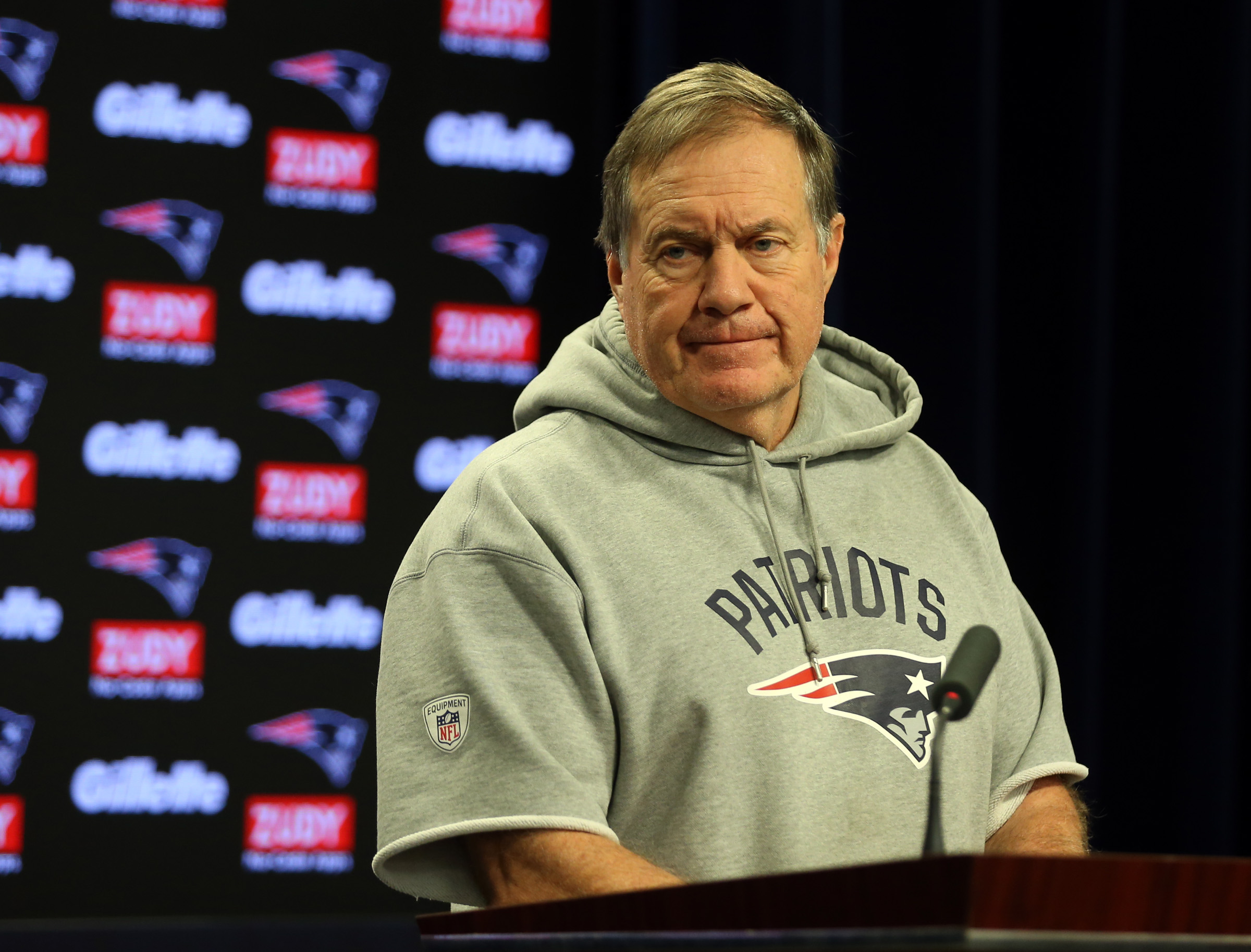 Bill Belichick Displays a Cool Joe Judge-Inspired Hoodie, but You Can't Have One
Bill Belichick added another hoodie to his wardrobe this week and it opened a few eyes.
Bill Belichick is a pretty simple guy. His answers are short and to the point. He never gives out more information than needed. And then there's his wardrobe. The man they call "The Hoodie" is known for just that — his hoodies. The New England Patriots coach caused a stir at one of his recent press conferences with his latest hoodie style, inspired by the recently fired New York Giants coach Joe Judge. The only problem with this particular hoodie is that you can't have one.
Bill Belichick isn't out there coaching to get fashion points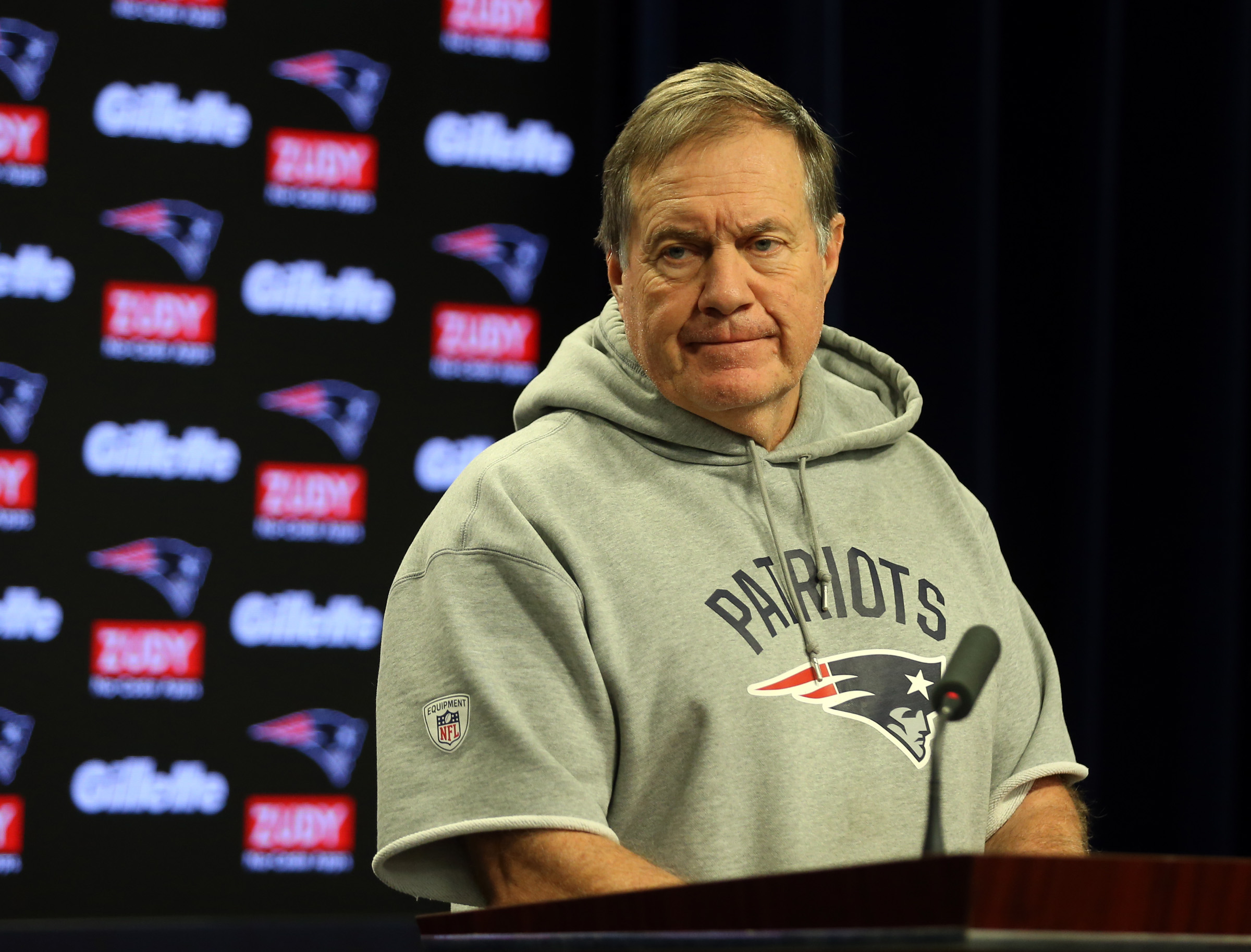 Belichick wants to win and doesn't care how he looks while doing it. According to Bleacher Report, Belichick has been wearing his hoodies since 2003. It wasn't until 2005 when the Patriots coach opted to cut off the sleeves of those hooded sweatshirts because "My arms are too short," he said, per Tom E. Curran of NBC Sports Boston.
Belichick and the cut-off hoodie are quite the pair. In fact, there are charts out there with his record while wearing a cut-off hoodie and without one. According to NFL on CBS, Belichick might want to go without a cut-off the next time his Patriots reach the Super Bowl. He is 6-0 when he doesn't wear the cut-off shirt. He's 0-3 with one.
For Belichick, it's not that technical. He picks out a shirt and wears it. Pretty simple. In 2012, he told WEEI in Boston just that.
"In all honesty, I really don't pay that much attention to it, I swear I don't," he said. "People ask me after the game why did you wear the blue one, why did you wear the gray one? I just put on whatever is there."
Bill Belichick's latest hoodie cause quite a stir
On Wednesday, Belichick stepped to the podium to speak to reporters for 15 minutes. As usual, he didn't "wow" anyone with his comments. His wardrobe, however, opened a few eyes and appeared to be the talk of the media session.
Belichick wore a gray hoodie with the sleeves cut off. Across the shirt was "DangerZone" written in blue. Of course, Belichick was asked about it, and he revealed it was "something the players did a couple years ago," according to NESN.
Back in 2019, Patriots long-snapper Joe Cardona gave the special-teams unit the Top Gun-themed "Danger Zone" nickname. Under Judge, then the special teams coach, members of the special teams would receive custom hoodies each season. Clearly, Belichick still has his and had no problem bringing it out this week.
NESN said don't even bother searching for the shirt online. You won't find one.
Belichick and the Patriots find themselves in a tough spot this week
For the third time in five weeks, the Patriots find themselves in a battle with the Buffalo Bills. This time it's do-or-die.
In Week 13, the teams met for the first time this season and played under less-than-ideal weather conditions. With heavy winds and rain, the visiting Patriots escaped with a 14-10 victory despite throwing three passes the entire game.
In a Week 16 rematch, the Bills went to Foxborough and outscored the Patriots 33-21 to vault Buffalo into the division lead. The Bills secured the AFC East crown by knocking off the Atlanta Falcons and the New York Jets in the final two weeks.
The weather is expected to be brutal in Buffalo for Saturday night's game. Temperatures are expected to be in the single digits with wind chill in the minus-10 range by game time.
Belichick might want to forget cutting the sleeves for this one.