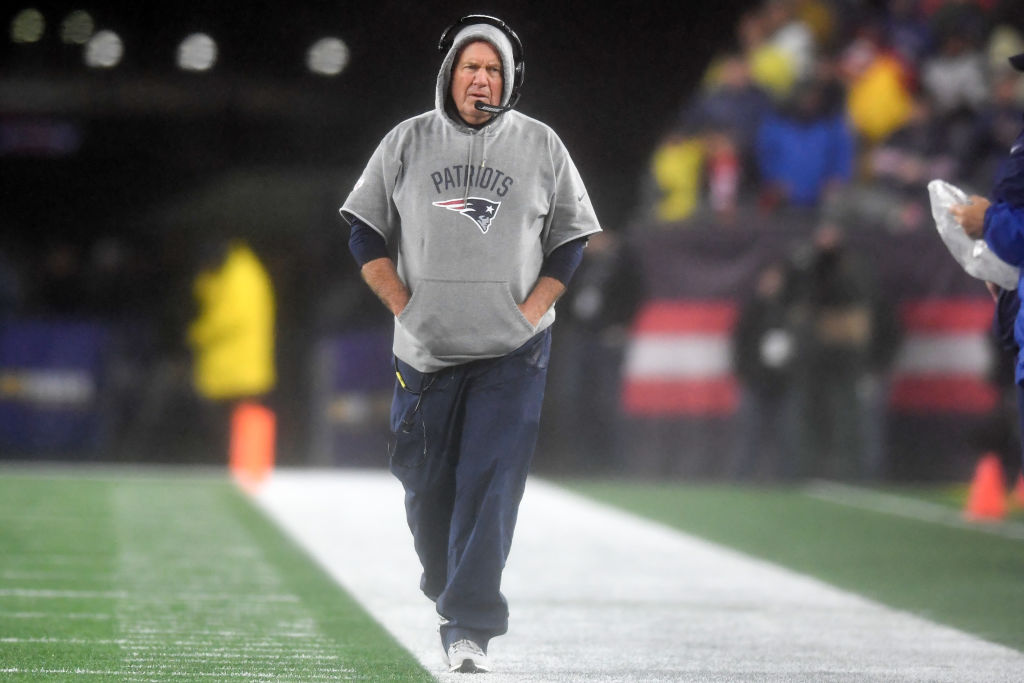 We Finally Know Why Bill Belichick Cuts the Sleeves Off His Hoodies
Bill Belichick has rocked a hoodie with cut-off sleeves for most of his coaching career, but how did it start and why does he still do it?
Bill Belichick is many things. A genius football mind? Definitely. The greatest NFL coach ever? Sure. A misunderstood, great guy who carries the persona of a cold and cruel dictator? Also true. However, one thing you can definitively say Belichick is not is a fashion icon.
The legendary Patriots head coach has become famous for his interesting wardrobe ensembles throughout his career. The staple of Belichick's look is his gray hoodie with the sleeves cut off, but it's always been a mystery as to why he rocks such an awkward look. Well, now we finally have the answer.
Bill Belichick starting cutting off his sleeves after Super Bowl XXXIX
Bill Belichick didn't always wear his hoodies with the sleeves cut off. The trend actually stemmed from Super Bowl XXXIX against the Philadelphia Eagles.
Patriots Insider Tom E. Curran of NBC Sports Boston recently did a deep dive into Belichick's wardrobe, and he cited that game as the breaking point for the head coach.
Belichick was fidgeting with his long sleeve sweatshirt all game. Eventually, he tucked the ends inside the sleeves to create a makeshift short sleeve hoodie. The next season, he started to cut the sleeves off his hoodies himself.
When asked why he was ruining his sweatshirts, Belichick responded with a simple, "my arms are too short." From that day in 2005 on, Belichick has been rocking his patented cut-off sweatshirts on the sidelines.
Belichick has a worse record when he wears cut-off sleeves
Mike Dussault from Patriots.com and Bob Yoon from Pats Propaganda actually charted Belichick's record when he wears specific outfits and colors. Surprisingly, the cut-off sleeves look might be the worst of the bunch.
When Belichick wears regular sleeves, the Patriots are 202-68 (74.8 percent). But when he wears hoodies with the sleeves cut off, the Patriots are 65-24 (73 percent).
It's not a huge difference overall, but the eye-catching stats come from the playoffs. According to NBC Sports Boston, every playoff loss the Patriots had from 2005-2012 occurred when Belichick sported a hoodie with the sleeves cut off.
What's even more alarming is all three of Belichick's Super Bowl losses happened when he was wearing cut-off sleeves.
Even though his fashion is questionable, Belichick's coaching legacy is not
Although Bill Belichick isn't even close to the greatest dresser in coaching history, he might already be the best NFL coach ever.
In 20 years as a head coach in the NFL, Belichick has accomplished more than other Hall-of-Fame coaches could in over 30 years. Belichick has the most Super Bowl rings (6) of any head coach in NFL history. He has reached the Super Bowl nine times in 20 seasons at the helm of the Patriots.
The dynasty he created in New England is second to none. Belichick is currently third on the all-time wins list for NFL head coaches. Only Don Shula and George Halas have more, but Belichick will catch them easily if he continues coaching for a while.