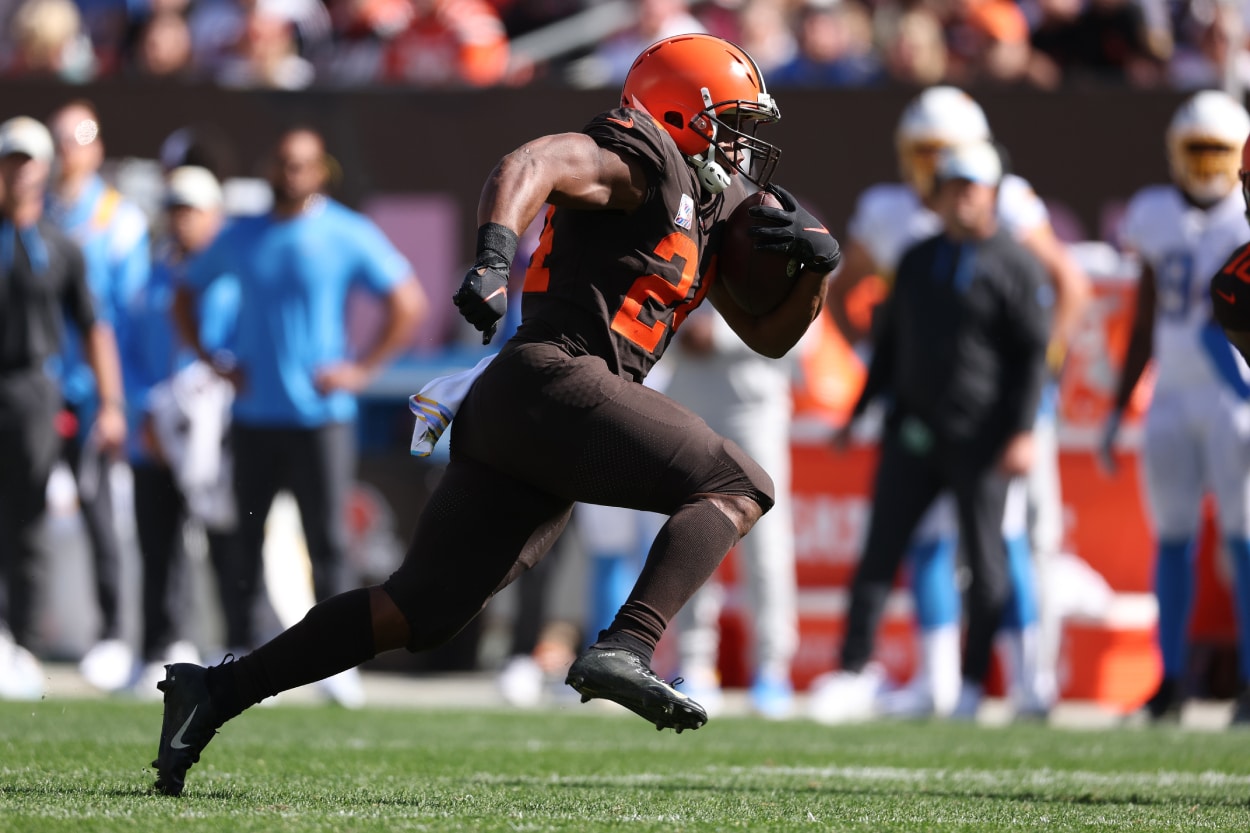 Bill Belichick Heaps Praise on Nick Chubb, While Chubb Deflects Credit to Offensive Line
Bill Belichick and the New England Patriots face the NFL's leading rusher in Nick Chubb this weekend.
Bill Belichick hasn't been much of a talker in recent weeks. With questions surrounding his team's quarterback situation, the New England Patriots coach has been short and sweet — sometimes testy — with his comments.
Once in a while, Belichick will get on a roll at the podium. He did so during the preseason when he excessively praised Mac Jones. He also did it this week when talking about Cleveland Browns running back Nick Chubb, the NFL's leading rusher.
Bill Belichick faces his former team in the Cleveland Browns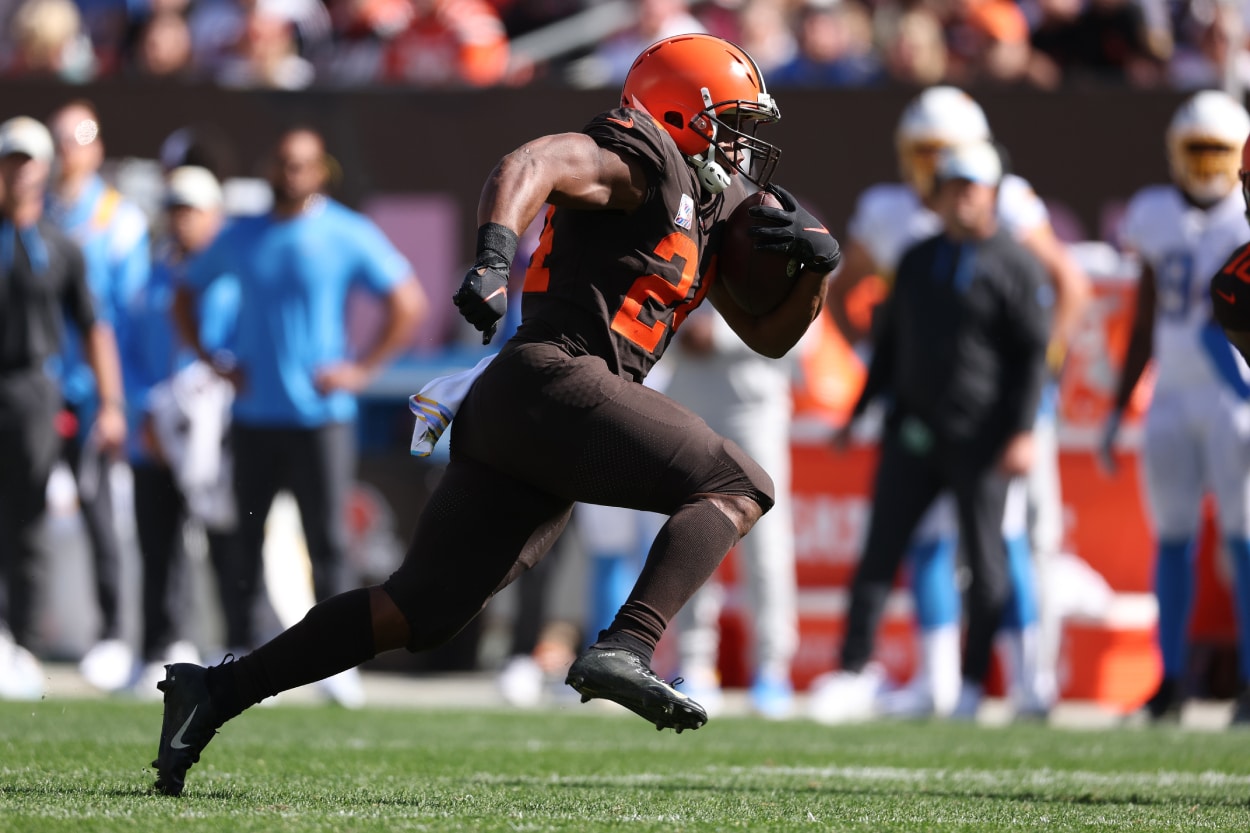 Belichick began his NFL head coaching career with the Browns in 1991. He spent five seasons in Cleveland, compiling a record of 36-44. The Browns' situation was a mess, as then-owner Art Modell announced during the 1995 season that he was moving the franchise to Baltimore.
"I didn't walk away from there saying I did a bad job," Belichick said in a 2004 Sports Illustrated article. "Not at all. We took a bad team, made it pretty good, made the playoffs, had a bad year in the most off-the-charts negative situation maybe in football history, got fired. It just wasn't a good mix between Art and me."
Belichick, in his 23rd season as head coach of the Patriots, returns to Cleveland this week when his 2-3 team takes on the 2-3 Browns. The Patriots are fresh off a convincing 29-0 victory over the Detroit Lions. They won with rookie quarterback Bailey Zappe completing 17 of 21 passes for 188 yards and a touchdown. He also threw an interception.
It was Zappe's first NFL start as Jones recovers from a high ankle sprain suffered on the final play of New England's Week 3 loss to the Baltimore Ravens. Jones hasn't returned.
The Browns, led by Chubb's league-leading 593 rushing yards, are also 2-3. They lost a 30-28 heartbreaker last week to the Los Angeles Chargers.
Belichick couldn't say enough good things about Chubb, who deflected all the credit
Both teams look to ride their strong ground games this weekend. Last week, Rhamondre Stevenson filled in nicely for an injured Damien Harris, rushing 25 times for 161 yards. Belichick and the Patriots know they'll see a heavy dose of Chubb on Sunday.
"He's very hard to tackle," Belichick said this week, per the Akron Beacon Journal. "Got tremendous contact balance, playing strength, good vision. Good patience. He really sets up his blocks well.
"He gets the most out of every block and then, he's very hard to get on the ground. Plays with good ball security and has had explosive plays. Gets a lot of tough yards, consistent yards. He's really good, and he's got a good group in front of him, and they absolutely know what they're doing."
Chubb, averaging 6.1 yards per carry, also leads the NFL in touchdowns. He said teams know the Browns will run the ball, and he gives credit for his success to his offensive line.
"Yeah, obviously going into the game everyone knows we're going to run the ball," Chubb said. "I mean, after Game 5, you realize everyone is going to try and stop the run, but our O-line has done a great job of knowing what's coming and studying film and playing hard.
"At this point, we are a pretty good team, but we never know what's going to happen week in and week out."
The Patriots defense passed a significant test last week, shutting out the Lions, who came in averaging 35 points per game. Shutting down Chubb will be another significant challenge.
Have thoughts on this topic? Keep the conversation rolling in our comments section below.