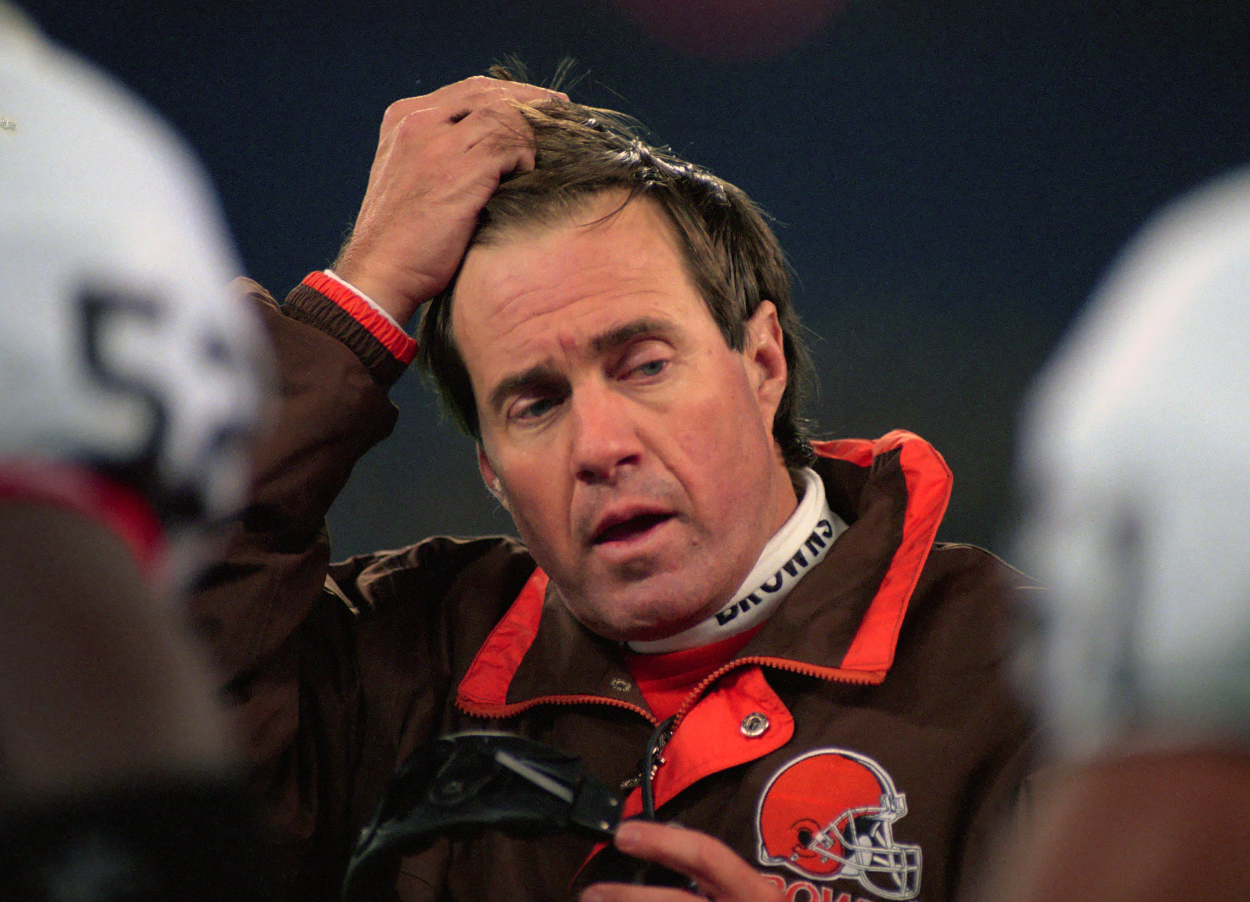 Bill Belichick's Players May Not Have Loved Him With the Cleveland Browns but His Assistant Coaches Sure Did
Bill Belichick always found a way to make his assistant coaches in Cleveland happy.
There have been many players who have said Bill Belichick is a tough coach to play for. That may be the case, but his success with the New England Patriots can't be overlooked.
Belichick spent five years as the head coach of the Cleveland Browns, and many of the players weren't fond of playing for him back then either. While those Cleveland players may not have enjoyed life with Belichick, his assistant coaches definitely did.
Bill Belichick had one winning season with the Cleveland Browns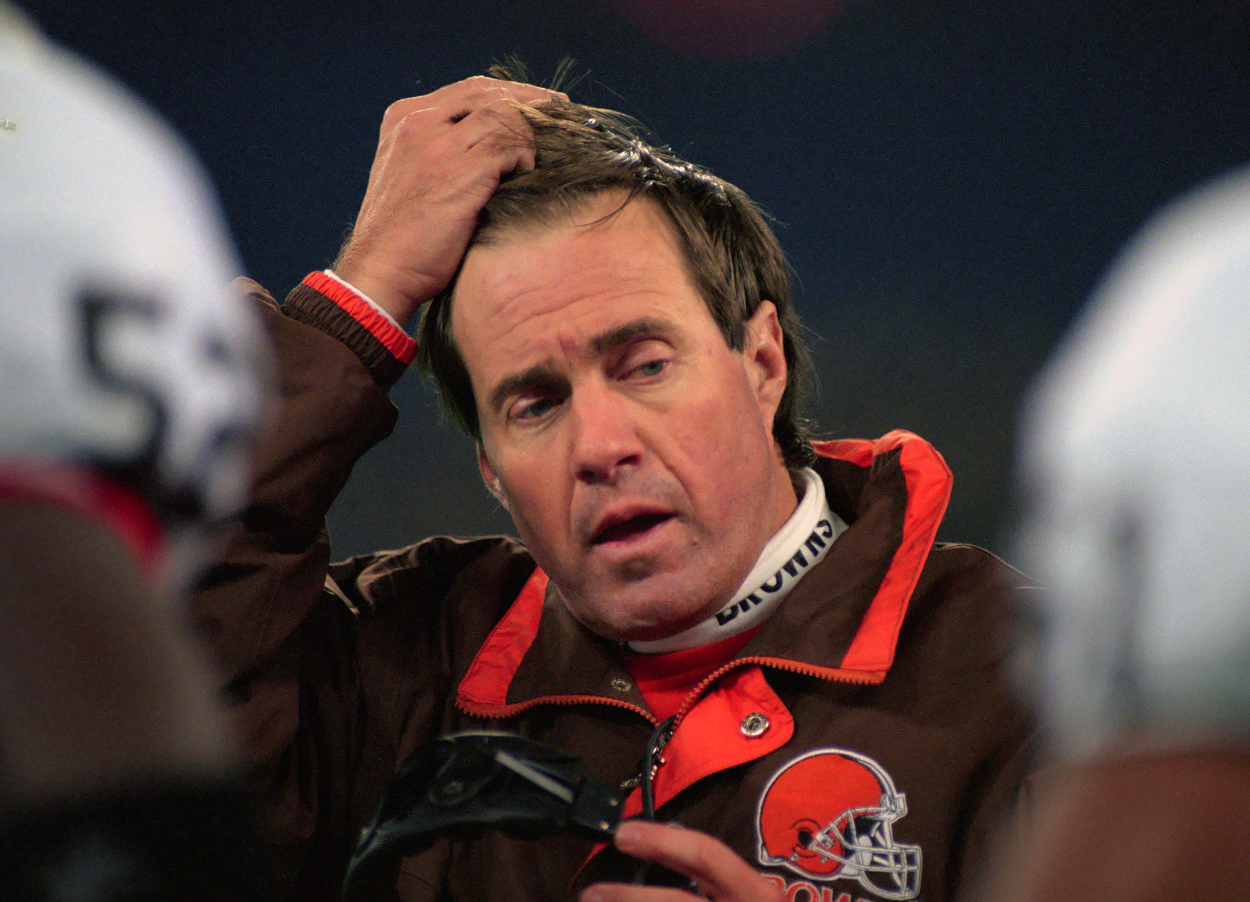 In Belichick's five years with the Browns, he put together one winning season, that coming in 1994. In his five years with the Browns, Belichick compiled a 36-44 mark and was fired by owner Art Modell after the 1995 season. That '95 season was a mess in Cleveland as Modell announced mid-season that he would be moving the franchise to Baltimore.
"I didn't walk away from there saying I did a bad job," Belichick said in a 2004 Sports Illustrated article. "Not at all. We took a bad team, made it pretty good, made the playoffs, had a bad year in the most off-the-charts negative situation maybe in football history, got fired. It just wasn't a good mix between Art and me."
It was that firing that made Belichick resign with the New York Jets after a day on the job. After his stint with the Browns, Belichick figured he might only get one more shot at an NFL head coaching job. He wanted to make sure things were right.
The Jets were up for sale, and Belichick didn't want to be coaching for ownership he didn't know. The uncertain situation with the Jets prompted Belichick's famous resignation via napkin when he scribbled, "I resign as HC of the NYJ."
Bill Belichick didn't make many friends with the players in Cleveland
Give Belichick credit. He hasn't changed a bit. His schtick in New England is real. Those quick answers that really don't answer anything didn't just start in 2000 when he became the head coach of the Patriots.
Tony Grossi, who covered the Browns under Belichick for the Cleveland Plain Dealer never enjoyed those mundane press conferences.
"Sitting through his press conferences was like putting a sharp pencil into your eye," Grossi said, according to Sports Illustrated.
Belichick also wasn't real warm and fuzzy with his players. He was tougher and more demanding than any of the Browns' previous coaches. He did things his way, and sometimes that bruised the ego of a player. Belichick released longtime quarterback Bernie Kosar, who at one point complained the offense was boring.
 "We've kissed and made up," Kosar said in 2004. "We were both type A personalities who had different ideas about how we should be doing things. Now, as you can see, the man can coach."
While the Browns' players weren't crazy about Belichick, the assistant coaches were
Belichick knew the grind of being an assistant coach. When he became the head coach of the Browns in 1991, he showed his appreciation to those who worked underneath him in the form of cash.
Every Monday after a victory over an AFC Central opponent, Belichick had his secretary cash a check from his personal bank account, and he left $200 on the desk of each assistant coach. Every June, he split the proceeds of his radio and television shows – roughly $12,000 per assistant – and take nothing himself.
Kirk Ferentz, who worked under Belichick and later became the head coach at Iowa, said he was loyal to Belichick.
 "Bill remembered what it was like to be an assistant coach," Ferentz said to Sports Illustrated. "He gave everyone a second Christmas. You think that doesn't make you loyal?"
Belichick may not have the biggest personality, but he made sure he took care of those close to him.