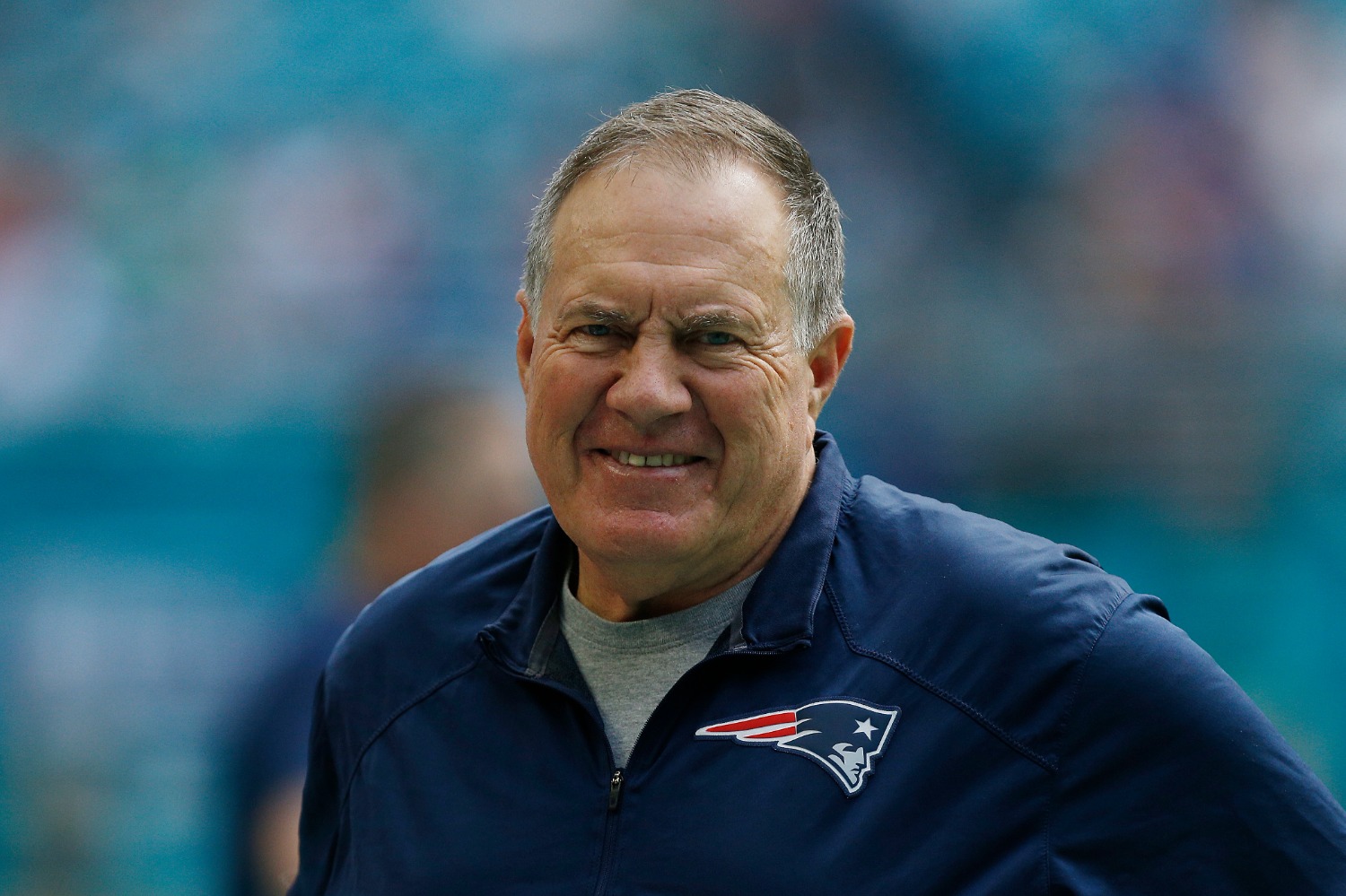 Bill Belichick Just Exploited New CBA Rule to Fill Patriots' Glaring Roster Hole
Bill Belichick knows NFL rules better than anyone. So it's not surprising he utilized a loophole to fill the Patriots' glaring roster hole.
Despite drafting Justin Rohrwasser in April, Bill Belichick concluded training camp by cutting the rookie kicker. In addition, veteran Nick Folk also got released. That left Belichick in the precarious position of not having a clear-cut No. 1 kicker heading into the 2020 NFL season. However, on Saturday, the New England Patriots head coach exploited a new CBA rule to fill his team's glaring roster hole.
The Patriots failed to find a kicker in training camp
In an offseason in which the Patriots lost a league-high eight players to COVID-19 opt-outs, Bill Belichick faced another challenge in finding a starting kicker. New England should have been in good hands after selecting Rohrwasser in the fifth round in the 2020 NFL draft. However, the rookie struggled in training camp, possibly due to a lingering injury.
With Rohrwasser failing to seize the job, Belichick brought back Nick Folk. The veteran kicker spent part of the 2019 season with the Patriots and performed adequately. He converted 82.4% of his field-goal attempts after signing with the team in October.
Ultimately, neither Folk nor Rohrwasser survived final cuts. Belichick did sign both kickers to the Patriots' practice squad. And in doing so, he gave himself an opportunity to later exploit a new CBA rule brought on by the COVID-19 pandemic.
Bill Belichick exploits new CBA rule to fill glaring roster hole
On Saturday, Bill Belichick finally addressed the Patriots' glaring hole at kicker. New England promoted Folk, along with defensive tackle Xavier Williams, to the active roster using the "standard elevation" designation.
So what exactly does that mean?
Thanks to the NFL and NFLPA agreeing to updated terms of the collective bargaining agreement, several new rules got implemented for the 2020 season. Many of them have to do with roster changes due to the unpredictability of the COVID-19 pandemic.
In this case, Belichick exploited a new rule that allows teams to carry up to 55 players on their roster during the week. According to the new CBA, an NFL team can elevate up to two players from the practice squad before 4 p.m. ET on the day before the game.
However, a player who gets promoted using the "standard elevation" designation will revert back to his team's practice squad the day after the game. In addition, a player may only be activated using this new rule for up to two games in a single season.
By calling up Folk, Belichick exploited this new loophole. The veteran kicker will play in Week 1 against the Miami Dolphins, but that does not necessarily mean he will get the nod again in Week 2.
Belichick's roster features plenty of question marks heading into Week 1
While Bill Belichick just filled the Patriots' glaring roster hole thanks to a new CBA loophole, he still enters the season with a roster with more question marks than ever before.
Obviously, Cam Newton represents the biggest unknown. Just a few years ago, he played at an MVP level. But a string of injuries resulted in the Carolina Panthers moving on from the former No. 1 pick. Now, he has to prove he can stay healthy and lead a Patriots team that no longer has Tom Brady as its alpha male.
Newton must carry an offense devoid of proven playmakers outside of Julian Edelman and James White. New England needs N'Keal Harry to step up after a mostly lost rookie season. Plus, Sony Michel could lose snaps to promising second-year pro Damien Harris, who will look to make an impact after he returns from injured reserve.
Defensively, the Patriots also have huge question marks along the front seven. How will Belichick manufacture a pass rush without Dont'a Hightower, Kyle Van Noy, and Jamie Collins? Can New England stop the run with a group of linebackers that will likely start at least one, if not two, rookies?
Luckily for Belichick, his secondary ranks among the league's elite. With Stephon Gilmore, the McCourty twins, and Jonathan Jones anchoring the unit, New England should field one of the NFL's top pass defenses.
But will that be enough to help the Patriots win the AFC East for the 12th straight season?
We're about to find out.
Like Sportscasting on Facebook. Follow us on Twitter @sportscasting19.