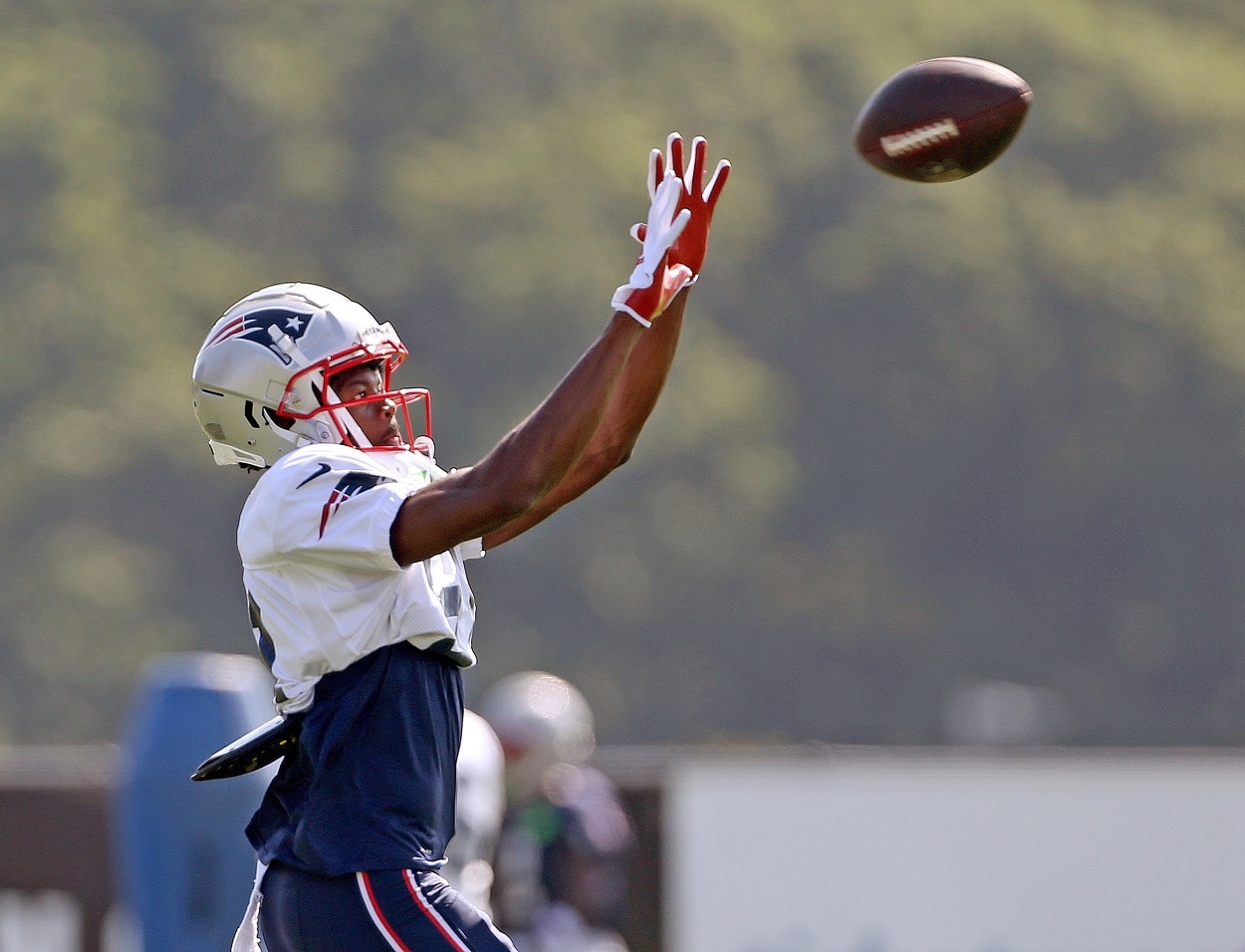 Bill Belichick's Latest Draft-Day Gamble Looks Primed to End an Embarrassing Streak of Incompetence
Bill Belichick may have finally found a wideout who can develop into a homegrown star in Tyquan Thornton.
Even if you can't stand his cold demeanor and penchant for pushing the boundaries of what's legal, it's hard to argue against Bill Belichick being the greatest coach in NFL history. Yet even his most staunch supporters would readily admit his legendary CV features a glaring red flag.
For all of his impressive accomplishments–including capturing six Super Bowl titles across an 18-year stretch–Belichick's inability to draft and develop receivers stands out as one of the few weak spots on a resume that's bound to earn him a bust in Canton. 
Obviously, the New England Patriots achieved unprecedented success during two dominant decades despite having a general manager who did his star quarterback a disservice by missing badly on several highly selected wideouts.
Perhaps that speaks more about Tom Brady's ability to maximize the talents of castoffs, late-round picks, tight ends, and running backs more than anything. Either way, it's undeniable that Belichick blew many opportunities to give the GOAT a young, stud pass-catcher. 
Luckily for Mac Jones, though, the Patriots finally have a promising prospect who looks poised to make a positive impact in Foxboro.
And if Tyquan Thornton continues to build momentum throughout training camp and the preseason, he will not only help New England fans forget about Belichick's brutally bad run of drafting receivers but also provide the team's second-year quarterback with a unique weapon who can take the offense to another level.
Tyquan Thornton has history working against him in New England
Let's just say it's hard to give Bill Belichick the benefit of the doubt when it comes to one position. After all, when you look at his track record in the draft, it's impossible to ignore all the receivers who failed to pan out with the Patriots. 
Sure, Deion Branch and Julian Edelman developed into key contributors for championship teams. But the former arrived in 2002, and the latter joined the organization in 2009 as a seventh-round selection. Since then, Belichick devoted picks on wideouts who ranged from abject disasters to mostly forgettable:
Brandon Tate (3rd round, 2009): 24 catches for 432 yards and 3 TD in 18 games 
Taylor Price (3rd round, 2010): 3 catches for 41 yards in 4 games 
Aaron Dobson (2nd round, 2013): 53 catches for 698 yards and 4 TD in 24 games 
Josh Boyce (4th round, 2013): 9 catches for 121 yards in 10 games 
Malcolm Mitchell (4th round, 2016): 32 catches for 401 yards and 4 TD in 14 games 
Of course, no draft pick flopped as badly as 2019 first-rounder N'Keal Harry. Expected to add a physical presence to New England's receiving corps, the ex-Arizona State star couldn't stay healthy or get open during three incredibly disappointing seasons.
His failure to develop into a go-to playmaker essentially forced Belichick to spend big money in free agency on Kendrick Bourne and Nelson Agholor, and it ultimately paved the way for the Patriots to take another wideout in the 2022 draft. 
When Tyquan Thornton became the 50th player taken in April, it immediately raised eyebrows. Projected to go at least a round later, the fact he went ahead of the likes of George Pickens, Alec Pierce, and Skyy Moore understandably made Patriots fans nervous about Belichick's latest draft-day gamble.
Even though Thornton's new boss has a well-documented history of evaluating the position wrong, it might be the dawn of a new era in New England.
The fastest receiver in the 2022 NFL Draft has wasted no time making his presence known
So, why did the Patriots trade up to take a 182-pound receiver who many expected to go in the third or fourth round? 
Well, when you've lacked a vertical threat for years and have a chance to add a player with 4.28 wheels, it makes total sense. Not only did Thornton run the fastest 40-yard dash at the 2022 NFL Scouting Combine, but he put his athleticism to good use by scoring 10 touchdowns as a senior at Baylor. Plus, the 6-foot-3 wideout racked up 19 touchdowns during his four-year college career. 
Built much differently than Harry, Thornton already seems to be well ahead of the receiver Belichick personally selected back in 2019 despite Patriots scouts advocating for Deebo Samuel or A.J. Brown. And even though the regular season remains a few weeks away, the early reports on the second-round pick sound promising. 
On Monday (his 22nd birthday), Thornton turned heads by burning veteran cornerback Terrance Mitchell on a double-move in a one-on-one drill. His productive day caught the attention of Patriots.com staff writer Evan Lazar.
"Another positive note for the #Patriots offense: thought this was Tyquan Thornton's best practice. Smoked Mitchell/Butler in 1s, caught two passes in front of Jack Jones in late 11s period. Gotta respect that speed."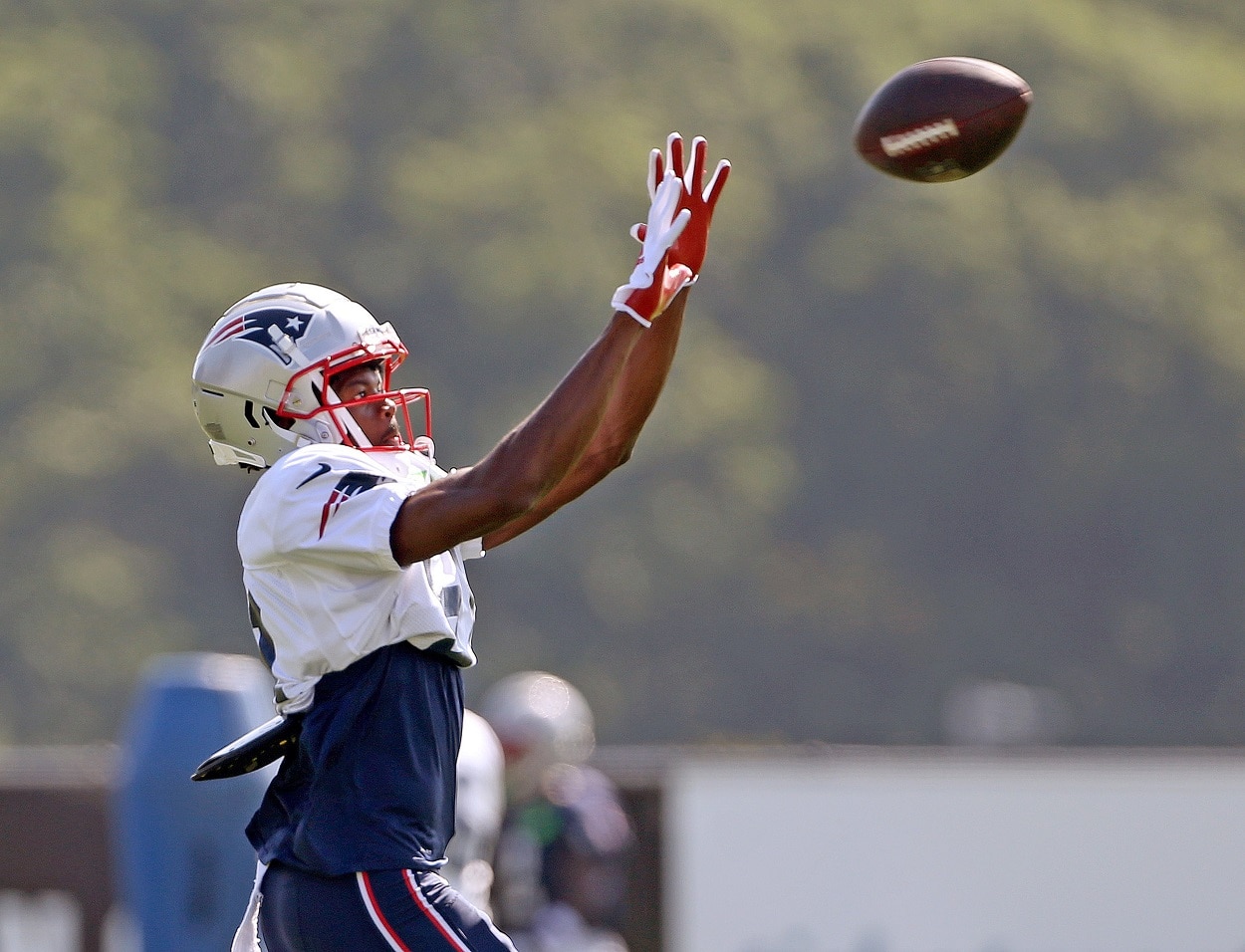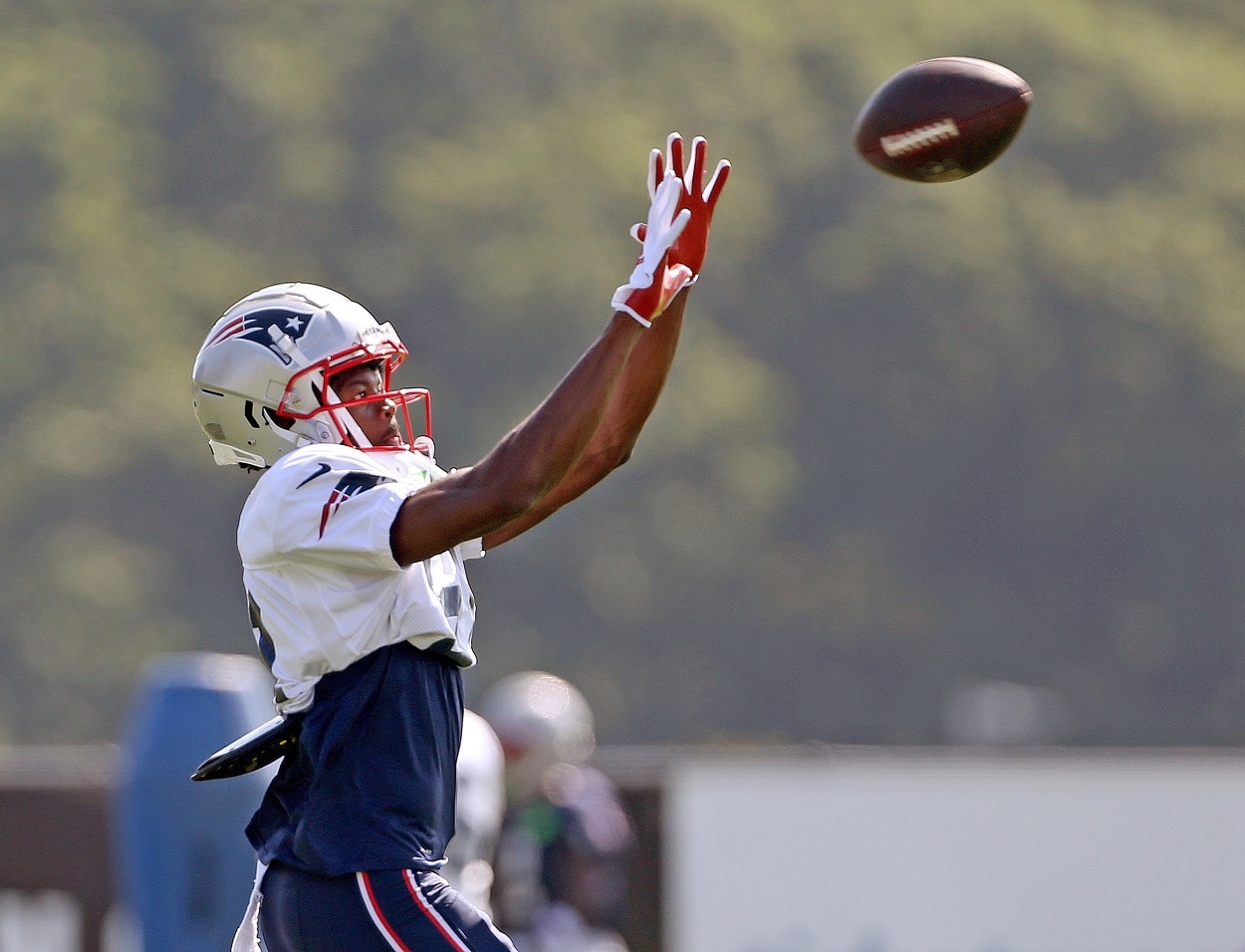 Apparently, Monday's impressive outing led to more opportunities for the first-year pro.
PFF's Doug Kyed tweeted Tuesday, "Noticed #Patriots rookie WR Tyquan Thornton getting more work with the first-team offense today. Starting WR group was already crowded with Jakobi Meyers, Kendrick Bourne, Nelson Agholor and DeVante Parker getting reps with Mac Jones. Team feels Thornton has earned more snaps." 
If Thornton keeps trending in the right direction, there's little doubt he'll contribute as a rookie. Sure, he may not have the size and strength teams look for in a No. 1 receiver. And he will have to learn the nuances of playing the position against NFL corners–not Big 12 defenders. But with Patriots legend Troy Brown coaching him up, the toolsy Thornton has the right mentor to maximize his skill set.
Has Bill Belichick put the right pieces around Mac Jones to make the Patriots a viable Super Bowl contender?
It would be unfair to make any conclusions at this stage of the game, but Patriots fans should be excited about what lies ahead for the team's explosive rookie receiver. At the same time, though, that doesn't necessarily mean the offense is bound to finish as a top-10 scoring unit. 
Sure, Thornton's presence may threaten defenses, but that may not matter if Matt Patricia and Billy Yates can't figure out how to get the offensive line clicking.
Tackles Trent Brown and Isaiah Wynn both come with major durability concerns, first-round rookie Cole Strange faces a considerable leap in competition, and Michael Onwenu has to prove he can capably replace the dependable Shaq Mason. If that unit, anchored by reliable center David Andrews, can't provide consistent protection for Mac Jones, New England will undoubtedly struggle to score points.
Interestingly, it might be Belichick's decision to entrust Patricia and fellow failed head coach Joe Judge with running the offense that could derail the Patriots this season. 
So, even though he may have finally drafted a receiver who can grow into a long-term building block, that may not matter if his coaching buddies can't do their jobs.
Stats courtesy of Sports Reference
Like Sportscasting on Facebook. Follow us on Twitter @sportscasting19 and subscribe to our YouTube channel.