Bill Belichick's $15 Million Leap of Faith Has Completely Altered the Future for Mac Jones and the Patriots' Much-Improved Offense
Bill Belichick took an uncharacteristic approach to the team-building process this offseason. For the first time since he took over as head coach and general manager of the New England Patriots, he actually spent significant financial resources on free agents. And while not every signing has worked out as expected, there's no doubt Belichick improved the overall talent level by bringing several established veterans to Foxborough on market-level deals.
Of course, he landed the foundational piece of a championship team in the 2021 NFL Draft. But as much credit as he deserves for investing a first-round pick on Mac Jones, Belichick deserves praise for taking a $15 million leap of faith on a player who's quickly becoming a household name in New England.
New England has transformed from a bottom-of-the-league offense into one of the highest-scoring units in the NFL
Patriot Nation spent an entire season watching Cam Newton struggle to extend drives and put points on the scoreboard. A washed-up version of the 2015 NFL MVP only totaled eight touchdown passes in 15 starts — a staggeringly low number that summed up the sorry state of the offense.
But after finishing 27th in scoring at a paltry 20.4 points per game last season, the Patriots have experienced a drastic turnaround on that side of the ball. With better weapons, a stout offensive line, and a smart, accurate quarterback to run the show, Josh McDaniels' unit currently ranks seventh in the NFL at an impressive clip of 28 points per game.
Has everything been perfect?
Absolutely not.
After all, New England started the season 2-4 largely because the offense failed to execute in key situations. However, with Jones showing tangible growth playing behind a much-improved protection squad, the Patriots have averaged 388.3 yards and just over 35 points during their six-game winning streak.
Needless to say, the arrow is pointing up for a franchise that seemed destined for a disappointing record back in early October. And while it's impossible to ignore Jones' progress, it's impossible to look past the week-to-week maturation of another player who joined forces with the Patriots this spring.
Bill Belichick's $15 million gamble on Kendrick Bourne has set Mac Jones and the Patriots up for future success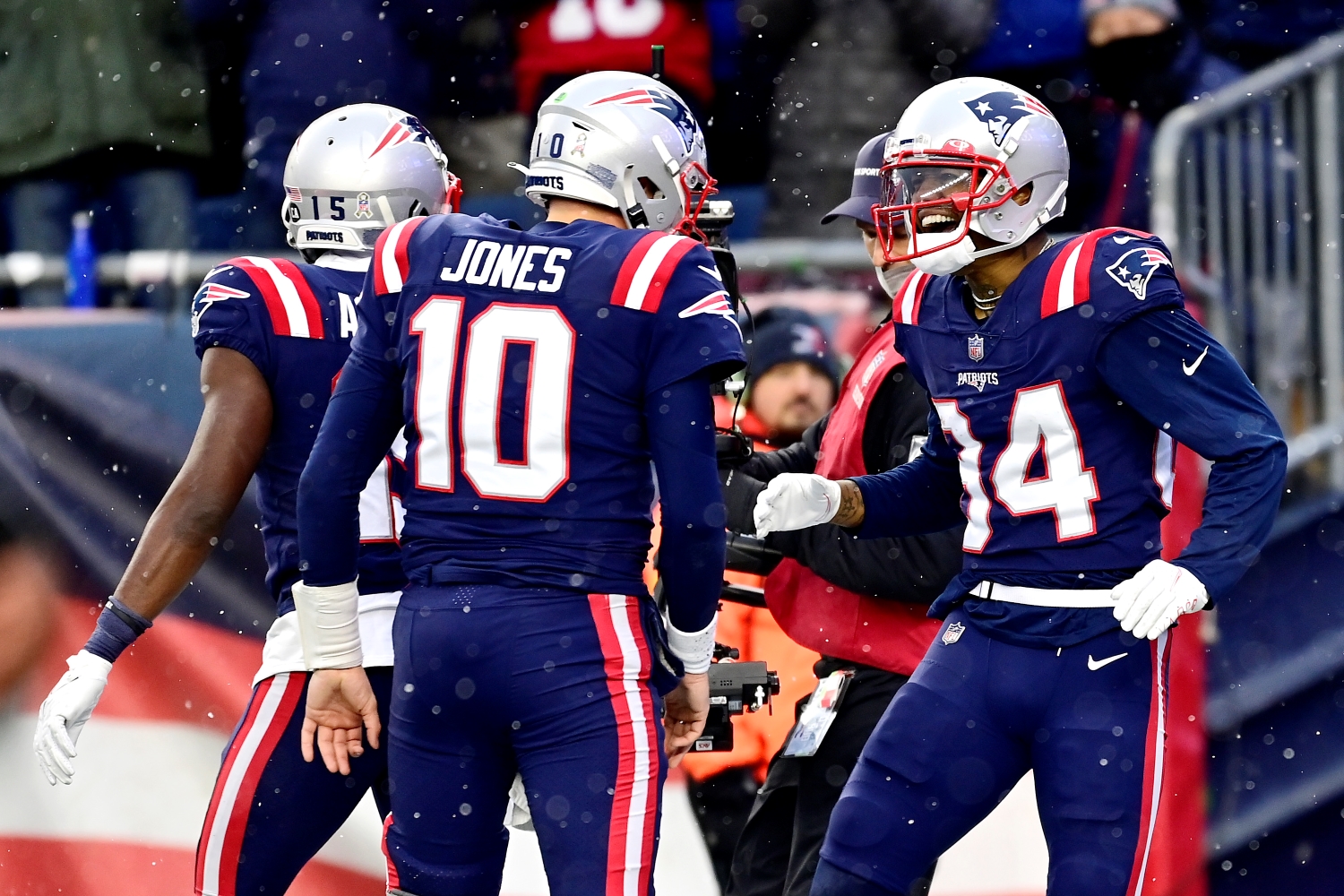 While it's fair to question Bill Belichick's decision to give Nelson Agholor a two-year, $22 million contract with $16 million guaranteed, it's obvious he hit big on another free-agent receiver. And even though Kendrick Bourne's three-year, $15 million deal looked like a potential overpay at the time of the signing, it appears as though the Patriots actually scored a substantial bargain.
In fact, if not for Matthew Judon's Defensive Player of the Year-caliber season, Bourne would easily rank as the team's best free-agent addition.
Of course, nobody knew exactly what to expect from the physically gifted wideout when he took his talents from San Francisco to New England. The 6-foot-1, 203-pound receiver racked up 137 catches for 1,769 yards and 11 touchdowns in 58 games with the 49ers, but he only drew 13 starts playing for Kyle Shanahan. Despite averaging a rather pedestrian line of 34 receptions for 442 yards and less than three touchdowns during his four-year stint with the NFC West franchise, though, Bourne received a lucrative raise courtesy of Belichick.
And based on his first 12 games as a Patriot, it's scary to think what the future holds for the athletic playmaker.
Showcasing excellent chemistry with Jones, Bourne has developed into New England's most dangerous offensive weapon. He leads the team in receiving yards (623) and ranks behind only Hunter Henry in touchdown receptions. Plus, he's made an impact as a ball carrier by turning six carries into 78 yards.
Just 26 years old, Bourne still has room to grow, and considering he's working with a first-year quarterback, it wouldn't be a surprise if he puts up big numbers moving forward. Capable of turning an ordinary catch-and-run into a touchdown (he did exactly that in Sunday's 36-13 win over the Tennessee Titans), he brings much-needed speed and explosion to the offense. As he develops a rapport with Jones and grows more comfortable in the scheme, he should continue to defeat corners, haul in contested catches, and find the end zone.
Oh, and the fact Bourne's $5 million average annual salary puts him 41st among NFL wideouts has to make Belichick grin just a little bit wider, too.
Belichick deserves consideration for both Coach of the Year and Executive of the Year honors for quickly turning things around in Foxborough
Although it took some growing pains, the Patriots have established themselves as arguably the top contender in the AFC. Sure, they've benefitted from facing some short-handed opponents. But they deserve credit for thoroughly dismantling inferior opponents and showing substantial improvement on both sides of the ball.
Ultimately, that means Belichick must be in the discussion for not only the Coach of the Year Award, but also the NFL Executive of the Year Award.
On one hand, he's clearly found a winning formula that works on a weekly basis. Playing stout defense, pounding the ball with Damien Harris and Rhamondre Stevenson, and letting Jones excel as a game manager has helped the Patriots get back on track and enter the mix to earn the No. 1 seed in the AFC. Belichick's ability to put players in advantageous positions and scheme up ways to exploit opponents' weaknesses should put him at the top of any Coach of the Year rankings.
In addition, he needs to be in the discussion for Executive of the Year. After making a few head-scratching moves as GM in recent years (particularly in the draft), Belichick has quickly reminded everyone why he makes more money than any of his peers. He landed three future stars in Jones, Stevenson, and second-round defensive tackle Christian Barmore. He used free agency to secure a lethal pass rusher and well-respected locker room leader in Judon, a dangerous playmaker in Bourne, a terrific red-zone and third down threat in Henry, and three decent starters in Agholor, Davon Godchaux, and Jalen Mills.
At this point, it's fair to say Belichick and the Patriots are back. And if things keep trending in the right direction, Robert Kraft may get to celebrate a seventh Super Bowl victory sooner than later.
All statistics courtesy of Pro Football Reference. All contract data courtesy of Spotrac.