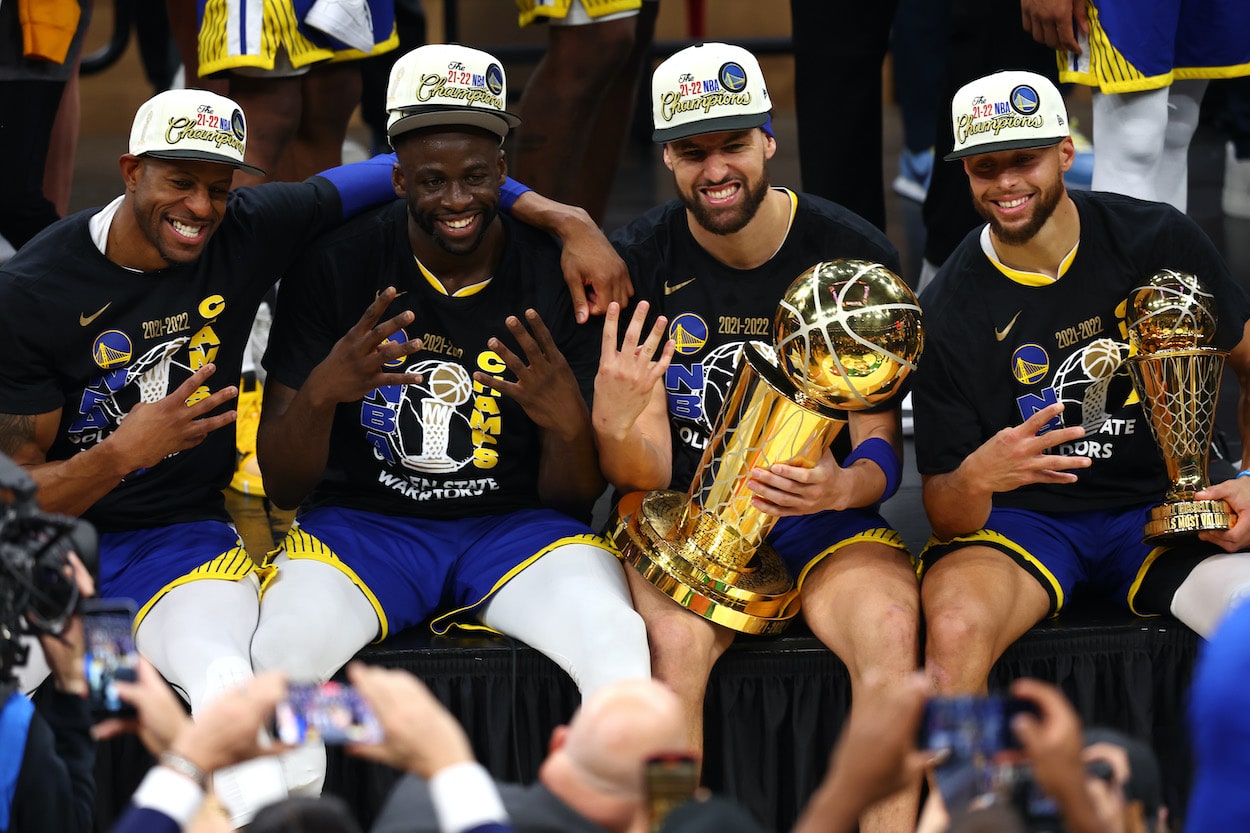 Bill Simmons Stubbornly Refuses to Call the Golden State Warriors a Dynasty
With six Finals appearances and four NBA titles in eight seasons, the Golden State Warriors are a dynasty, despite what Bill Simmons says.
When the clock hit zero on the Golden State Warriors 103-90 Game 6 win over the Boston Celtics, the franchise won its fourth NBA title (out of six Finals) in eight years. To most, that is the definition of a dynasty. However, for NBA historian (and noted Celtics fan) Bill Simmons, that term doesn't apply to Stephen Curry, Klay Thompson, Draymond Green, Steve Kerr, and the Warriors for some reason.
Six Finals appearances and four championships in eight seasons isn't a dynasty to Bill Simmons
Shortly after his beloved Boston Celtics walked off the court in defeat in Game 6 of the 2022 NBA Finals, Bills Simmons recorded an episode of The Bill Simmons Podcast with his friend and regular guest Joe House.
The pair had recently left TD Garden after watching Game 6 and discussed the game and the Golden State Warriors greater place in NBA history.
As Simmons laid out the impressive feats not seen since the San Antonio Spurs of the 2000s or the Chicago Bulls of the 1990s, he couched it by saying despite six NBA Finals appearances in eight seasons and four titles, "can't call it a dynasty."
When House pushed back, asking why not? Simmons said, "It's just not. It's a run."
House then asked Simmons, if the Warriors aren't a dynasty, then "what's a dynasty?"
It's a — Not that! It's not that! They had the second pick in the Lottery one of those years. They missed the playoffs last year. I think they're the team of the decade, though. I think that's what they get. Or they're team of their generation.

Bill Simmons on the Golden State Warriors
Simmons continued to explain that the Warriors are similar to the 1980s Celtics, who couldn't quite figure out the next step after the Larry Bird, Kevin McHale, Robert Parish years of dominance, or the Los Angeles Lakers with Vlade Divac and Sam Perkins next to Magic Johnson in the early 90s.
To Simmons' credit, he did (begrudgingly) admit that Magic's Lakers were "probably more of a dynasty" than his beloved Bird's Celtics.
So, as House asked, if not the Warriors, which teams are NBA dynasties?
The NBA Dynasties 
While Bill Simmons never gave a concrete definition or number of titles/Finals appearances that constitute a dynasty, most NBA fans know one when they see one.  
Red Auerbach's Boston Celtics with Bill Russell, John Havlicek, and Bob Cousy won 11 NBA championships and made 12 NBA Finals in 13 years, from 1956 to 1969. If there were a word more significant and more impressive than "dynasty," this run would be cause for that.
During the 1970s, the Celtics (now under Tommy Heinsohn) won two more, but no other team won multiple titles.
The Celtics and LA Lakers dominated the 1980s. Larry Bird and company won three and made five Finals appearances in seven years (save that fact). Magic Johnson's crew went to eight Finals and won five in 10 seasons.
There really can only be one dynasty per decade, and it was undoubtedly the Lakers in the '80s.
The 1990s was a no-brainer. Michael Jordan, Scottie Pippen, Phil Jackson, and the Chicago Bulls were 6-0 in Finals over the course of eight NBA seasons. That's a dynasty.
Tim Duncan and Gregg Popovich won five championships and made sic Finals over 14 seasons. That's incredibly impressive for longevity. However, from 2000 to 2010, the Lakers too often thwarted the Spurs.
With three titles and four Finals in five years, you can't quite call the Shaquille O'Neal, Kobe Bryant, Phil Jackson Lakers a dynasty. But, with five trophies and seven Finals in 11 years for Phil and Kobe, now "dynasty" comes into play.
Are the Golden State Warriors a dynasty?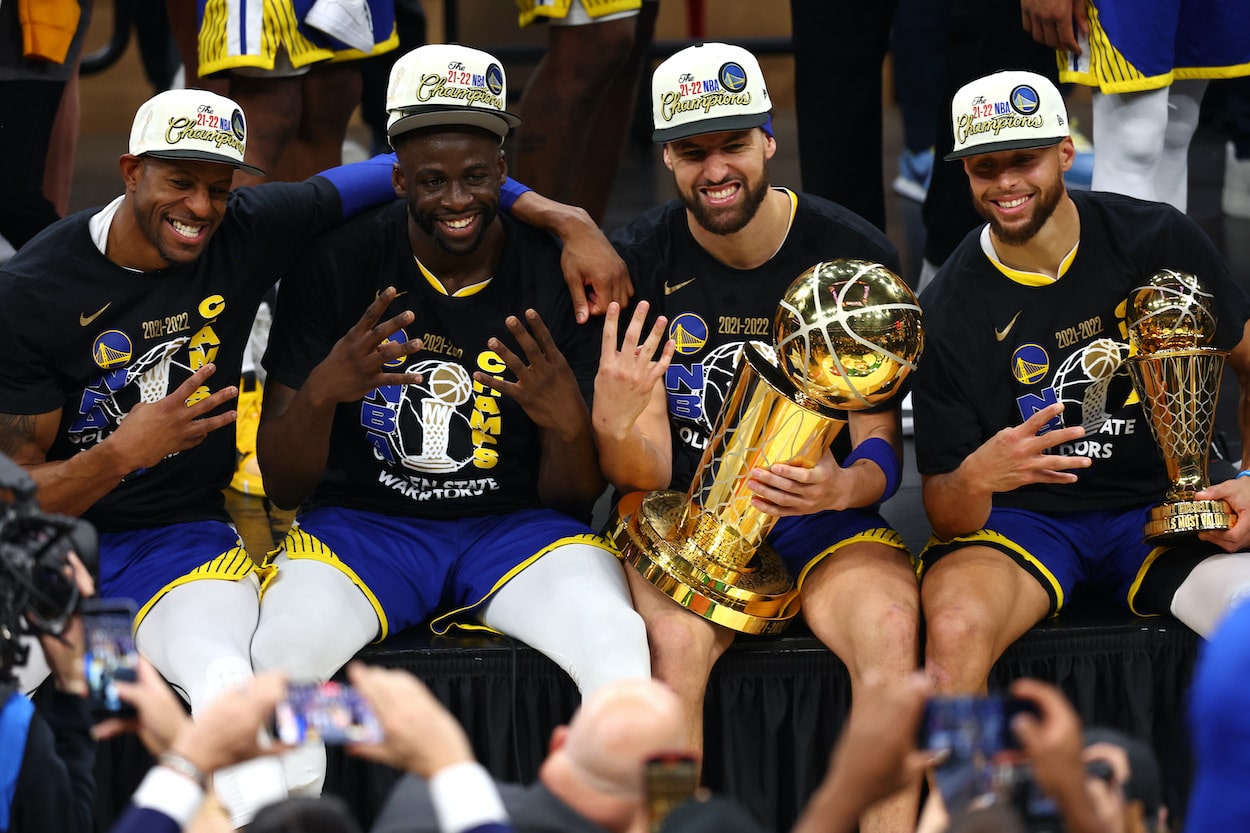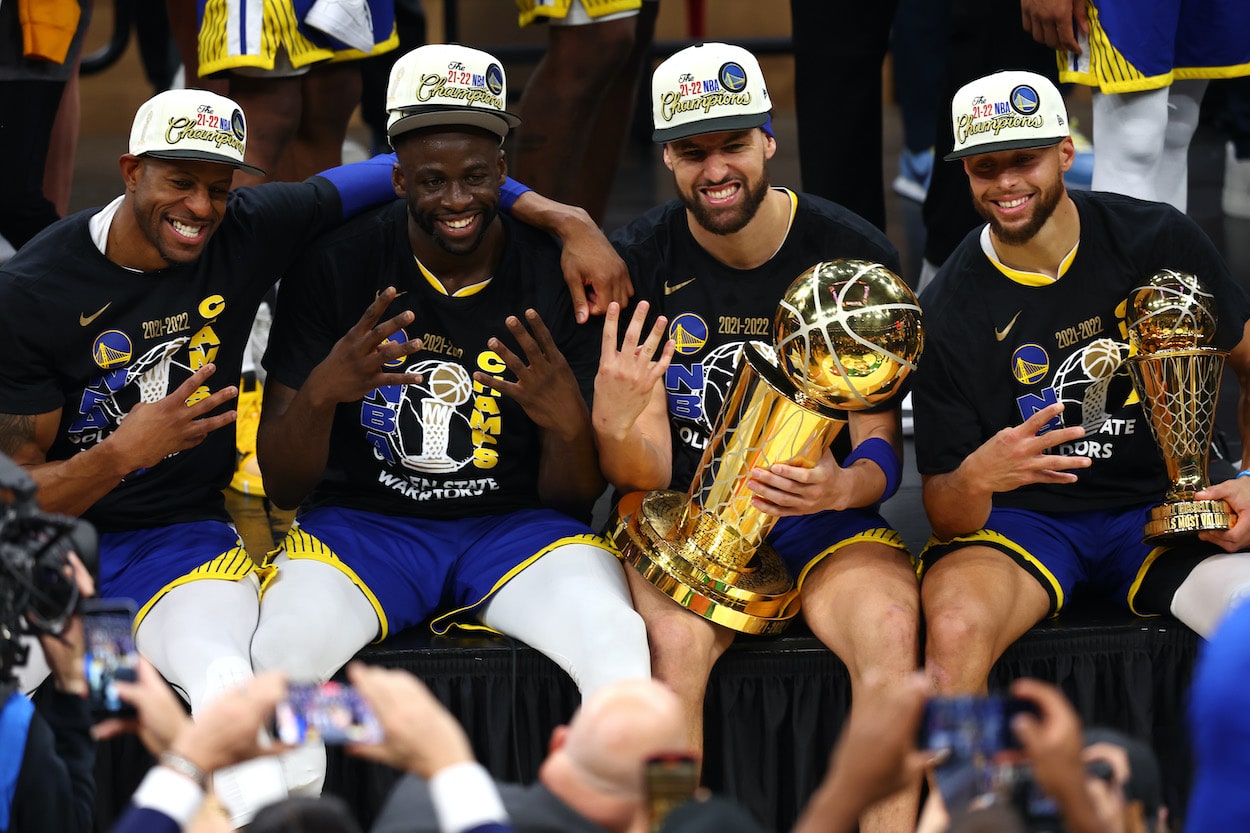 In sports, a dynasty is a team that wins a lot of championships in a short amount of time. Sports dynasties are also usually defined by having a player, a coach, or a small core group of players and coaches throughout the entire run.
By that definition, the 2014-2022 Warriors are, without a doubt, an NBA dynasty.
Head coach Steve Kerr, who's been a part of a dynasty and a near-dynasty as a player with the Chicago Bulls and San Antonio Spurs, has led the trio of Stephen Curry, Klay Thompson, and Draymond Green to the Finals in all but two years of the last decade.
Yes, the Warriors did miss the playoffs in 2019-20 and 2020-21. However, Thompson missed the entire season, and Curry played just five games due to injury. That's quite a terrible coincidence and makes it that much more impressive that the team won another title in 2022.
The Warriors of the teens and early '20s are, without a doubt, a dynasty.
The likely reason Bill Simmons is pushing back on this notion is that with four titles and six Finals in eight years, these Warriors jump ahead of his beloved 1980s Boston Celtics — with three Larry O'Brien Trophies made five Finals appearances in seven years — on the all-time NBA dynasty power rankings.
All stats courtesy of Basketball Reference