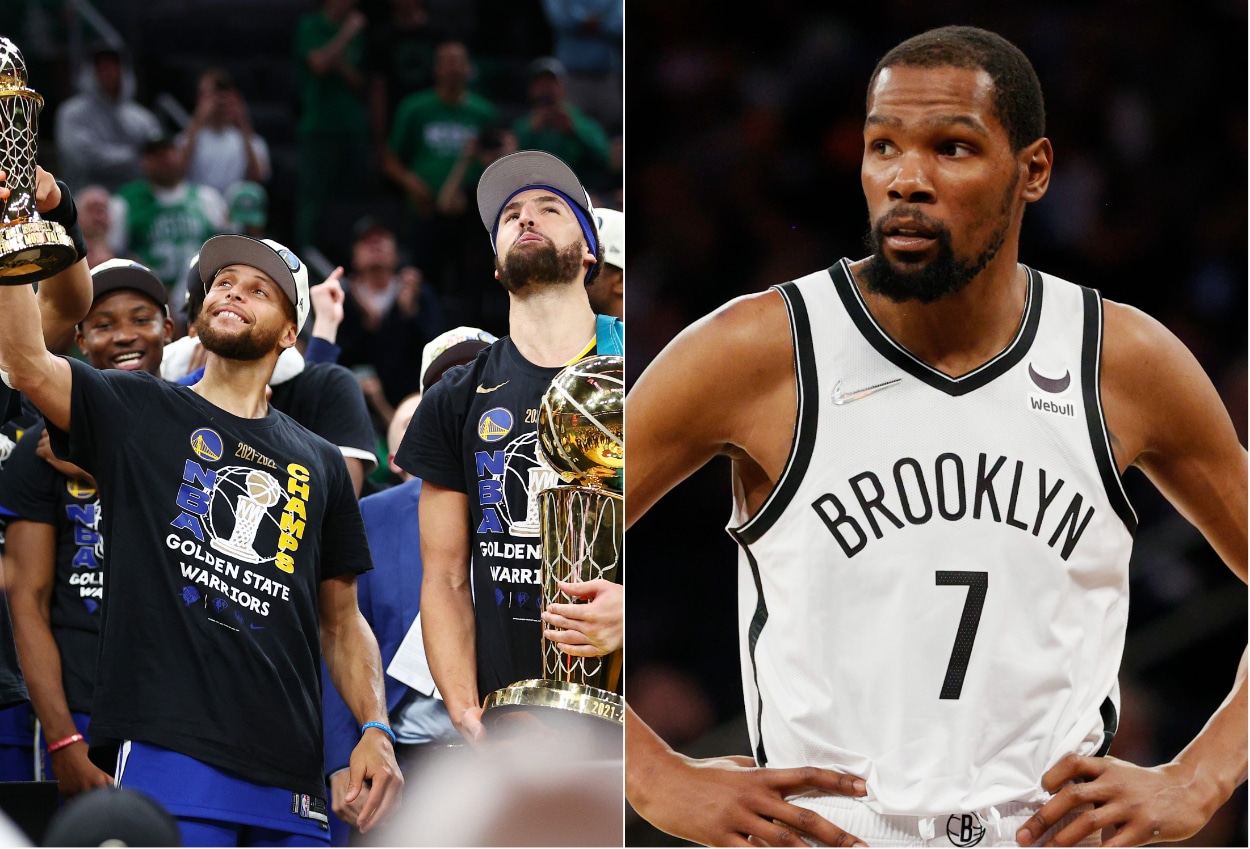 Golden State Warriors Championship Puts Legitimacy of Kevin Durant's Legacy Into Question
Kevin Durant won two championships with the Golden State Warriors. However, the Dubs' recent title run immediately puts the legitimacy of Durant's legacy into question.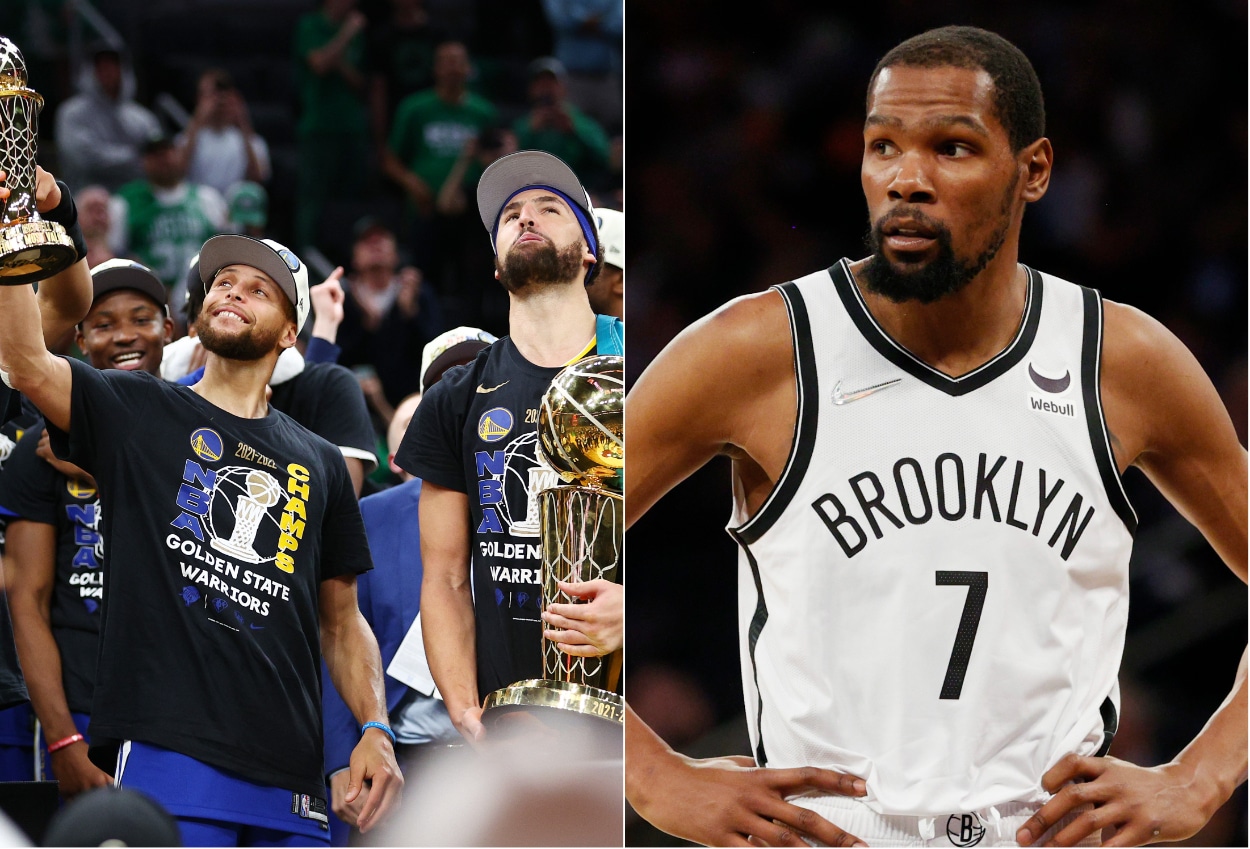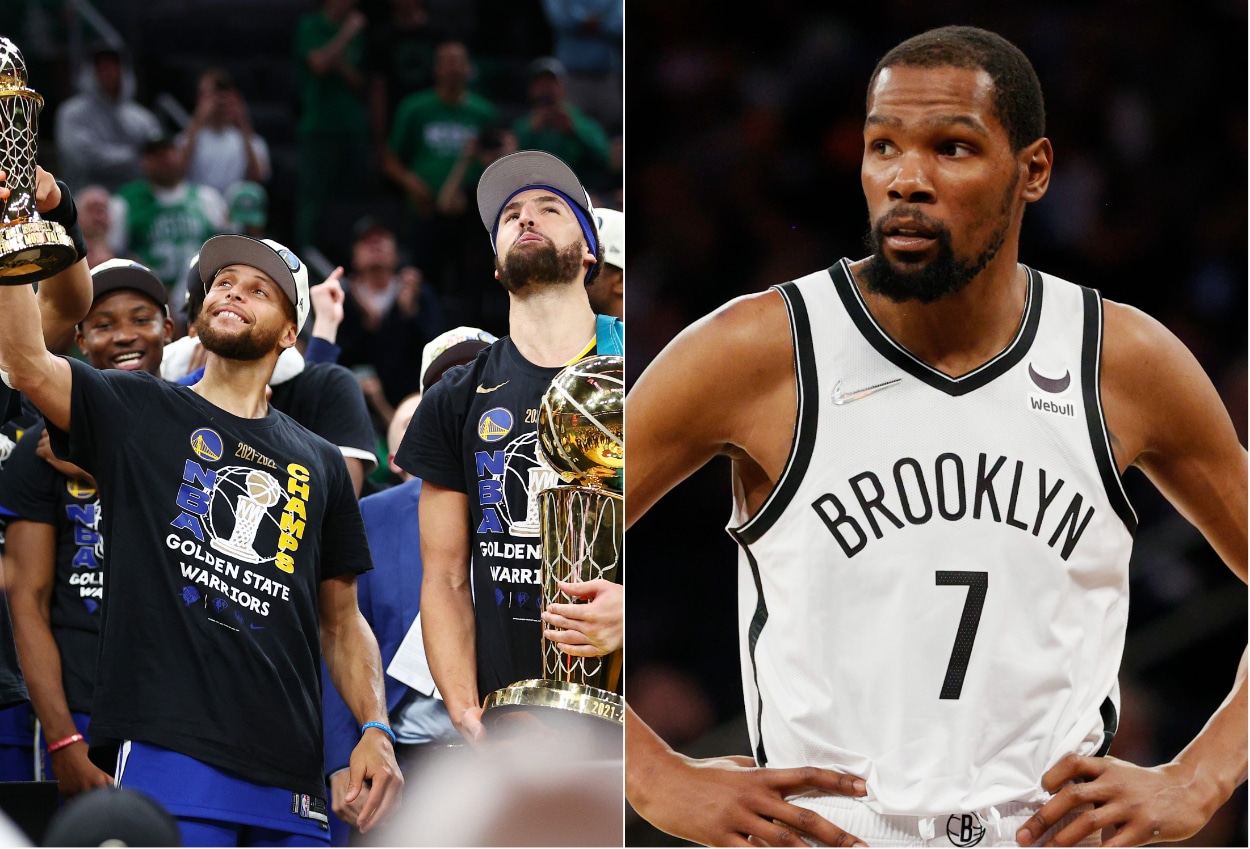 For years, we have all questioned the legitimacy of Kevin Durant's two NBA championships. He joined a team in the Golden State Warriors that went on a title run one year before his signing and then won 73 games before losing to the Cleveland Cavaliers in the 2016 NBA Finals. The Dubs even beat KD in the 2016 Western Conference Finals.
As great as he is, Durant jumped on someone else's bandwagon to win a ring. And he did so during his prime, not once he was older and essentially washed like Gary Payton on the Miami Heat or Jason Kidd with the Dallas Mavericks.
However, the Warriors won their first championship against a depleted Cavaliers squad that didn't have Kyrie Irving or Kevin Love. They also didn't win another title in either of their first two seasons following Durant's departure for the Brooklyn Nets in 2019. So, there was still a slim chance that his presence in Golden State actually had significant meaning to their 2017 and 2018 championship runs.
Perhaps they wouldn't have won those titles without him.
But the Warriors' recent NBA Finals win over the Boston Celtics proved the contrary. They won before Kevin Durant, and they're winning after him. Maybe his two championships don't carry much weight after all.
Kevin Durant has two championships, but does he really?
When we debate the all-time great players in NBA history, Kevin Durant's name at least comes up in passing. And no matter how many beers you and your friends have had while discussing basketball GOATs, you likely remember that Durant has two championships.
Rings mean a great deal when looking at legacies. Everyone knows Michael Jordan won six, and Kobe Bryant won five (one more than Shaquille O'Neal's four). And in football, it's hard to say someone like Peyton Manning (who is my favorite player ever) is the greatest quarterback of all-time over Tom Brady when Manning won two Super Bowls, and Brady has seven.
Even if we don't want them to, championships constantly change our perception of players, for better or worse.
So, while Kevin Durant had proven he was one of the most dominant scorers of all time, he hadn't put himself in the conversation with LeBron James, Jordan, or even Kobe because he had zero rings.
That was until he won two with the Warriors.
No matter what you think of his decision to join a 73-win team in Golden State in 2016, Durant won two titles and two Finals MVPs. He was the best player on those squads and led them to championships.
But how much did his presence factor into those title runs? The Warriors' two straight pre-Durant Finals trips and 2015 championship had always made KD haters ask that specific question. And we finally got our answer.
Stephen Curry and company didn't need Kevin Durant.
KD's Warriors titles have less significance than other championships
The Warriors were finally fully healthy this year after Klay Thompson missed the last two seasons due to injury. And a Dubs team at full strength ran through the Western Conference before beating the Celtics in six games in the Finals.
Several players played massive roles in their run, but Stephen Curry proved himself as an all-time great, winning Finals MVP by averaging 31.2 points in the series.
Since Curry, Thompson, and Draymond Green have now won before and after Kevin Durant, they have further proved that he only won his titles because he jumped on their bandwagon.
Say what you want about LeBron James' super teams, but he formed those squads on his own. They weren't proven champions before he joined them. 
Durant's titles mean significantly less than those of LeBron, or even Curry's most recent one. They both worked extremely hard to get their teams to the mountaintop. Durant took the easy shortcut to get there, and he wouldn't even have his titles had he not joined the Warriors. KD has never done it on his own (or at least with his squad instead of Curry's), unlike Jordan, who helped build the Chicago Bulls from the ground up and went through numerous obstacles to win his six rings. Or even Kobe Bryant. The Lakers legend faced many doubters after Shaquille O'Neal left, but he proved them wrong by winning without Shaq.
Durant is a great player, but his legacy would look totally different had he not gone to the Warriors and won two titles. And considering how great the Dubs have been with and without him, perhaps we shouldn't even consider his championships when discussing his legacy amongst all-time greats.
Stephen Curry earned his seat at the table with guys like LeBron, MJ, Kobe, and others. Kevin Durant is still watching from the window.
Stats courtesy of Basketball Reference