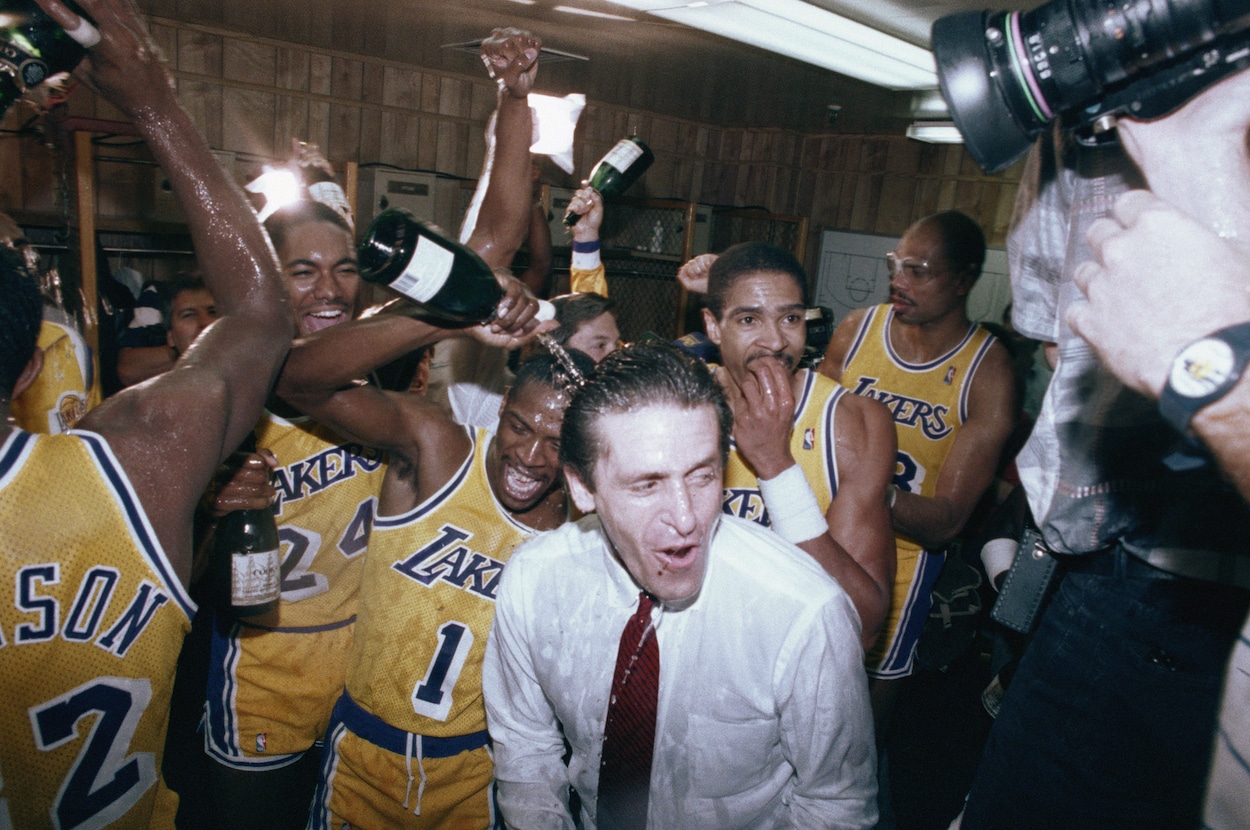 Pat Riley Knew the Perfect 3 Words to Piss Magic Johnson off and Inspire Him to Win 1985 NBA Finals: 'Your Boy, Larry'
Things looked bleak after Game 1 of the 1985 NBA Finals for Magic Johnson's Lakers vs. Larry Bird's Celtics. Then Pat Riley stepped in.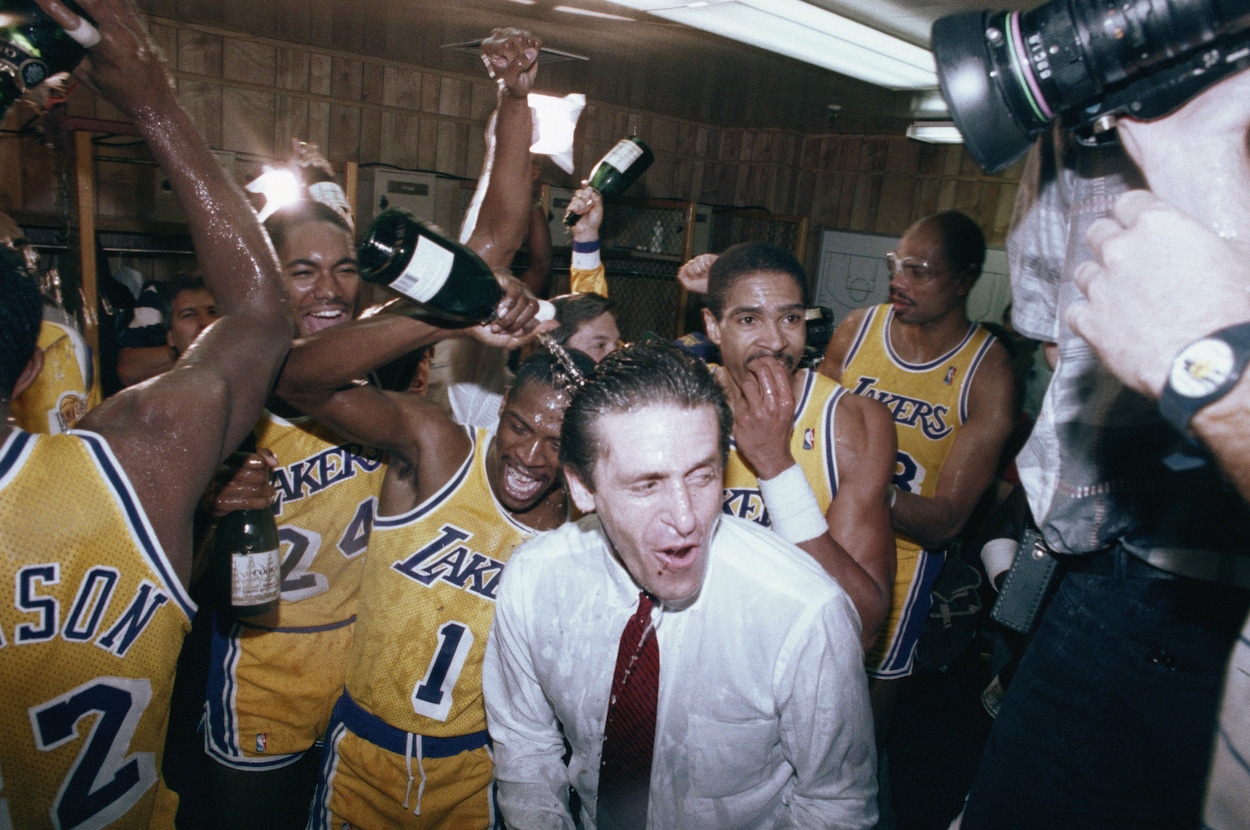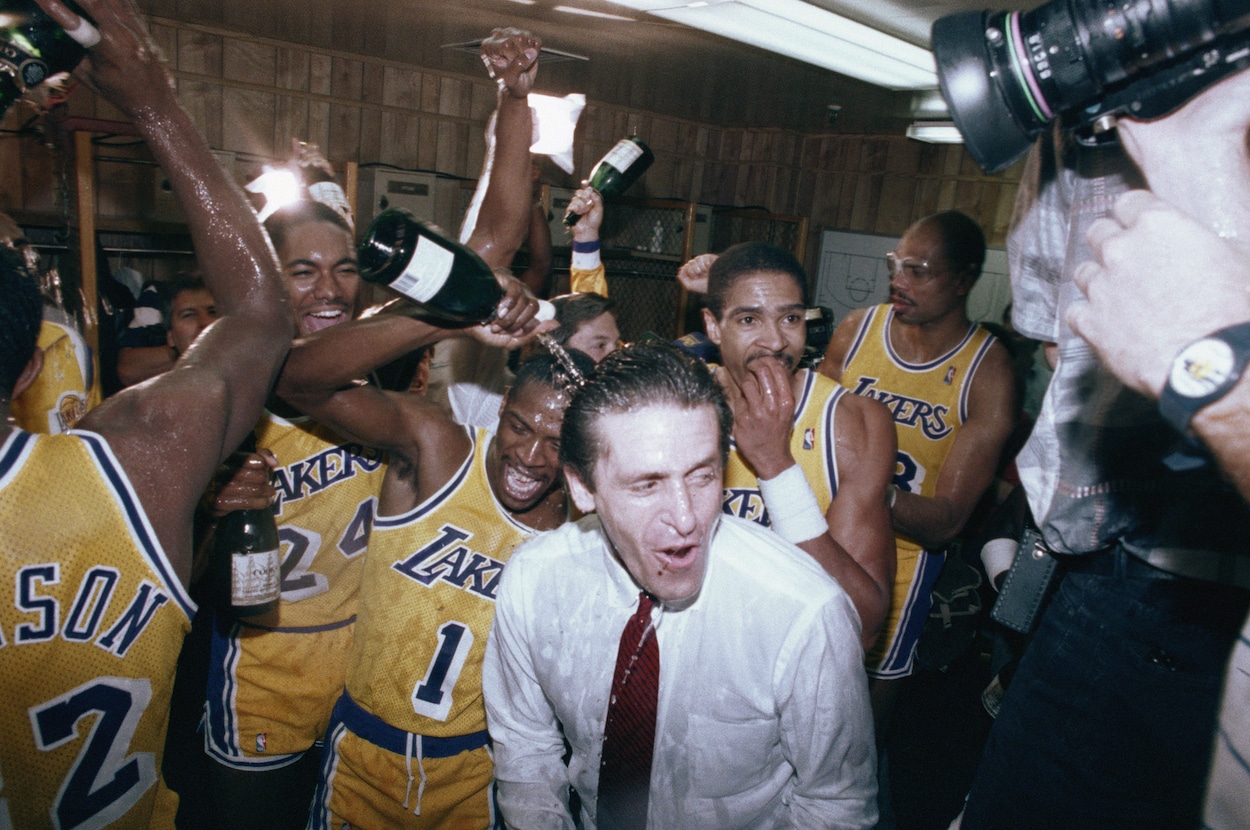 In 1984, Larry Bird finally got his championship revenge on Magic Johnson. After losing the game that started March Madness in 1979, Bird's Boston Celtics took down Magic's Los Angeles Lakers in the 1984 Finals. A year later, it looked like Bird had the upper hand again until Pat Riley stepped in.
Pat Riley is a master motivator
You can put them in any order you want, but along with Phil Jackson, Red Auerbach, and Gregg Popovich, Pat Riley is one of the best coaches in NBA history.
Riley had a decent NBA career as a player. He was the No. 7 pick of the San Diego Rockets in the 1967 NBA Draft. The 6-foot-4 G/F played for nine seasons with three teams and averaged 15.5 minutes and 7.5 points per game. He even won an NBA title in 1972 with the LA Lakers.
The Schenectady, NY native went into coaching with the Lakers in 1979. He was an assistant for three seasons before taking over for Paul Westhead in 1981. He won four NBA championships in six Finals appearances in the 1980s. Riley then coached the Michael Jordan-hexed New York Knicks in the 1990s before leading Dwyane Wade and Shaquille O'Neal to a title with the Miami Heat in 2006.
Since 1998, he's been the President of the Heat organization and picked up two more Larry O'Brien trophies in 2011 and 2012.
Riley is an NBA icon, and much of his success is due to his uncanny ability to motivate players.
As a coach, Riley harnessed the power of the Showtime Lakers, kept the Knicks spirits up despite Jordan's dominance, and convinced Shaq to let Wade take the reins in Miami. As an executive, he recruited LeBron James and Chris Bosh, then helped them and Wade figure out how to work together.
Riley is such a master motivator he's even written multiple New York Times bestselling books, sharing his leadership philosophy and motivational tactics with the world.
One of the earliest examples of Riley's knowing exactly what to say and when to say it to get the best out of his team came in the 1985 NBA Finals following the game now known as the Memorial Day Massacre.
Riley knew just how to inspire Magic Johnson in the 1985 NBA Finals
After losing the 1984 NBA Finals in a heartbreaking Game 7 to the Boston Celtics, the LA Lakers were right back in the final series the following year against their Eastern Conference rivals.
In Game 1 on May 1, 1985 (Memorial Day), Larry Bird and the Celtics crushed Pat Riley, Magic Johnson, Kareem Abdul-Jabbar, and the Lakers 148-114. In that game, Abdul-Jabbar had just 12 points and three rebounds. It is still one of the biggest blowouts in NBA Finals history.
Longtime NBA insider Jackie MacMullan describes the scenes after the game in her Icons Club podcast. Riley "sat his players in a darkened room and rolled the film for hours, replaying and pinpointing each moment that exposed the Lakers' insufficient focus and effort," MacMullan recalls.
Then Riley displayed some of his trademark motivational timing, getting "personal" with Johnson and Abdul-Jabbar:
Riley called out both Magic and Kareem, his two leaders, in language that shocked the room. He even evoked Bird's name, turning to his point guard and sneering, 'You think that effort is going to get it done against your boy, Larry?'

Pat Riley in the 1985 NBA Finals
MacMullan continues by revealing that Magic thought this attack by Riley crossed the line, and the head coach knew it. Riley didn't care, though. It was all in the name of motivation.
And it worked.
The LA Lakers went on to dominate the Boston Celtics in 1985
Pat Riley calling out Magic Johnson and Kareem Abdul-Jabbar immediately paid dividends in the 1985 NBA Finals. Game 2 ended in a 109-102 LA Lakers victory. Abdul-Jabbar had 30 points, 17 rebounds, and eight assists, and Magic chipped in with 14 points and 13 assists.
In Game 3, LA issued its own massacre, beating the Celtics 136-111. The Lakers dropped Game 4 in a 107-105 thriller before ripping off back-to-back nine- and 11-point wins to close out the series and win Riley his second NBA title.
Abdul-Jabbar finished the series averaging 25.7 points, 9.0 rebounds, 5.2 assists, and 1.5 blocks. At the age of 38, he won the NBA Finals MVP Award.
Magic was excellent in the last five games as well. He finished averaging 18.3 points, 14.0 assists, 6.8 rebounds, and 2.2 steals.  
Riley definitely knew when to bust out the motivational stick on his players. He also knew when to show his softer side, too, though.
Jackie MacMullan shares that as the Lakers celebrated their championship on the court, Riley grabbed Magic, pulled him in close, and tenderly told his star guard, "We couldn't have done this without you."
All stats courtesy of Basketball Reference
Like Sportscasting on Facebook. Follow us on Twitter @sportscasting19 and subscribe to our YouTube channel.