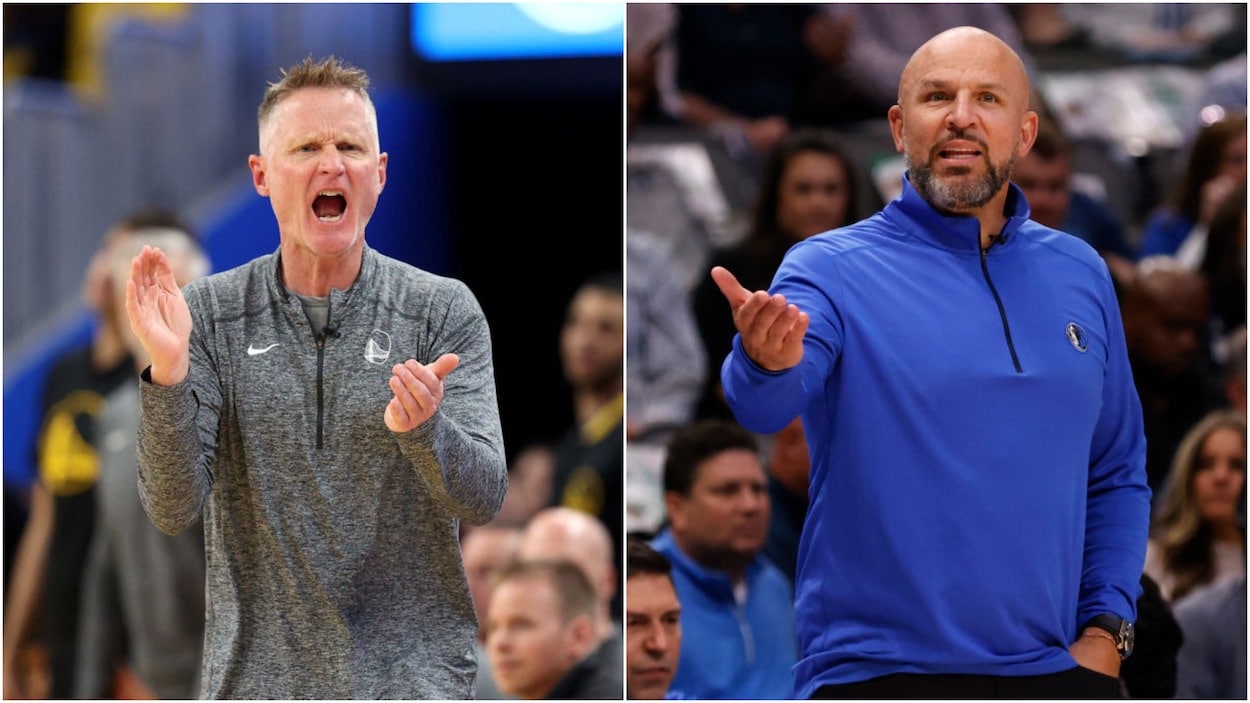 Western Conference Finals: How Good Were Steve Kerr and Jason Kidd as NBA Players?
While Jason Kidd and Steve Kerr won't be hitting the hardwood in the Western Conference Finals, they played in the NBA. Which guard was better?
In the world of sports, many athletes transition into coaching after retirement. That's perfectly seen in the NBA's Western Conference Finals. The Golden State Warriors and the Dallas Mavericks are set to square off, and both bench bosses, Steve Kerr and Jason Kidd, plied their trade on the hardwood.
While both men have proved their chops on the sidelines, seeing them side-by-side raises the question: Was Steve Kerr or Jason Kidd a better NBA player? Let's open the history books and break things down.
Steve Kerr won multiple NBA championships but never stuffed the box score
For some sports fans, championships are the ultimate barometer of a player's success. By that metric, Steve Kerr had quite the NBA career.
After playing his college ball at Arizona, Kerr joined the Phoenix Suns as a second-round draft pick. He only spent one year in the desert, however, before moving to Cleveland. The guard played a bit over three seasons there, before briefly stopping over in Orlando. Then, in 1993, everything changed.
Kerr, of course, signed with the Chicago Bulls. Although the team was without Michael Jordan at the time, His Airness returned for the 1995-96 campaign. Although the Arizona alum didn't start, he did play just over 20 minutes per night, hit a famous shot during the 1997 NBA Finals, and won three championships.
The sharpshooter then took his talents to San Antonio where, barring a brief spell in Portland, he saw out his playing career. He'd win two more titles in Texas, allowing him to retire with five rings.
With all of that being said, though, Kerr was never more than a role player. Over his 15 years in the Association, he only started 30 games and averaged 6.0 points, 1.2 rebounds, and 1.8 assists per outing. He was an efficient three-point shooter, though, converting 45.4% of his limited attempts from downtown; that mark still stands as the best three-point shooting percentage in NBA history.
Jason Kidd only has one ring but proved to be an incredible point guard
If Steve Kerr's championships belied a limited skill set, Jason Kidd was the opposite. The guard only won a single NBA title but proved to be one of the top talents during the 1990s.
Kidd made a name for himself at Cal and, in 1994, joined the Mavericks as the second overall pick. He promptly claimed Rookie of the Year honors and proved he could be a legitimate playmaker at the professional level. Once he joined the Suns, though, the guard took things to the next level.
Playing in Arizona, the point guard improved his assist numbers and came into his own as a scoring threat. That trend continued in New Jersey, where he helped to elevate the Nets into the class of the Eastern Conference. Kidd and company reached back-to-back NBA Finals, but came up short on both occasions.
After returning to Dallas, though, Kidd did manage to win that elusive NBA championship in 2011. He then returned to the New York City area, suiting up for a final season with the Knicks before calling it a career.
On the whole, the guard spent 19 seasons in the pros. While he only won that single title, he did earn 10 NBA All-Star appearances, six All-NBA nods, and, more recently, a place on the league's 75th anniversary squad. For those who prefer a statistical perspective, he also averaged 12.6 points, 6.3 rebounds, and 8.7 assists per contest across his career. It is worth noting, however, that those offensive numbers are a bit skewed by some slower seasons in the twilight of his time on the hardwood.
Jason Kidd was the better player, but, thus far, Steve Kerr is the better coach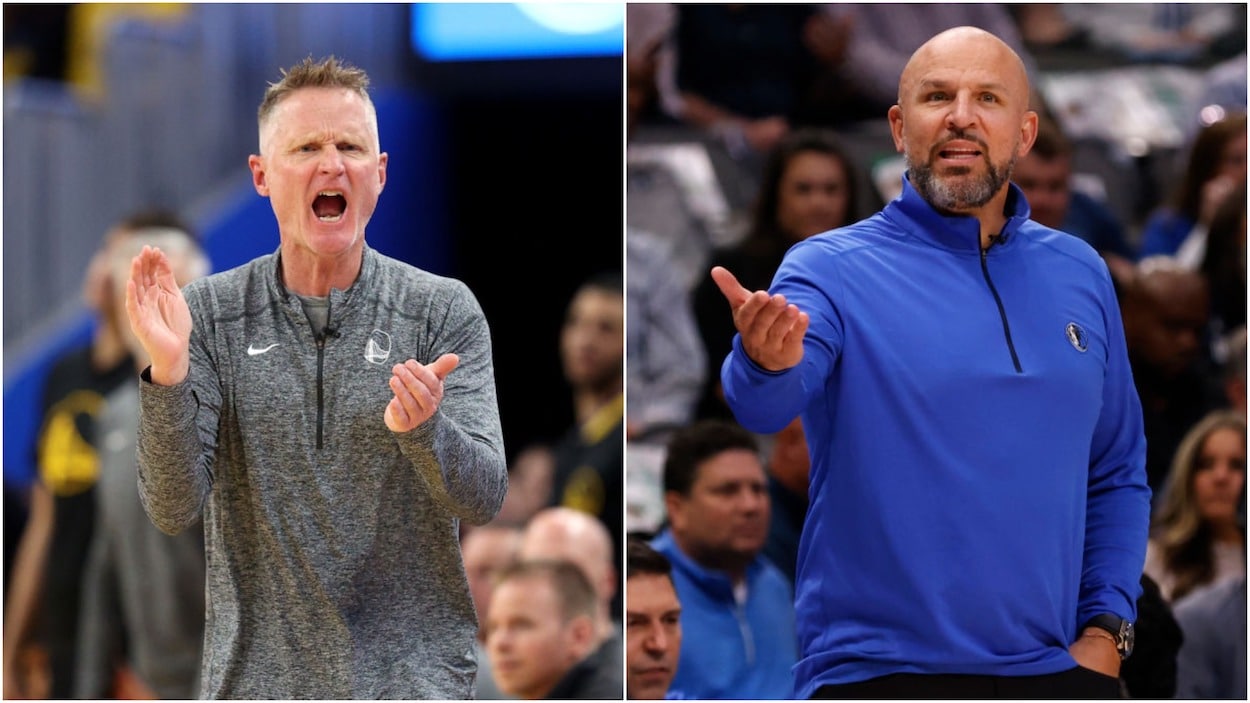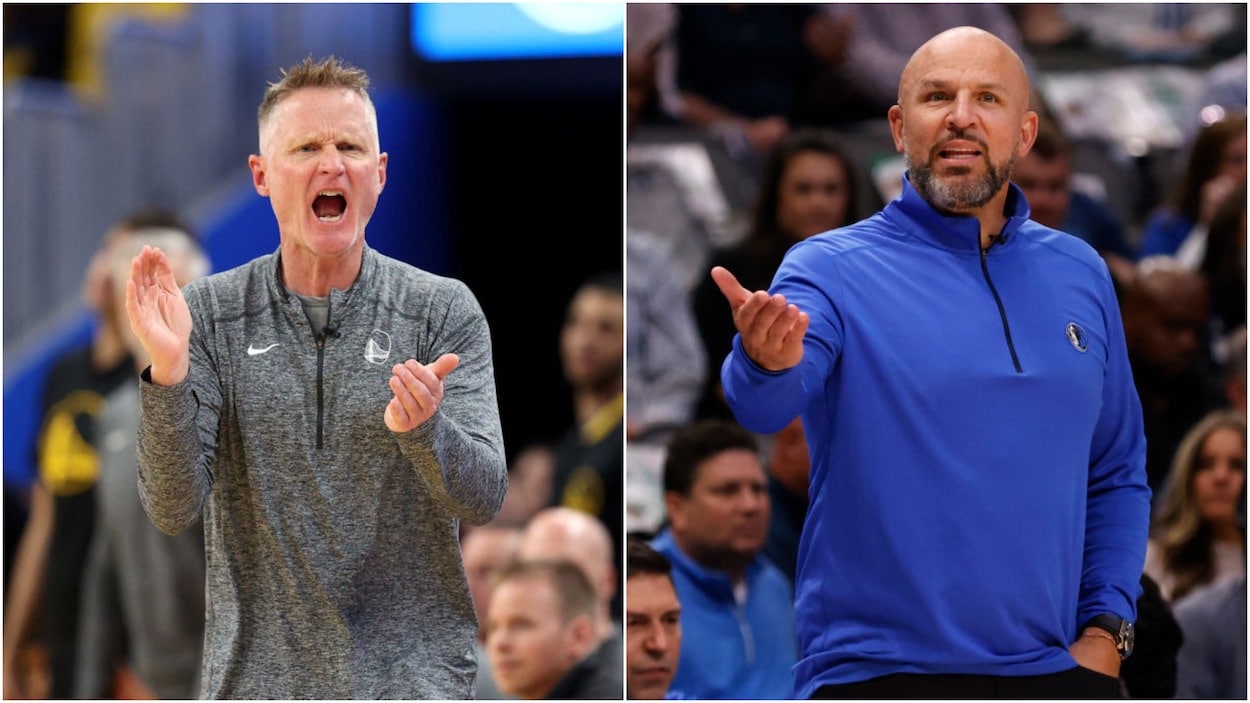 Even with the discrepancy in championships, Jason Kidd had the better playing career. With all due respect to Steve Kerr, it's tough to rank someone who averaged 6.0 points per game too highly. When it comes to coaching, though, the roles are reversed.
During his eight seasons on the Warriors bench, Kerr has compiled a 429-200 record, reaching five NBA Finals and winning three championships. Kidd, on the other hand, has barely broken .500 (235-220) across his time with the Nets, Bucks, and now Mavericks.
With that being said, though, it is worth noting that Kidd seems to have improved in Dallas. While you could argue that having Luka Doncic makes all the difference, he did seem to out-adjust Monty Williams as the Mavs upset the Suns. While he's got a ways to go in order to catch Kerr on the coaching front, that race might not be as one-sided as it once seemed.
Stats courtesy of Basketball-Reference