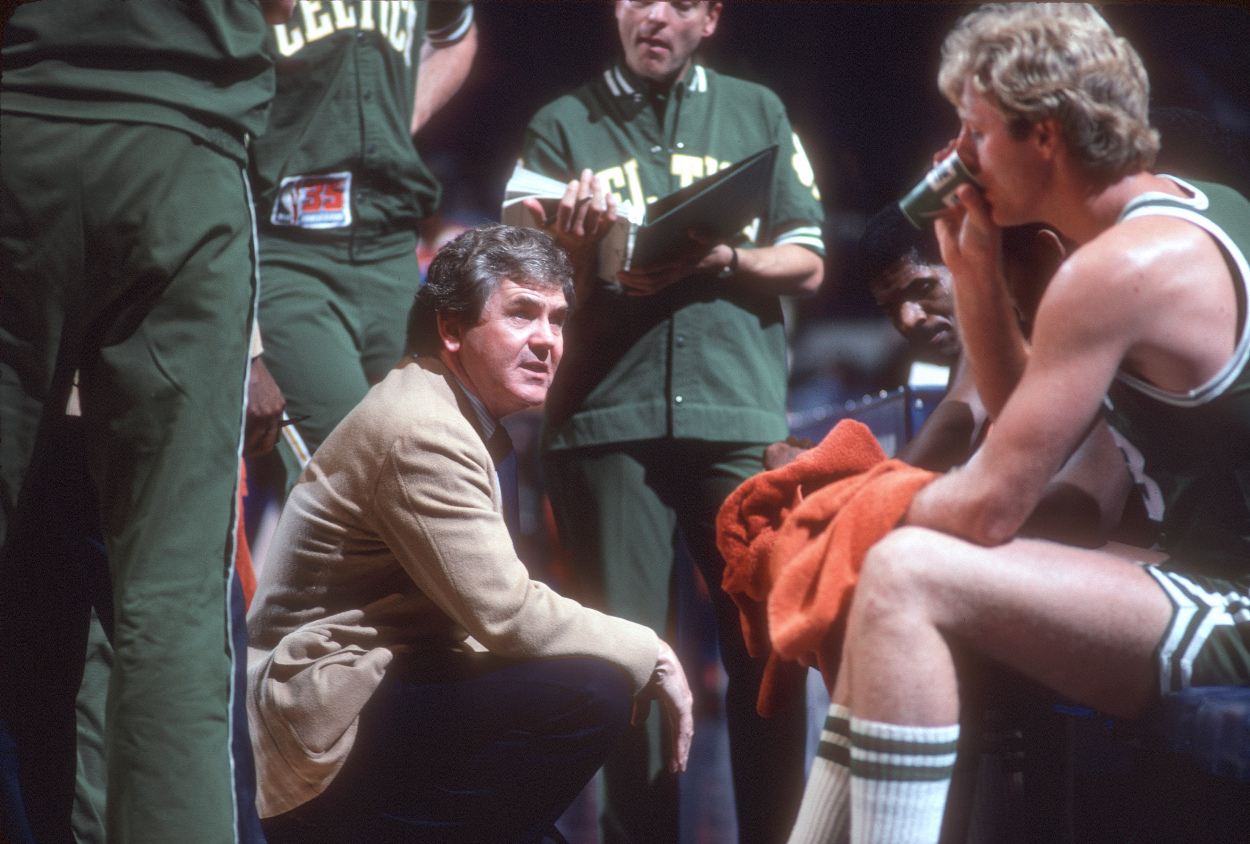 The Boston Celtics Just Lost Their 3rd Legendary Coach in 14 Months, and Larry Bird Once Compared the 2 He Played For
Bill Fitch, who coached the Boston Celtics to an NBA championship in 1981, died Wednesday at the age of 89.
The Boston Celtics family suffered another blow Wednesday when former coach Bill Fitch died at the age of 89. The Hall of Fame coach is the third legendary Celtics coach to have passed away in the last 14 months. K.C. Jones died on Christmas Day 2020, and Tommy Heinsohn died a month earlier.
Larry Bird played for both Fitch and Jones. He once compared the two, labeling Fitch as a perfectionist.
The Boston Celtics issued a statement on the passing of Bill Fitch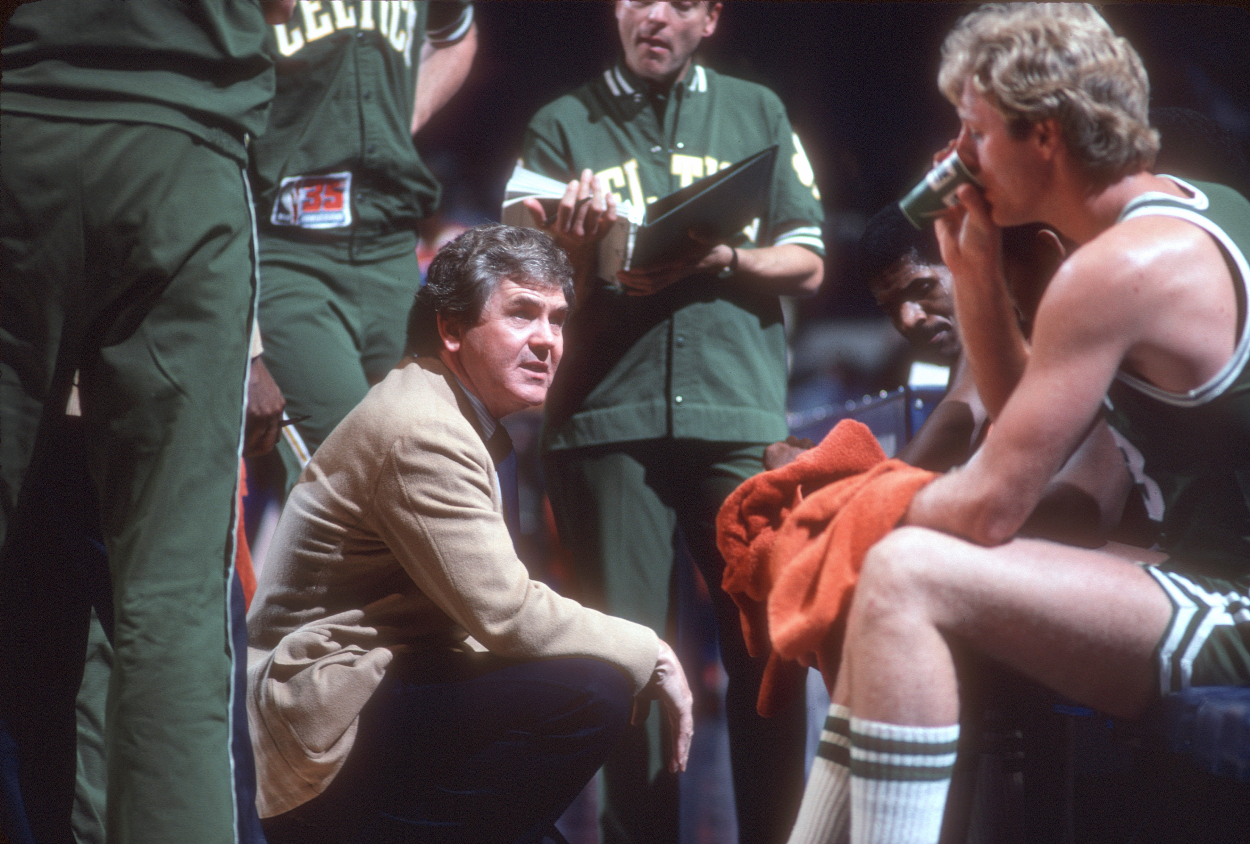 Fitch was a two-time Coach of the Year and was with the Celtics for four seasons, winning a championship in his second year. He coached Larry Bird as a rookie and then guided the team to a title during the 1980-81 season. In a statement put out by the Boston Celtics, the team said it was Red Auerbach who knew Fitch was the right man to take Bird under his wing.
"Coming off of a 29-win season in 1979, the Celtics had experienced the two worst seasons in the team's history," the statement read. "But a promising rookie named Larry Bird was set to arrive, and Red Auerbach knew the franchise was at a critical crossroads. He decided to hire Bill Fitch as the head coach, and as was so often the case, Red made the right call.
"Fitch's deep knowledge of the game, toughness, and dry wit made him a perfect fit for Boston and the Celtics. Fitch had already built a reputation as a turnaround artist, and his ability to get the best out of his players paid immediate dividends as Fitch orchestrated what was at the time the best turnaround in NBA history, vaulting to a 61-21 record.
"An offseason trade brought Robert Parish and rookie Kevin McHale to Boston, and they paired with Bird and Cedric Maxwell to form a dominant frontcourt that Fitch led to the Celtics' 14th banner in 1981 and established a foundation for the team's brilliant championship run in the 1980s. His record in four years as head coach of the Celtic was a stellar 242-86, a .738 winning percentage. Fitch was enshrined in the Naismith Memorial Basketball Hall of Fame in 2019.
"The Celtics family mourns his loss as we celebrate his legacy."
Larry Bird once compared Bill Fitch to K.C. Jones
Fitch was the guy who let Bird play. There were no limitations on the rookie out of Indiana State. During his playing days, Bird was asked the difference between Fitch and Jones.
"Well, K.C.'s a little more laid back than Coach Fitch was," Bird said during the 1983-84 season in a YouTube video put out by NBA History & Legends on CLNS. "I felt Coach Fitch was an excellent basketball coach, one of the best I've ever played for. He knew the game in and out, and he worked very hard.
"K.C.'s the type, very knowledgeable, been around the game his whole life. I've always had great respect for both of them. It was sad last year when Coach Fitch left, but now we've got K.C. and I'm very happy with him."
Bird said Fitch was more "demanding" than Jones.
"Coach Fitch wanted you to be perfect in every phase of the game, which is impossible," he said. "It's not bad working for a guy like that because if he wants you to be perfect, you know you have an opportunity to be perfect.
"They're both winners. It takes a lot of talent and a lot of pride and a lot of teamwork to win a championship. Coach Fitch was a very tough individual, and he expected nothing but results, and he usually got them.
"I respect both men more so than anybody I've ever been associated with."
Fitch was inducted into the Hall of Fame in 2019
Bird and Fitch worked well together and got started right away. The year before Fitch came to Boston, the Celtics went 29-53. He and Bird led a charge that resulted in 61 wins during Bird's rookie year and a championship season the next.
Fitch spent the first nine years of his coaching career with the expansion Cleveland Cavaliers, compiling a 304-434 record.
Fitch was known for turning around franchises. When he left Boston, he hooked on with the Houston Rockets for the 1983-84 season and increased their win total by 15 in his first year. Two years later, he had them in the NBA Finals, facing Bird and the Celtics.
Fitch also helped reshape the New Jersey Nets and the Los Angeles Clippers. He finished with a career record of 944-1,106.