Boston Celtics: Leon Powe Reflects on His Epic Game 2 Performance vs. Kobe Bryant and the Lakers in the 2008 NBA Finals
Former Boston Celtics forward Leon Powe reminisced with Sportscasting about his almost 15 minutes of fame in Game 2 of the 2008 NBA Finals.
He had some bigger statistical games in his NBA career, but former Boston Celtics forward Leon Powe told Sportscasting on Thursday that his Game 2 performance in the 2008 NBA Finals was his signature moment. He didn't even play 15 minutes, but he had more impact than any other player against the rival Los Angeles Lakers that night.
Powe, a 6-foot-8 reserve forward out of California, made the most of his limited time as the Celtics pulled out a 108-102 victory to take a 2-0 series lead.
Leon Powe came up big when needed most for the Boston Celtics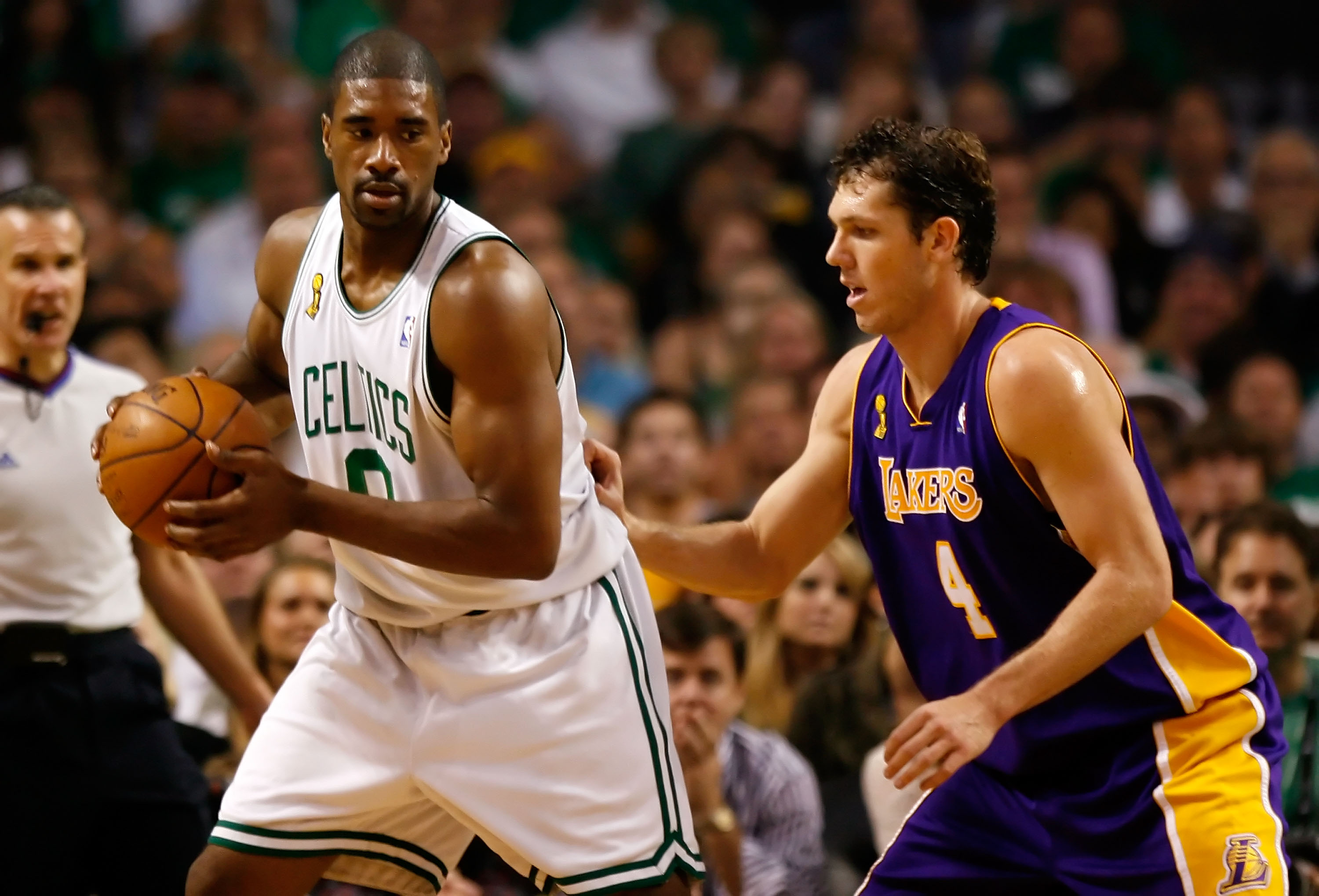 The Celtics held a 1-0 series lead after a 98-88 victory over the Lakers in Game 1, but with the 2-3-2 playoff format, Powe and the Celtics knew how important it was to grab the first two games at home.
"I hated that," Powe told Sportscasting of the playoff format. "When it's like that, you gotta make sure you win those first two."
Powe certainly did his part.
In that second game of the series, Powe was the star, despite playing just 14 minutes and 39 seconds. During that time, he racked up 21 points and went to the free-throw line 13 times. To put that into perspective, Lakers legend Kobe Bryant played 40:28 and went to the line seven times. The entire Lakers team attempted 10 free throws for the game.
"My team knows me," Powe said. "I got to the free-throw line all the time."
Powe said he knew he didn't get much playing time, but it was up to him to make the most of the time he did spend on the floor.
"When I get out there, I'm full throttle," he said. "They called me 'Black Hole' in practice. Once I get the ball, I'm shooting. When I get in the game, I did what I had to do to make an immediate impact — change momentum with a dunk or play great defense — whatever it takes."
Powe admitted Game 2 of the '08 Finals was his signature moment
Powe had several big moments in his five-year NBA career. He ended the 2007-08 regular season with a then-career-high 27 points against the New Jersey Nets. The following year, he put up 30 points, 11 rebounds, and five blocks in a March victory over the Memphis Grizzlies. But his biggest thrill was Game 2 vs. the Lakers.
"It's the big stage and who we were going against," Powe said. "It was my signature moment."
Powe went 6-for-7 from the floor and went 9-for-13 from the free-throw line. He remembers the crowd chanting his name in the middle of the game of his life on the NBA's biggest stage.
"Doc (Rivers) looked at me and called my name," Powe recalled. "When Doc called your number, he expected you to go all out and play within your role. I was ultra-aggressive on both ends. When I got to the scorer's table, I was like, I just gotta relax and play my game."
Powe was a major factor in Boston's victory. The Celtics went on to defeat the Lakers in six games. The following season, Powe tore his ACL in a playoff game against the Chicago Bulls. He never played for the Celtics again.
Powe inked a free-agent deal with the Cleveland Cavaliers while still rehabbing his injury. He played a total of 34 games over two years in Cleveland. He closed out his career by playing 16 games with the Memphis Grizzlies.
Like Sportscasting on Facebook. Follow us on Twitter @sportscasting19 and subscribe to our YouTube channel.