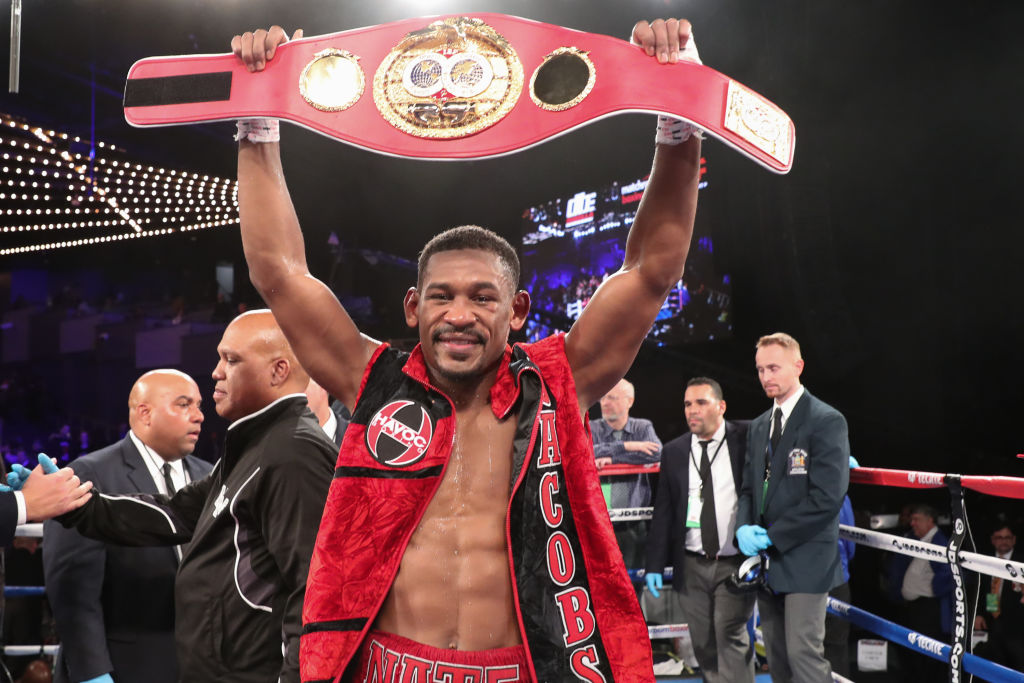 Boxer Daniel Jacobs Earned His Nickname of 'Miracle Man' by Knocking out Cancer
Plenty of professional athletes have nicknames, but boxer Daniel Jacobs earned his title of 'Miracle Man' by beating cancer to return to the ring.
In sports, everyone loves a good underdog story. Whether you're rooting for a scrappy mid-major during March Madness or praying that your favorite team can mount a comeback, hope is a powerful emotion. Boxer Daniel Jacobs, however, had to fight against the odds in a much different manner.
After being diagnosed with a rare form of cancer, Jacobs' boxing career looked like it was over. He mounted an incredible comeback, though living up to his nickname of "Miracle Man."
Daniel Jacobs' rise to the top
Growing up in Brooklyn, Daniel Jacobs established himself as a promising young fighter. He piled up an impressive amateur record, Junior Olympics, Golden Gloves, and PAL national championships with relative ease. He was more than a prospect, though; that success would continue in the professional ranks.
Shortly after making his professional debut, Jacobs signed with Golden Boy Promotions. He was the 'Golden Child,' appearing on the undercard of major fights and dispatching his opponents without breaking a sweat. Fame and fortune seemed like a foregone conclusion.
In August 2009, Jacobs claimed the World Boxing Organisation NABO Middle Title; 11 months later, he headed to the ring, hoping to win the vacant WBO middleweight championship. While he seemed to be on top of the world, everything would come crashing down for the promising young fighter.
Facing a new opponent: cancer
In July 2010, Daniel Jacobs fought Dmitry Pirog for the middleweight championship. While he would lose by TKO, something even worse was on the cards.
Jacobs initially felt weakness in his legs, but his condition worsened; he went from dragging his feet to needing a cane and eventually a walker to move. Doctors initially thought was a pinched nerve turned into a life-threatening illness.
A massive, life-threatening tumor was growing around the boxer's spine, leading to his lower-body issues. As if that wasn't bad enough, though, doctors discovered that growth was osteosarcoma, a rare form of cancer. Even though he had a solid chance of survival, that news hit Jacobs harder than any punch in the ring.
"It was hard. Even though, at the time, I thought I was a mentally strong person, it broke me down," he explained to Kevin McCrae of Bleacher Report. That struggle, however, would become a motivating factor.
Becoming the Miracle Man
Daniel Jacobs wasn't going to quit, however. He was, quite literally, a fighter; unsurprisingly, he made it back to the ring after 19 months on the sideline. He was no longer the Golden Child, though. Jacobs was now the 'Miracle Man.'
In 2013, Jacobs claimed the WBC Continental Americas middleweight title; the following year, he took over the vacant WBA middleweight title. While he would lose the belt in 2017, the Miracle Man had managed to beat the odds. Pure results were no longer the most important thing.
"My motive in my career now is not really to be the greatest boxer of all time," Jacobs explained to Kevin Iole in 2012. "My motive is to kind of be a Lance Armstrong. There are so many world champions who are just that, they're world champions. But what can they say they've done for the public, for the community?
"For me to have an opportunity to be able to inspire so many different people to dare to be great, to not let anything stop them from what they're striving to be, it's very humbling. But that's my goal, my drive," he continued. "I'm so very fortunate to be in this position, to give to the people and to show that no matter how bad things look stacked up against you, never to quit. Keep fighting."