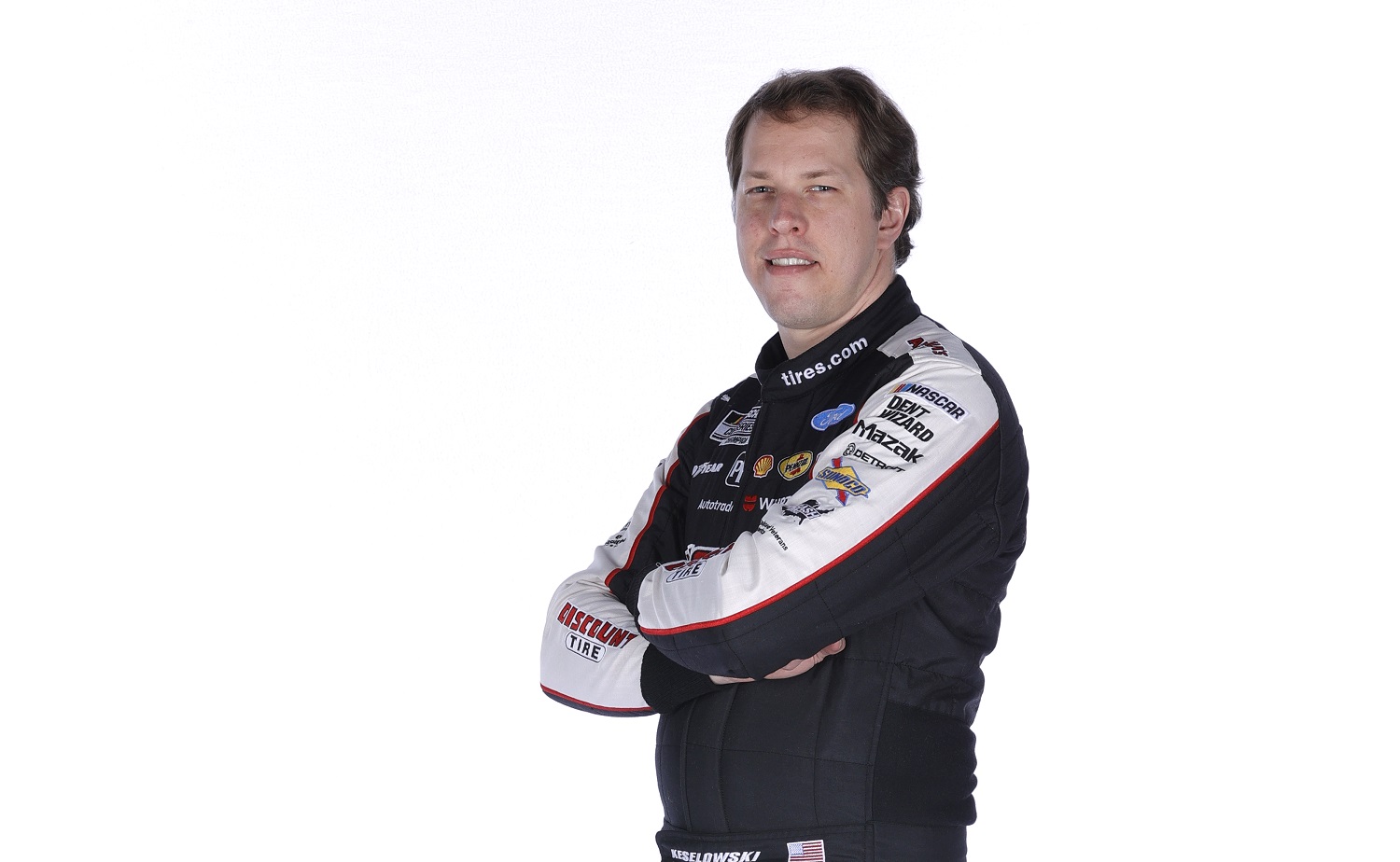 Brad Keselowski Is About to Drive 10,000 Laps Looking Into His Rearview Mirror
Brad Keselowski enters the 2021 NASCAR Cup Series without a long-term contract despite being a consistent winner over the years.
Winning at least three NASCAR Cup Series races in each of the past five seasons should leave a driver feeling more confident than Derrick Henry on third-and-1 against a Pop Warner team. Somehow, it's not working out that way for Brad Keselowski, who'll be going to the Daytona 500 with questions about his future.
Keselowski is hardly the only veteran driver entering the 2021 season with no guarantees for 2022, but his is one of the more perplexing situations.
Brad Keselowski has won 34 NASCAR Cup races
Brad Keselowski has had a great run while driving for Team Penske, and he is coming off an impressive season in which he placed second to Chase Elliott in the NASCAR Cup Series standings. Keselowski hadn't finished that high since winning the 2012 crown, but the pieces came together with four victories and nine more top-five finishes.
Notably, he did it all by not missing a beat while paired with an old-but-new crew chief. After winning 13 races over the previous four seasons, Keselowski maintained his consistency while reunited with Jeremy Bullins, his crew chief during a successful Xfinity Series run last decade.
For his career, Keselowski owns 34 victories in the NASCAR Cup Series and 39 more while racing in Xfinity cars, and one in the truck series. The combined 74 triumphs leave him sitting 12th on the all-time list for the major NASCAR series. That may be well behind Kyle Busch's 213 triumphs but, it's still an impressive body of work.
An uncertain season ahead for some big NASCAR Cup Series names
Sports fans are familiar with free agency in the NFL and NBA, but it's a fact of life in NASCAR, too. Multiple prominent names are entering the final year of the NASCAR Cup Series contracts, and the future is easier to project for some rather than others.
Hendrick Motorsports certainly didn't hand the keys of Jimmie Johnson's iconic No. 48 Chevy to Alex Bowman with the expectation that he will be one-and-done, particularly after finishing sixth in points a year ago. At Joe Gibbs Racing, Martin Truex Jr. and two-time Daytona 500 winner Denny Hamlin certainly seem safe.
On the other hand, 42-year-old Kurt Busch and 43-year-old Ryan Newman, neither of whom have won more than one race in a season since 2015, are candidates to retire — particularly if they are eased out by their teams.
Of the remaining potential free agents, Brad Keselowski is the most intriguing name because he signed a one-year extension in 2020.
Brad Keselowski might be aging out
Brad Keselowski will be 37 years old and entering the final year of his Team Penske deal when the 2021 NASCAR Cup Series kicks off with the Daytona 500. Coming off a second-place finish in the points last year, he seemingly has job security. However, Keselowski said recently that he doesn't necessarily see it that way.
NASCAR managed to race a full 2020 schedule despite the pandemic but did so in front of mostly empty grandstands, affecting prize money. On top of that, many of the sport's longtime sponsors took hits that have required them to trim budgets.
While it's great that NBA legend and Nike-fueled billionaire Michael Jordan has entered the racing scene, other owners have been proceeding more cautiously than usual. If there's a corner to be cut that doesn't affect safety, you can be sure that teams are considering it. That includes saving money on the guys doing the driving on Sunday afternoons.
"Well, I think there's been, obviously, a fair amount of not just talk on the media side, but actual movement within the sport with car owners transitioning to younger, and quite frankly, less compensated drivers," Keselowski said in a media call, according to Inside Circle Track. "I think in some ways that's been really good for me and in some ways that's been really bad for me. It's obviously bad because it lowers the market, but it's also been good because, quite frankly, they're not winning."
Keselowski can take comfort that only one driver under the age of 30 (Chase Elliott) won multiple races last year. On the other hand, there's always the flavor of the month coming up through the Xfinity Series who can be signed for two-thirds the salary.
"If you want to win races, it's pretty clear that there's only about six drivers that can consistently win multiple races in Cup," Keselowski said. "It's nice to be on that list."
That doesn't mean he won't have one eye on the rearview mirror this season while racing his 250 or 300 laps on weekends.
'If I focus on performing, and the way the market is right now, with there only being a very select amount of drivers who can consistently win multiple races, I feel like it will take care of itself."

Brad Keselowski
Like Sportscasting on Facebook. Follow us on Twitter @sportscasting19.