Brad Keselowski Leaves Fans a Surprise and Shows Special Bond Between NASCAR Drivers and Their Supporters
Brad Keselowski pulled off a move with fans before the Cup Series race this weekend at Phoenix that revealed the special relationship between drivers and fans.
Brad Keselowski is a NASCAR champion. He's won 35 Cup Series races. Those Hall of Fame-worthy achievements have built him a fan base throughout his career.
This week before the race at Phoenix Raceway, the RFK driver-owner did something off the track for his fans that sets him and NASCAR drivers apart from athletes in other sports and showed what makes the relationship between drivers and fans so special.
Brad Keselowski leaves Phoenix fans a surprise
This weekend with the NASCAR Cup Series wrapping up the West Coast Swing with the final race in Phoenix, Brad Keselowski is hoping to improve on his first two races out west, where he finished 27th at Fontana and 24th at Las Vegas. 
In Sin City, Keselowski didn't make any friends on the track, including upsetting his former Penske teammate Ryan Blaney, spinning in front of the No. 12 and taking him out of race contention.
Before returning to racing action this weekend in the desert, Keselowski made a few anonymous friends while walking amongst the campers. In a video posted on Twitter, he found a campsite of his supporters but no one was around. Since he had no shirts, hats, or any other memorabilia to sign, he decided to leave a surprise autograph on their set of corn hole boards.
"The fans are already out in full force @phoenixraceway…," he tweeted. "hate I missed these guys, hope they don't mind I signed their corn hole boards."
Keselowski regularly mingles with campers
NASCAR is just different. Nowhere in any other major American sports do you find athletes who will go out of their way for the fans and hang out with their supporters for free of charge. Among the Cup Series drivers, Keselowski is one of the best.
He's posted videos on social media in the past of him driving around a campground in a golf cart, finding campsites of his supporters, then visiting with them, taking pictures, signing autographs, and sometimes providing them with team merchandise. 
He is always generous with his time. Even when non-fans show up because of his celebrity, he'll smile and take photos. For all those who meet him or another driver out mingling with the masses, it makes for an unforgettable experience.
Fan base returning and growing in 2022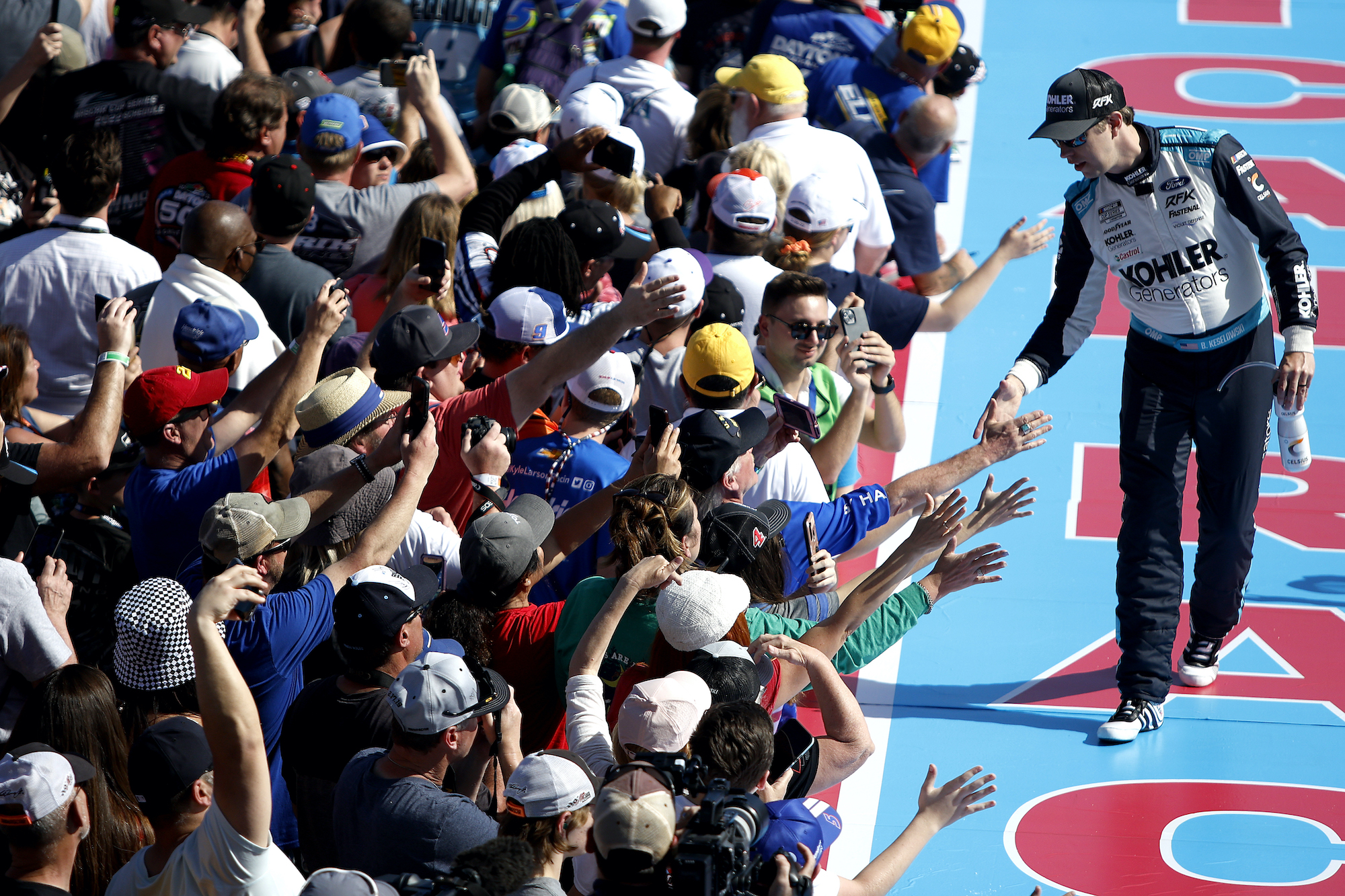 The reports of NASCAR's demise have been greatly exaggerated. Brad Keselowski is mingling among the fans because they are finally returning after an almost two-year absence due to the pandemic and are doing so in large numbers. 
The Clash at the Coliseum was a smashing success for NASCAR with 4.3 million watching at home and more than 50,000 in the stands. Daytona was a sellout. The first two races out west have had near-capacity crowds. 
It's a good time to be a NASCAR driver because the fans, as Keselowski noted in his tweet, are turning out days before the race. Now if they could just manage to be on-site when their favorite driver surprisingly drops by would make a fun race weekend even that much more memorable. 
Like Sportscasting on Facebook. Follow us on Twitter @sportscasting19.