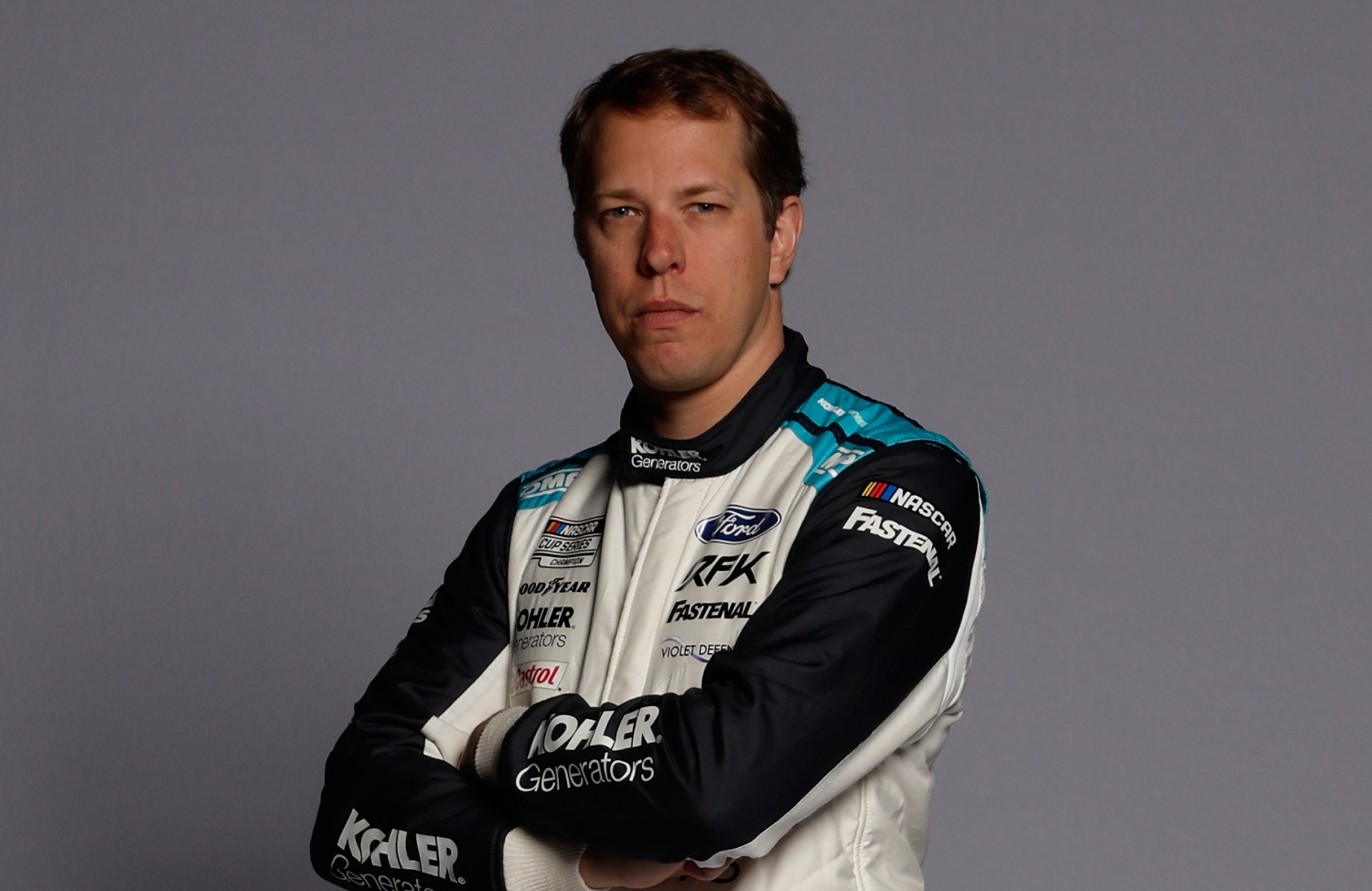 Brad Keselowski Has Made a Bold Move by Hiring the Bill James of Auto Racing for Roush Fenway
Brad Keselowski has hired David Smith, a renowned statistical analyst, to work with the RFK Racing NASCAR Cup Series organization.
"Lies, damned lies, and statistics" is an expression often attributed to Mark Twain, though the phrase tends to turn up in conversations about analytics in baseball, a niche that scarcely existed until Bill James started writing his annual Baseball Abstract in 1977.
The Boston Red Sox made a bold move by giving James an office in 2002, and he retired 17 years later with four World Series rings. Now, the baseball team's motorsports cousin has struck again by hiring auto racing's version of James as Brad Keselowski continues to upgrade Roush Fenway Keselowski Racing.
Brad Keselowski is making things happen at the former Roush Fenway Racing
Brad Keselowski has hit the ground running as the new driver and co-owner at the former Roush Fenway Racing. The NASCAR Cup Series outfit is now Roush Fenway Keselowski Racing, and the former Team Penske standout has been making moves as part of a business plan that will see him gradually replace Jack Roush as the operations czar while John Henry and Tom Werner handle the P&L ledger.
Keselowski, 37, recruited Kurt Busch crew chief Matt McCall from Chip Ganassi Racing before the 2021 season even ended and presumably had a hand in re-upping primary sponsors Castrol, Fastenal, and Kohler Generators for RFK Racing. And, of course, he has been hands-on in the garage as the team assembled its fleet of Next Gen cars that will debut Feb. 6 at the Busch Light Clash.
The Year 1 bar is set low; Chris Buescher finished 19th and Ryan Newman 28th in Cup Series points last season. Keselowski, who has placed in the top eight in nine of the past 11 seasons, is taking Newman's car in the upcoming season and stands a good chance of yet another playoff appearance.
RFK Racing has hired analytics expert David Smith
Just as Bill James moved the evaluation of baseball players far beyond batting averages and earned run averages, Roush Fenway Keselowski Racing is joining the trend of moving racing statistics beyond laps led and average finishes.
RFK Racing announced it has hired David Smith, a respected number-cruncher whose Motorsports Analytics website uses advanced data studies to evaluate drivers, teams, and trends in NASCAR. Smith's relationship with Keselowski goes back to working as a consultant when his new boss captured the 2012 Cup Series crown.
"I'm excited to bring David onto the team," Keselowski said in the team announcement. "He brings credibility to analytics and data, and he will be critical to our team's success as we embrace new technologies and processes in 2022 and beyond."
Smith's resume also includes work with drivers Erik Jones and William Byron in their Cup series rookie seasons. Last season, Daniel Hemric brought Smith aboard for what turned out to be an Xfinity Series championship season highlighted by the driver's first victory and 15 top-five finishes, including five of the final six playoff races.
"RFK Racing's belief in the power of statistical analysis is inspiring," Smith said. "It's my goal to ensure that belief is rewarded with the long-term results and accolades envisioned by RFK's personnel, sponsor partners and fans."
Bill James was there when the Red Sox ended the 'Curse of the Bambino'
The addition of accomplished racing analyst David Smith at Roush Fenway Keselowski Racing is an aggressive move as the NASCAR Cup Series team looks to move up from the middle of the pack of multi-car teams. Anything he unearths that shaves a quarter of a second off a four-tire pit stop or does to guide the RFK Racing teams on which racing grove to follow at Charlotte or Phoenix based on tire wear and fuel status can add up to improvements in the standings.
If RFK Racing prospers in a fashion remotely close to the way the Boston Red Sox did after Bill James' arrival, then Smith will be worth whatever the team is paying him.
RFK Racing co-owner John Henry also owns the Red Sox and several other sports entities, including the Liverpool soccer team in the English Premier League. The baseball team endured an 86-season drought between World Series titles before breaking the so-called "Curse of the Bambino" in 2004.
James, the best-known baseball analytics expert, retired in 2019 with that championship ring and three more after subsequent titles in 2007, '13, and '18.
Like Sportscasting on Facebook. Follow us on Twitter @sportscasting19.