Brad Keselowski's Career-Changing Year Is Ending on a Somber Note
Article Highlights:
Brad Keselowski has modeled his NASCAR career after that of his father, a championship driver who went on to operate his own team
Brad Keselowski is preparing for his first season as a driver and co-owner at the former Roush Fenway Racing team
The family has revealed that patriarch Bob Keselowski's cancer is terminal
Combined with the upcoming introduction of the Next Gen car, Brad Keselowski's move to the former Roush Fenway Racing team as a driver/co-owner had already given the NASCAR Cup Series veteran plenty to think about.
Now, sadly, there is a much more important and impactful change to his life for Keselowski to contemplate as 2021 winds down. The driver's brother has revealed on social media that their father, himself a significant figure in racing, is gravely ill.
Brad Keselowski's brother shares sad family news
Brian Keselowski, the brother of NASCAR Cup Series driver Brad Keselowski, posted gut-wrenching family news on Twitter, announcing that family patriarch Bob Keselowski's two-year struggle following a cancer diagnosis is coming to a difficult conclusion.
"Unfortunately, there isn't much more fight left," Brian Keselowski wrote, "so my family and I are preparing ourselves and making sure dad is not in any pain until his time comes. Please say a prayer and keep us in your thoughts during this very difficult time."
The prospect of losing a family member is never easy. Coming to such a realization on the eve of the year-end holidays, traditionally a time for families to gather and celebrate, only makes it that much more difficult. That applies to the racing community as well since Bob Keselowski, 70, has been deeply involved in the sport for decades.
Bob Keselowski is a former owner, crew chief, and championship driver
Bob Keselowski's connection to motorsports goes far beyond being the father of Brad Keselowski, a 35-time winner since 2009 in the NASCAR Cup Series. He has driven cars, owned them, and done everything in between.
Keselowski won the ARCA Permatex Supercar (now Menards) Series in 1989 by winning four of the 17 races. That was part of a run of eight consecutive seasons finishing in the top four in points, and he scored 24 career race victories.
Keselowski made one NASCAR Cup Series start in 1994, then turned his attention to the launch of the truck series the following season. There, he started 86 times over five seasons. His crowning moment there was a dominating victory at Richmond in the 1997 season.
At 48, Keselowski decided it was time to move into the next phase of his career as a team owner who was hands-on enough to pull crew chief duty. His trucks with Dennis Setzer and Terry Cook behind the wheel won eight times from 1999-2006, though his 2010 foray into the Xfinity Series came up empty.
According to TobyChristie.com, recent years had been focused on rebuilding a Dodge Charger stock car to see how hard he and son Brian could push it. One test session late this summer on the Utah Salt Flats ended with a max speed of over 280 mph.
Brad Keselowski clearly learned from his father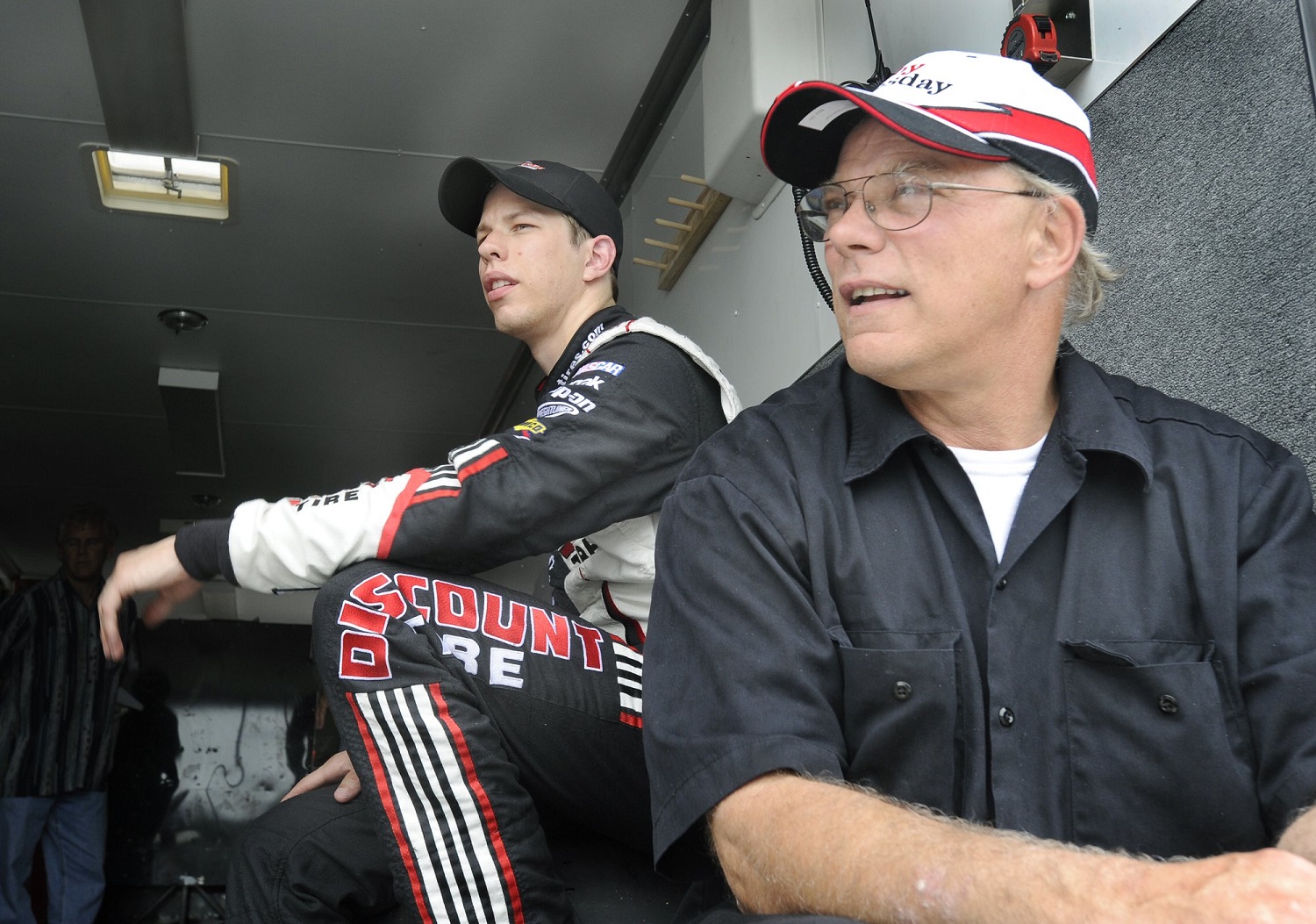 One look at Brad Keselowski's resume in NASCAR shows that his father's experience and expertise in racing rubbed off.
Keselowski won 39 times in the Xfinity Series, taking six checkered flags and the season championship in 2010. Two years later, he earned the NASCAR Cup Series title while scoring five of his 35 race triumphs.
Along the way, he formed his own racing outfit in 2007, placing teams in the truck series beginning the following year. Keselowski shut down the team after the 2017 season, but the experience proved valuable and left him yearning for a bigger move.
This summer, he negotiated a deal to move over to Roush Fenway Racing as a driver and co-owner. The team has since rebranded, and Roush Fenway Keselowski Racing makes its official debut at the Busch Clash in Los Angeles in February.
All stats courtesy of Racing Reference.