Brad Keselowski's Next NASCAR Move Is About What Happens After His Roush Fenway Driving Days End
Brad Keselowski came within minutes of winning the YellaWood 500 on Monday. Had the Cup Series race made it to the end of the second stage, he was looking squarely at his seventh Talladega victory.
That would have sent him out of the Team Penske organization on a high note. Still, Keselowski has five more cracks at that, maybe even in the NASCAR Championship 4 on Nov. 7 at Phoenix Raceway.
Such a development would be a case of going out with a victory now in preparation for exiting on his own terms later.
Talladega has been a great track at times for Brad Keselowski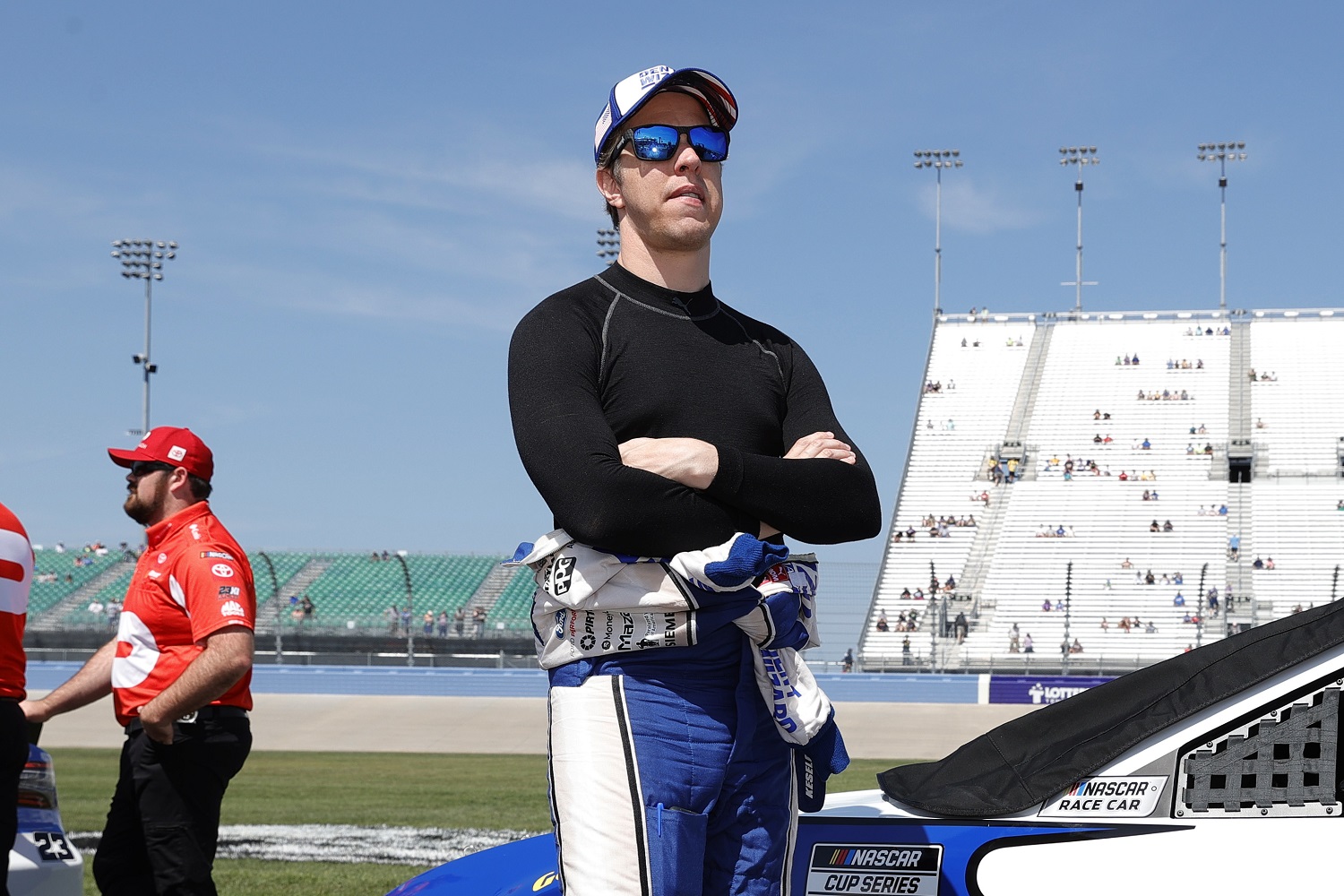 It took all of three starts for Brad Keselowski to win his first NASCAR Cup Series race, the Aaron's 499 on April 26, 2009, at Talladega. His most recent victory was on April 25, 2021, in the GEICO 500, also at Talladega.
In between the two have been 33 other victories in a career that stands a good chance of concluding with induction into the NASCAR Hall of Fame. Talladega can be a crapshoot for drivers, and Keselowski's career backs that up. He has six victories, a runner-up showing, and two fourth-place finishes there. Other than that, he has rarely placed in the top 10.
The second-place finish came Monday in the YellaWood 500, and it could just as easily have been Talladega triumph No. 7 for the 37-year-old driver from Rochester Hills, Michigan.
Keselowski led for 13 laps midway through the race, which ended on lap 117 because of the rain. With three laps to the end of stage 2, anything could have happened (it often does) at Talladega, courtesy of "The Big One" or even a smaller incident.
This time, it was Martin Truex Jr., William Byron, Ryan Preece, and Ricky Stenhouse Jr. triggering the caution flag. Bubba Wallace ran at the front and Keselowski was second as track workers cleared the wreckage. When the rain began falling, NASCAR called it a day.
Talladega victory No. 7 will have to wait for another day.
The NASCAR veteran has set his next move
After beginning at Hendrick Motorsports, Brad Keselowski caught on with Team Penske late in the 2009 season. He's made his last 430 NASCAR Cup Series starts there.
Aside from his Cup Series body of work with Penske, Keselowski has won 33 Xfinity Series races there. Obviously, it's been a mutually beneficial partnership. As this season comes down the homestretch, Keselowski stands fourth in the playoff race and maintains a chance at adding a second series title to the one he earned in 2012.
That, though, will be the end of the Penske-Keselowski working relationship.
On July 20, Keselowski confirmed what fans already knew: He is joining Roush Fenway Racing as a minority team owner at the end of the year. He will also continue competing, taking over the No. 6 Ford from Ryan Newman.
Brad Keselowski's next move is about setting up his final move
The opportunity to own a stake in a NASCAR Cup Series team understandably influenced Brad Keselowski's decision to leave Team Penske for Roush Fenway Racing. He previously owned a team in the truck series for a decade, and Keselowski likes digging into all aspects of a racing operation. He'll be up for the challenge of getting RFR back to victory lane for the first time since 2017.
Keselowski likely has five or more years of racing left in him, and the ownership stake assures that he can stay active in the sport for years beyond that. Perhaps more importantly, he is now in position to decide on his own when his driving days are over.
"I don't know how many years I have left driving. And when that day comes on, I'm not a driver anymore," Keselowski told Dale Earnhardt Jr. during an NBC Sports interview before Talladega. "I just can't imagine taking off and waving goodbye, right? I'm sure you understand.
"So, I wanted to make sure I had a vessel to where if I left the sport, it was because I decided to, not because there was no option available."
Leaving on his own terms would be as big a victory as any of his six at Talladega.
All stats courtesy of Racing Reference.