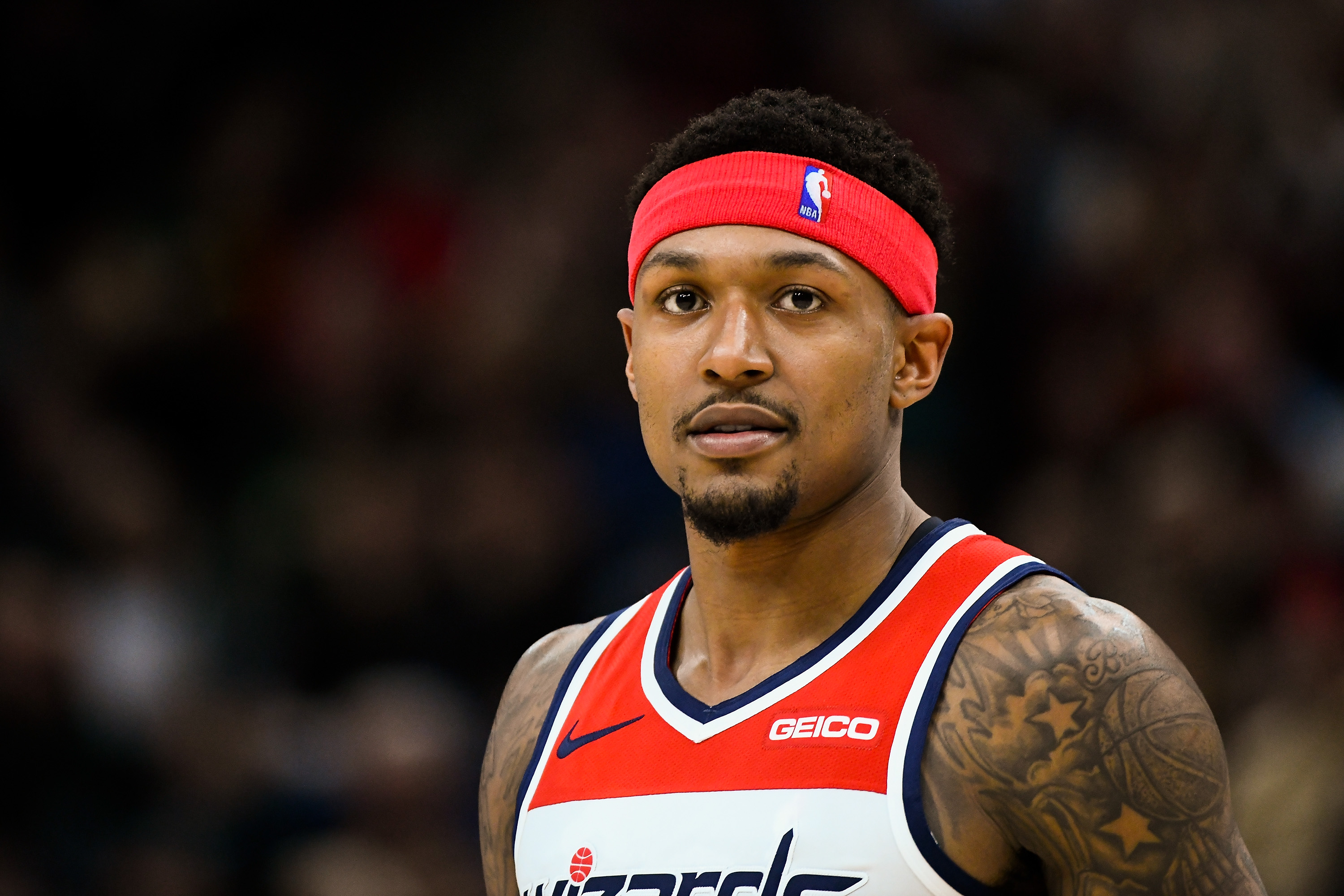 Bradley Beal's Hilarious Comments Reveal What Went Wrong With the Wizards This Season
Bradley Beal has been trapped on a mediocre Wizards team for a long time. Although Beal has remained loyal to the team, he appears sick of all the losing.
Washington Wizards guard Bradley Beal is always one of the most honest players when it comes to interviews. Although the Wizards haven't played up to expectations due to injuries to key players, Beal is still honest about the direction of the team.
He recently made an appearance on Zack Lowe's podcast and today we will discuss his comments about what has gone wrong for the Wizards this year.
Resigning with the Washington Wizards
For much of the 2018-19 season it looked like one of two things would happen between Bradley Beal and the Wizards brass. First of all, he would get traded. Or, he would walk in free agency and sign a max deal with a contender. When neither of those things happened, we were shocked. Beal ended up signing a max deal to stay in Washington for five years at $127 million. 
This meant the duo of Beal and John Wall (out this season recovering from Achilles injuries) will be with the team for the foreseeable future. However, with Wall being hurt the team has struggled to find consistency this season.
Bradley Beal's comments
Speaking on the Zach Lowe podcast The Lowe Post, here's what Beal had to say about the Wizards struggles: "granted, we were top-5 in offense, but our problem was we just can't guard a grandma".
Now we don't think he was talking about Grandmama (aka Larry Johnson of Charlotte and New York Knicks fame) when making this statement. The Wizards defense was one of the worst in the league in a number of categories.
How bad was the Wizards' defense?
The Wizards were ranked 29th in opponents points per game, giving up 119.7 per night. They were also dead last in defensive rating. Who is the biggest blame for such a steep drop from one side of the ball to the other?
The answer is everyone. The advanced numbers don't lie. Every Wizard who has played over 500 minutes this season with the exception of Mo Wagner, Isaac Bonga and Troy Brown all had a defensive plus/minus higher than 1. When you combine four or five players giving up 4-5 points collectively per possession, your defense is going to stink.
It also surprised us that Beal made those comments because he was the team's third-worst defender based on that category.
What moves can they make in the offseason?
The obvious opportunity would be to package Bradley Beal in a deal for an expiring contract and some draft picks. John Wall's 15% trade kicker makes his contract basically off limits unless your team is desperate, and the team has $15 million coming off the books if they let Ian Mahinmi walk as an unrestricted free agent.
However, this is a poorly run franchise, so we think neither star player will be moved, and the team will pick up a few veterans and shoot for a low seed in the playoffs for 2020-21.
How do you feel about Bradley Beal's comments?
Do you agree with what Bradley Beal said about the Wizard's defense this year? If you want more news from around the league be sure to check out our NBA section. 
All stats courtesy of Basketball Reference