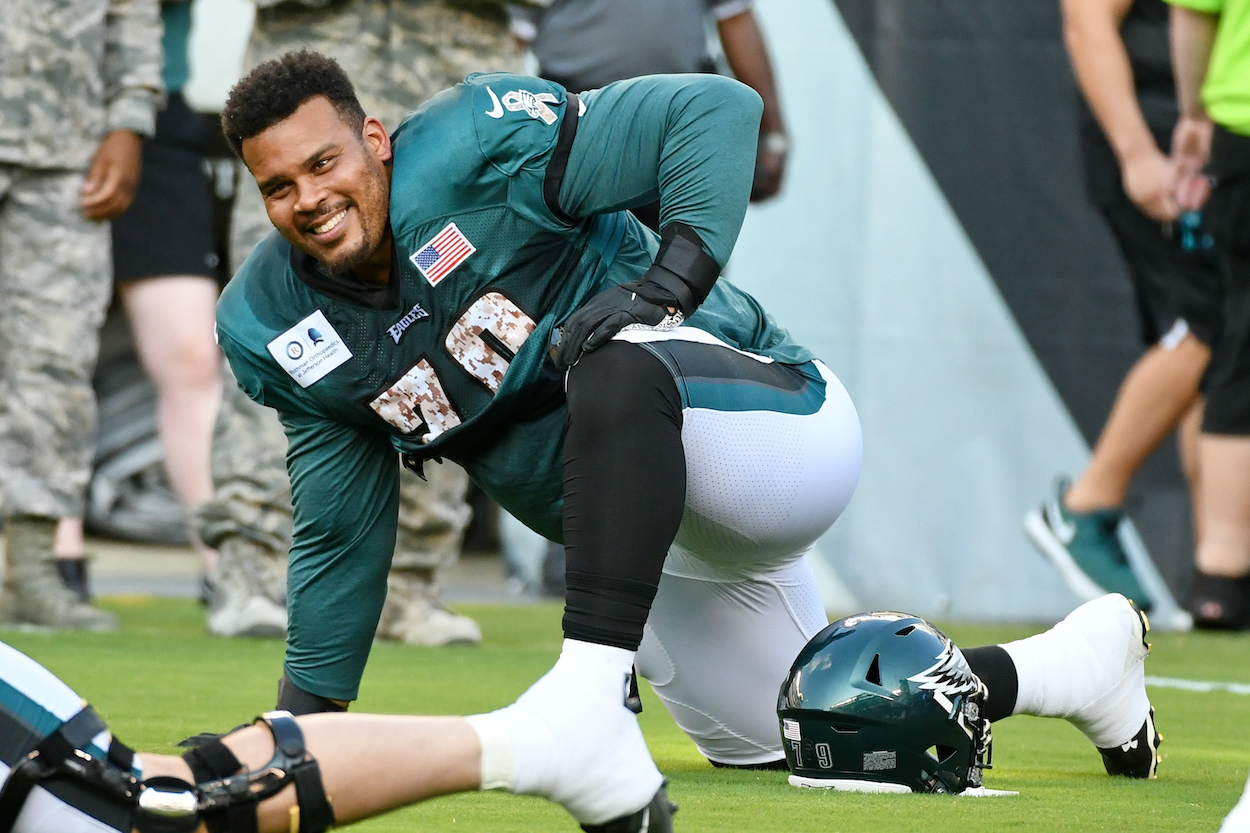 Brandon Brooks Left the Eagles With a $12 Million Gift Before His Emotional Retirement Announcement
Super Bowl champion Brandon Brooks emotionally announced his retirement on Wednesday, but not before leaving the Eagles a $12 million gift.
Brandon Brooks was an instrumental piece of the Philadelphia Eagles' miraculous run to the Super Bowl in 2018. He was considered one of the best offensive guards in the entire NFL over the following few seasons, but an unlucky string of major injuries quickly derailed his career.
On Wednesday, Brooks painfully said goodbye to the NFL by announcing his retirement, but not before leaving behind a $12 million gift on Howie Roseman's doorstep.
Brandon Brooks emotionally announces his retirement
The Eagles had to see this coming.
After playing just two games over the last two seasons combined due to injuries, Brooks announced his retirement from the NFL in an emotional press conference on Wednesday morning.
"How do you say goodbye to something you've known your whole life?" Brooks began. "Something that thought you triumph, pain, success, failure, perseverance, love, empathy, and altruism. I don't know, but I'll try my best. Yes, after 10 years in this game, it's true I am retiring."
In his lengthy opening statement, Brooks thanked his family, his former coaches, and many of his former teammates on both the Eagles and the Houston Texans for their support over the years. The three-time Pro Bowler got choked up when talking about Philadelphia's longtime offensive line coach, Jeff Stoutland.
Brooks finished his statement with an ode to Eagles fans everywhere.
"I was extremely fortunate to help bring a championship to the city, had multiple Pro Bowl appearances, but none greater than having the honor of being an Eagle, and putting that midnight green on, and playing in front of the greatest fans in the world," he said. "The City of Brotherly Love is just that: Love. … Ya'll will always be family to me, and I couldn't imagine finishing my career anywhere else."
Brooks left the Eagles with a $12 million gift
Brooks clearly has a ton of respect for the Eagles organization, so he wanted to leave them with a parting gift before making his retirement official.
A few hours before his press conference, Brooks signed a new contract with the Eagles that reduced his 2022 cap number from $19.4 million to $7.1 million, per a tweet from Mike Garafolo of NFL Network. The restructured deal will save the Eagles around $12 million in cap space this year.
According to Jason Fitzgerald of Over The Cap, Brooks' cap charge in 2022 will reduce to $5.9 million after June 2, and Philadelphia will defer $9.8 million in dead money to 2023.
The Eagles now have three first-round picks and $24 million to play with this offseason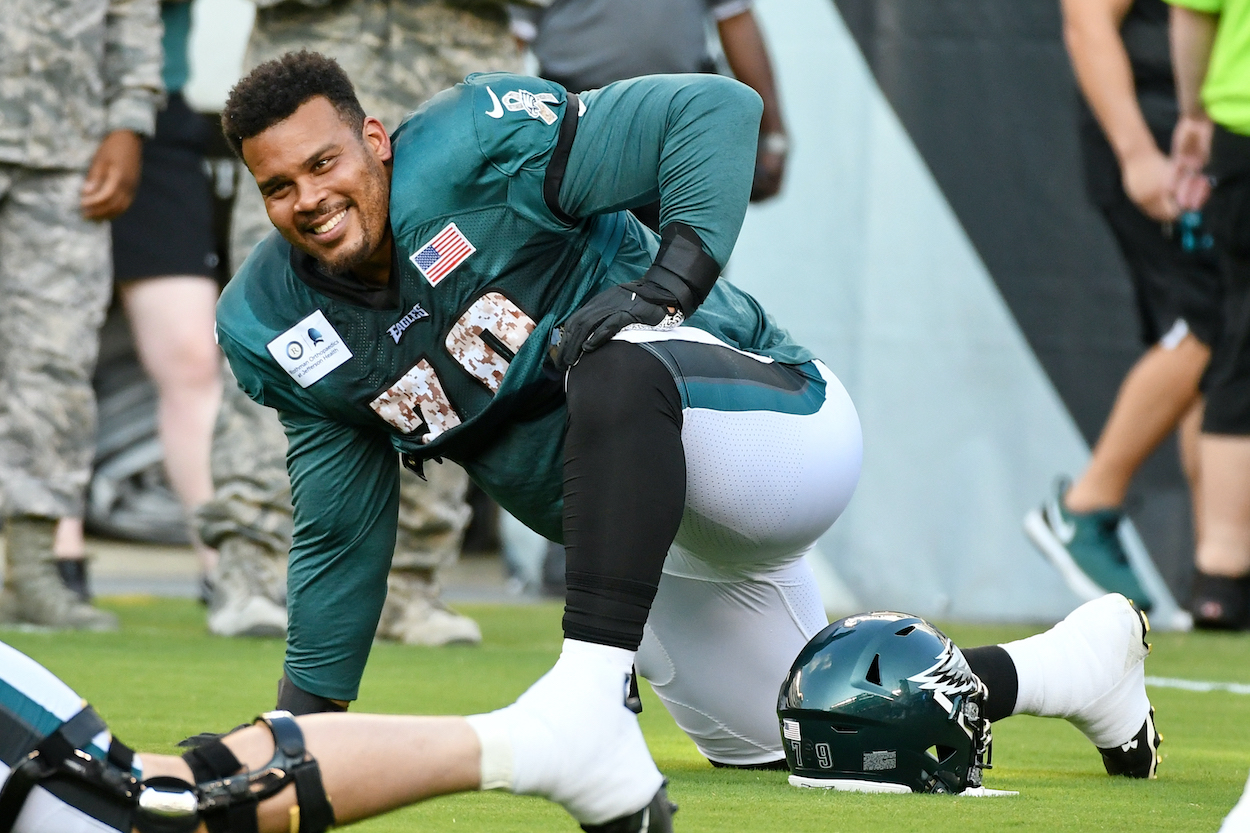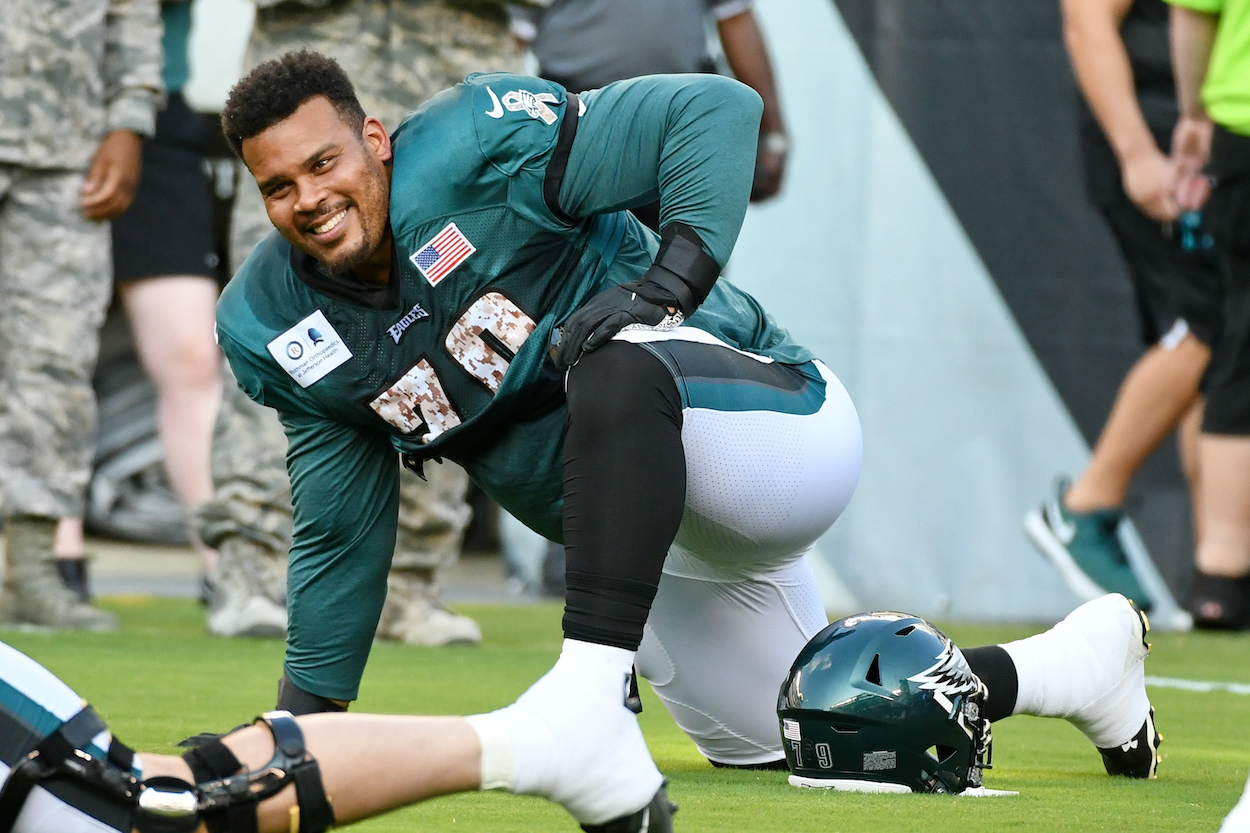 The Eagles have a crucial offseason in front of them. Philadelphia has three first-round picks (15, 16, and 19) in the upcoming NFL draft, and thanks to Brooks' restructured deal, the team now has $24 million in cap space to play with this summer.
So, what should Roseman do with all this offseason ammo?
There are plenty of holes on Philly's roster right now, but the defensive line and linebacker units both need severe upgrades. The Eagles struggled to pressure opposing quarterbacks with Brandon Graham sidelined for most of the year, as they only recorded 29 sacks in the regular season. Only the Atlanta Falcons had fewer sacks in 2021-22.
Philadelphia should also look to add a proven wide receiver in free agency such as Chris Godwin or Allen Robinson, and the offensive line needs an influx of young talent with Brooks retiring and Jason Kelce likely joining him soon.
Whatever the Eagles' plan of attack turns out to be this offseason, there's no excuse for them not to come back next year as a more talented team.
Like Sportscasting on Facebook. Follow us on Twitter @sportscasting19.