Brett Maher's Historic Kicking Blunder Caused 1 of the Worst Bad Beats in NFL Playoff History
If you bet the over in Monday night's wild-card showdown between the Dallas Cowboys and the Tampa Bay Buccaneers, let me be the first to offer my sincerest apologies. The total closed at 45.5 at most sportsbooks, and the game finished just 0.5 points away from hitting the over. That's painful enough, but the way we got there made it even more agonizing.
Brett Maher, who missed only three extra points in 53 attempts throughout the regular season, shanked his first four PATs on Monday night to set an embarrassing NFL record. His four misses didn't cost the Cowboys the game, but they did lead to one of the most brutal bad beats in NFL playoff history.
Brett Maher made NFL history with his shocking meltdown against the Buccaneers
Watching an NFL kicker develop the yips in real-time is a painful experience. We witnessed the most severe case ever Monday night when Brett Maher missed his first four extra-point attempts against the Buccaneers. The Cowboys kicker pushed his first two to the right, then shanked his third way left, then hit the top of the right upright on his fourth.
According to NFL.com, Maher became the first kicker in NFL history to miss four extra points in a regular-season or postseason game since the statistic was first tracked for individual players in 1932, per Elias Sports Bureau. The 33-year-old also missed his last PAT against the Washington Commanders in Week 18, so Monday's blunder brought his streak to five misses in a row.
Maher's meltdown was even more shocking because of how consistent he was throughout the regular season. The Nebraska product nailed 50 of his 53 PATs and 29 of his 32 field-goal attempts this year. Over the course of his four-year NFL career, Maher had missed just six of his 139 PATs before missing four straight Monday night.
Thankfully for Maher, his four misses didn't have any impact on the result of the game (31-14 final), but don't tell that to everyone who bet the over.
Brett Maher caused one of the worst bad beats in NFL playoff history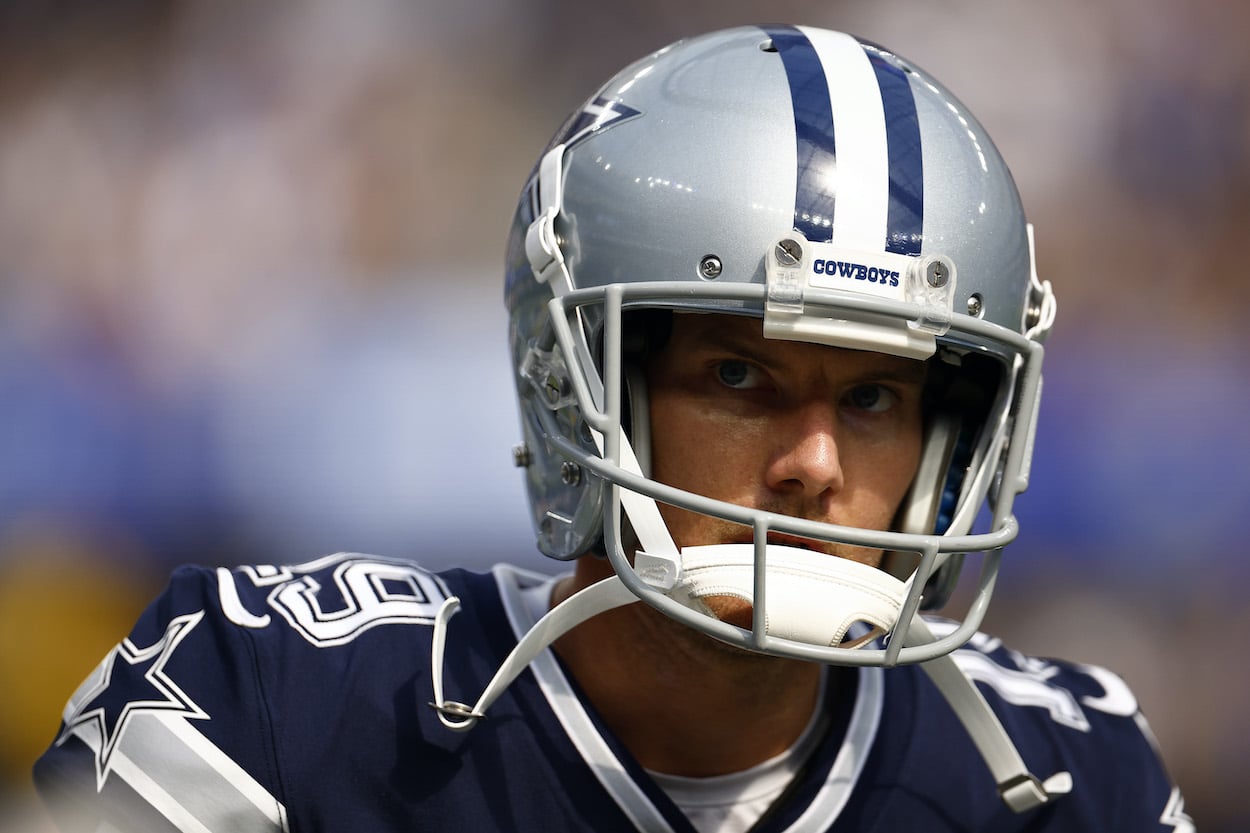 Heading into Monday night's playoff game, overs were 5-0 on wild-card weekend. Considering casual bettors normally gravitate to overs anyway, it's safe to assume hundreds of thousands of people around the country place some sort of wager on the over 45.5 in Cowboys-Buccaneers.
With a final score of 31-14, the over lost by 0.5 points in the end. Over backers needed Maher to make just two of his five PATs to win their bets, but he finished the game just 1-of-5 in extra points.
To make matters worse, Mike Evans dropped what would've been a 51-yard touchdown pass with two minutes left, and the Bucs weren't able to score later in the drive. What a brutal way to end an entertaining wild-card betting weekend.